Translate English To Tagalog – What is the Tagalog Translation of dustpan?
TRANSLATE ENGLISH TO TAGALOG – Here is the Tagalog translation of the English word "dustpan".
Most of us are more comfortable with using the English language in referring to things than the Tagalog language. This often happens when we talk about household things like a dustpan.
What is a "dustpan"?
According to Collins English Dictionary, a dustpan is a "flat container" which is used in sweeping the floor. It can be made of either plastic or metal and paired with a brush or broomsticks.
 What is dustpan in Tagalog?
After knowing about the exact meaning of the word, surely many of us want to know the Tagalog translation of the word dustpan.
Translate English to Tagalog
Dustpan = Pandakot
Examples of sentences using the word dustpan:
1. Be sure to put the dustpan and all the brooms at the back of the house after cleaning the garage.
2. Marvin bought two dustpans – a metal one and one made with plastic.
3. Johnny left early so Renier had no choice but to pick up the broomsticks and the dustpan and start sweeping the floor outside the house.
4. The dustpan was broken so Sylvia asked Demeter to buy a new one.
5. Have you seen the dustpan?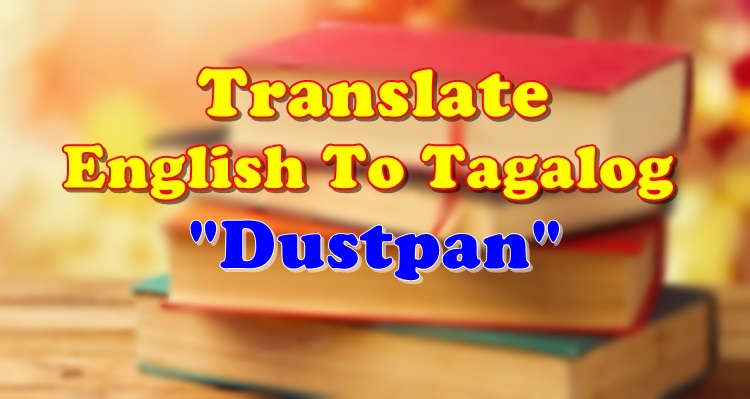 Mga halimbawa ng mga pangungusap na gumagamit ng salitang pandakot:
1. Bumili ng bagong pandakot si Aling Jessica dahil nasira ng aso ang kanilang pandakot.
2. Pagkatapos maglinis ng sahig, nilagay ni Samantha ang pandakot at walis sa likod ng bahay.
3. Tinuruan ni Aling Becky na maglinis at gumamit ng pandakot at walis ang kanyang mga anak.
4. Bago siya natulog ay niligpit niya ang pandakot sa walis.
5. Gagamitin mo ba ang pandakot?
Other English-Tagalog Translation:
comment(s) for this post "TRANSLATE ENGLISH TO TAGALOG: English To Tagalog Of "Dustpan"". Tell us what you think abut this post by leaving your comments below.