English To Tagalog – What is the Tagalog Translation of adjective?
ENGLISH TO TAGALOG – Here is the Tagalog translation of the English word "adjective".
Since elementary, we are learning about adjectives. However, undeniably, many of us are only familiar with it in the English language and not in the Tagalog language.
What does "adjective" mean?
According to Cambridge Dictionary, an adjective is a word that describes a noun or a pronoun. Examples of this part of speech are beautiful, tall, genuine, and oily.
What is adjective in Tagalog?
After knowing about the exact meaning of the word, surely many of us want to know the Tagalog translation of the word adjective.
Translate English to Tagalog
Adjective = Pang-uri
Examples of sentences using the word adjective:
1. Jonathan listed down fifty adjectives so the students would have a lot to choose from for their short stories.
2. "Perfect" is the best adjective that could describe the performance of Sarah in the recent talent competition that she has joined in.
3. Teacher Moana told the students of Grade 11-Banana to spot at least ten adjectives from the story that they have read yesterday.
4. There are only two adjectives that could best describe a mother – selfless and loving.
5. The adjectives that were used in the story all refers to the main character which is Linda.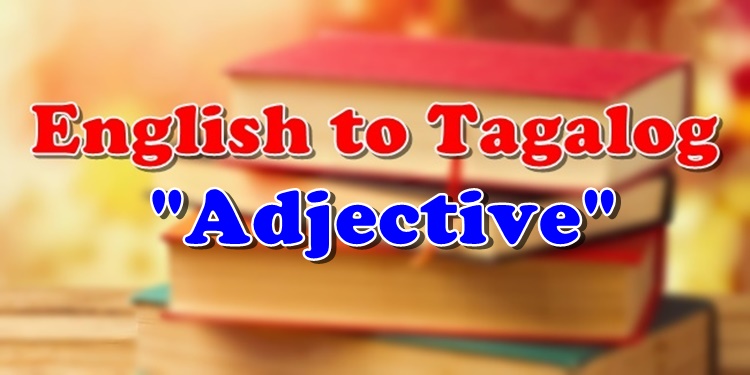 Mga halimbawa ng mga pangungusap na gumagamit ng salitang pang-uri:
1. Takdang-aralin nila Tony at Greg na sumulat ng tig-lilimang halimbawa ng pang-uri.
2. Alin sa dalawang pang-uri ang mas lubos na naglalarawan kay Bb. Corales -strikto o matalino?
3. Pinasulat ni G. Jaime ang kanyang mga mag-aaral ng isang maikling kwento gamit ang mga pang-uri na nakasulat sa pisara.
4. Ang pag-aaralan ng klase Sampaguita sa susunod na lunes ay ang tungkol sa pang-uri.
5. "Maganda" ang pang-uri na unang nasabi ni Cleo nang tanunging siya tungkol kay Venice.
Other English-Tagalog Translation: