Translate English To Tagalog – What is the Tagalog Translation of seashore?
TRANSLATE ENGLISH TO TAGALOG – Here is the Tagalog translation of the English word "seashore".
Most of us are more familiar with the English terms of certain words than their Tagalog translation. For example is the word seashore. Many of us surely know what it is but are quite hesitant about its Tagalog counterpart.
What is a "seashore"?
According to Cambridge Dictionary, seashore refers to the edge of the sea. It is the land, or specifically the sand, where we stay at away from the sea water.
What is seashore in Tagalog?
After knowing about the exact meaning of the word, surely many of us want to know the Tagalog translation of the word seashore.
Translate English to Tagalog
Seashore = Dalampasigan
Examples of sentences using the word seashore:
1. Inno proposed to Jessica while they were watching the sunset at the seashore in a resort in Iloilo.
2. Patrick has fear when it comes to seas and oceans so he always stays at the seashore whenever they are at a beach.
3. The white sand seashore means a perfect place for Luis.
4. Make sure to clean the seashore before you would officially open the resort this summer.
5. Most of the guests are afraid of the strong waves so they stayed at the seashore.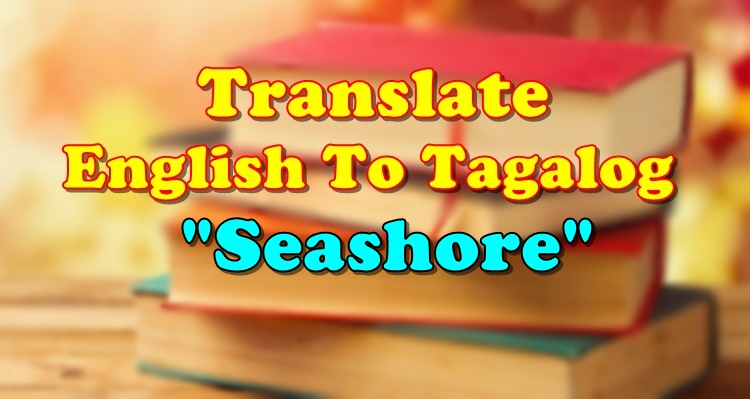 Mga halimbawa ng mga pangungusap na gumagamit ng salitang dalampasigan:
1. Hinintay ng mag-inang Aling Teray at Juanito ang kanilang padre de pamilya sa dalampasigan.
2. Buong araw na naglalaro sa dalampasigan ang magkakaibigang Eleazar at Marvin.
3. Maputi rin ba ang buhangin sa dalampasigan diyan?
4. Malakas ang alon ngayon kaya sa dalampasigan na lang umupo sina Selwyn at Trina.
5. Mainit sa dalampasigan kaya umuwi agad ang pamilya Padrino.
Other English-Tagalog Translation:
comment(s) for this post "Translate English To Tagalog: Tagalog Translation of "Seashore"". Tell us what you think abut this post by leaving your comments below.