English To Tagalog – What is the Tagalog Translation of preposition?
ENGLISH TO TAGALOG – Here is the Tagalog translation of the English word "preposition".
Many of us are familiar with the different parts of speech most especially the preposition but not all of us are surely familiar about its Tagalog translation or couterpart.
What does "preposition" mean?
According to Merriam Webster, preposition is a word that shows "direction, location, or time". It may also introduce an object. Examples of this part of speech are from, at, in, by, and of.
What is preposition in Tagalog?
After knowing about the exact meaning of the word, surely many of us want to know the Tagalog translation of the word preposition.
Translate English to Tagalog
Preposition = Pang-ukol
Examples of sentences using the word preposition:
1. Mr. Guillermo tasked each group to list down thirty sentences with each using at least one preposition.
2. The lesson that Teacher Rowena will talk about today is all about preposition.
3. "By" and "with" are the favorite prepositions of Jacob Andrei.
4. The summative test requires the students to read the short story and encircle all the prepositions that can be found in the story.
5. Wilmer had a hard time looking for a short paragraph that does not use any preposition.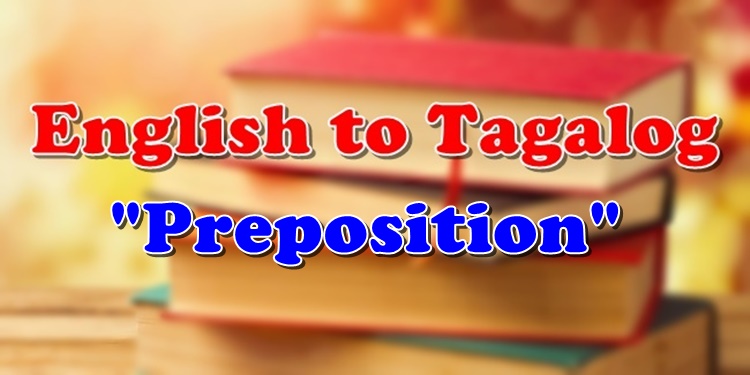 Mga halimbawa ng mga pangungusap na gumagamit ng salitang pang-ukol:
1. Sampung pang-ukol ang naitala ni Marco habang mayroon namang labin-limang pang-ukol na naitala si Miguel.
2. Lahat ng pang-ukol na makikita sa kwento ay nagsisimula sa letra "A".
3. Tama ang lahat ng sagot ni Andres sa pagsusulit tungkol sa pang-ukol.
4. Tinulungan ni Fernando ang nakababatang kapatid na si Rodrigo na gumawa ng mga pangungusap na gumagamit ng pang-ukol.
5. Ang susunod na ituturo ni Bb. Rebecca sa kanyang klase ay ang tungkol sa pang-ukol.
Other English-Tagalog Translation: