English To Tagalog – What is the Tagalog Translation of adverb?
ENGLISH TO TAGALOG – Here is the Tagalog translation of the English word "adverb".
Many of us are familiar with adverb as it is being taught to us since our elementary days. However, many of us may be undeniably familiar with its Tagalog translation or counterpart.
What does "adverb" mean?
According to Merriam Webster, adverb is one of the "major form classes" in the English language alongside with verb, adjective, and preposition among others.
 What is adverb in Tagalog?
After knowing about the exact meaning of the word, surely many of us want to know the Tagalog translation of the word adverb.
Translate English to Tagalog
Adverb = Pang-abay
Examples of sentences using the word adverb:
1. Teacher Jona told her class to list down all the adverbs that can be found in the story of Cleopatra.
2. Yesterday, Nicholo learned about the adverb and today, he and his tutor will be discussing about the preposition.
3. "Every day" is the favorite adverb of Jacob.
4. Lori found three adverbs in the short story while Cindy found only two so they read it again.
5. The favorite parts of speech of Jemimah is the adverb.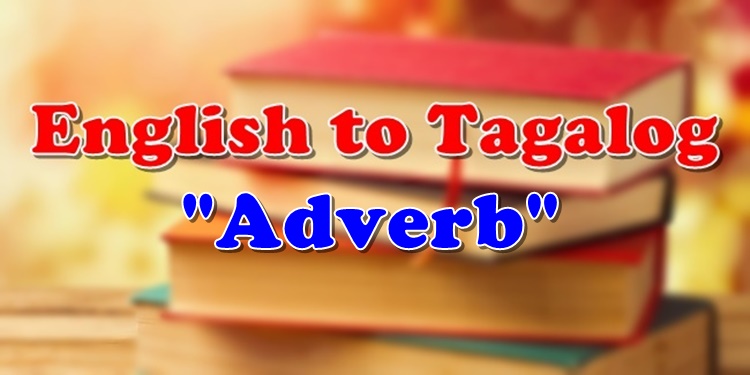 Mga halimbawa ng mga pangungusap na gumagamit ng salitang pang-abay:
1. Binigyan ni Josephine ng mga halimbawa ng pang-abay si Kenneth para sa takdang-aralin nito.
2. Lahat ng pang-abay na makikita sa pangungusap ay tumutukoy sa pagbukas ni Loisa ng pintuan at pagsara niya nito.
3. Hindi alam ni Francis kung ano ang pang-abay kaya nagtanong siya kay Louise.
4. Lahat ng nakalista sa kaliwang bahagi ng pisara ay pawang mga pang-abay.
5. Alin ba sa dalawang salita ang ginamit bilang pang-abay sa pangungusap?
Other English-Tagalog Translation:
comment(s) for this post "English To Tagalog: Tagalog Translation Of "Adverb"". Tell us what you think abut this post by leaving your comments below.