PhilNews.Ph is proud to announce that we have reached a new milestone on our blogging journey, last January 2014 we have recorded a total of 1.2 Million Unique Visitors, 1.5 million Visits, and 2.8 Million Pageviews in one month alone based upon the latest Google Analytics report of Philippine News website.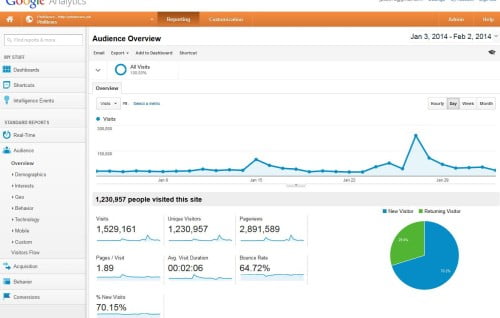 Last November 2013 PhilNews.Ph recorded an all-time high of 3.2 million pageviews to our 1.3 million visitors based upon our third-party analytics TrendCounter. PhilNews.Ph grew from a one-man blog army into a network of bloggers with the support of our Angel Investors.
PhilNews.Ph is one of the Top 5 Most Popular Philippine blogs for 2013 and ranked at the Top 130 websites in the country according to the latest ranking published by web giant Alexa.com.
Philippine News or PhilNews in short  ranked high on organic search engine results particularly in the world's most visited website Google often competing against major news network in the Philippines such as ABS-CBN, GMA-7, Interaksyon, Inquirer.net, and PhilStar.com.
Based upon PhilNews.Ph Google Analytics Report, we're getting at least 45,000 average views per day, at its lowest and we go all the way up to 480,000 views when the traffic spikes.
PhilNews.Ph blog became one of the most trusted news website in the Philippines covering various topics for the past few years. We were overwhelmed with what we have achieved so far, due to numerous inquiries on advertising rates we decided to venture into helping our fellow Filipinos in achieving their goals of reaching our audience through direct advertising.
As the company expands from a group of four individuals into a dozen of full-time bloggers, we hereby announced the opening of our direct advertising option to reach more partners. This is our way of giving an avenue for local and international brands to promote their products on our website.
Advertising Rates:
The social media accounts of PhilNews.Ph also features an active community of over 22,000+Fans on Facebook/PhilNews and over 849 Followers on Twitter.
Here's our wide array of advertising options:
468*60 – Header (sold)
125*125 Button – Sidebar (Top) (Get from BuySellAds)
300*250 Sidebar (Below the fold) : $1 per 1,000 page impressions
Sponsored Posts or Review Post: ($200)
Other Advertising Options:
By line of 25 words : $100/month (Will go at the bottom of every posts)
468*60 Advertisement banner ($150/month)
Payment Mode:
We accept payment via Paypal.
Who We Are:
TechSoft IT Solutions, the company behind PhilNews.Ph has its headquarters located at Bacolod City, Negros Occidental. Our Team would like to say "Thank You" for all the support given to us. Thank you to all our partners who help us grow and most of all to all the loyal and avid readers of our blog. We could not achieve such an accomplishment without your support.
Rest (–foul word(s) removed–)ure, our team, the PhilNews.Ph reporters, writers, bloggers and student interns will always provide our fellow Filipinos the freshest and most relevant news that matters to Filipinos not only in our country but also to our worldwide clients.
For inquiries, please use the following form:
[contact-form to='[email protected]'][contact-field label='Name' type='name' required='1'/][contact-field label='Email' type='email' required='1'/][contact-field label='Website' type='url'/][contact-field label='Your Message' type='textarea' required='1'/][/contact-form]