Translate English To Tagalog – What is the Tagalog Translation of sea?
TRANSLATE ENGLISH TO TAGALOG – Here is the Tagalog translation of the English word "sea".
Undeniably, when we are talking about the landforms and the bodies of water, most of us are more familiar with their English names than their Tagalog names. For example is the sea.
What is a "sea"?
According to Merriam Webster, the sea is a body of salt water and it comprises a huge part of the earth. It can be surrounded by land and usually bears the name of the land or the area where it is located.
What is sea in Tagalog?
After knowing about the exact meaning of the word, surely many of us want to know the Tagalog translation of the word sea.
Translate English to Tagalog
Sea = Dagat
Examples of sentences using the word sea:
1. Jacob and Andrew like to fly kites on the side of the sea as the wind in the area is usually very strong.
2. The Mediterranean sea is, by far, among the widest seas that Luna has ever seen in her entire existence.
3. Have you been to the Caspian sea?
4. If Sandra has to choose between a sea or a river, she would surely choose the latter because of its waters.
5. There are countless seas around the world and each is a treasure.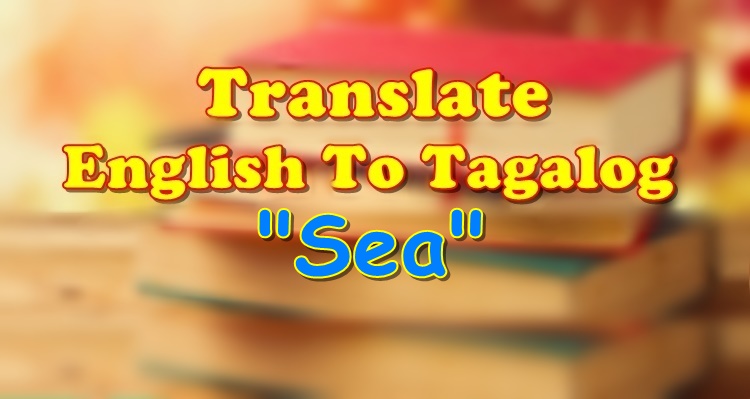 Mga halimbawa ng mga pangungusap na gumagamit ng salitang dagat:
1. Takot si Marivic sa dagat kung kaya't ni minsan ay hindi pa siya nakasakay ng barko o bangka.
2. Ang dagat ang isa sa pinakamainam na puntahan lalong-lalo na kung nais mong mag-isip-isip.
3. Malapit sa dagat ang bahay ng pamilya ni Janno kung kaya't kadalasan ay isda ang ulam nila.
4. Naglakbay sa dagat ng maaga si Mang Rey upang makarami siya nang huli na isda.
5. Sa tuwing makakakita si Lorenzo ng dagat, hindi niya maiwasang maalala ang kanyang amang mangingisda.
Other English-Tagalog Translation: