ENGLISH-TAGALOG TRANSLATE: What is the English translation of the word Ampalaya?
ENGLISH-TAGALOG TRANSLATE – The English translation of the Tagalog word "Ampalaya" is "Bitter Gourd".
One of the vegetables that are common in Filipino viands is ampalaya. It is known for its healing properties and an excellent food for people with diabetes.
With regards to its taste, many may not like its bitter taste most especially the young ones. One person has even chosen to eat a frog dish than an ampalaya dish.
Meanwhile, considering the prominence of ampalaya, there are cases when we tend to miss out its English translation. We are used to referring to it in its Tagalog term.
What is really ampalaya in English?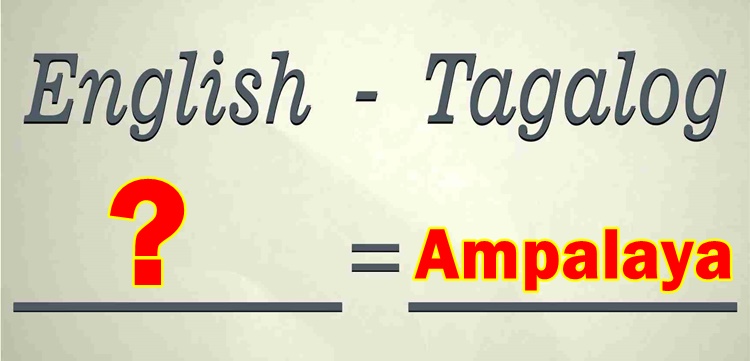 The English translation for 'ampalaya' is Bitter Gourd. It is also called Bitter Melon in English.
Tagalog:

Ampalaya |  English: Bitter Gourd
Mga Halimbawa ng Pangungusap na gumagamit ng salitang "ampalaya":
Masarap ang ginisang ampalaya na luto ni Nanay.
Paborito ni Ramon ang pinakbet na luto ni Aling Celia dahil marami itong ampalaya.
Bantayan niyong mabuti ang tanim na ampalaya sa labas ng bakuran.
Examples of Sentences using the word "Bitter Gourd":
The price for the bitter gourd soared high this month.
Nathan really dislikes having bitter gourd in any dish.
The bitter gourds were harvested just right in time.
English-Tagalog Translate: English Counterparts of Sentences Using the Word "ampalaya":
1. Kumain ka ng ampalaya para lumusog ka.  | You better eat bitter gourds so you will be healthy.
2. Huwag mo munang pitasin ang mga ampalaya. |   Don't harvest the bitter gourds just yet.
3. Bumili ka ng ampalaya sa palengke at magluluto ako. | Buy some bitter gourds in the market and I will cook.
See Also Tagalog Translation for: