Here is the Civil Service Exam Result August 2019 Including Region 4 Passers (Professional Level)
CSC is about to release the Civil Service Exam Result August 2019 including the Region 4 passers (Professional Level).
The August 2019 Civil Service Exam Results including the official list of passers and top notchers for both Professional and Sub-Professional Level will be available on this website after it will be released by CSC.
The Civil Service Exam – Pen & Paper Test (CSE-PPT) have been given at CSC testing centers in NCR, CAR, CARAGA, ARMM, and all regional testing centers in the country on August 4, 2019.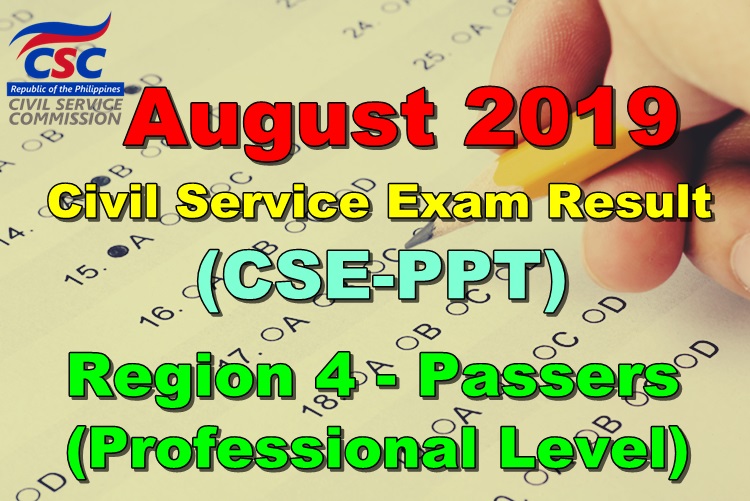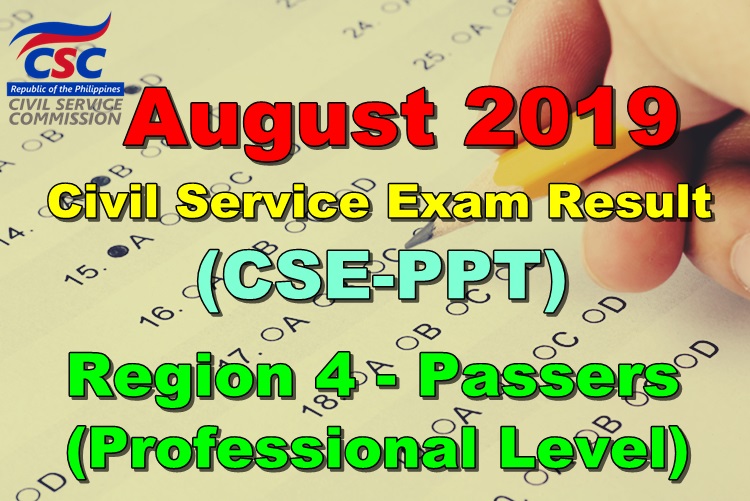 The CSE-PPT is an eligibility examination that gives opportunities to Filipino people to work in local government positions.
SUMMARY OF RESULTS:
Here is the List of Region 4 Passers (Professional Level)
August 4, 2019 Civil Service Exam – Pen & Paper Test (CSE-PPT)
Professional Level – List of Passers
Civil Service Commission Regional Office No. 4 (Southern Tagalog)/ MIMAROPA/ CALABARZON
ABACA, RANNIE P
ABAD, DANIEL B
ABAD, JAZZRELL FRIAN P
ABAD, PRINCESS ELISHA S
ABAD, RALPH JOHN A
ABADIA, HANNAH GRACE D
ABAINZA, MICHEAL D
ABAN, RONALD S
ABANILLA, JERICA JOY V
ABANILLA, PEARL PRINCESS MEL C
ABANILLA, ROBIN JAMES T
ABANTE, VEA GYPSY M
ABAPO, VERNALYN M
ABARCA, BETHEL ANNE Z
ABARINTOS, SHEELA MAE C
ABCEDE, AIZA MAY P
ABCEDE, PAMELA-ESTER B
ABDULMAJID, ASLIMAH A
ABE, ARA DELL BEATRICE D
ABEAR, ANDREA ISABELLE P
ABEJAR, JOSEFA CARMELLI A
ABEJUELA, MARKSON R
ABEL, AARON ACHILLES A
ABEL, PRINCES ANNE B
ABELA, CRISTINE MARIE M
ABELGAS, MARC JOSEPH C
ABELITO, MARIEL A
ABELLA, THEA FRANCHESKA F
ABERILLA, JOHN BRIX M
ABESAMIS, IVAN REX T
ABESTADO, KRISTINA MAE C
ABILA, MARY GRACE O
ABINSAY, MARY KATHERINE Z
ABIOG, JOHN VINCENT E
ABITONG, RICARDO JR. V
ABON, JEFFREY B
ABONITA, KRISCHELLE C
ABORDO, FRANCIS CARL B
ABORDO, MARY RUTH B
ABREA, GERALDINE O
ABRENCILLO, KYLA T
ABRENCILLO, PRINCE ISIAH R
ABRENICA, GLENN S
ABRIGO, ZEAN CARLO G
ABRIL, AYESSA MARI N
ABRIL, DIANNE NATALIE R
ABRINA, APRIL V
ABRINA, CHRISTIAN FEL C
ABTINA, TROY P
ABU, HAZEL ANNE R
ABU, JOSHUA ANDREW C
ABUEG, JEFFREY S
ABUEG, MARWIN C
ABULOG, ANGELICA MAE H
ACAR, CHRISTIAN JOSEPH A
ACAR, MA EVA ANTOINETTE H
ACAYLAR, KAREN ANNE V
ACEDERA, ALWIN DREW C
ACEDERA, LANCE HEXYL P
ACEDERA, PRINCESS MARA C
ACEJO, KONONIA FE NIEVES M
ACHAS, CARLO DOMINIC B
ACHAS, JUSTIN CARMELLO B
ACHAS, RODOLFO III T
ACLO, CAMILE BERNADETTE S
ACLON, RENSEL A
ACOSTA, ABIGAIL A
ACOSTA, KATHLEEN G
ACQUEN, MELANIE R
ACQUIATAN, MARILOU M
ACU, LORENCE A
ACUPANDA, MA REGINA V
ACUÑA, LADY JANIS KATE G
ADAME, RONNIE A
ADAN, RODOLFO A
ADATO, MICHAEL Y
ADGES, MUHAMMAD HUSSEIN A
ADION, JONICE T
ADLUS, HERMINIO JR. C
ADRE, DARLINGBETH A
ADVINCULA, ALEXA RAE B
ADVINCULA, ROSALYN A
AFABLE, MARYNELLA LAICA B
AFABLE, NOIME L
AFRICA, CINDY S
AFRICA, MARK M
AGAGAS, JANNA E
AGAPAY, MARY CLARE K
AGAPAY, TRIXIA MAE M
AGAPOR, ABBEY CAMILLE V
AGDORO, AILEEN JANE M
AGLERON, JENNIFER MARIE F
AGNO, PAUL ASI H
AGOJO, JEAN MARIANNE A
AGONCILLO, CYRIELLE ANN D
AGOZAR, MARK JULIUS A
AGRA, ELLAINE B
AGRANUM, AGATHA FAYE B
AGSUNOD, CAMILLE ERIKA R
AGTAY, ROSENDO II R
AGUAYON, ELIZA ANNE H
AGUDA, TONI ROSE O
AGUETE, FRANCIS O
AGUIBA, JOSEPH ANGELO N
AGUILA, CLAUDETTE ANNE E
AGUILA, JENNIFER C
AGUILA, RANZES GLOE Q
AGUILAR, CATHERINE T
AGUILAR, EVIAN DREW A
AGUILAR, EXEQUIEL III Z
AGUILAR, JEROME C
AGUILAR, JOHN MHAR J
AGUILAR, KRISTINE KATE R
AGUILAR, RAYMOND F
AGUILAR, TRINA JOYCE M
AGUILAR, WILFREDO JR. T
AGUIRRE, JAZEL D
AGUS, JENNIFER D
AGUTAYA, CHRYSTELLE MOREEN D
AJERO, KRIZZA DALE O
AJUNAN, CLARISSE Q
ALABATA, JESPHYR NICK B
ALAGON, CLAIRE JOY B
ALALID, ANSHERINE ( CHING) N
ALANO, KIMBERLY N
ALANO, YZHRAEL R
ALARCON, IVAN R
ALARCON, KYM B
ALARCON, ROGERISSA D
ALAS, ANGIE ROSE DC
ALAUT, ANGELICA D
ALAZO, LEO II A
ALBA, DANNA MARIE E
ALBA, JUDY MAE T
ALBERTO, JYRHO C
ALBERTO, KHRISTINE M
ALBING, KEVIN C
ALBINO, KIM BEVERLY A
ALBINO, WILFRED LEOVIC S
ALBOR, AIRENE A
ALCACHUPAS, AIRA MAE DC
ALCAIDE, MYLENE M
ALCALA, JOSEPH KEN E
ALCALA, MICHELLE N
ALCALA, SAMUEL M
ALCANSARE, RANNIEL P
ALCANTARA, ALEXA ANDREA E
ALCANTARA, ALVIN B
ALCANTARA, ANGEL NICOLYNE C
ALCANTARA, CAEDMON REY G
ALCANTARA, ELOISA MAE P
ALCANTARA, HANNAH VIANCA C
ALCANTARA, JENIEL C
ALCANTARA, JOANNE S
ALCANTARA, JOSEPH L
ALCANTARA, JOSHUA JOHN P
ALCANTARA, KIMBERLY P
ALCANTARA, MELLO JANE V
ALCANTARA, MONICA JANE B
ALCANTARA, SHARA MAE E
ALCARAZ, MARIA SHAME C
ALCASID, DANA JOLLINE A
ALCAYDE, RALPH JAMES H
ALCID, VINZ MIGUEL F
ALCOS, ANDRE DAVE
ALDAY, JANE M
ALDAY, JESSICA C
ALDAY, JOY ANGELIQUE R
ALDAY, RICHELLE A
ALDAY, SUZETTE F
ALDEA, LEAN A
ALDOVER, DEXINE MAE L
ALDOVINO, JOHN KENNETH O
ALEA, RON CHRISTELO A
ALEGRE, FRANSMEREN M
ALEGRE, IAN POL DR
ALEGRIA, JAMEL M
ALEJANDRO, RODNEY S
ALFARO, JAYSON B
ALFONSO, GEMMALYN D
ALFONSO, MARK EDWARD N
ALFORJA, REENA ANDREA M
ALFORTE, MARK JOHN PAUL B
ALGARATE, RENATO GLENN SJ
ALIDIO, ERWIN D
ALIDO, CARL JEROME P
ALIGACION, MHARLEN O
ALILI, CHERWIN
ALILIO, CHRISTIAN JOSEPH N
ALILIO, JAN PAULO C
ALIMAGNO, RINO T
ALIMORONG, CHRISTINE R
ALINA, JANINE ALMIRA A
ALINDAYO, KARLA B
ALINSOD, KAREN C
ALINSUNURIN, ALLEN FROY B
ALIPALA, CARMELA M
ALIPUSAN, CHRISTIA ALYSSA E
ALIVIO, WILFREDO JR. T
ALMANZOR, ANGELICA A
ALMANZOR, RUSSEL D
ALMAREZ, EZEKIEL C
ALMARIO, JAY-R C
ALMENAR, VENIECE E
ALMENDRAL, MARY HEART C
ALMENDRAS, GREENE JOHN V
ALMODAL, MIKAELLA M
ALMOGUERA, DEONALD T
ALMONTE, EDELINO G
ALMONTE, KIM ERIKA S
ALO, ANGELICA D
ALO, MA GRACE D
ALONG, MARIE M
ALONZO, ACE JOHN PAUL B
ALORIA, JOHANNAH M
ALPAY, AEMOND JERSEY R
ALPUERTO, ALINA MIELIZA C
ALPUERTO, NEIL ARJAY D
ALQUIROS, ARIANNE JOY A
ALTOVEROS, MARGELYN D
ALUMIA, HILLAINE MARIE B
ALURA, ARLA J
ALVARADO, ALISA MARIS L
ALVARADO, TRISHA MARIE O
ALVAREZ, ALLAN C
ALVAREZ, ANNALY O
ALVAREZ, DANNA KIARA C
ALVAREZ, JOYCE ANN C
ALVAREZ, VEECARL O
ALVIAR, AIKO D
ALZONA, AXEL R
ALZONA, JOSEPH A
AMADOR, ALYSSA AUBREY A
AMADOR, TRISHA D
AMANTE, CATHRENE P
AMARANTE, ERANNIEL L
AMARO, AIBEE A
AMARO, LEDA FRANCHETTE M
AMATORIO, ROBERT LEMUEL G
AMAZONA, ZAHRA MAY U
AMBA, WILSON M
AMBAS, CHRISTIAN B
AMBID, ANDREI COLEENE D
AMBROCIO, MAYCIE P
AMBROCIO, PAZ AVELINE S
AMBROSIO, JOY A
AMBULO, VILMA A
AMERICA, RACHELLE A
AMOL, ALDIN KAISSER Y
AMONELO, DIANE ROSE T
AMORADO, YANCY L
AMORES, ALDREENE G
AMORES, ARCHIREB DEUNE U
AMORES, MARIA ELIZZA M
AMOROSO, KLAUDINE JOYCE A
AMOYLIN, CHARMAINE JOSH D
AN, MARY ROSE A
ANASTACIO, NIKKA R
ANCERO, JELMA D
ANCIANO, NATANIEL GIL MIGUEL J
ANCIRO, JAEMIELYN P
ANDAL, CAMILLE JOY D
ANDAL, DAREN M
ANDAL, KRISSELL ANNE L
ANDAL, MARIA CRISTINA D
ANDAL, THERESSE AIZEL B
ANDAYA, JOANA O
ANDES, FRIZZIA ELVI P
ANDINO, JAMAICA P
ANDIT, NICOLE S
ANDO, EARVIN JOHN M
ANDRADA, KAYE ANN D
ANDRADA, MARNITO C
ANDRADE, MARIANNE P
ANDRADE, MARY BETH B
ANDRES, DARYL M
ANDRION, DANICA CAMILLE B
ANDULAN, ANGELICA B
ANG, JOHN STEPHEN Q
ANGCAO, FLORENCE MARIEL M
ANGCAYA, GLORIE MAE B
ANGELES, LEJOHN V
ANGELES, MARYJO C
ANGELES, MEECAH B
ANGELES, ROBERT JAMES A
ANGELES, SHARON G
ANGGA, JOHN NATHANIEL A
ANGON, MARIPE T
ANGSUCO, JHON ADOLF
ANGULO, CHRISTELLE MAE L
ANIGAN, REE JAY D
ANILAO, JON C
ANLACAN, ANTHONY B
ANTARAN, JAMES IVAN LEE U
ANTAZO, VERGEL C
ANTIPALA, CRISELLE B
ANTIPORDA, LASAGNIA M
ANTIPORDA, RAVEN R
ANTIVO, LEONARDO T
ANTONIANO, MARKCEDE P
ANTONIO, DANIELLE ANNE A
ANTONIO, GRACE ANN D
ANURAN, HAROLD A
ANYAYAHAN, TRISHA M
ANZALDO, ESTELA E
ANZANO, JHON WENCY J
ANZURES, PAMELA GRACE T
APARECE, MARY ANGELOU B
API, JULIUS P
APIGO, ANGELICA R
APLOMINA, DISSA S
APRODA, LINO JR. I
APULOG, JOHN PHILIP
AQUE, KIMBERLY G
AQUINO, ANGELA M
AQUINO, ANGELOU MARIE O
AQUINO, ARAGIEN A
AQUINO, DIANA LYN L
AQUINO, GEORGE PHAUL C
AQUINO, JERIZ BENN CARLIFER D
AQUINO, MARCO NICO O
AQUINO, SHARLET KATE H
AQUINO, SHERWIN A
ARABIS, CARMELA T
ARALAR, JUAN MIGUEL A
ARALAR, PAULA BIANCA P
ARANAS, JEMIMA MAY T
ARANTE, KHRISTAN ABRAHAM V
ARASULA, AVEL CRIS D
ARASULA, JEZZA M
ARAÑA, JOMAR I
ARCE, ROZENY G
ARCEGA, CLARICE M
ARCEGA, JOHN MATTHEW H
ARCEGONO, CARL JOSUA B
ARCENAL, DAERL E
ARCENAS, JOHN PAULO A
ARCEO, MARCO S
ARCHES, PATRICIA MAY C
ARCIBAL, GLORY ANN Y
ARCILLA, JOSE MARI SEBASTIAN C
ARCILLAS, JUSTIN ALLEN C
ARELLAGA, JOHN LESTER A
ARELLANO, REGINE C
ARELLANO, RIAN CHRISTIAN M
ARENAS, KARMELO LEANDREY R
AREVALO, PRINSESSA JESSA P
ARGONZOLA, ZENNAVIE D
ARGOSINO, CHRISTIAN M
ARGOSINO, MAVY GRACE S
ARGUDO, YURIZH A
ARIATE, FLORISSE TERESA C
ARICA, BLANCHE A
ARIDA, ZAIRA PAMELA L
ARITANA, DONNABELLE R
ARIZA, EMMANUEL R
ARLOS, SHARMAINE J
ARMADA, DWELL JOY L
ARMONIO, DIANE RACHELLE F
ARNAZAN, MARCHELIE
ARNEZ, SHAINA MAE A
ARO, NICKDHEL PAULO G
AROPO, ARIZA B
ARQUERO, KATE ANNE Q
ARRIOLA, JOHN FEREE C
ARRIOLA, RHEA V
ARROYO, GENNY E
ARSENIO, CAKE FRITZI S
ARTISTA, PRECIOUS MYNETTE T
ARZAGA, KAROL ARIANNE L
ASAN, GLYDEL M
ASCAÑO, GERARD NIÑO V
ASEGURADO, ESTACY CARL F
ASENDIDO, RUTH JOY L
ASI, CHRISTIAN JORAM A
ASI, JHESEL M
ASIADO, ANNABELLE JOY C
ASISTORES, RON-RON L
ASPI, MARIA MERCEDES G
ASPREC, KARISSA MAY R
ASUNCION, ANGELICA MAE A
ASUNCION, KEN OLIVER R
ASUNCION, RHENEN A
ASUNCION, RONALD A
ATAD, ALDRIN A
ATICO, JOEL S
ATIENZA, ADRIENNE L
ATIENZA, CHRISTOPHER C
ATIENZA, CLARISSA MARIZ T
ATIENZA, CLAUDINE B
ATIENZA, DONNA KAYE C
ATIENZA, IVAN M
ATIENZA, JOSE ANTONIO M
ATIENZA, LIECEL MARIE V
ATIENZA, MARIANNE ANELLA F
ATIENZA, MARISSA B
ATIENZA, NOEL D
ATIENZA, REAH JANE T
ATIENZA, RON RAYMOND A
ATIZARDO, VIETTE MERYLL R
ATUN, JEFF ADRIAN G
AUGUSTO, REGINE S
AUSAN, DELMARIE M
AUSTRIA, ALFA MAE A
AUSTRIA, DENVER A
AUSTRIA, FRANCIS SEGUNDO C
AUSTRIA, JANE LARA O
AUSTRIA, JANINE LARA O
AUSTRIA, JONATHAN D
AUSTRIA, LIZETTE T
AUSTRIA, MARIAN T
AUSTRIA, MAURICIO JR. P
AUTAJAY, UNICA M
AUTOR, NIÑA JONEL A
AVANZADO, ROSE KAREN G
AVEJERO, MARVIN T
AVELINO, JUNO V
AVELLANEDA, GIAN CARLO B
AVILA, MA LOUELA L
AVILES, CHRISTINE JOY M
AVILLA, DELIA P
AVILLANOZA, SARAH S
AVILLO, RANDOLPH M
AVIÑANTE, JOSHUA MHIR L
AVIÑANTE, NIÑO U
AVIÑANTE, RAM GIOREL L
AWAT, MA JESSADEL S
AYCARDO, HAROLD M
AYCARDO, SHARA M
AYERBA, AUBREY M
AYSON, ANA KARMELA J
AZCUETA, RAZZJAN MAE E
AÑONUEVO, AIVEE M
AÑONUEVO, HANNAH MHEL L
BACAL, LENNOX LLOYD T
BACAL, SHARLYN ANGELICA R
BACANI, PRIME PHILLIP M
BACATAN, ELAINE RENEE T
BACLIG, ROSS VENEDICT M
BACQUIAN, MERLYN G
BACSAFRA, PRECIOUS C
BACURIN, JOHN CHRISTIAN C
BADAR, MARIA PAZZE T
BADAYOS, TROY ALBERT P
BADENAS, PAMELA G
BAEL, CLAUDINE P
BAES, MINA C
BAET, ALDRIN T
BAET, ALYSSA MARIE T
BAET, ANN CRIZELE J
BAGACINA, CHRISTIAN V
BAGAGUNIO, JOHNLORD S
BAGANGAN, MA ZARINA A
BAGAYAUA, IRENAEUS MANUEL T
BAGO, REYNALDO GLENN P
BAGSIC, DEANNE CLAIRE M
BAGSIT, TYRONE JOE B
BAGUI, GRIZELLE ANNE J
BAGUIO, MARK JOHN REY E
BAHALA, VANESSA G
BAINTO, PHILIP MARC B
BAIRA, JOB ROBIN A
BAJA, AILIEN-GLEZEL B
BAJARO, CHRISTZA-LYNN A
BALA, KELLY BRIX P
BALAHADIA, JESSIE C
BALANE, REGIN JIANWY DG
BALANI, IRESH JOY M
BALAO, JOHN ALEXANDER N
BALATICO, JENELYN M
BALBA, ELIZABETH L
BALBIN, NORIEFEL M
BALCUEVA, NORMAN M
BALDEDARA, DANIELLE MARIE M
BALDEO, EMMANUEL JR. O
BALDERAMA, DANICA E
BALDESCO, BERNARD PAUL N
BALDOMAR, JHOMAR V
BALDONADO, MICHAEL MAOI M
BALDOS, SHANNON MARIE VIEN F
BALDOVINO, MIA ARIANE P
BALES, JONASH LOUEL S
BALES, JOSHUA LOUIE S
BALES, JOYCE LOERA S
BALES, VAN DAMN E
BALICAT, APRIL ROSE A
BALICAT, JENNY FE A
BALICAT, SHANE WENDELL A
BALIGOD, MICAH B
BALIGOD, PRINCESS JOYCE B
BALINADO, JUSTINE ROY O
BALINGASA, PATRICK V
BALISORO, JOYCE ANN B
BALLADARES, MITCHELLE JESALLYN F
BALLESTEROS, IAN JAY I
BALLON, ANGELI AIKA S
BALOCON, OWEN HARVEY
BALOIS, RHENLYN T
BALONA, BRADLY G
BALQUIEDRA, MATTHEW J
BALTAZAR, MARK JASON L
BALUCA, FRANCIS C
BALUYO, JOEL L
BALUYOT, MC RUDOLFH S
BANAAG, JULY V
BANAAG, MARIA ODETTE E
BANAAG, RUTH GRACE Y
BANDAGOSA, JHON RIGOR A
BANDONG, ELYSAR S
BANDONG, ESTHER GAYLE M
BANDONG, JUDYLYN R
BANGCAL, DAMSEL C
BANTUAS, HAKEEM J
BANTUAS, JALALODEEN A
BANTUG, JAIKA S
BANUA, JERICO A
BAQUIR, JULIO GABRIEL B
BARAL, ROSELLE A
BARAN, WILLIAM ALEXANDER S
BARANGCO, JOHN MARK G
BARAQUIO, ALIANA BIANCA P
BARAS, JANNA MAE M
BARAWIDAN, JOZEF ARTELUZ SD
BARBA, MARY JANE B
BARBACENA, CHRISTINE B
BARBOSA, PAUL VINCENT A
BARCATAN, STEPHEN REB T
BARCENAS, CARL JOSEPH S
BARDA, AIBIE A
BARDAGO, JUDILYN T
BARICUATRO, ZACARIAS DANIEL A
BARING, MARIANNE J
BARIZO, GABRIEL G
BARLUAN, BRENDA J
BARNACHEA, NOEMI ANNE M
BAROGA, PRIMROSE A
BAROJA, MICHAEL EUSEBIO III D
BARORO, POMPEYO JR. V
BAROT, SHANAIA FAYE G
BARRA, KARLA J
BARRAMEDA, MARY ANN P
BARRETTO, ALBERT VINCENT F
BARRETTO, EUNICE JOYCE S
BARRION, JEANSSEN MARIE V
BARROZO, APPLECINA B
BARRUGA, JENNIFER A
BARRUN, CHRISTINE C
BARTE, GILLIAN JEAN V
BARTOLATA, ROSE ANN B
BARUNDIA, ALEN DOMINIC C
BARUNDIA, ANALYN C
BARUT, LEA D
BASAN, JESSICA YVONE M
BASAS, MELISSA R
BASAYSAY, DANTE JR. R
BASCO, JEAMI M
BASCON, LOUWELLA ALLYZZA S
BASCUGUIN, CLARICEL C
BASIL, JAYRA ANGELIQUE J
BASILAN, GLECY B
BASILIO, DAIMEE C
BATAIN, MATHEW R
BATALLER, GILDA E
BATERNA, MERCY R
BATHAN, CHARMENE D
BATHAN, STEPHANY T
BATINO, RANDELL HOPE B
BATISTIS, JOHN PAUL P
BATOON, NEYIS JOHN CHRISTIAN M
BAUL, DIANA MARIE D
BAUTISTA, CHARISSE C
BAUTISTA, DAY M
BAUTISTA, ERICKA MAE R
BAUTISTA, JANET A
BAUTISTA, JAY ANNE MARIE J
BAUTISTA, JENNIFER A
BAUTISTA, JHON EDMIN A
BAUTISTA, JOHN MICHAEL B
BAUTISTA, JOMABELLE C
BAUTISTA, JOVELYN C
BAUTISTA, JUDY ANN F
BAUTISTA, LORAH G
BAUTISTA, LOVELLEN L
BAUTISTA, MARGARITA M
BAUTISTA, MARY QUEEN C
BAUTISTA, MELODY D
BAUTISTA, MICA ISABELLE B
BAUTISTA, MICHAEL L
BAUTISTA, NIÑO ROLSON A
BAUTISTA, REX O
BAWALAN, PAULA ANGELA G
BAWALAN, RACHELLE A
BAWAN, GLEN D
BAWIT, ILDEE A
BAY, FRANCHESKA ROSARIO S
BAY, JOAN LORRAINE S
BAY, MARIELLE S
BAYANI, SHANE M
BAYANI, SIENA A
BAYBAY, ARIANE F
BAYER, MARIJUNE B
BAYGAR, RINA G
BAYHON, WILLIAM ROMEO JAMES III G
BAYLON, ELBERT JAMES M
BAYLON, KHAYLE A
BAYLON, MARIA KRISTINE T
BAYOT, MARINELLE B
BAYTA, KAYE ANNE CRISELLE A
BAYUTAS, KIERL DARWIN R
BAÑARES, IRISH NICOLE V
BAÑEZ, CATHRINE MAE P
BAÑEZ, CRISTINE Z
BAÑEZ, NICOLE P
BEATO, JHUNELL V
BEATO, MONIQUE C
BEBITA, JEDIDAH GEM
BEBON, FRANCIS MONREY O
BECO, ALYSSA MAE S
BEDES, RACHELLE A
BEDIONES, CHARLTON N
BELANDRES, STEPHANIE C
BELANGIGUE, MARLA DONA T
BELEN, DINKI CYRUS L
BELEN, JEZIEL CHARLOTE M
BELEN, JHONA B
BELEN, JUSTINE WESLEY B
BELEN, VICTOR JR. B
BELENA, KATHLEEN M
BELGIRA, MARIA CATALINA B
BELILA, MILLETH
BELISON, RUSSEL ANDREI E
BELISTA, ANA LIZA G
BELLO, QUEENLETH R
BELLO, SHERWIN B
BELTRAN, JYN ANTHONY P
BENANCIO, GLECY JOY L
BENDAÑA, PATRICIA MAE M
BENIPAYO, JEROME G
BENJAMIN, JOHN RAFAEL R
BENZON, RONEL B
BENZONAN, NATHANIEL C
BERBA, AIMEELENE B
BERCASIO, NEIL D
BERDOZ, SHENNA P
BEREDO, EDSEL CHRISTIAN D
BEREDO, MARK LESTER M
BEREDO, SEAN MICHAEL M
BERMUDO, MICHELLE ANGELA J
BERNAL, JEROME ALBERT M
BERNAL, KYLE D
BERNALDEZ, MICHELLE ANN C
BERNANDINO, JOCELYN C
BERNARDINO, JEREMIAH S
BERNARDO, DORIS JANE P
BERNARDO, FRANCES JOYCE D
BERNARDO, HAROLD JAY A
BERNARDO, JOHN LORENZO M
BERNARDO, JUANA MARIE O
BERNARDO, JULIE ANNE B
BERNARDO, MARIA YOSHABEL G
BERNARDO, MARY LOU P
BERNARDO, SHARMAINE D
BERNARTE, GIAN CARLO A
BERNAS, KEVIN E
BERONES, ANGELICA SEN D
BERSABAL, MARIA AGNES S
BERSAMINA, JESSA M
BESA, AIZEL B
BESAGA, DEAKILYN T
BESOÑA, SHAIRA MAE B
BETCHER, REGINA, M
BIAGO, GLYNN JOI C
BIANES, GAIL B
BIANES, RANEL JOHN S
BICOMONG, ROILAN O
BIDES, JOHN LORENZ CHRISTOPHER D
BIGLETE, BETTINA A
BIGLETE, TRISH MANILLE A
BILOG, MARK JAYSON L
BILOZA, LEA MAE B
BINABAY, DWEIN EIRRECH M
BINALINGBING, JHAN RAY N
BINALINGBING, LIMMUEL R
BINAVENTE, RAYMOND E
BINAY, AIME A
BINONDO, MARK CHRISTIAN B
BISDA, FLORA I
BITE, GERECA C
BITHAO, JOSELITO C
BIÑAS, ELLA MARIE B
BIÑAS, VENUS B
BLANCAFLOR, RIVA M
BLANCO, PABS S
BLAY, YVETTE MARIE A
BO, RHENALYN V
BOBADILLA, JUSTIN LAMBERT R
BOBIER, JUDEWIN B
BOCOBO, CHERIE LOU M
BOCOBO, ERIC M
BOCOBO, MA ALEXANDRA CZARINA M
BOJAS, NICOLE DENISE M
BOJILADOR, CHARMAYNE MARI S
BOLADO, JOSIELYN T
BOLASCO, ARA MARIEL R
BOLAÑOS, KARLA MAE J
BOLEA, JEANE PAULINE P
BOLO, JULIE ANN MAE G
BONADOR, ALLEN DWYN L
BONAOBRA, DARYL JOE B
BONDAD, JOHN REGINALD A
BONDAD, RACHEL ANN A
BONDOC, JOSEPH AARON R
BONEO, JERELYN B
BONGALOS, ROWELL B
BONGCALES, ANGELITO M
BONGUIT, SHARAH KRISTINE G
BONITA, MARIA LYN F
BONO, BENEDICK D
BONOTAN, JHANE PAULENE T
BONQUIN, MARY DANICE D
BOOL, JULIE ANN Z
BORBE, JEORGE KRISTOFER R
BORGOÑOS, EDWARD ALLEN P
BORJA, JESSICA MARIE N
BORJA, KAREEN N
BORJA, KATHLEEN G
BORLAGDAN, DON JOSEP M
BOSUEGO, SANTIAGO JR. D
BOX, MARK ALDRIN O
BRACAMONTE, JOSEPHINE MARIE AIRA D
BRAGADO, MA MHARBY RISSA M
BRAVANTE, MARIEL A
BRAVO, RUBY JOY P
BRENCES, BRENDA P
BRETAÑA, ARNIEL M
BRIAGAS, RODEL E
BRILLANTE, ROSE C
BRINGAS, ABRAHAM B
BRIONES, ISAIAH C
BRIONES, MARY JANE R
BRIONES, NIÑO L
BRIONES, VICENTE KENO M
BRIZ, MA MYCALYN O
BRIÑAS, JONNA MAE B
BROSAS, JOHN CHRISTIAN V
BRUCAL, GINALYN M
BUANAOBIZA, CLARISSE HAZEL G
BUBAN, KINNY JOY B
BUELA, LEO KRISTOFFER L
BUELAGALA, RENALYN A
BUENA, CATHERINE A
BUENA, JEFF ALLEN B
BUENACEDA, PRINCESS AMINA
BUENAFE, EMER B
BUENAVENTURA, BONN ALVIN M
BUENAVENTURA, FLOR ANGELI S
BUENAVENTURA, JENNIFER N
BUENAVENTURA, ORLEAN JEYBEE R
BUENAVIDES, JESUSA R
BUENAVISTA, FRENNY ROSE C
BUENO, ANDREA M
BUENSALIDA, JANELLA MAE P
BUENVIAJE, ALJAY S
BUENVIAJE, DEAN MICHAEL L
BUENVIAJE, PATRICK EDGAR C
BUEZA, LEONARD AEBHON N
BUGARIN, CARY LOUISE A
BUHAY, JUSTINE D
BUISING, JERIC V
BULACAN, MARY ANN D
BULALACAO, HANZEL M
BULALACAO, VERSALLY M
BULAN, JOHN ELIKS THOMAS V
BULANO, MICHAEL RENZ M
BULAYAN, LYRA L
BULAYBULAY, CRISTINE C
BULIC, JONATHAN MARK SA
BULLONG, JAYFORD P
BULONG, JAMAICA A
BULUSAN, MICHAEL JR. L
BUNCAG, DWIGHT ALDWIN C
BURATO, JOHN PAUL L
BURCE, JASMINE JANE R
BURGOS, CYRILL R
BURGOS, MARIAN ANTHONYTTE D
BUSI, ROY JR. S
BUSQUIT, BENNA MARIE G
BUSTARDE, JERIC B
BUTAWAN, JESSA MAE V
BUÑO, QUEENIE MAE L
BUÑO, RIZELLE BERNADETTE H
CABALLERO, CAMILLE A
CABALLERO, REIZEL GRACE A
CABALLERO, VERON JOYCE N
CABALTERA, LEO JOHN T
CABANA, SHEENA JEAN M
CABANCE, NICOLLE V
CABANELA, CARLO KRISANTO S
CABANGANAN, JANNO A
CABANGIS, DIANNE RALIZ R
CABANIG, REMELIE B
CABATBAT, ROMEL P
CABATINGAN, EMIKO MAE D
CABAÑAS, ERICKA P
CABIGAS, NANCY D
CABILES, JESKA NICOLE R
CABILLO, JIZELLE S
CABRERA, ERIKA V
CABRERA, VERONICA DANIELLE E
CABRIGA, ADRIAN M
CABRILES, ABRAHAM P
CABUGASON, OMAR C
CABUSAS, JEFFREY J
CABUSOG, CLARICE C
CABUTIN, ALDWIN T
CACAO, KRISLYN JOY M
CACAO, PETER JOHN S
CACERES, ALLYNE STEPHANIE
CACERES, PRECIOUS ANNE FAITH T
CACHO, DARIO JR. M
CACO, RIVAH ANN S
CADACIO, KRISTEL KATE Z
CADAOAS, EDISON B
CADAUCAN, FREZZIE MAE L
CADAVID, ELLEZER N
CADAY, KATHRYN P
CAEG, ANA LORAINE R
CAFINO, RAYMOND G
CAGAYAN, MAUREEN D
CAGUICLA, ANGELICA D
CAGUICLA, SHAINA MARA D
CAGUIMBAL, CHRISTINE MARIE J
CAHILIG, MARIELLA J
CAHILIG, MICERNA LYN P
CAIDIC, CEDRICK WREN DANIEL B
CAIREL, ROVIALYN MAE S
CAJANO, PAULINE JOY R
CAJAYON, GWYNETH JANNY V
CAJAYON, MAXINE E
CAJUCOM, JORYL I
CALANDAY, FHETER JOHN B
CALANOG, HANNA MARGARET M
CALAPE, MARIZ B
CALASICAS, ROMEL B
CALATIN, JOHN KALI O
CALAYAG, CARLOMAGNO S
CALAYCAY, JESUS JR. H
CALDERON, JOHN MICHAEL L
CALDOZA, SHERIMYLES D
CALDOZA, YOLI ANTONNETTE M
CALFOFORO, ZYRILL JANE C
CALICDAN, ANNA THALIA V
CALILUNG, RIZZA MAE F
CALIM, SHANA CRIS O
CALINAGAN, KATRINA MAE N
CALIWANAGAN, RAICON D
CALIXTRO, TRIXIE B
CALLOS, BERNADETTE T
CALLUENG, RALPH JOSEPH B
CALMA, CESALYN L
CALOT, RICA MAE G
CALUCIN, FRANCIS ANGELO V
CALUSA, CATHERINE MAE L
CALUYO, JOHN RUSSEL M
CALVARIO, CHARLES DEXTER B
CAMACHO, ALYSSA CAMILLE E
CAMACHO, EDEN A
CAMACHO, NIÑA RAQUEL M
CAMALIGAN, MARYJOY D
CAMANGA, GIAN CARLA M
CAMANGA, GWYNETH MARIJO U
CAMANO, MARY JOY B
CAMASIS, CHRISLIE S
CAMBA, BIANCA JEAN
CAMBEL, GLENDA D
CAMBEL, JEMIL V
CAMILLO, ARVIN KYLE P
CAMILON, ARIANNA E
CAMINGAY, JOY MARIE C
CAMINO, IVY DAWN O
CAMO, DARYL NEIL SYMON L
CAMPAÑA, CACY MAINE M
CAMPO, EVANNA RAE C
CAMPO, JAMES ERROL T
CAMPO, KING KEVIN MANUEL R
CAMPOS, ALEXANDER MICHAEL V
CANADA, THEDRIC DR
CANALES, CHELSEA ANN A
CANANCA, DANA YENCI D
CANAR, JHOAN C
CANDEL, CAMILLE KEITH D
CANDELARIA, RAFAELITO C
CANGAO, DAVID ANTHONY T
CANILANG, NELLY ROSE C
CANILAO, ANGELIKA CHRISTINE L
CANLUBO, KARL CLARENCE V
CANO, NICOLE ELIZABETH D
CANO, WENDELL D
CANOSA, SHYRELLE I
CANSONCILLO, ZARELL M
CANTERA, JAN NIKLAUS V
CANTONJOS, JEAN ROSE V
CANTOS, DARLIND VIVIENN D
CANTOS, FRANCES JOYCE B
CANTOS, JAY CYRIL D
CANTOS, MAY-ANN C
CANTUBA, JOSHUA RENO S
CAO, MARIEVIC B
CAONES, RAZEL G
CAOYONAN, VANESSA C
CAPACIO, SHIELA GRACE C
CAPADOCIA, LEA DC
CAPARAS, CHRISTINE LEI D
CAPILI, CHARLYN M
CAPILI, CHRISTIAN A
CAPILI, DOMER IAN M
CAPILI, XAVIER JOHN VOIT T
CAPIRAL, DEA S
CAPIRAL, JIANN C
CAPISTRANO, NORELIZ DALE N
CAPIÑA, CHERRY MAY
CAPONPON, APRYL GRACE M
CAPONPON, GILBERT E
CAPUNO, BABY AUDREY O
CAPUNO, JEMUEL M
CAPUNO, SHAINNA JOICE C
CARAAN, FREDERICK C
CARAIG, JEANN CLAUDINE M
CARAIG, JONABELLE C
CARAIT, PRECIOUS ANNE A
CARANDANG, ANNA FAITH C
CARANDANG, CARMEL MARIE S
CARANDANG, GLENDA O
CARANDANG, JANE MARIE R
CARANDANG, JOHN RAYMOND M
CARBALLO, SERGI FREDERICK F
CARDENAS, JEFFREY S
CARDENAS, PAUL ANTHONY R
CARDEÑO, RAFAEL JR. L
CARGANILLO, RUXELL NEIL B
CARIAGA, RHIA CARMELA R
CARIBALA, CAMILLE N
CARIG, LOJELYN P
CARIGMA, JOHN CHRISTOPHER E
CARILLO, MARY JANE A
CARINGAL, KHIEMSHIE A
CARITOS, JOSE ANTONIO Y
CARIZ, MANILYN A
CARIÑO, JOHN KYLE S
CARLOS, ALLYSSA MARIE E
CARLOS, JOYCE CAMILLE D
CARLUTO, ANGELA A
CAROLA, LENDRIN M
CARPELA, SAMUEL JOSEPH C
CARPIO, CYRUS CARL B
CARPIO, FATIMA REGINE L
CARPIO, JENNY P
CARPIO, LENISA JANE T
CARRANZA, CATHERENE JOY T
CARRASCO, IAN MARCO V
CARTALLA, LANCER VAN F
CAS, RENZEL MARIJEN D
CASAMBROS, JELINE MIKAELA I
CASAPAO, MARY ROSE R
CASAS, RENATO ALLEN JR. A
CASCO, SHERYLEEN M
CASEQUIN, MAT JEROME M
CASILAGAN, MA LUISA R
CASINTO, JEZLYN L
CASIÑO, ALJON G
CASIÑO, MA JANINE P
CASTAÑEDA, CIELO MARIE A
CASTILLO, ALLYSSA MARIE M
CASTILLO, ANNA ROSE A
CASTILLO, CRISTEL C
CASTILLO, GAILE A
CASTILLO, JOHN JOSEPH P
CASTILLO, LADY CAROL B
CASTILLO, MARIA THERESA B
CASTILLO, MARIAN F
CASTILLO, MELISSA MAY C
CASTILLO, MIKE ROGAN M
CASTILLO, ROCHELLE P
CASTILLO, VIRGILIO JR. V
CASTOR, KRISTINE COLEEN E
CASTRO, LIEZEL J
CASTRO, MAXI GEORGE Y
CASTRO, NATHANIEL R
CASTRONUEVO, ANGELO JOHN J
CASTRONUEVO, MARY JOY R
CATANGUI, HAZEL
CATAPANG, ELOISE FAYE P
CATAPANG, MONALIZA C
CATEDRILLA, METCHE P
CATINDIG, AMIEL A
CATINDIG, JESIAH A
CATINGUB, RHIA A
CATIPON, LEMUEL J
CATLI, SHIARA M
CATLY, REMGEEJ SHAYNE G
CATRAL, HAZEL A
CATURAO, ZHYRA E
CAUNIN, MA JESUS D
CAVITANA, MARIA KRISTINE MAY D
CAVITANA, MARIA KRIZZA LYN D
CAWAS, JERICO R
CAY, ARIES JOSHUA B
CAYABO, IRENE CRISTINA
CAYAON, HARMON RIC J
CAZEÑAS, SARRAH MAE D
CAÑAZARES, GRACHEL D
CAÑEDA, JEANE PAULINE M
CAÑETE, JANINA MARIE J
CELAJES, ALYSSA PRECIOUS M
CELEBRE, MONICA D
CELESTINO, EMMANUEL I
CELESTRA, CHRISTINE JANE SJ
CELIS, MA MARLA S
CELIZ, CHARMI VENI M
CELLO, LEOVIGELDO JR. G
CENETA, RICHARD C
CENIZA, JERIC M
CEPILLO, LOURIEL G
CEQUEÑA, ANA ROSE M
CERA, CAMILLE MARGARET P
CERCAÑA, KEINZEL LENN G
CERCENIA, MC KEVIN C
CERDA, HARLENE JOY B
CERIOLA, FERNAN F
CERNERO, ALDOUS RAFAEL M
CERRERO, JOHN CARLO P
CERVANCIA, JOHN STEVEN M
CERVANTES, MARY KEZIAH A
CERVANTES, MAXINE AGATHA G
CERVERA, RAYMOND P
CETRA, EFRAIM MANESSEH T
CETRON, SHIELA MAY B
CEÑIDOZA, JONATHAN P
CHAVES, SOFIA CARMEL M
CHAVEZ, JOHN MICHAEL P
CHUA, IVY JANINE B
CHUA, LICERIA D
CHUMACERA, RACHELLE A
CIMAFRANCA, SAMANTHA F
CIMATU, CHERRY MAE C
CINCO, NICOLE T
CIRIACO, EDWIN DON P
CLARIDAD, THEA DANICA J
CLAUS, MA JESUSA A
CLAVERIA, MARC ERREL A
CLAVIO, CAMILLE D
CLEMENTE, DARYL A
CLEMENTE, JAMAICA S
CLIMACOSA, REA R
CLIMACOSA, RIZZA R
CLOSA, CARLA CAMILLE C
CLUTARIO, POPE JUSTERINI G
CO, DANIELA TERI R
COBICO, EVANGELINE C
CODIZAL, PATRICIA ANNE Y
COLCOL, ALEJANDRO B
COLDERIA, KENLI M
COLIAT, KIMBERLY G
COLIGADO, MICHELLE P
COLILI, JOHN VINCENT C
COLLADO, ELIZA GABRIEL C
COLLADO, IVY LORRAINE R
COLOMEDA, ANNALYN D
COMIA, FERNANDO JR. B
COMIA, GEMALYN C
COMIA, NEIL J
COMIA, VIVIEN FAYE M
COMILANG, XAVIER LOUIS
COMPEL, LADYLYN
CONCEPCION, REINA MAY C
CONCEPCION, REY P
CONDE, ANGELICA P
CONDE, JEUZ REUBEN P
CONDE, LARRAH SHYNE D
CONDE, PAOLO CHRISTOPHER T
CONDES, DARWIN A
CONDINO, CATHERINE II M
CONDINO, LEA P
CONDINO, MARK ANGELO V
CONDRILLON, CHRISTIAN MIGUEL C
CONGZON, REXY H
CONICONDE, ODESSA P
CONOCIDO, EVALINE H
CONSIGNADO, CHRISTINE JOY C
CONSTANTINO, ALEX M
CONSTANTINO, MARION PRINCESS V
CONTI, CHELSEY D
CONTRERAS, ELLAINE S
CONTRERAS, JEHLIE ALAISA M
CONTRERAS, VERONICA MAE T
CORAL, MA CHRISTINA T
CORCUERA, LADY GAYVEE DC
CORDERO, BREN K
CORDOVA, KARINA THYRA N
CORILLA, GRETHEL MAY L
CORNEJO, ALYSSA O
CORNISTA, NIÑA CAMILLE P
CORONADO, CHARMAINE
CORONADO, JOSEPH M
CORONADO, JOVEL TRINA Z
CORONADO, LIEZEL S
CORONADO, MARIEJOY C
CORONADO, RALP HARVEY A
CORONEL, MIKHAELLA ANDREA T
CORPORAL, LILIBETH D
CORREA, DARA MARIE V
CORSINO, SAMANTHA BEATRICE N
CORTERO, VIERNILIZA C
CORTEZ, LILY GRACE R
CORTEZ, MARIA ELENA B
CORTEZ, SHEENA L
CORTEZ, ZANDRA AIZEL M
COSICO, LEANDER PAUL P
COSICO, TIMOTHY JAMES M
COSIGNADO, DARYLE D
COSTALES, ANGELICA F
COSTURA, LAWRENCE JEMUEL Q
COZ, LIEZEL E
CREDO, MICHAEL RENE B
CREMA, PAUL ARVIN B
CREUS, AZZILE A
CRISOSTOMO, MARICRIS L
CRIZALDO, ARRIANE JOY V
CRIZALDO, CHARMING JOY A
CRIZALDO, GIAN VICTOR M
CROOX, JOHN BERNARD M
CRUZ, ANA KIELA F
CRUZ, CORINA V
CRUZ, ENGELBERT H
CRUZ, ERWIN JOSEPH G
CRUZ, GLADELYN E
CRUZ, HAROLD L
CRUZ, JEREL ELIBER EDWIN L
CRUZ, JONVERT S
CRUZ, JOSELITO JR. P
CRUZ, KIM WILMER L
CRUZ, LELIS VINCENT D
CRUZ, LORENZE CHRISTIAN R
CRUZ, MA JIANA SHRYSTINE JEWEL L
CRUZ, MIGUELA MARIE M
CRUZ, MONICA C
CRUZ, NATANIEL R
CRUZ, NYLE M
CRUZ, PAULINE D
CRUZ, SHERRY ANN A
CRUZADA, CAMILLE Q
CRUZAT, LORIELY N
CUARESMA, VON CHESTER D
CUARTEROS, FRANCIS JEROME V
CUARTO, VANESSA T
CUASAY, LEI OSCAR M
CUASAY, NOEMI L
CUBE, GEORGE A
CUBILLAS, ROEL F
CUDAL, ROME PAOLO D
CUELA, ANDREI FATIMA L
CUENCA, CALVIN KENT E
CUENCA, IVY DIANE R
CUERDO, KRIS IAN NOEL D
CUETO, CAREN JUNEL C
CUETO, CARREL A
CUETO, IRISH B
CUEVAS, JODETTE M
CUEVILLAS, KRISHA COLLAINE A
CUIZON, JOE-ANN J
CUIZON, RENZ JOHN B
CULABAT, MICHELLE M
CULASI, MICAH P
CULING, RONA JULIA L
CUMAD, SHAINE MARIE D
CUNANAN, IVAN CARLO M
CUNDANGAN, MICHELLE JOY T
CUPLANG, PRINCESS SARAH A
CURADA, VAN IVAN P
CUSTODIO, JHON VINCENT N
CUSTODIO, MARIDEL C
CUSTODIO, RACHEL ANNE M
CUTHAY, JESS
CUYA, CHARLOTTE MAE C
CUYNO, RENE CARLO M
CUYOS, ASHLEY MAE R
DABLO, JOSEPH MACLY B
DABU, JANET JOY A
DACILLO, MA NIVEA DANNE H
DACUDAO, IVAN CONRAD R
DACUMOS, JHOANNE NIÑA P
DADEA, POPS MARIE S
DADULE, MARY JANE C
DAEL, CHRISTINE JOY M
DAELO, KATRINA R
DAGANTA, DINO M
DAGANZO, CHRISTOPHER DANIEL B
DAGLI, JENNETH U
DAGLI, KARISSA MIKAELA S
DAGUS, LEYNETTE G
DAIZ, ROJANE MARIE B
DALAGUIT, IVAN JOHN B
DALENDEG, FELIX III T
DALEON, KATHRYNA MAEVE V
DALIDA, DANIEL ROD D
DALISAY, PAUL JOHN KENNETH F
DALLUAY, ISRAEL C
DALUPANG, JODON B
DAMASCO, LEMUEL REY A
DANILA, MEL JOY M
DANONG, SAMANTHA KAY L
DANSECO, ALFREDO JR. R
DAO, ANGELICA I
DAPENA, STAREN C
DAPITAN, DANIELLA ANGELICA R
DAPOG, BYRON M
DAR, JOSE BENJAMIN A
DASECO, REGINE GLENN B
DATINGUINOO, JOSEPHNE MAE J
DATO-ON, LENNY GRACE L
DATOON, ANTONIO V
DATOR, PRINCESS AGATHA MAURICE M
DATOR, THOMAS HOBEY L
DAVA, JULIE ANN MARIE R
DAVID, ALYSSA OHRELLIE D
DAVID, BIEN JOSELLE G
DAVID, ELIZABETH B
DAVID, JOANNA LYN P
DAVIN, JUSTIN CHIN R
DAWAL, RONALD S
DAYAO, AMBER DAWN P
DAYOAN, ROKY E
DAYUNOT, JOJEMAR Y
DE BELEN, APPLE JOY T
DE BELEN, MARC DOMINIC P
DE CARDO, SUSHMITA JANICA F
DE CASTRO, ADRIELLE V
DE CASTRO, ALLYSHA JOY M
DE CASTRO, ARBY RAIZA L
DE CASTRO, DARYL B
DE CASTRO, ELNORA B
DE CASTRO, GLADYS O
DE CASTRO, JANELA S
DE CASTRO, JEMALYN A
DE CASTRO, KAREN ROSE O
DE CASTRO, KLAIRE F
DE CASTRO, NIKKA LORRAINE S
DE CASTRO, ROLAND E
DE CHAVEZ, MARIA REGINA D
DE CHAVEZ, YASMIN YVONNE M
DE GALA, VINCENT I
DE GUIA, ALMIRA E
DE GUIA, GERALD D
DE GUZMAN, BIANCA SHAINNE B
DE GUZMAN, DIAN B
DE GUZMAN, JAMIE ROSE E
DE GUZMAN, JEAN PAULA G
DE GUZMAN, JED ALDRIN A
DE GUZMAN, JOSE MARI R
DE GUZMAN, JUDIE ANNE I
DE GUZMAN, MAJORY M
DE GUZMAN, MARLON V
DE GUZMAN, MC ROGER MHER D
DE GUZMAN, PIA ANGELIQUE L
DE GUZMAN, SHARLENE GRACE D
DE GUZMAN, SWEET JESSABEL M
DE JESUS, ANJANETTE C
DE JESUS, EMMANUEL J
DE JESUS, KAROLINE P
DE JESUS, MAY G
DE JESUS, NIKKO FERLAN
DE JESUS, RAVEN DIONNE F
DE JUAN, ROVI JANE R
DE LA CRUZ, MARHUEN IRIS A
DE LA CRUZ, NICOLE D
DE LA PAZ, CHESTER LEE A
DE LA PEÑA, MARIEBIEN A
DE LA PEÑA, SHIENA G
DE LAZO, TRISHA ANN G
DE LEON, ANDREA KRIS E
DE LEON, ANNE NICOLE G
DE LEON, DANE JUSTIN R
DE LEON, DANIEL PATRICK Y
DE LEON, JANE CLARIZZA O
DE LEON, LEANA LAICA G
DE LEON, MARICAR O
DE LEON, NICCA MAE N
DE LIÑA, NHIKKA DHANIELLE T
DE LOS REYES, ALMIRA H
DE LOS SANTOS, EMMANUEL M
DE LUNA, CIELO L
DE LUNA, SPENCER ANGELO M
DE MESA, ALYSSA P
DE MESA, DANIKAH JANE S
DE MESA, DENISE ANGELIQUE L
DE MESA, JOANNA PATRICIA
DE MESA, RODELYN C
DE NIÑA, MARLON M
DE OCAMPO, ALVIN S
DE OCAMPO, ERICKA F
DE OCAMPO, MARCO
DE PAZ, LORAINE ANN S
DE RAMA, ABIGAIL T
DE RAMA, JANICA F
DE RAMOS, NICKOLE R
DE ROBLES, MIKE ADRIAN M
DE SILVA, JOSHUA L
DE TORRES, APRIL JOY R
DE TORRES, DARREN MAE M
DE TORRES, JOHN PATRICK A
DE TORRES, PAULINE ANN V
DE VARGAS, SHARLENE D
DE VILLA, JOHN ENDOR F
DEADA, CRISMON T
DECENA, DANNA LORRAINE T
DECENA, DIANNE LYVIELE T
DECENA, PATRICIA MAE T
DECIO, CHARLISA RAMONA T
DEJAC, JUNIEDEL M
DEL CASTILLO, ELIJAH RAY T
DEL MUNDO, JOHN DALE C
DEL MUNDO, JOHN VINCENT A
DEL MUNDO, MARY ANN S
DEL MUNDO, MYBELLE V
DEL MUNDO, RODSON G
DEL PILAR, GIAN GEROME M
DEL PILAR, MITCHIE JANE
DEL RIO, CRISHIA MAE T
DEL ROSARIO, MA KATHLEEN JOY L
DEL ROSARIO, MICHAEL CARLO DP
DEL ROSARIO, RICA R
DEL ROSARIO, ROXANE H
DEL ROSARIO, SHAMMARIE S
DEL SOCORRO, TRIXIA MAE O
DEL VALLE, DIANNE C
DELA CRUZ, ALYSSA C
DELA CRUZ, ANJELICA TIARRA C
DELA CRUZ, CHERRY N
DELA CRUZ, DANIYARA KRYSTEL Y
DELA CRUZ, ELYSSA MEI H
DELA CRUZ, JENALD JOYCE D
DELA CRUZ, JERI ANGELA M
DELA CRUZ, JESSA G
DELA CRUZ, JHOANNE KHRYSS P
DELA CRUZ, JOHN PAUL A
DELA CRUZ, KARREN MAE A
DELA CRUZ, MA TERESA S
DELA CRUZ, MAE V
DELA CRUZ, MARICRIS L
DELA CRUZ, MARIO JR. D
DELA CRUZ, MARY ADELINE A
DELA CRUZ, MICHAEL A
DELA CRUZ, NESTOR JR. F
DELA CRUZ, SARAH LYNNE G
DELA CRUZ, SIR VICTOR EMMANUEL N
DELA CUESTA, CAROL ANN M
DELA FUENTE, LYKA A
DELA PAZ, LEAH CARMELLI SALVE L
DELA PEÑA, KATE ANNE C
DELA PEÑA, RIO ANGELICA Z
DELA RAMA, VONN CHRISTIAN G
DELA ROCA, EMMANUEL JR. M
DELA ROSA, CELIA A
DELA ROSA, RANDOLPH C
DELA ROSA, RENIER JOSEPH V
DELA ROSA, SHAIRA MICA B
DELA ROSA, ZHARRA B
DELA TORRE, DONNABELLE DL
DELA VEGA, BEVERLY ANN A
DELA VIRGEN, APRIL CEASAR F
DELALAMON, FLORENCE L
DELAS ALAS, GINO R
DELAS HERRAS, JUAN PAOLO G
DELBO, DIANA J
DELEN, ANNA MARIA A
DELEN, RAY MARKO D
DELFIN, SARAH JANE N
DELGADO, ABEGAIL E
DELGADO, JENNIFER F
DELGADO, JOSEA MACIEL D
DELGADO, LUGENE ANNIVER R
DELICA, OLIVER P
DELLOSA, KEN J
DELLOVA, CECILLE P
DELOS ANGELES, MIKEE P
DELOS REYES, ADELINE NICOLE A
DELOS REYES, BLANQUITA M
DELOS REYES, EIUNECE F
DELOS REYES, ELIZABETH G
DELOS REYES, GIERLIE O
DELOS REYES, JAN KAYE C
DELOS REYES, JOMEL T
DELOS REYES, JOYCE A
DELOS REYES, JULIE ANN M
DELOS REYES, LANNIE MAE A
DELOS REYES, SHIERA FAY V
DELOS SANTOS, GIAN FRANCO S
DELOS SANTOS, JACOB O
DELOS SANTOS, MYLENE P
DELOS TRINOS, QUEEN CHRYSA A
DEMEREY, THOMAS CHRISTOPHER Q
DEPUNO, RICHARD VINCE M
DERIQUITO, MARY ROSE ANNE A
DERLA, MA CELINA I
DERPO, MARIA JANELLE P
DESIDERIO, WINALINE R
DEVEZA, ANGELICA NICA B
DIA, JERICO D
DIALA, JESSA MAE P
DIAZ, EMMANUEL ELIJAH R
DIAZ, GRACE ANN M
DIAZ, JANINE U
DIAZ, SHAINA ANN MAE F
DICHOSO, AILYN JEAN A
DICHOSO, DAWN ANGELOU M
DICHOSO, RACHEL ANN O
DICTADO, RONNEL C
DIGMA, JOSE MARIE C
DIGMA, JOYKLYN C
DIGOL, IVY GRACE D
DILAY, VALERIE JOY J
DILOY, NATHANIEL G
DILOY, THEA MARY JOYCE M
DIMAANO, ERICK JASPHER A
DIMAANO, MARIA DIVINA ANN K
DIMAANO, MIKAELA D
DIMAANO, TRIZHA JOYCE U
DIMAANO, ZARA JOSIAH M
DIMACULANGAN, AIRA JANINE A
DIMACULANGAN, ALJEAN V
DIMAGUILA, LOUREYN M
DIMAILIG, MARK ANGELO P
DIMAIN, JEANICA LOU G
DIMAL, ANNIE MARIE S
DIMALIBOT, KLENN ANDREA R
DIMAPASOK, SAVANNAH E
DIMAPASOK, WILLEM C
DIMAQUIBO, CHEYENNE B
DIMASACA, APRIL C
DIMASACA, KRISTA KAYLA B
DIMATATAC, KRIZIA FAE G
DIMATERA, PRECIOUS MAE S
DIMATULAC, LEANDRO D
DIMAYUGA, AIRA MAE A
DIMAYUGA, CHRISMAE A
DIMAYUGA, GAYLADI ANN V
DIMAYUGA, JOAH MAE D
DIMAYUGA, LORNA D
DIME, DANIELLE MAE D
DINGLASAN, FRANZ JOSEF M
DINGLASAN, GERRYLYN D
DINGLASAN, JILLEEN VANESSA KRISTEN R
DINGLASAN, MARIZ O
DINGLASAN, RYAN C
DINGLE, DANIELLE H
DINGWASEN, DALE OLSEN R
DIOSO, MELCHOR P
DIOSOMITO, SHARLENE N
DIPASUPIL, ROBERT JAMES T
DIRECTO, ANGELA PATRICIA MARIE M
DITAN, MAY-ANN P
DIVEDOR, MARIA ANDREA L
DIVINA, MARIA LETICIA L
DIVINAGRACIA, ALMA C
DIVINAGRACIA, LESLIE B
DIVINO, ZAHNER MAE P
DIZON, CATHERINE O
DIZON, KAREEN RUBY S
DIZON, XENA GABRIELLE B
DIÑOZO, KRISTYL PAULINE B
DOBLADA, VINCENT NOMER B
DOCOG, SARAH B
DOCTORA, JOSEPH L
DOGNIDON, ALLEN PAULO F
DOLIGOSA, GREGG CHRISTIAN S
DOLLANTAS, SUZETTE M
DOLORES, ALYANNA JAMES D
DOLORES, JOHN LOUISSE B
DOLOSA, VICTOR JOSHUA M
DOMETITA, AIRISH L
DOMIGUEZ, CHARMINE S
DOMINGO, CHRYZANTINE JOY W
DOMINGO, DRIZELLE AINA L
DOMINGO, ROMA ISABELLE G
DONAYRE, NARILLE M
DONES, EFRELAINE JOYCE DR
DORADO, ANA JANE I
DORADO, ERIKA LHEY C
DORADO, FATIMA U
DORADO, JADE HOWELL C
DORADO, JEMUEL DAVE B
DORADO, LEAH MARIE H
DORADO, LYLE JIO B
DORADO, RHODELYN M
DORADO, VINCENT A
DORIA, JAMES PATRICK E
DORIA, LOURDES DIANDRA M
DORLIAC, MYLENE A
DOTIG, JAN MEYNARD A
DOYDORA, RHEMA LYKA G
DOÑASALES, MARIAH RUTHWYN F
DRAGON, ARLENE F
DRIZ, SHEERYNELLE H
DUARTE, ALEXIS A
DUARTE, ANGELICA A
DUAZO, RAZELLE JOY M
DUCEJO, AL MIRA R
DUEÑAS, MARY KATHERINE B
DUEÑOS, SARAH MAE M
DUKING, THERESA LISA M
DULALIA, NENITA P
DUMALAON, JELLIMILCHA R
DUMALAON, JEREMIAH VI R
DUMALI, REDENTOR T
DUMDUM, PAUL ORLAN L
DURAN, ALVIN JAN R
DURANTE, CLARENCE JEREMY S
DUYA, MA PAULINE M
DY, CHARINA L
DY, DIANNE A
DY, JOANNE A
DY, MYRNA A
EBERO, GLENNEO L
EBERO, HENRY G
EBON, EROL JUN B
EBORA, JANELL LAURENCE T
EBORA, SHIELA MAE G
EBORA, YLAH KATRINA D
EBREO, ERICA MARY LESTINE B
EBREO, JEREMIAH R
ECASA, MARILOU H
ECHALUCE, RALLEY GIDEON E
ECLARINAL, JOHN ERASMUS MARIE M
EDIZA, GABRIEL Q
EDNACOT, HARRY D
EDNILAO, PRINCESS FELINDE JOSH L
EDOSOR, EMERSON L
EDRADAN, ALYSSA JOYCE J
EGLIPA, PRECIOUS ANN R
EJE, MA KRISTIA CLAIRE A
ELA, SHARON R
ELAGO, HAROLD C
ELEAZAR, JAMILA E
ELEDA, KATRINA M
ELLO, MYLENE D
ELLO, ROWENA M
ELLOSO, CHRISELLE R
ELMUNDO, SUZETTE ANNE V
ELNAR, GENOVEVA A
ELONA, IRISH B
ELUMBA, VIA MONETTE R
ELUMBARING, MA CRISTINA O
EMBONG, JENER B
EMBUESTRO, MILCA JURES U
EMELO, AILEEN C
EMPHASIS, MARIO A
EMPLEO, JHEFFERSON L
EMPRESE, JEORGE L
EMPUESTO, ROCHEMAR P
ENCELAN, MIRZI ANGELA V
ENCINAS, DENCEL
ENCLUNA, REIZA S
ENDAYA, CHRISTIAN V
ENDAYA, NOREEN ANTONETTE M
ENDOZO, WENDELL C
ENRICO, MARK LESTER P
ENRILE, NICAITH TRISHA B
ENRIQUEZ, DANIELLE LOUISE T
ENRIQUEZ, DENVER
ENRIQUEZ, ELLYZA GEM
ENRIQUEZ, FLORO IV B
ENRIQUEZ, JHENEL F
ENRIQUEZ, KAYCEE G
ENRIQUEZ, MARK GERALD M
ENRIQUEZ, SHARMAINE A
ENRIQUEZ, SHEENA MAE R
EPINO, RISS ALINAH P
ERA, CLAIRE DANIELLE U
ERA, JESSIE BOY D
ERANZO, HANNAH THERESE C
ERANZO, MARIA ANGELICA C
ERAZO, MARY SUZANNE B
ERLANO, JOYCELYN P
ERMIDA, MIKKO GERIZZA A
ERNI, SARAH MAE V
ERODIAS, DECEE KEN C
ESCALANTE, VIRLYN A
ESCALDERON, JEDHEL H
ESCALONA, JOHN EARL M
ESCALONA, MYRA ROCHELLE H
ESCAMILLAS, LORLYN S
ESCOBAR, CHRISTIAN JAMES T
ESCOBIN, ANNA CARMELA B
ESCOLANO, NIÑO NOE E
ESCOPETE, MA JULIENNE E
ESCRIBANO, KIM ROCHELLE T
ESCUDERO, WILSON R
ESEQUE, ZIGNER B
ESGUERRA, ALJANE C
ESGUERRA, KATE LYNE B
ESGUERRA, MICAH E
ESPARRAGUERRA, VIJALYN
ESPARTINEZ, RICHELLE C
ESPAÑO, MARK GABRIEL P
ESPEJO, ACHILLES JR. C
ESPELETA, JOHN PAUL L
ESPENIDA, JONEL D
ESPERANZA, RALPH FLORENCE E
ESPINA, MARWIN G
ESPINELI, IRISH JOY A
ESPINILI, KRYSTIAN REY D
ESPINO, EDGAR JULIUS A
ESPINO, IRISH ANNE N
ESPINOSA, EVELYN Q
ESPINOSA, THERESA ANN E
ESPINOSA, WENDYLYN D
ESPIRITU, ALEXANDREA R
ESPIRITU, ANGELIKA GABRIELLE A
ESPIRITU, JAZTINE NIKKA M
ESPIRITU, LERICA A
ESPIRITU, LESTER A
ESPIRITU, LOVELY JIETHER B
ESPIRITU, RAY CARLO T
ESPOCIA, JUNELLA KYLE A
ESQUILLO, JEROME M
ESTACIO, YVONNE KRISTINE M
ESTANDIAN, MARVIN Q
ESTARAS, ARRIANN
ESTEBAN, CHRISTINE JEANNETH
ESTEBAN, SAMANTHA ISOBEL H
ESTEVES, ABIAH JEAN P
ESTILLES, LEAH V
ESTILO, CAMILLE D
ESTOYA, JB NEIL JOSHUA R
ESTOYA, JELLIE ANN B
ESTRADA, REGINE V
ESTRADA, RICHZEL KRISHA P
ESTRADA, THEA MARIE E
ESTRELLA, ARJAY B
ESTRELLA, CHARLES JAMES B
ESTRELLA, KIM ANDRIELLE V
EUSEBIO, JOANNA CARLA V
EUSEBIO, KIEF RICHARD C
EUSEBIO, LUVIM M
EVANGELIO, JOYCE A
EVANGELISTA, JIMSON P
EVANGELISTA, KHEY H
FABELA, JOHN LAWRENZ B
FABELLA, SHAIRA KHAY F
FABELLON, JOHN JAPHETH F
FABIA, RONI MARI F
FABIC, PAUL JOHN F
FABILANE, JACOB B
FABILLAR, JOEZEL MAE S
FABILLON, JEE ANN P
FABON, CRISTEL MARIE E
FABREA, ANDREA CAMILLE L
FABRICANTE, ALLAN JOSEPH A
FABRIGAS, JOHN PAUL G
FACINAL, GEOFFREY C
FACUNLA, MICAH D
FADRI, LIZETTE M
FADRIQUELA, JENINE M
FADUL, ZSAINAH MARIE D
FAJARDO, ALYSA KYLE T
FAJARDO, SHERYL JOY M
FAJICULAY, JENICCA G
FAJICULAY, JUDY ANN D
FAJUTAGANA, MAREJAL F
FALCON, SHIELA MARIE P
FALIC, MA EDEN V
FALLA, CLAUDINE G
FALOGME, AVEGAEL A
FALOGME, MARITESS L
FAMATIGA, VIANCA EUNICE F
FAMERONAG, PATRICK LOUIE G
FANER, RUSSEL JANE F
FAROL, GLARK S
FAUNI, MARK JOEL M
FAUSTINO, AILEEN B
FAUSTINO, RONILO H
FAVILA, JOHN PAUL G
FAYLON, RYAN CHRISTOPHER C
FAYTAREN, KEZIAH-LEEN E
FEDERIZO, ERWIN DAVE D
FELICIANO, SAM NEIL D
FELIPE, MARIA LUZ M
FELIX, ROMMEL B
FELIX, RYAN V
FELIZARDO, KRISTINE MELODY A
FERAREN, PAOLO RAPHAEL E
FERMA, KARLA CION P
FERNANDEZ, ASAM MARIE F
FERNANDEZ, CARL O
FERNANDEZ, CATHERINE M
FERNANDEZ, CHARLENE B
FERNANDEZ, CINDY E
FERNANDEZ, EUGINE B
FERNANDEZ, EUNICA B
FERNANDEZ, FRANCISCO D
FERNANDEZ, JACOB REY D
FERNANDEZ, MARK ALDRINNE A
FERNANDEZ, NEILBERT D
FERNANDEZ, ROWENA MAE G
FERRER, ELDRICH B
FERRER, JULIE ANN P
FERRER, MICAH JOY
FERRER, SHEILA MARIE U
FERRERAS, MARIA REMEDIOS J
FERRERAS, ROBERT LUIS N
FERRY, ROSE ANN JOY B
FESALBONI, MARK STEVEN F
FESTIN, LIBERLOURD C
FETALINO, CHESTER ALLAN MILL D
FETALINO, HANNA ZYRA E
FETALVERO, KARL ANGELO J
FETICIO, KATHERINE JOY F
FILIO, ISA MARIE G
FINEZ, STIFFANY LHYKA D
FIRMALO, JEAN F
FLAKE, AIKO C
FLANCIA, MARK ANTHONY C
FLORENDO, JAY EDWARD C
FLORENDO, MARIA ANGELIKA J
FLORENDO, MARICRIS A
FLORES, ANGELA G
FLORES, APRIL JOY A
FLORES, CLAIN CYRILL P
FLORES, FATIMA GABRIELLE A
FLORES, JANELA MARIE K
FLORES, JOE ERVIN Y
FLORES, JOSELITO JR. A
FLORES, KAZUKI MARK
FLORES, KECELYN M
FLORES, KRIZZY VON T
FLORES, NAOVI FRAULEIN P
FLORES, NERISSA A
FLORES, PRINCESS ELAINE T
FLORES, RAINE GEM L
FLORES, REINA SHERINA U
FLOTADO, JENNIFER ANNE P
FOJA, CHADRICK ALLEN A
FONCECA, JERRELL A
FONDEVILLA, ALHAMMUD D
FONDEVILLA, MIKHAIL M
FONTAMILLAS, MAE AUBREY A
FONTANILLA, JOYANN MAE C
FONTARUM, MARV JUSTIN G
FORBES, JESSICA KAREN M
FORBES, ROXANNE M
FORMANES, FRANZ A
FORTU, KRYSTEL JOYCE T
FORTU, RYANN CHRISTOPHER A
FRAC, LEVIE B
FRANCISCO, CATRINA F
FRANCISCO, GWYNETH Z
FRANCISCO, IRAH FELIZA S
FRANCISCO, JAN MARIE P
FRANCISCO, JOSHUA P
FRANCISCO, KRISTEL CATE V
FRANCISCO, LOUISE ROSE R
FRANCISCO, MARIA KATRINA F
FRANCISCO, SAMANTHA C
FRANCISCO, WINNIE ROSE ANN FAYE B
FRANCO, JUSTIN Q
FRANCO, LORENZ JAIMAR P
FRANCO, TRICIA LOUISE R
FRESNOSA, DAVID MONRIEL S
FRIAS, JOHANNES BRIX S
FRONDA, JESSA MAY O
FRONDA, JOSEPHINE V
FRUELDA, NORRAINE
FRUGALIDAD, EMILYN T
FUEDAN, MA CECILIA V
FUENTES, LARA JANE A
FUENTES, PRINCES MAE T
FUENTES, RENZ CARLO M
FULGUERAS, CHARLENE J
FULLANTE, KAREN L
FURAQUE, SAIRA M
FURTO, CRECILLE R
GABAY, MARIELLE D
GABAYNO, BLESSY A
GABINETE, AILA MARIE A
GABIOLA, ROSELLA FAYE R
GACOSCOSIM, JULIET JEAN G
GAGALAC, RALPH RALEIGH V
GAGPANAN, ROBIN JOSHUA P
GAGPANAN, ROUCHELL MATTHEW P
GAJE, RENALYN R
GALAC, IRENE H
GALAHAN, DANIEL C
GALANG, CKYM S
GALARION, PATRISHA C
GALDO, FALCON II C
GALEDO, JOHN PAUL M
GALEDO, SEDFHER JHOLLAN G
GALICIA, MARIA TONI G
GALICIA, MARIELLE M
GALINDO, MARJORIE JOY C
GALLEJO, JOSHUA F
GALSIM, JUAN CARLO F
GALVAN, JOHN CARLOS B
GALVEZ, KAYE MARIZE B
GALVEZ, WENDELL C
GAMATA, DEVIE ANN I
GAMBOA, KIMVERLY M
GANCAYCO, NAPOLEON D
GANELO, MARFIL F
GAPANGADA, LYRRIE ANNE C
GAPASAN, MARILAG M
GAPAZ, MA ELLAINE A
GAPULAO, DANNIE MIL B
GAPUZ, SHAIRA P
GARCETOS, CHUCKIE D
GARCIA, ABIGAIL MAE G
GARCIA, AIMEE E
GARCIA, ALLAN DANIEL E
GARCIA, ALVIN D
GARCIA, BRIGS HARVEY L
GARCIA, CHRISTIA ANN L
GARCIA, COLEEN TIMOTHY DUANE B
GARCIA, DIANE JANE O
GARCIA, GLAIZA JOHANNA S
GARCIA, GLENDA L
GARCIA, HAZEL B
GARCIA, JONAS P
GARCIA, JOSEPH DAVID E
GARCIA, JUSTINE E
GARCIA, MARICRIS B
GARCIA, MART GRACE G
GARCIA, PRINCESS JAZMINE L
GARCIA, QUEEN DOROTHY M
GARCIA, RICHELLE A
GARCIA, RICHELLE B
GARCIA, ROMAN M
GARCIA, RONALDO JR. V
GARCIA, ROSE ARLENE Q
GARCIA, WILSON D
GARCIA, XYLLENE P
GARGA, ACE ROBIN MARK G
GARIBAY, ERWIN JAMES A
GARINO, DUKE JOHN V
GARINO, HANNAH GRACE R
GARRA, CARL VINCENT D
GARRIDO, ALYSSA JOYCE B
GARRIDO, ANNA WILMA C
GARRIDO, TRISTAN EMER ARIADNA A
GASCON, JERELLI B
GASELLOS, LILIAN F
GASGONIA, ANGELO B
GASPAR, ALECS BENEDICT V
GASPAR, RAMIR J
GATAB, JEM BONNIL C
GATAN, ALLAN VIENZER A
GATCHALIAN, ALLANA MAEVE P
GATCHALIAN, JHERICK JOHN C
GATLABAYAN, ARYL S
GAURANO, JOSE ALFONSO ORESTES I
GAURANO, JOSE LORENZO AMADOR I
GAUTANE, GIL IGAN S
GAVARRA, LIEZEL P
GAYON, CATHERINE S
GECALE, JASMINE J
GEDA, RONELL ALDRIN B
GEMINO, KENNETH L
GEMINO, ROSEAN E
GENER III, REYNALDO V
GEONANGA, GERMIE M
GEPTE, OSWALD JEZOAR B
GEREMIA, MYKA LEI E
GERMAN, MA VERA G
GERMATA, JERANIE G
GEROLEO, JONALIE M
GERON, BABYJOY U
GERON, JOHN GARETH C
GERON, SUZETTE R
GERONA, REGINE D
GERONAGA, JOHN BEN S
GERONDA, HONEY MAE D
GERUNGGAY, JEBERLYN JOY G
GERVACIO, MHYKA O
GESITE, KRISTINA JADE Y
GESMUNDO, CAMILLE THERESE D
GETES, SHIRLYN JOY M
GEVAÑA, MIKAELA MARIE B
GILBUENA, CRISELDA V
GIPAN, JHONAS D
GLIPO, MARISSA C
GO, ANN KRYSELLE T
GOALCANTARA, CHERISH J
GODOY, EVANGELINE T
GOJAR, DENIELLE ELLIZ P
GOMEZ, AVEL V
GOMEZ, CHARLENE I
GOMEZ, CHARMAINE MARIE A
GOMEZ, EXEQUIEL FREDRICK E
GOMEZ, GIRLIE C
GOMEZ, HANNAH ROCHELLE G
GOMEZ, JOSE MIGUEL A
GONDRANEOS, LIERA ELYSSA E
GONZAGA, DOROTHY ROSE S
GONZAGA, JOLLY KLARYSSE I
GONZAGA, MARIAN YSABELLE M
GONZALES, AGNES B
GONZALES, ARFIE BRYANNE V
GONZALES, CZARMAINE S
GONZALES, DARZYL I
GONZALES, DORETHY S
GONZALES, ELLA MAE G
GONZALES, GRACE G
GONZALES, GYAN CARLO A
GONZALES, JAN ERRALD H
GONZALES, JENINA MARIELLE B
GONZALES, KIMBERLY M
GONZALES, KRISTINE JANE F
GONZALES, MA ROSALIE M
GONZALES, MARIAH COLEEN G
GONZALES, MARK AIDOS B
GONZALES, SHEENA MARIE V
GORDOVEZ, GIAN RENZA C
GRACIA, MICAELA F
GRANALE, CARMINEL C
GRATELA, JANDEL NOEL T
GRAVOSO, MA CARMEL B
GREGORIO, JELESA G
GREGORIO, MARC JETH N
GREPO, SAIRON JAY S
GRIPAL, EDRIELLE V
GRIÑO, AZZIMINA A
GUARIN, AUBREY A
GUATNO, JANE T
GUAYCO, JOSHUA J
GUBA, RACHEL M
GUBOT, CHRISTINE JOY S
GUCON, RANIELLE VIANCA M
GUDA, ELMER B
GUELAS, AIRA SHANE S
GUERRA, PAMELA BEATRICE K
GUERRERO, KARL LOUIE L
GUEVARA, JOSEPH LOUIS M
GUEVARA, KEREN CHELSEA L
GUEVARA, MAYNARD M
GUEVARRA, CAMILLE JOYCE O
GUEVARRA, CHARMAIN S
GUEVARRA, CHRISTINE N
GUEVARRA, JERICO T
GUEVARRA, RICA MAE F
GUGOL, RENEE ANN A
GUIA, JENNIFER D
GUIANG, GLADY DANN B
GUIAO, MYRINE MARILOU M
GUILLERMO, NICOLE MAE R
GUINTO, ALLANIS JERINE C
GUINTO, DARYL LYZA M
GUINTO, GERALYN GAY B
GUINTO, JOANE M
GUINTO, MARYTHEL P
GUIRRE, SHANE KIRBY S
GUIRUELA, CARLA JANE L
GUMANGAN, LEOGINE A
GUMAYAN, GLORY ANN VICTORIA
GUNDRAN, ELIJAH A
GUNO, ROMALYN Y
GUSTILO, JAN EMMANUEL II M
GUTIERREZ, APPLE M
GUTIERREZ, ARON DARWIN M
GUTIERREZ, DIANNE B
GUTIERREZ, JESS ANGELITO A
GUTIERREZ, JOHN ANDREW S
GUTIERREZ, KIERON IVAN M
GUTIERREZ, LYNYRD A
GUTIERREZ, MARIA FE A
GUTIERREZ, MICK IRA T
GUTIERREZ, PRINCESS SHELYN A
GUTIERREZ, ROCHELLE C
GUTIERREZ, WENDY JANE R
GUYO, IVYNNE CHARISSE M
GUZMAN, ELIJAH JOY O
HABITO, RUZZELL JOHN P
HABLA, IAN C
HAGAD, CARLO A
HALCON, MANUEL ANTONIO RAMIRO P
HALIMBAWA, AIAH FHEL P
HALIMBAWA, ANIELOR L
HANSEN, ADRIAN M
HARINA, RAZEL MARIE A
HASAN, AVIEN YNNA M
HASIM, ABDELL MAR A
HAYAGAN, APRIL ANN G
HAYEN, CLEO MAY M
HEBRADA, FERNANDO JR. V
HEDREYDA, CHRISTOPHER M
HEMEDES, FERRY DIANNA B
HEMPISAO, JAYCEE C
HERMANO, CLAIRE M
HERMINADO, MARIA PAMELA P
HERMOSA, KHAYE RONALIE M
HERMOSA, MARELLA YNA D
HERNANDEZ, AARON JOSEPH T
HERNANDEZ, AILEEN B
HERNANDEZ, ANDREI DOMINIC S
HERNANDEZ, CAMELA V
HERNANDEZ, CHLOE NICOLE B
HERNANDEZ, CHRISTIAN JAMES C
HERNANDEZ, DANTE D
HERNANDEZ, DENISE MARIEL B
HERNANDEZ, EMMANUEL B
HERNANDEZ, FRANCES S
HERNANDEZ, GRACIA MARY P
HERNANDEZ, JESSICA I
HERNANDEZ, JHANA MARIE L
HERNANDEZ, JOHN PAULO S
HERNANDEZ, LAARNI MARIE M
HERNANDEZ, LEA A
HERNANDEZ, LIAN FRANCISCA C
HERNANDEZ, LILET C
HERNANDEZ, LORRAINE G
HERNANDEZ, NHEA V
HERNANDEZ, ROAN MAE E
HERNANDEZ, SHARLENE M
HERNANDEZ, VENUS M
HERRERA, ADRIAN M
HERRERA, ALLEN JOSHUA D
HERRERA, FRESALIE T
HERRERA, KRISCHELLE R
HERRERA, MA KRISTEL E
HERRERA, MARY ANN KEITH E
HERRERO, ELIJAH JOSEPH A
HIDALGO, DEO GLENN V
HIDALGO, MA KCLYN M
HIDALGO, MALYN E
HIGA, ARIES M
HILARIO, ANGELA FAYE D
HILARIO, JAY MARIE C
HILARIO, NICHOLE V
HINOJOSA, ALEA PAULA V
HINOJOSA, JUAN PAULO V
HIPOLITO, JOHN VINCENT
HIRANG, MA ISABEL C
HISTORILLO, JELYN B
HOLGADO, DARLING PEARL M
HOLLESCA, XYLA MAE M
HOMOROC, JOHN MICHAEL S
HONDO, ADRIEL NEIL S
HOSTALERO, PAULINE V
HUET, REMUS E
HUGO, JOHN VINCE P
HULLANA, ARRIANE GRACE C
HULLEZA, MARY GRACE A
HUPANDA, KHENJAP E
HUSMILLO, ROSALINA A
HUY, ALDRIN ALLAN T
IBARDALOZA, GERICA P
IBARRA, VICTORINA BIANCA T
IBARROLA, RANIELLE IVAN V
IBASCO, JOEMER JAMES G
IBAÑA, LOVELY JANE M
IBAÑA, SHERWIN G
IBAÑEZ, HARVEY S
ICARANGAL, CARL JULIUS L
ICARO, BRYAN K
ICO, KAREN D
IGAMIN, RACHEL WEERAH P
IGNACIO, FERNAN JR. C
IGNACIO, FRANCEVINAFLOR L
IGNACIO, JOAN A
IGNACIO, KATHRINE JOY SM
IGNACIO, QUEEN ANNE B
ILACID, JANINE S
ILAGAN, ANGELICA R
ILAGAN, ARAH DIANA L
ILAGAN, ARNOLD L
ILAGAN, BEVERLY A
ILAGAN, BEZALEL A
ILAGAN, FLORLEN P
ILAGAN, JOHN JOSEPH C
ILAGAN, JOHN LORENZO G
ILAGAN, JOSE PEDRITO G
ILAGAN, JULIUS E
ILAGAN, KATHERINE P
ILAGAN, KRISTEN CHARLOTTE P
ILAGAN, MARICHELLE ROSE V
ILAGAN, MARIE ANN I
ILAGAN, MARY LOUIE C
ILANO, KRYSTEL JADE A
ILAO, GLADYS T
ILIO, ANGELINE G
IMPERIAL, KEREN E
IMPERIAL, REX M
INACLANG, CINDY A
INAO, JANINE
INCIONG, ANGELICA GRACE O
INCIONG, CHRISTINA ASHLEY R
INCISO, SUZETE O
INES, MENCHIE ANNE B
INFANTE, DARLENE FAY A
INOCENCIO, CHEZEL C
INOCENO, ROCHELLE L
INSIGNE, REJEANE R
INSO, KRYSTEL L
INSO, SHARMAINE L
IPOSADA, SHAINA MAE D
IQUIN, MARIANO EARL B
IRLANDEZ, AYN RICH A
ISAVEDRA, KENNETH DARREL S
ISAY, ERICK O
ISIDRO, KRIZZA LOU R
ISIP, BABY DARLENE A
ISIP, LEYLANIE P
ISIP, NARDS JOHN D
JAAFAR, JASRA A
JACINTO, CHERRYLYNE M
JALINA, JESSA C
JALOTJOT, CLARISSE C
JAMELARIN, BEN JETHRO N
JAMENA, JANINE E
JAMILLA, KIMBERLY S
JAMOLIN, ETHELYN U
JAMON, VERLYN B
JANDA, LEENCEL MARIE G
JANDINERO, DIANNE D
JARILLA, KASSANDRA CAMILLE C
JARIN, GRAZIELA JAE M
JARO, JOEPET JEROME S
JAUCIAN, KRISTEL JOY P
JAUCULAN, RONA KRISZELLE P
JAUDIAN, BERNARD JR. L
JAVAL, KATE CORINNE T
JAVAREZ, JUAN PAOLO C
JAVATE, GERARD F
JAVIER, ARJAY GREGORY A
JAVIER, CHEZKA VONN A
JAVIER, DANIELLE M
JAVIER, JOHN PHILIP F
JAVIER, MA NELA BIANCA M
JAVIER, RAIÑA ISAIAH DV
JAVIER, RIQUEZA MIGUELLE K
JAVIER, TREZIA MAY S
JAVILLO, MARDIE U
JAVINAL, JEAN HAZEL L
JAYSON, CHRISTOPHER NAIGEL A
JAZMINES, ANGELA V
JAÑAL, MARY ROSE LOVELY D
JESUITAS, PHARA MAE P
JIMENEZ, BERLY C
JIMENEZ, GRACE G
JOBLI, JAIRA JULIANE I
JOBOG, RICHELLE JEM P
JOCSON, QUEEN RUSSELLE M
JOPIDA, MERA JUNA M
JOSON, LEONARDO MIGUEL O
JOSUE, IRA B
JOSUE, MARY LOUISSE H
JOVEN, JEAN ASHLEY D
JOYA, CHESCA ALOUE A
JUANILLO, JONA MAE A
JUANZO, CHERRY M
JUAREZ, ARIANNE DENISE C
JUAYNO, NIGEL JOY G
JUAYONG, JONATHAN G
JUBAY, EDMOND M
JUDICPA, ADRIAN JANN L
JUINIO, KARLIN J
JULBITADO, RUSSEL M
JULIO, DANIEL I
JUNGCO, SHEILLA P
JUNIO, JOSHUA JOHN M
JURIDICO, AARON Y
JUSTALERO, GRAINGER S
KACZARAL, CHRISANDREA B
KALALO, MARINEL D
KALAW, KATHLEEN A
KASILAG, MARIBEL V
KATIGBAK, EMILIO IV S
KATIGBAK, RONALD L
KING, EUNICE D
KISON, GERARD NEIL R
KITANE, AL CHRIS J
KOIKE, AIRAH D
KONG, MAE ANGELA A
KONNO, JIRO T
LA TORRE, JONALYN P
LABADAN, KENNETH PAUL S
LABAGUIS, AVA CRISOL M
LABAO, EDSON HARRY B
LABAROSA, JYMMI MARIE
LABASAN, JOANN GRACE D
LABAY, KIM LEONDROE R
LABITIGAN, CARLO ALFONSO R
LABOSTA, EDMARK I
LACADEN, MA ANGELICA B
LACANILAO, NATHAN SAM O
LACASTESANTOS, FAITH BLESSY D
LACHICA, KIMBERLY D
LACOBA, JEREMIE C
LACORTE, REENA GABRIELLA B
LACSAM, STEPHANIE KYLE C
LACSAMANA, KODIE L
LACSINA, NORIEL CHRISTOPHER
LACSON, MARK JOSEPH G
LACUPA, KIM L
LADAO, ARIANNE FAYE S
LADEZA, ALLYSON MAE D
LADIANA, JOE MARIE O
LADUB, SHEINA AMOR N
LAFORTEZA, MALCOLM G
LAGAN, MICAH EINGELIQUE V
LAGAR, CLEOFE ANDREA V
LAGARDE, CELINE MICAH M
LAGARDE, SELVIA O
LAGERA, SWEET KVLOVE M
LAGON, ERICK JOSHUA L
LAGOS, ELLALENE G
LAGRAZON, MARIENIZZA L
LAGUIDAO, MA JAIRA JOY L
LAGULAY, RAUL ROY B
LAGUNA, LORENA C
LALAP, LICHEL V
LALATA, EMELITA F
LALONGISIP, PRINCESS AIMIE B
LAMADRID, APRIL ATHENNA Z
LAMINA, GIAN PAULO R
LANDAS, CATHERINE S
LANDICHO, JENNIFER C
LANDICHO, MAUIE A
LANDICHO, NICOLE ANTOINETTE K
LANSANG, JORIZA MICAELA G
LANTIN, KIMBERLY M
LANTING, MARK LERRY A
LANURIAS, SUSAN MARIE B
LAO, DAVE DG
LAPASTORA, KATHLYN M
LAPIDARIO, RIA JAY S
LAPINID, DOMINIQUE MARRIELLE G
LAPUZ, ANTIMONY EMMANUEL A
LAPUZ, MA KRISTEL ANNE T
LAQUEO, FLERIDA R
LARA, LUCKY LUIS S
LARDIZABAL, JANESSA ANN MARIE D
LARGADO, IAN KENNEDY M
LARIDA, NETHANEL JIREH A
LARITA, JESSA D
LARONA, MARY JEAN PAULETE S
LASIC, ANGELA NIÑA G
LASTRA, NARSAN JOY B
LAT, ANGELICA O
LAT, KATHLEEN MAE M
LAT, MARY JIMROSE M
LATAG, CHRISTIAN M
LATIDO, LAWRENCE P
LATINA, ABIGAIL JOYCE L
LATOJA, LEMUEL DAVID C
LAUIGAN, LEMUEL Z
LAURAYA, JENSON F
LAUREA, MA CRISTINA M
LAUREL, KIEFER STEVEN E
LAURESTA, KING JAY T
LAURICIO, CLAIRE H
LAUS, IVAN FERDINAND C
LAUZON, ROSE ANN P
LAVANDELO, ANNA ALMIRA D
LAVAPIE III, SALVADOR L
LAVARES, JULIUS RONELL E
LAVAREZ, ERVEN LESTER V
LAVAREZ, PRAXELINE JOYCE
LAVARIAS, KING-BONN C
LAVILLA, KENJI RIORDAN D
LAWAS, JOHN BRYAN E
LAYA, KATREENA NICOLE S
LAYLAY, GERALDINE C
LAYLAY, KARREN JANE N
LAYLO, CAROL L
LAYLO, JEMIL KHAY L
LAYLO, RONA M
LAZARO, GEM ASHLEY G
LAZARO, MICHAEL ANGELO V
LEAÑO, ANNA KRISTINA V
LEBANE, CHRISTIAN PAUL C
LEBOSADA, EVANDER M
LEE, LORIELYN S
LEGARSE, ENRIQUE A
LEGARSE, EUNICE A
LEGASPI, CHRISTIAN M
LEGASPI, DANILYN A
LEGASPI, JOSEPH M
LEGSON, ANGELIKA P
LEMENCE, ALLEN LEMUEL G
LENDIO, LEA M
LEOCARIO, SANDY DT
LEONARDO, MARIA ROJEN M
LEONGSON, MARIECRIS G
LERON, MARIA RELIZA A
LESCANO, FREDALYN D
LETIM, ALTHEA GRACE N
LEUS, JELLA MARIE
LEUTERIO, MARICEL B
LEYESA, RENZIE MAE P
LEYESA, ROMER M
LEYNES, ANGEL M
LEYNES, KATHLEEN M
LIBAN, ROMAN JEROWAIN M
LIBANG, ANGELICA H
LIBRADA, KATHLEEN GAYLE C
LIBRANDO, JOHN BRENN T
LIBREA, JANN CARLOS L
LIBREJA, CYRIL THERESA M
LIBREJA, MARIA SHAMSA G
LIBUNA, JEFFREY M
LICONG, KIM D
LICOYO, MIKEE ANN I
LIGOT, GASPAR ENRICO S
LIGSA, JANIELLA BEATRIZ S
LIKWONG, KAEZILEEN C
LIM, CELINE A
LIM, JAIRA A
LIM, JUDY ANNE B
LIM, MA PAULINE D
LIMBASAN, VENUS GRACE P
LIMBO, MARENILO L
LIMONGCO, CAMILLE JOY T
LIMOS, JERIC A
LIMOSA, NICOLE ANNE A
LINA, MARIA ANGELICA
LINATOC, ABBIE JOY M
LINDO, ANA MARIE YVETTE V
LINEZO, CHERRIELYN G
LINTAG, CLAIRE ANNE Z
LIPIO, ABEL V
LIPIO, RHINA R
LIPIT, ALONDRA BONETH
LIPIT, JESECA T
LIRAG, KARINA T
LISCANO, GABRIELLE S
LITONG, JONALYN C
LITUANIA, JYZAK B
LIWAG, CYRILLE E
LIWANAG, ALVIN B
LIWANAG, HARVEY V
LIWANAG, MARY ROSE P
LIZARDO, JANNAH MAE S
LIZARDO, MARIVIC F
LIZARONDO, LAILANI MAY R
LLADOC, JOHN ROEL V
LLAGAS, CHRISTINE P
LLAGUNO, BEA'REX ZEPINY XUXA L
LLAMAS, SHARLYN JOY C
LLANERA, CATRINA JAYE C
LLANERA, DANIEL M
LLANES, DAN CARLO B
LLANTO, ARIANE D
LLANTO, LYKA M
LLAVE, MARIA STELLA T
LLONA, FRITZ IVAN C
LLORENTE, VIEN RON D
LLORIN, CRISTY M
LOBRES, JOVIL VASHNI B
LOGO, RACHEIELE ANN B
LOGRONIO, ROBERT REGINO R
LOMIBAO, PAULINE MILCAH Y
LONTOC, ARIEZ G
LONTOC, JOYCE R
LONTOC, MA IRISH L
LONTOK, ANNE MARGARET C
LOPE, MA CRISTINA A
LOPEZ, ARJEL B
LOPEZ, JANINE JOYCE Q
LOPEZ, JANNYCA JOYCE F
LOPEZ, JOLINA H
LOPEZ, MICHELE P
LOPEZ, NOEMELYN M
LOPEZ, PEEJAY C
LOREMIA, JOHN RAE C
LOREN, REALYN R
LORENA, SHEILA MARIE R
LORENZO, APRIL ROSE M
LORENZO, JAZPER D
LORENZO, JERICA JONA M
LORENZO, MARYJANE I
LORENZO, MICAH ALEXANDRA M
LORETO, JISSELLE Y
LORICA, SHAIRA EVE A
LORILLA, GORGONIO L
LORILLA, MARY GRACE M
LORZANO, JOHANNAH J
LOSANTA, XYLENE E
LOTINO, ALYSSA JOY A
LOYOLA, CAMILLE ANTONETTE T
LOYOLA, EMILINE GRACE B
LOZADA, BEVELYN A
LOZANO, JOHNELL R
LOZANO, WEENA MAY M
LUAT, LIANN CHAELLEEN
LUCAS, RACHELLE ANN A
LUCEO, KRISHNA RYAN D
LUCERNAS, KEVIN G
LUCERO, SARAH JEAN F
LUCES, ELTHON JAN P
LUCIDO, ANGELICA T
LUCINO, DANICA B
LUCINO, MARIA ELEUNOR B
LUGATOC, MICHAEL EDMUND G
LUMABAO, SHELLA B
LUMANOG, JOHANNAH MARIZ J
LUMBRES, JEAN MARIE D
LUMPAS, MILAGROS E
LUNA, CRISTINE V
LUNA, DAISY A
LUNA, EROLD A
LUNA, JONEE MAE B
LUNA, LANA BIANCA R
LUNAR, HEATHER B
LUNAS, JULIE H
LUNGSOD, MA PAMELA U
LUPIG, ZYRIESH CAMILLE R
LUPINA, SHEREE LOU
LUSOC, CHARLES DARWIN F
LUSTERIO, KAREN P
LUSUEGRO, MARY JOY V
LUZURIAGA, JOHNRIE M
MAABA, KAREN L
MAALA, JED OLIVER B
MAALIHAN, MICAELLA M
MAAÑO, JOSE LUIS N
MABANGLO, EDEN L
MABANSAG, ELAINE M
MABILING, VENUS CHARISSE L
MABUNGA, DANIEL MEYNARD A
MACABANSAG, RONMEL B
MACABASCO, CLARK LOUIE A
MACABUHAY, AUBREI F
MACABUHAY, HANZEL C
MACALALAD, HAZEL ANN G
MACALINGA, JERLEAN D
MACAPAGAL, INNA KARIZZA L
MACAPAGAL, MARK ALFRED M
MACAPILI, MARIFEL M
MACARAEG, KASSANDRA J
MACARAIG, MARIA TERESITA A
MACASAET, CLARK VINCENT J
MACATANGAY, ABEL JABRIEL B
MACATANGAY, ARMAND BRYAN B
MACATANGAY, DARAH FAYE A
MACATANGAY, GOLDWYN A
MACATANGAY, LIKHA E
MACATANGAY, MARIA PIA CLAUDETTE J
MACATANGAY, MELVI C
MACATIAG, CHARLENE FAITH T
MACAYANA, LYNDON T
MACEDA, JAISON A
MACHITAR, HANNAH ERIKA D
MACINAS, CRISTY G
MACULA, JOHN MICHAEL D
MACULANGAN, JAMILAH ROS F
MADALE, CAIRONSALAM P
MADAMBA, ANDREA ROSA C
MADAYAG, FRANZ M
MADAYAG, JERLYN S
MADAYAG, SANDRA MONICA B
MADERAZO, CHRISTIAN LLOYD B
MADERAZO, JERRICK C
MADOLORA, MARK EDISON C
MADRIAGA, DIANA ROSE A
MADRIAGA, GINA C
MADRIAGA, INOCENCIO JR. C
MADRIGAL, ERICK M
MADRIGAL, MELANIE F
MADRONA, SWEETZEL MAE M
MADUMBA, KAYLA
MAGADIA, MARIA JENNEZA C
MAGADIA, MARIANE L
MAGAN, CINDERELLA D
MAGANA, ALLEN JADE R
MAGARARO, NIÑO V
MAGARCE, JERLY V
MAGAT, GLORIA ANTONIETTE C
MAGAYANES, CEDRICK B
MAGBALETA, RIA LAURA M
MAGBANUA, LENEVIE S
MAGBANUA, MA MELISSA A
MAGBANUA, MIRIAM C
MAGBUHOS, TRIZTA MARIE D
MAGCULANG, ISMAEL O
MAGDALES, BRICKS F
MAGDASOC, EDDIE JR. O
MAGLALANG, REYJILIE A
MAGNAYE, GENBER ARIESTOTLE V
MAGNAYE, JAN JOSEPH L
MAGNAYE, JOSEPHINE S
MAGNAYE, MARY CHILES S
MAGNAYE, MICHELLE M
MAGNAYE, TED JERICK S
MAGNO, CHERRRY MAINE L
MAGO, NICA B
MAGPANTAY, JOHN ROWIE M
MAGPANTAY, MARY ANN D
MAGPAYO, LIEZL JENISE R
MAGSADIA, LOUIESE MAINE M
MAGSALAY, ALLYNA MAE D
MAGSINO, CHRISTINE JOY O
MAGSINO, JIRAH CAMILLE D
MAGSINO, NONIEBELL A
MAGSINO, RONAMIE S
MAGSINO, WARREN C
MAGTANGOB, CYRIL P
MAGTIBAY, KESIAH LEE ANNE M
MAGTIBAY, SUNSHINE V
MAGTURO, HERMIELYN E
MAGUDDAYAO, JHONA KEITH T
MAGULHADO, MARY ROSE C
MAHAGUAY, LADY DIANA R
MAIGUE, RAFFY G
MAIK, RALPH M
MAILOM, LEMMUEL THADEUS H
MAIQUEZ, TRINA ALYSSA R
MAITIM, ANDREA D
MALABANAN, GERARDO APOLINARIO M
MALABANAN, JINNO RAFAEL A
MALABANAN, MARICAR P
MALABUYOC, RANDEL S
MALABUYOC, RENIEL S
MALACAS, ELEAZAR G
MALACOCO, JOHN NASHRUDIN C
MALAIT, EVANGELO A
MALAKI, ROMA VELLEE D
MALALUAN, ABEGAIL C
MALALUAN, GLOIDEE P
MALALUAN, IVY H
MALALUAN, MARK T
MALANA, JOHN CARLO P
MALANO, JESSA MAE R
MALANO, KARLA G
MALAPAJO, GEMARK O
MALATA, FREDERICK R
MALAYAO, VIA
MALAZARTE, ISABELA G
MALBAS, JOANNA MARIE M
MALCON, EZEKIEL ERHSON F
MALDO, JILL MAE A
MALDONADO, JOHN CARLO M
MALE, RUDY JOHN RIGOR R
MALIBIRAN, MARY JANE A
MALICSI, MARJORIE F
MALIG, PRINCESS G
MALIGAT, IRISH C
MALIGAYA, BRYAN L
MALIGAYA, JOWEE JATE C
MALIGAYA, MIAN ARVIE JOYCE
MALIKSI, MYLENE A
MALIMBAN, AMIEL JONATHAN M
MALINIS, CHRISTINE JOY V
MALINIS, KRYSTEL VERONICA A
MALLARI, DIANNE
MALLARI, LYKA R
MALLEN, MARY JENNYLIE M
MALOLES, EVANGELINE D
MALOLES, MA MEREDITH E
MALONG, FAITH RACHEL S
MALSI, CHARISSE ANN R
MALUYO, FATTY MAE S
MALVEDA, ROMEL K
MAMBA, EMIL JAY F
MAMENG, MARK LESTER M
MAMPAY, FRITZIE COLEEN U
MAMUYAC, CELINE ASHLEY R
MANABAT, FATIMA F
MANAIG, ANDREW JOHN JAYE M
MANAIG, JEFFRY G
MANAIG, MELANIE M
MANAIG, RHODES FRANCES L
MANALANG, CRISDEM MARIE M
MANALO, ANNE REGINE A
MANALO, CJ A
MANALO, JAN ERICK V
MANALO, JAYSON H
MANALO, JOHN LLOYD B
MANALO, JOSEF RYAN
MANALO, KRISTINA A
MANALO, MOISES RAFAEL D
MANALO, MONICA L
MANALO, PATRICIA G
MANAREZ, AVIEL FRANCIS P
MANARIN, CRISALINE EDJIE C
MANASAN, RAPHAEL ETHAN
MANDIGMA, PRINCESS M
MANES, MMYLINE F
MANGABO, ARJAY P
MANGAMPO, JOHN PAUL A
MANGILIN, ERIKA MARICE N
MANGLICMOT, JOHN RUDOLF M
MANGLO, AMIEL S
MANGROBANG, JANELLE
MANGUIAT, ANA KARINA H
MANGUIAT, DESIREE M
MANGUIAT, ECCLESIASTES S
MANGUNE, JOHN JULIAN M
MANGURALI, SHEENA MAE C
MANGYAO, JULYN C
MANIAOL, VIENNA CLAUDINE F
MANIGOS, KRISTINE ANNE MAE C
MANIMTIM, CRISTABEL MARIE B
MANJARES, MELANIE N
MANLE, IVAN P
MANONGSONG, ABIGAIL M
MANONGSONG, MELANIE I
MANONGSONG, MONALYSSA S
MANSALAPUZ, ARRIANE L
MANTALA, REYCHELLE L
MANTALA, RHIMEAN L
MANTUANO, JENNELYN T
MANUEL, ALECSANDRA A
MANUEL, JOANNE MAE Z
MANUEL, LHYKA A
MANUEL, SIDNEYROSE ALYMER G
MANZANERO, ADA CHRISTINE C
MANZANERO, JAY MARK M
MANZANERO, JESSHEN S
MANZANO, JEFFERD T
MANZANO, KING NIÑO B
MANZUL, EVERLY L
MAON, IRENE R
MAPA, LEILA KATHERINE R
MAPILI, ATTILA JAMES D
MAPILI, DUANE MATTHEW D
MARALIT, GRETCHEN M
MARALIT, JOSE KEVIN G
MARALIT, MAICHA GRACE M
MARANAN, ARVIN P
MARANAN, GLAIZA D
MARANAN, NIÑA CAROL V
MARANAN, NOEL SIMON S
MARANCA, RICA JOYCE B
MARASIGAN, ANA MAE M
MARASIGAN, AXEL ROSE ANDREA T
MARASIGAN, KAYLA MILCAH M
MARASIGAN, KISLYN C
MARASIGAN, MC CRIS B
MARASIGAN, PATRISHA MAE S
MARASIGAN, STELLA JEAN M
MARATAS, JASIEL CHRISTIAN B
MARAÑA, JOANNA KAMILLE F
MARBELLA, ANDREA J
MARBELLA, MAICA
MARCELINO, BOYET Z
MARCELINO, JANNA CLARISSE P
MARCO, MARIELA A
MARCO, RIZA P
MARCOS, EUNICE V
MARFA, MAYLENE L
MARIANO, JACKIELYN P
MARIANO, LEA RIZED M
MARIGONDON, JOSHUA G
MARINO, JOHN ALBERT G
MARISCAL, KIMBERLY A
MARIÑAS, TRINA R
MARIÑO, LYZANDER JR. C
MARLON, ABHELA MARIE I
MARQUEZ, ADVEN S
MARQUEZ, GIAN PEDRO CILIO R
MARQUEZ, JIM M
MARQUEZ, JOANNE S
MARQUEZ, JOECE A
MARQUEZ, KAREN JOY A
MARQUEZ, KIMVERLY A
MARQUEZ, LOUIE ALLAN T
MARQUEZ, MELANIE T
MARQUEZ, VINCE MARTIN M
MARTE, GINA L
MARTIN, MARK B
MARTIN, RHOMIL ANNE A
MARTINEZ, ANDREA C
MARTINEZ, BELEN ESTHER C
MARTINEZ, DANIELLE THEO L
MARTINEZ, EARL ASI M
MARTINEZ, IVERSON R
MARTINEZ, IVY NICOLE S
MARTINEZ, LALAINE M
MARTINEZ, MARCELLE LOU B
MARTINEZ, MARIE SHAYNE B
MARTINEZ, MARIEL C
MARTINEZ, MEYLEEN LOUISE M
MARTINEZ, NICOLE H
MARTINEZ, RUBY ANN M
MARVIN, JASEM ABDULLAH A
MARZO, LEA JANE C
MASA, RODIELLE LOVELY P
MASANA, JOANNA MARIE F
MASANGKAY, JOVY P
MASAOAY, NERILETTE S
MASCARIÑAS, MILCA H
MASIBAY, RUSTOM A
MASICAP, MARK ANTHONY S
MASICAT, CLARISSA JANE T
MASILANG, PRAISE AIRA D
MASINSIN, ADRIAN V
MATA, HAZEL ANNE SF
MATAMIS, ROXANNE P
MATANGUIHAN, JESSAMAY L
MATANGUIHAN, JOVELLE A
MATANGUIHAN, PAULO S
MATELA, WANDA ALEXA R
MATIBAG, JOHN PAULO R
MATIENZO, MA FLORA MAE J
MATINING, JOHN CARLO O
MATOCIÑOS, JOSE PAULO F
MATULAC, JOY A
MAULA, JAYCELLE S
MAULEON, KATHERINE SHANE M
MAULLION, PATRICK JOHN
MAULLON, LALLY MARIE M
MAYO, ERICKA ROSE M
MAYO, JENNIE M
MAYO, KATHLYN M
MAYOR, CHRISTIAN JESUS M
MAYORALGO, REYNANTE C
MAYUGA, ANNALYN M
MAYUGA, BIEN ANGEL CHERISS Q
MAÑAGA, JOHN PAUL R
MAÑAGO, RONALYNE B
MAÑALAC, LUIGI MARK L
MAÑIBO, DAN KLEVIN M
MAÑIBO, NATHALIE KATE M
MAÑO, ANGELITO JR. M
MEDEL, JOHN KENNETH D
MEDEL, KAREN D
MEDIANO, IVY ROSE G
MEDIARITO, AIME JANE P
MEDINA, CAMILLE THERESA L
MEDINA, JEWEL ARIANNE M
MEDINA, KRISELLE M
MEDINA, MA SOPHIA D
MEDINA, REMAR L
MEDRANO, ERVIN C
MEDRANO, JOHN NICHOLE L
MEDRANO, REXOR F
MEDRANO, ROGINE DAVID O
MEJARES, CHERRY DALE H
MEJARITO, ELENA L
MEJIA, JUNIE GRACE C
MEJIA, LANCE JOSEPH F
MEJICO, ANA MARIELLA Q
MELENDRES, KLEOJN
MELGAR, JOMAR P
MELIGANIO, JANNAH M
MELIGANIO, MARY ANN C
MENDEZ, KATHERINE L
MENDIOLA, ALYANNA MARIE L
MENDIOLA, ISABELO JR. B
MENDIOLA, JOVYLYN D
MENDOZA, ABBYGALE JERONE L
MENDOZA, ALYZZA MARIE F
MENDOZA, ANTHONY KIEV B
MENDOZA, CAMILLE P
MENDOZA, CHRISTIAN PAULO P
MENDOZA, CLARINDA M
MENDOZA, CRISTINA JANE S
MENDOZA, DIANA ROSE F
MENDOZA, DIMPLE ROSE M
MENDOZA, DONNA MAY M
MENDOZA, FREDERICK MATTHEW P
MENDOZA, GERALDINE A
MENDOZA, HANNAH C
MENDOZA, JARON J
MENDOZA, JEFFREY C
MENDOZA, JERICO A
MENDOZA, JESSA A
MENDOZA, JOANA CLARIZE P
MENDOZA, JOHN CHRISTIAN E
MENDOZA, JOHN CLARENCE B
MENDOZA, LEO MAR E
MENDOZA, LYNELL DENISE
MENDOZA, MARC DAVE C
MENDOZA, MARY GRACE V
MENDOZA, MARY ROSE E
MENDOZA, MAY-ANN D
MENDOZA, MICHELLE M
MENDOZA, REGINA B
MENDOZA, RENAN R
MENDOZA, RENZ AUSTIN P
MENDOZA, REYMAR G
MENDOZA, ROBERT GABRIEL M
MENDOZA, VANESSA JULES KRISTHEL L
MENDOZA, VERONICA C
MENESES, VANEZZA C
MENESES, XRIJSLOVE B
MENGULLO, ARIEL KIM S
MENOR, ANNA MARIE D
MENORCA, GENEVA M
MEORA, CHERYLENE G
MERAÑA, THERESA ELDA D
MERCADO, ALMIRA D
MERCADO, AVEGAIL I
MERCADO, CATHERINE GEMMA A
MERCADO, CHERISH A
MERCADO, JENIKA JUDITH G
MERCADO, JENNYFER D
MERCADO, JOANNA MARIE L
MERCADO, JOHARIE S
MERCADO, KRIS YEHUDI V
MERCADO, PHILIPPE S
MERCADO, QUEEN ARIAN S
MERCADO, SHELLA MAE M
MERCENE, MELLANIE S
MEREZ, JENNIFER M
MEROGENIA, ISABEL E
MERRERA, LOVELY-LYN C
MESINA, MARY JOY F
MESTIOLA, ARIAN C
METAS, MARGIE V
MEÑEZ, UKHEN R
MICA, CHARMAINE Q
MICIANO, DWIGHT P
MICOSA, MARIEL B
MICOSA, MIKEE V
MIEL, MA CECIL B
MIJARES, JAYSON A
MILA, MARY JOY C
MILAN, MARK ANTHONY L
MINDANAO, JOHN PAUL B
MINDORO, MARIE JOY O
MINTU, MONICA N
MIRABUNA, JUAN CARLO P
MIRALPIS, JHUMARI M
MIRANDA, ALYSSA MARIE V
MIRANDA, JANA LOUELLA B
MIRANDA, JOVELYN L
MIRANDA, KARINA CHARLENE M
MIRANDA, KARREN JOY P
MIRANDA, REY JAMES P
MIRANDA, RYAN T
MIRANDO, SARAH JANE S
MIRANO, TRISTAN C
MISAGAL, LIEZEL V
MISAJON, MARC IVAN C
MISLANG, DADEYE O
MISLANG, MARTA MEA O
MISTADES, ANGELINE L
MISTAL, YAN WYNE M
MIÑAS, JOHN MARK B
MODELO, JOY ANNE P
MOGAWAN, FARNISSAH NAFISSAH ABDULFA
MOHAMMADSAID, JAY AR L
MOJAR, ALYANNA MAYE S
MOJE, KIMBERLY N
MOJICA, AIZA E
MOJICA, EZEKIEL N
MOJICA, LELET B
MOJICA, MARK KEVIN P
MOJICA, MICKAELLA PEARL D
MOJICA, NINA LORRAINE R
MOLINA, CARMEL MAE M
MONASTERIAL, MARK JUSTIN M
MONDARES, RICHELLE ANNE DR
MONSERATE, HOPE S
MONSERRAT, PATRICIA MAE H
MONTALBAN, KIM IRA L
MONTALBO, JAYMAR N
MONTALBO, KAREN B
MONTALBO, ROSALIO JR. A
MONTAÑA, MAUREEN JOY F
MONTEAGUDO, LEILA C
MONTEALEGRE, JUDEA ERA R
MONTECILLO, LESTER Y
MONTEIRO, GERNIEBETH B
MONTEIRO, YTCHELLE S
MONTERDE, LOTA P
MONTERICO, GLADY ANN MAE P
MONTEVERDE, LOVELY JOYCE C
MONTIANO, LEAH MAY R
MONTIERRO, SINTA NIÑA P
MONTIFAR, EDRYCK JON P
MONTILLA, JOHN ROBERT A
MONTILLANO, MARY JOY M
MONZON, GIAN KRISTINE C
MONZON, JUNAIRA B
MORA, MARK ANTHONY S
MORA, MILBERT STEPHEN S
MORALES, CATHERINE P
MORALES, JOIE R
MORALES, MARK JAPHET C
MORALES, RICKY JR. S
MORAN, BERNADETTE B
MORATILLA, SHANE M
MORATIN, MA HANNAH B
MORELLA, JOMEL M
MORENO, DARYL KEENA C
MORENO, KRISTINE JOY A
MORENO, KURT RICHARD U
MORES, KYLE DWAYNE F
MORILLO, WILMA B
MORTELLA, BABY LYN R
MORTILLA, AUBREY M
MORTILLERO, VAL CARLO P
MORTIZ, GERALDINE M
MOSICO, ROBERT P
MOSLAREZ, ALNALEN C
MOSTEIRO, FINREL G
MOSTIRA, KENT JOSEPH B
MOTOL, JOSELITO Q
MOYA, RAJELLYN V
MUGOL, JAN MARLANE S
MUNAR, JOSUA L
MUNEZ, CIANNA IRISH J
MURIA, EDDIE P
MURILLO, ELAINE R
MUROS, REY JIMSON F
MUSICO, ROCKY F
MUSNI, MARY EDRESEL D
MUTUC, JULIUS FRANIMER R
MUTYA, LALAINE C
MUÑOZ, CHIAREN B
MUÑOZ, HANZEL A
NACARIO, ELLA MAY A
NACHURA, KENNETH ANDREW G
NADAL, MARY JOY E
NAGA, REY JUDE CHRISTIAN C
NAMOCALE, JILL Q
NAPOLES, CAREL KATE I
NARDO, JENILYN M
NARVACAN, JEROME T
NARVAEZ, RALPH RENZ A
NARVAEZ, REBECCA N
NATAL, LIAN RAVEN P
NATIVIDAD, GERLENE F
NAVAJA, MAE ANN D
NAVALES, AILEEN GRACE T
NAVALTA, DIANE CHURCHILL P
NAVALTA, JENIFER T
NAVARRO, EDDILYN MAE O
NAVARRO, EMMANUEL B
NAVARRO, MARY GRACE D
NAYLE, VERNON B
NAZARENO, MARILOU C
NAÑEZ, KRISTINE A
NEDAMO, KAREN ANNE P
NEDIC, PAOLA NICOLE O
NEPOMUCENO, MIKAELA G
NEPOMUCENO, REY PETER V
NERI, AARON JUNIEL D
NERMAL, KRISTINE B
NICOLAS, ALYSSA S
NICOLAS, CLARISA N
NICOLAS, ERROL JUNE P
NICOLAS, KATELYN L
NICOLASORA, JOMER NEHLBY TERENCE E
NIDUAZA, BERNARD CRISTIAN R
NIEGOS, AIRESE JANE A
NIERVA, HENNAH KARMELIDAD S
NILOOBAN, DANIELLE B
NINON, MENARD JOHN E
NIOGAN, JEMI ROSE E
NITRO, ARNOLD BENEDICT A
NIVERA, SHERLYN L
NOBLEJAS, RYAN JOHN A
NOBLEZALA, LANZE PAULO A
NOCEDA, KURT OWEN R
NOCULAN, NADEEN AIRA E
NODADO, NERISSA G
NONO, MICCA SHERON B
NORA, NATALIE MERIZ C
NORIEGA, ERWIN R
NORIEL, FRITZ BYRON O
NOSTRATIS, KATHLEEN K
NOTOB, AERON NESTY B
NUEVA, MARYJOY C
NUEVO, ARIANNE S
NUQUI, JOVIELLE RAE V
NUÑEZ, BERNADETTE KRISTINE R
NUÑEZ, JUAN MIGUEL I
OAFERINA, JEAN ANDREA C
OBAS, DELFIN ROBZOND III D
OBELO, NORIEL B
OBIAS, ERROL JR. P
OBIEN, MARC LAWRENCE R
OBIS, LORELIE JEAN R
OBLENA, WILSON S
OBON, REMELIE I
OBORDO, JOUHANSSON P
OBRA, FRANCES JEREMY S
OBREGON, ROSE ANN D
OBSENA, TIMOTHY JOHN D
OBSEQUIO, NHOEL B
OBTIAL, LOIDA C
OCAMPO, AARON RUPERT D
OCAMPO, ALVE JEAN B
OCAMPO, CHRISTIAN JAMES P
OCAMPO, ELISHA MARIE R
OCAMPO, GUILLER NOEL A
OCAMPO, RONALYN P
OCBINA, ALYSSA GAYLE D
OCENAR, CARLO JAY M
OCTAVIO, JAN ARVIN G
ODESTE, KARLA MAE R
ODEÑA, GENEVA ROSE M
ODO, MARJORIE A
OFTANA, RICARDO II S
OJA, CHARLENE FAE V
OJASCASTRO, DONNA EVE SA
OLAES, MAE ANGELA B
OLAGUIR, KIMBERLY B
OLAN, ELDIE M
OLAÑO, JULY O
OLEA, REGINE M
OLFINDO, HANNAH MARIKIT I
OLIVA, RHOA IRRA D
OLIVAR, CARY MAYNARD R
OLIVAREZ, ROBIN CHRISTIAN M
OLIVER, BRYAN PAUL C
OLIVEROS, EMMAREY CARLA S
OLIVEROS, FLORDELIZA C
OLIVEROS, JADE D
OLIVEROS, JANE H
OLPINDO, GABRIELLE MEGAN N
OMILA, MARIANEL A
ONDAY, ANA FE C
ONDILLO, GINALYN G
ONERA, NATHANIEL D
ONG, RONNEL R
ONIA, MA RODELYN C
OPANA, ELLA PATRICIA
OPULENCIA, ALPHA AMOR D
OPULENCIA, JOHN PAOLO M
OPULENCIA, NIKKA V
ORACION, KEANU M
ORALE, ANTHHONY R
ORALLO, ALYSSA MAE D
ORBEGOSO, AIRA COLEEN R
ORBON, EDNALYN R
ORCAJADA, KALLEN MAE G
ORCINO, BERNADETTE M
ORDIALES, MARY ANN D
ORDILLANO, HANNA JEDDAH P
ORDINARIO, PAUL AARON C
ORDOÑEZ, NAIMAH U
ORENSE, BRYAN
ORENSE, CLEO MARIE O
ORENSE, MALVIN ROIX M
ORENSE, MIKAELA GRACE P
ORIARTE, MARIA AIREEN D
ORIARTE, PRINCESS MAY L
ORIEL, ANA LORESSA L
ORIJUELA, ANGELIE MAE P
ORILLANEDA, MAUREEN L
ORINGO, JHUZABELLE D
ORLIDO, FRITZ M
ORLINA, JEIL ROSE ANN V
ORLINA, RAPHAEL D
ORNEDO, JHON MICHAEL S
OROC, REINA MAE C
ORQUITA, RICHAN B
ORTEGA, CATHLEEN C
ORTEGA, IVAN JAY D
ORTEGA, IVY JOY D
ORTIOLA, LOVELYN S
ORTIZ, ELLOHEM
ORTIZ, KHATE ANGELICA B
ORUGA, MA CONCEPCION T
ORUGA, MARY JANE T
ORZALES, LEASAM G
OSOMO, ROEMEL ANGELLO S
OSUM, CHRISTINE JOY B
OTCHARAN, REMBERT M
OTERO, JAN WEIR O
OVILLE, JOHN PHILIP A
OXEMER, ORVILLE F
PABALAN, RONALD DOMINIQUE C
PABLO, JHON ELY J
PACAIGUE, JOHN PAOLO R
PACHICA, MA TRICIA A
PACIA, ROSE MARIE D
PACIBE, JESSICA M
PACIO, JEFFERSON IAN P
PACIS, ROMY KENN R
PACOMA, ANDREA AIAH B
PADAYAO, CRISTINE JOY R
PADILLA, AILAH JOY B
PADILLA, ANGELICA E
PADILLA, IVAN MARK V
PADILLA, JOYCE ANNE B
PADILLA, MELANIE A
PADUA, JEACHELLE DANE S
PADUA, MAUREEN C
PADUL, LIEZEL P
PADURA, GLEZEL D
PAGANA, RAYSELLE ANN Z
PAGAYANAN, COLEEN O
PAGAYON, ROLYN D
PAGAYUNAN, MARY GRACE A
PAGCALIWANGAN, ALDRIN S
PAGCALIWANGAN, MARC LINNUZ D
PAGSINOHIN, EDERLYN M
PAGSINUHIN, MARJORIE A
PAGUIO, ERROL E
PAGULAYAN, CHRISANGELO D
PAJARES, LEI ANN E
PAJO, IVY KRISTEL Z
PALACIO, MARIA SHIELA E
PALANGINAN, ALYSON WISHEL H
PALAO, CANDY R
PALAY, JOHANN G
PALCON, ALDOUS XAVIER A
PALICPIC, SHARIA EUNICE A
PALINO, ISRAEL CEAZAR E
PALISOC, EMMANUEL IAN E
PALISOC, ROBINICKO ALPHA C
PALLERA, ANGEL GABRIELLE C
PALMA, DIANA ROSE R
PALMA, MARIA MARVA D
PALMERO, KATIE LEE A
PALO, JESSICA B
PALO, TONI ROSE P
PALOMA, AICEE S
PALOMA, ALFONZ LUCCI M
PALOMERAS, JHOANNA MARIE G
PALOYO, MICAELA B
PAMATMAT, SEYCHELLE R
PAMPLONA, RIZA H
PAMPOLINA, JOHN ALDRICK D
PAMPOLINA, JOHN ALLYSON D
PANALANGIN, DANTE JR. DL
PANALIGAN, LOVE JOY H
PANDAAN, ALEINA ROSE F
PANERGO, SOPHIA YSABEL M
PANES, ROSES AMOR T
PANGANIBAN, ABIGAIL A
PANGANIBAN, ANDREA NICOLE G
PANGANIBAN, LAURENCE P
PANGANIBAN, MARY ROSE M
PANGANIBAN, MARYELLE A
PANGANIBAN, REGINE M
PANGANIBAN, SHAYNE ANNE A
PANGILINAN, DENISE GAELLE A
PANGILINAN, ROSELYN JOY L
PANISALES, GENE LOUIE A
PANISALES, KAMILA DUNNIA P
PANOPIO, HEIDI M
PANOPIO, PATRICK M
PANOPIO, RIEL DIANNE M
PANTUJAN, CHARISSE L
PAPA, JASMINE P
PAPA, JASSEN JIARY D
PAPAG, APRILYN ANNE MAE F
PAPIO, ARLYNN B
PAPNA, JOHN ERASMUS MARIE P
PARAGAS, NOELIVER B
PARAISO, ANJO F
PARAN, KRISTOFFER LUIZ D
PARAN, SARAH JANE L
PARANGAN, FRANCILLE VINCE C
PARAS, MA JOSEFA P
PARAS, RAY J
PARAY, JOHN MARK P
PARDILLA, ANGELA M
PAREDES, ALANEE B
PAREDES, EDUARDO P
PAREDES, JULIUS LEONARD C
PAREDES, NEIL OWEN M
PARIHAR, ERMELYN O
PARIÑA, SHERYLL S
PARMA, EARL NIKKO P
PARSALIGAN, RICALAINE N
PARUNGAO, ARRIANE FAYE M
PASAY, JOSE JEREMIAH O
PASCO, MIKKO C
PASCUA, ARTURO S
PASCUA, JEFFREY P
PASCUA, VANESSA JOY F
PASCUAL, ANGELICA MAE A
PASCUAL, AUDREY ANNE C
PASCUAL, ELAIZA JENEL L
PASCUAL, GERARD PAUL S
PASCUAL, MICHELLE S
PASCUAL, PAULO A
PASCUBILLO, NEIL JASPER F
PASILAN, JARRY MARIE F
PASIOLAN, RECHIE R
PASQUIL, JOHN IVAN I
PASQUIN, MARK LEMUEL O
PASTRANA, LIEZL C
PATACSIL, JEANELLE ANGELA M
PATACSIL, JONAH MARIAH B
PATAWARAN, CHINLYN T
PATIAM, THONGEE RENZ B
PATINGAN, ARIEL LOUIS M
PATRICIO, JOHN KENNEDY R
PATROPEZ, LEE JOSHUA G
PATULOT, DIANE S
PATULOT, LIEZEL V
PAULINES, EARD JOHN C
PAULINO, ELLA M
PAUS, JOHN ALBERT Q
PE, ANALISA S
PECAÑA, JESSICA F
PEDERE, JAMAICA L
PEDERE, KRISTINA
PEDRAGOZA, KRISSIA MARIE P
PEDRAJA, JENNIFER D
PEDROSA, EUGENE D
PEGUERRA, ESTHER CAMILLE T
PEJI, EUGENIO M
PELAEZ, ALBERT C
PELAEZ, SHEENA MARIE T
PELAGIO, ALEXA CASSANDRA N
PELAYO, MELLEN MAY T
PELAYO, PRINCESS ESTER B
PELOJERO, JOHN PAUL D
PENEYRA, DOLLY KATHLEEN V
PENIERO, NICHOLE B
PENUS, CHERRY MAE B
PEPITO, MHELODY A
PERA, BRYAN P
PERADILLA, ANGELA MADELLIENNE B
PERAIRA, ALFDAN LEV G
PERALTA, AYESZA CELINE G
PERALTA, DESIREE C
PERALTA, JOEDE D
PERDIGONES, RAVELL P
PEREA, DENMARK M
PEREA, JANESSA MAE O
PEREY, JOHN MICHAEL P
PEREZ, ANGELICA M
PEREZ, ANNA NICOLE V
PEREZ, CHRISTIAN A
PEREZ, JAMES BENEDICT A
PEREZ, JAYSON M
PEREZ, JEDDAH MARIE M
PEREZ, JEXTER G
PEREZ, JOYCE ANNE P
PEREZ, MA BERNADETTE G
PEREZ, MA NICOLE ASHLEY M
PEREZ, MARIA PAOLA V
PEREZ, MARY GRACE C
PEREZ, MARY JOY T
PEREZ, NIÑO NOEL M
PEREZ, NOEMI ANN P
PEREZ, RAENA JOYCE J
PEREZ, RAPHAEL ANDREI P
PEREZ, RHODA MAE M
PEREZ, RUBY ROSE C
PEREZ, SAMANTHAMAE A
PEREÑA, ELLIN MARGARETTE A
PERIDO, MA JESUSA LEE D
PERLAS, ROVECAR P
PERMALINO, LUTHERO A
PERSIA, PATRI KRISHNAN M
PESA, MARY GRACE A
PESCADERO, CINDY R
PESCASIO, CHARLOTTE D
PESIGAN, MARIELLYN M
PESTAÑO, ETHEL ROSE A
PETRALBA, JESSLE ANN R
PEÑA, ALEXANDRA DALE M
PEÑA, FAYE MARINEL M
PEÑA, MELISSA S
PEÑALBA, CLARISSA P
PEÑALES, JOHN JOSHUA T
PEÑANO, EMERALD MAY B
PEÑARANDA, BRENNIN MARK O
PEÑAREDONDA, MARY ANN M
PEÑAREDONDO, GJIANNE E
PIELAGO, XYLA PATRISHA H
PIGON, DAVID ALLAN O
PILAR, DAWNRAY B
PILLAS, AERIELE DENISE L
PILONGO, NICOLE YANCY V
PILPA, JACQUELINE P
PIMENTEL, JARRISH A
PIMENTEL, JEFFREY V
PINE, YVES CHRISTIAN G
PINEDA, BON JAEHRON M
PINEDA, MA RHONABEL M
PINEDA, NELSIE GRACE D
PINIQUITO, DIANA CARLA T
PINTOR, LYKALYN H
PINTOY, FERDINAND R
PIOLO, MAY M
PIRKER, EUGENE JOHN ANDRE G
PITA, CARL LEO E
PITALLANO, GABRIELLE MAE C
PIÑON, RAMUELLE JADE P
PLACENTE, JOHN PAUL L
PLANTILLA, ROSE ANN MARIE H
PLASOS, NOREEN MAE D
PLATA, MARICEL P
PLATERO, JUANITO JR. G
PLATON, MARIA ANNA LEI P
PLETE, RODRIGO JR. E
PLOPINO, APPLE FATIMA R
PLOPINO, MELISSA L
POBLETE, JANAIRA V
POBLETE, OLIVER IAN C
POBOCAN, ELAINE MAE S
POGENIO, SHEANDY D
POLANES, HAZEL ANN A
PONCE DE LEON, MARISSE JANINE E
PONCE, ARIEL S
PONDANG, RANDY D
PONTICA, MAE JANE B
PONTIGON, VERGEL R
PORAL, PATRICIA ANN P
PORTEZ, LEOMEL AARON R
PORTRIAS, GELLIE ROSE K
POTESTADES, GABRIEL R
POTESTADES, KRISTELLE GRACE T
POTESTADES, MIGUEL R
PRADAS, ALPA B
PRADO, DANIEL ROY E
PRANADA, MIKKO L
PRECLARO, KENNETH A
PRESAS, JERIC A
PRESTOSA, MARIANNE CLAIRE R
PRIETO, CRISTINE MAY P
PRIETO, JOHN MARC B
PRIMO, JAMIL EAJ T
PRIMO, JERU EMMANUEL T
PUA, ANGEL ROSE T
PULHIN, RINALYN A
PULLANTE, ALENA A
PUMA, FRENEL D
PUMBAYA, ALYSSA E
PUNO, KRISTIAN S
PUNZALAN, KENNETH A
PUNZALAN, SHAROLYN D
PURIFICACION, KIM BYRON L
PUTUNGAN, HERLEEN NICOLE B
PUYAT, JUDELYN D
PUZON, JOHN FRANCIS C
QUAN, EVANGELINE A
QUEJADA, CLARISSA MAYE D
QUEJADA, GIDGET L
QUEQUEGAN, MYRA G
QUERIDO, CAROLYN MAE P
QUERIJERO, REN MICHAEL V
QUERUBIN, LORDANA MICAELA N
QUERUBIN, SAMUEL S
QUEZADA, LAICA MAY E
QUIAMBAO, GILBERT KYLE S
QUIATCHON, JOYCE D
QUIDAYAN, IAN JOSHUA D
QUIDOR, MIKE LAWRENCE A
QUIEREZ, MELISSA ANN S
QUIGLEY, MARIE PIERRE B
QUIJANO, ALEXA KAY O
QUIJANO, ERICKA LYNNE M
QUIJANO, JOSEPHINE D
QUILAO, JOAN M
QUILATEZ, YZABEL A
QUIMAY, SHEILA C
QUINAY, CHRIST ANNE E
QUINTANA, JAN MARIE P
QUINTANA, KIA JOY M
QUINTILLANO, JASMIN ADA C
QUIRAP, JASPER IAN B
QUISTO, KAREN Y
RAAGAS, BRANDON A
RAAGAS, SHANIA
RABACA, KIAH AMMARA A
RABANO, LINDY CARYL B
RABAYA, OLIVELLE D
RABINO, MERIAM A
RABOY, JOHN NEIL D
RACE, JOHNIEL P
RADOC, ALLAN RHEC B
RADONES, MARY WENDY ELLAINE R
RAFANAN, CARLOS LUIS L
RAFOL, HYACINTH C
RAGA, HANNA FAE L
RAGOS, RONALD ALLAN L
RAGUDO, ANGELITO S
RAGUDOS, REZIEL D
RAMA, CHARLOTTE C
RAMALLOSA, DANNAH KATRYN E
RAMBUYON, CHRISTINE DIANE M
RAMILE, RHOMINA B
RAMILO, EUNICE M
RAMILO, JOHN ALDWIN C
RAMIREZ, AIRISH M
RAMIREZ, EVANGELINE S
RAMIREZ, GWYNETH D
RAMIREZ, JACKIELYN C
RAMIREZ, JAIME D
RAMIREZ, JAY RICK O
RAMIREZ, JIZZEL L
RAMIREZ, JONA MAY L
RAMIREZ, LYRA CAMYLE R
RAMIREZ, NOEL EGBERT C
RAMIREZ, RAQUEL F
RAMIREZ, SHARMAINE I
RAMOS, ALLYSON D
RAMOS, ALYSSA KAE M
RAMOS, ANALIZA D
RAMOS, ANNE JOLLEEN L
RAMOS, BRENT LAWRENZE G
RAMOS, DANICA D
RAMOS, DIANNE LOUISE P
RAMOS, EBRAIM R
RAMOS, EUGENE RUSSEL B
RAMOS, JOHANNA MARIE C
RAMOS, JOHN JASPER C
RAMOS, JOHN KRISTIAN A
RAMOS, JOHN PAOLO H
RAMOS, LEAH F
RAMOS, MA PATRICIA VIEN L
RAMOS, QUEENIE D
RAMOS, RAINIER L
RAMOS, RHICA KAYE L
RAMOS, ROLAND CARL C
RAMOS, ROSELIE D
RANA, CHINKY A
RANCAP, ANGELO L
RANCES, NERIE LOU C
RANCHEZ, ROSE ABIGAYL A
RANUDA, CHANELLE VAN REA
RAPSING, CHARENE JOY M
RAQUEL, JASMINE C
RARIZA, MARION AUDRICK S
RASCA, ANDREA MIKAELA B
RATUISTE, FELIX ARNEL JR. D
RAVALO, ERIKA MAE L
RAVELAS, MAURICE HARVEY S
RAVELO, LOVELY S
RAYAT, JANINA LORRAINE S
RAYELA, GRETCHEN AUDREY C
RAYNON, ROCHELLE ANN U
RAYOS, GERMAINE GAYE A
RAÑA, MARY JOIE A
RAÑOA, LIFRANCHE A
RAÑOLA, MARY ANGELYN B
REA, NORINNE JAIRAH D
REBAMBA, WANDA MARIE N
REBATIS, DANIELA NICOLE D
REBENQUE, APRILLE ROSS B
REBONG, KIRTAN B
REBUA, NEIL A
REBUCAS, JOAN S
RECEDE, KIEZELLE R
RECIDO, MIGUEL F
RECINTO, JONQUIL MARCUS M
RECON, BIENDA LIZA M
RECTO, GABRIELE LOUISE D
REDONDO, ANDREA KATE B
REDONDO, STEPHANIE S
REGALA, RALF L
REGALADO, EUNICE JUSTINE Q
REGIS, JENNICA ALYSSA R
REGONAY, JHOAN D
REGUDO, CHRISABEL Q
REJUSO, MARICRIS E
RELACION, MARICON F
RELOS, ELMER A
RELOS, JUDY ANN A
RELOS, SHAIRA MARI V
RELOSA, JAN MICHELLE C
RELOVA, CHRISTINE EUFRIE D
RELOVA, FLORIANNE AERIKA D
RELUCANO, JAYVEE D
REMO, CHRISTIAN LLOYD B
REMOLONA, PRINCESS P
REODICA, TYRONE JASPER I
REPOQUIT, DANIEL ANTON N
REQUIESTAS, PRECIOUS JANE D
RESTRIVERA, ERIKA M
RESTRIVERA, JEFFREY D
RETIRADO, JANE CAMILLE D
RETIRADO, PATRICIA ELAINE D
REVILLA, DENISSA MARIE P
REY, HANNAH SAMANTHA V
REY, MARK LESTER S
REYES, ABIGAIL C
REYES, ADRIAN NEIL D
REYES, ANGELLI ALYSSA M
REYES, APRIL MARIE O
REYES, ARIANNE JADE D
REYES, CHRISTOPHER G
REYES, DEOGRACIAS III M
REYES, DONNA MAE V
REYES, FIONA MAE M
REYES, GLYSA C
REYES, JERICK C
REYES, JOELY JEAN D
REYES, JOHN PAUL Q
REYES, JOHN THADEUS L
REYES, JOSE CAMIL V
REYES, JUNABELLE T
REYES, KATRINA D
REYES, KATRINA GRACE P
REYES, KENNETH ROWEL
REYES, MA LORENZANA E
REYES, MAERON JOSEPH A
REYES, MARIANNE D
REYES, MARIE IMMACON C
REYES, MARIE LENN C
REYES, PRINCESS NADINE A
REYES, QUENNIE ROSE M
REYES, RAFAEL M
REYES, RAINE NICOLE M
REYES, SEAN JOHN R
REYES, SYRUZ A
REYES-MARAÑA, ESTEPHENIE R
REYNANTE, MICHAEL JOHN M
REYNO, EMERSON P
REYNON, SAMANTHA DANIELLI D
REYNOSO, ARMONETTE Q
RICALDE, DENN XYRELL L
RICALDE, RONAMEL G
RICAROS, ANA MARGARETTE S
RICAÑA, JOYCE P
RICO, ARLENE B
RICO, CHARLENE JOYCE S
RICO, JOHN ALBERT T
RICO, KRISTINE C
RIGON, ALYSSA DENISE KRISTINE N
RIMANDO, APRIL JANICE J
RIPALDA, NIKKI E
RIVAS, JEFFERSON C
RIVERA, ALMA P
RIVERA, CHELSY M
RIVERA, CHRISTIAN S
RIVERA, DARA FAYE R
RIVERA, LOVELY ROSE R
RIVERA, MA JOHANNA F
RIVERA, VINA MARIE E
RIÑA, FRANCES JOY O
ROA, JAYSON N
ROALES, JIENCEL M
ROBEDILLO, JENA PATRICIA D
ROBLES, FATIMA O
ROBLES, JAROD G
ROBLES, KIMBERLY ROSE I
ROBREDILLO, ROCHELLE A
ROCELA, ABEGAIL Z
RODEL, ELLORA A
RODRIGO, IVY R
RODRIGO, RAYMOND L
RODRIGUEZ, BEA MARGIE LUZ C
RODRIGUEZ, EXCEL C
RODRIGUEZ, GENINA GRACE A
RODRIGUEZ, JANE I
RODRIGUEZ, JULIANE VON V
RODRIGUEZ, TRISHA LORRAINE D
RODRIGUEZA, MARIELLE V
ROGADO, MARIELLA M
ROGEL, ALMA DAYANICA M
ROJO, JUSTIN REI M
ROMA, ERIN LYLE S
ROMAN, NICOLE ANTONETTE DL
ROMANO, CYRIL G
ROMANTICO, LOINA LOU R
ROMASANTA, TRICIA MAE E
ROMATICO, DARELLE KATE D
ROMENA, ROMEL A
ROMERO, DANICA FAYE C
ROMERO, EVELYN A
ROMERO, JOHN LORENZ N
ROMERO, KIM KYLE NICOLAI P
ROMERO, KIMBERLY P
ROMERO, RENZ EROLL M
ROMERO, THOM LOUIS S
RONARIO, EMMA ANGELIC N
RONGALERIOS, CONCEPCION R
RONQUILLO, JOHN KEVIN L
ROQUE, MARI JULIE ANNE F
ROQUE, PRINCESS MARIE ALYNAGEN L
ROSAL, JESS DAN R
ROSALDA, ARDEN P
ROSALES, BEATRICE ANN J
ROSALES, CYNJUN P
ROSALES, LAYNE JAZZMIN P
ROSALES, LYRA B
ROSALES, MARA PAULINE G
ROSALES, MARICAR L
ROSALES, NEIL TRISTAN LANCE N
ROSARIO, ALDIN A
ROSARITO, RUPERT E
ROSEL, ALYSSA NICOLE A
ROSEL, ROBE ROXANNE L
ROSEL, ROSE ANN T
ROSETE, DIANA N
ROSETE, KHRYSTINNE JEM D
ROSITA, CHRISJAN MAUI
ROTAIRO, HANNAH FAE I
ROTAS, MARGIELYN C
ROTONI, IRA NICOLE A
ROXAS, GABRIEL M
ROXAS, JETHRO P
ROXAS, MA CASSANDRA B
ROXAS, MAERIEHL JOY V
ROXAS, MARK JOSEPH P
ROYENA, ALDWIN T
ROYENA, PATRICIA MAE
RUAYA, ANNA MONICA R
RUBIA, KIM E
RUBIA, NORAINE B
RUBICO, RIC STEVEN T
RUBIO, DAVID JOSHUA M
RUFFY, RUSSELIO B
RUFINO, KIMBERLY
RUIZ, BRANDON M
RUIZ, DENIELLE VON ALLYN B
RUIZ, JEDWIN PAULO N
RUIZ, PATRICIA ISABEL S
RUMOL, JEFFERSON R
RUSTIA, KLARIZE DANIELE M
RUZ, JULIUS C
SABADO, MARIA ROSALIE R
SABADO, MARIELLA T
SABINIANO, JHIM LAURENCE R
SABUERO, JESSA MAE T
SACLUTI, EVELINA MARIE R
SACLUTI, LALAINE D
SACRAMENTO, WILHEN A
SACRISTIA, MARY JOY A
SADANG, ARCHELM JOSEPH S
SADIWA, MA CATRINA M
SADIWA, REYNALDO JR. R
SAJISE, RAMON JR. L
SALADO, ZYRAH R
SALAGUBAN, JHOBYNNE
SALALIMA, REVNER R
SALAMAT, JEREMY JAYSON L
SALAMILLAS, JEFFREY G
SALANGSANG, JAN CARLO G
SALAPARE, LOUIE MIL M
SALAR, GENESSA IVYNIA N
SALAS, GENEVIEVE G
SALAVEREZ, SHERWIN LEONARD A
SALAZAR, ARNELEEN P
SALAZAR, ARRA JOYCE M
SALAZAR, DANIELLA MAE R
SALAZAR, EMLIN G
SALAZAR, IAN FRANCIS A
SALAZAR, JOBIE LYNNE L
SALAZAR, JUAN MIGUEL I
SALAZAR, LORDEN R
SALAZAR, RAZELLE L
SALCEDO, ANGELICA C
SALCEDO, PRINCESS ANN M
SALCES, JENNELYN D
SALDAJENO, JAN MARIAN O
SALEM, GAIL MARIEN L
SALEM, JOHN BEMIE P
SALEN, SHARMAINE P
SALES, KIM ROANNE D
SALES, MERYL JOY D
SALES, PEBBLES DOMINIQUE R
SALES, RIZALYN B
SALGADO, MARK CYRIL S
SALIBA, FRANCIS DELMER T
SALILI, PAUL BRIAN C
SALMAZAN, JOYCE O
SALME, JHOLLY MAHJOY A
SALOCHO, FERDINAND P
SALOCHO, FREDERICK P
SALONGA, CORINNA B
SALUDES, CRISTINE JOY E
SALUDEZ, LENNIE C
SALUM, LEAH RENALEI O
SALUMBIDES, RUSSEL M
SALVADOR, ALLAINE D
SALVADOR, KEIZEL CAMILLE MHARDIE P
SALVADORA, KATLYN JOI S
SALVAHAN, LE' ARIANNE L
SALVATIERRA, JOSE MARI P
SALVATUS, WARENN GLENN U
SALVIO, CRISTINA L
SAMAN, MARIFE C
SAMAR, IVAN ROMOEL E
SAMARITA, ANGELA CAMILLE F
SAMIA, ARA MAE R
SAMONTE, CHRISTIAN PAULO V
SAMONTE, MATT JOSEPH D
SAMONTE, SHAINE MONLY L
SAMOZA, BEA ANTOINETTE L
SAMPANG, KIMBERLY M
SAMSON, JHOANNA MARIE F
SAMSON, RHEA CARISSA Z
SAN ANTONIO, CHARI B
SAN DIEGO, CELINE DESSIRIE B
SAN DIEGO, LUISITO S
SAN DIEGO, TEOFILO JR. O
SAN JOSE, PAULINE RAE F
SAN JUAN, AUDREY M
SAN JUAN, GEORGE ADAM C
SAN JUAN, JOHN ERDIE D
SAN JUAN, PRIMO ANGELO DL
SAN LUNA, DIANAH JOYCE R
SAN MARTIN, LEI ANN A
SAN MATEO, ANDREA LOUISE P
SAN MIGUEL, AARON DAVE P
SAN MIGUEL, MARIE JAHAZIELLE P
SAN PEDRO, LEAN DOMINIC A
SANCHEZ, ALDWIN LEMUEL A
SANCHEZ, ANTONETTE P
SANCHEZ, APRIL L
SANCHEZ, KLARENZ CLAIRE M
SANCHEZ, LYNCY M
SANCHEZ, MA ARCELIE B
SANCHEZ, PAULINE JOYCE R
SANCHEZ, ROSE ANNE SM
SANCHEZ, VICTOR ALLEN P
SANDOVAL, JUDEA MAY S
SANDOVAL, KATRINA ABEGAIL PASTORA M
SANGALANG, JEANKIN R
SANGALANG, RAYMOND P
SANSOLIS, STELLA MARIE P
SANTAMARIA, RONALD ALAN A
SANTAYANA, JEMIMA M
SANTIAGO, BERNADETTE D
SANTIAGO, LEAH GRACE E
SANTIAGO, MAGGIE MAY S
SANTIAGO, RAMON A
SANTIDAD, ALONAH M
SANTOS, BRIAN STEPHEN B
SANTOS, CARLO R
SANTOS, CRYSTALEENE JADE A
SANTOS, DAHRYL B
SANTOS, DANICA B
SANTOS, DANICA MONIQUE DC
SANTOS, DARRELL C
SANTOS, DIMPLES R
SANTOS, EDDEN MARC M
SANTOS, GERONIMO JR. A
SANTOS, MARIA GLAIZA B
SANTOS, RACHELLE R
SANTOS, RAY ALLEN L
SANTOS, RHIKKAINA MIKKAELLA G
SANTOYO, JUAN PAULO F
SAOR, KRISEL B
SAPANGHILA, HAZEL BIZETTE G
SAPIDA, CHARINA R
SAPUNGAN, HONEYLET M
SAQUI, JAN ERIKA MAE L
SAQUIDO, JESEL EMMANUEL B
SAQUILAYAN, ANGELI B
SARABIA, PAMELA JOY T
SARABOSING, VANESSA P
SAREFE, ALLEN GENREV C
SARIA, JHON ROBERT N
SARIA, JOHN ROSS P
SARIEGO, JOHN PACIFICO S
SARIGALA, FARHANA P
SARIMOS, JAYMILETH C
SARMIENTO, ALVIN O
SARMIENTO, ANGELIKA M
SARMIENTO, DIVINE GRACE L
SARMIENTO, FREDLYN M
SARMIENTO, JANNAH MARIE B
SARMIENTO, JOHN THADDEUS C
SARMIENTO, MARC ANGELO S
SARMIENTO, MARIA CARMELA V
SARMIENTO, MARIA CRESILDA C
SARMIENTO, MARY JOY T
SARMIENTO, SHARA MARIE M
SARZUELO, ARNEIL E
SASTRILLO, KRISTINE JOYCE M
SATA PRISCA, MARY LYNN E
SATSATIN, ERROL DAN J
SATUITO, MARI DOMINIQUE P
SATURNO, JAIRA A
SATURNO, MARIEL C
SAULOG, TERRENCE JAKE S
SAULONG, VIA MAE T
SAUSA, MARJORIE C
SAYAO, ABDIEL S
SAYAT, MARIE C
SAYCON, ARYZ JOSHUA T
SAYON, DAN DAVIES S
SAYSON, JESSE COLEEN J
SECILLANO, SARAH JANE B
SELDA, MARIELLE THERESA A
SEMARA, MARY GRACE P
SENO, MARIGAYLE B
SENTILES, CHARMAINE I
SEPNIO, SHEEN BANELLE C
SERDEÑA, CHERRY JOY D
SERDEÑA, REYDEN G
SEREDILLA, IVEE ANN FELIX E
SERONA, MARC DANIELLE D
SERRA, SANDRA D
SERRANO, CHARRY VETTE R
SERRANO, MARY ROSE V
SERVAÑA, JACQUELYN T
SERVAÑEZ, LE-ANN GRACE G
SEVA, JALEX M
SEVERANCE, MAE BELLE L
SEVILLA, JOHN RADLY M
SEVILLA, MARITESS V
SEVILLEJA, EDITHA E
SIBAYAN, CLARISA R
SIBULO, ZARA FIEL O
SIENES, JONALYN G
SIERRA, PAMELA J
SIGUE, BRYANT EXEL G
SIGUISABAL, ISMADEL JOYCE F
SIKAT, BEA PATRICIA R
SILANG, MARIE GABRIELLE
SILANG, YARREN MIKHAELA A
SILANGA, ANDREA P
SILAYAN, REYMARC A
SILVA, PAULA LIANCA E
SILVA, PRINCESS P
SIMAN, JOSHUA M
SIMOGAN, JOSE GABRIEL
SIMON, ARCEN JOHN P
SINGAYAN, REGINALD L
SINGAYAN, RYAN JAMES O
SINGPET, CHARMAINE M
SINGSON, JOHN FRANCIS R
SIPRIASO, BRIAN KENNETH Q
SISON, MARINELA T
SISON, RICHELLE JOYCE L
SISON, RUTH C
SOBERANO, LARRY JR. L
SOBREVIÑAS, PATRICIA MAE G
SODELA, ANGELYN A
SODOY, MIKO JAMES R
SOLANO, MAUREEN O
SOLIDUM, LEA T
SOLIS, DIAN KARLA LYN S
SOLIS, JASON F
SOLIS, JULIUS RAPHAEL M
SOLIVEN, CECILIO JR. B
SOLIVIO, AIRA DANIELLE S
SOLLANO, RYAN A
SOLOMON, DANICA M
SOLPICO, SARAH JANE B
SOMBILLO, JANICE C
SOMOBAY, JELOUH GRAZEL D
SONSONA, WINIELYN B
SORIA, ROMALYN M
SORIANO, APPLE MAY DC
SORIANO, DAISY B
SORIANO, JEAN IRMA G
SORIANO, KATHERINE B
SORIANO, MA ELLAINE M
SORIANO, ZARA JAHZEEL B
SORITA, ARRAN PAUL L
SORTO LOVO, PERLY D
SOTALBO, CORINA B
SOTOMAYOR, JAN MARIE E
SOTOMAYOR, JUVY MAE M
SPRINGAEL, MONICA A
STA ANA, JO DIANE T
STA ANA, MARIELLE JOYCE U
STA LUCIA, KRISTIAN LOID
STA MARIA, EDGAR A
STA MARIA, IVY L
STA MARIA, KHIM DC
SUAREZ, KIMBERLY C
SUAREZ, PERI ANTHONY G
SUBA, LOVELY I
SUBAAN, MARC IAN JADE R
SUBARAN, PAUL KENNETH M
SUBAY, CATHRINE T
SUBIDA, OPHRAH JAE P
SUDARIO, MARIAN DOMINIQUE
SUELA, NOEL M
SUELO, RAIDES KLINE G
SUELTO, ALMA GRACE T
SUGANOB, MARK P
SULIBIT, COLLIN MYCA S
SUMAGAYSAY, ARIES G
SUMAGAYSAY, JOYSAM P
SUMAGAYSAY, MERZEN ANN C
SUMAGUE, ELINOR PAULA D
SUMAGUI, DONITA ROSE A
SUMAGUI, JUVY D
SUMALO, LOVELY P
SUMARIA, MARY JOIZ L
SUMATRA, REGINA LYN M
SUMAYA, JHOANNA ILEZE V
SUMAYA, SHARMAINE G
SUMAYAO, KERSTEINE A
SUMOCERA, JOVIELYN D
SUNICO, DWIGHT MICHAEL B
SUPAPO, DEVETH JOHN C
SURBANO, CHRISTIAN P
SURETA, MANILYN S
SURIAGA, MARLENE V
SUSTRINA, BRIAN ANGELO R
SUYU, LYDA GAIL T
SUZUKI, CHRISTINE JOY S
TABACO, JESSICA S
TABAGO, LOUIE S
TABANQUERAO, RONALD M
TABERNERO, RUBIE JHEANNE G
TABERNILLA, ROMARIE D
TABING, IMEE O
TACLAS, REINA KATRINA R
TACLIBON, RIMAT MARIS I
TADENA, JULIUS CEASAR P
TADENA, LESTER R
TADEO, PAUL BENJAMIN
TADLAN, ANGELO A
TAGARI, APRIL M
TAGULINAO, MARINELLA T
TAGUN, FRANCE LIZZETTE F
TAHUP, CHIEF SEATTLE SJ
TAJAN, MARIA ALONDRA MAE R
TALABIS, JOYCE ELYZZA GENE N
TALADRO, AVELINA B
TALADRO, JESSA Q
TALAMAN, MARK ANTHONY E
TALAMPAS, CARL JERICK D
TALENTO, JOANAH ANDREA S
TALENTO, MARIA CRISTINA E
TALISIC, KIMBERLY ANNE S
TALLER, NOEL G
TALLUD, PATRICIA JAMELLA M
TAMAYO, ANGELYN KAYE
TAMAYO, FLORIE L
TAMBULASA, ROMMEL V
TAMIS, ALEXANDRA E
TAMONDONG, JAN ANGELO R
TAN, KARL ANTONI A
TANCANGCO, JAN TRISHA P
TANDANG, JOHN JOEL A
TANDAS, IAN T
TANGI, RODMARK N
TANJAY, JULIE ANNE A
TANO, ALTHEA MARIE S
TANO, JOAN MARIE S
TANOCO, JOY S
TANTOCO, JHANIN ANGELA P
TAPAOAN, WILLIE JR. R
TAPAYA, ELIOR S
TAPIA, IAN CHRISTOPHER M
TAPIC, KIM ANGELIE B
TARDIO, KIRK JOHNLYREG D
TARNATE, MARY DANIELLE S
TARRAY, MARIA ALYN V
TAVARES, JOZEPH G
TAYANES, MARIE ANNE S
TAYLAN, JANIS DOROTHY S
TAÑAFRANCA, JOHN MEDARD D
TAÑALAS, JEFFREY F
TAÑON, CHERRY ROSE R
TAÑON, MICHAIAH L
TECSON, JAN AYESSA O
TEDE, JOHN CARLO M
TEJADA, MA ERICKA D
TENGCO, ARVIN C
TENORIO, MARIAH SUSHMITA C
TENORIO, MARK ANTHONY D
TENORIO, RACHEL M
TENORIO, RIZALINE L
TERCERO, IRISH C
TERCERO, LADY JHANE C
TERCERO, ZYRABELLE C
TERNATE, ANGELO A
TESORERO, AIVEE C
TESORERO, GLENN P
TESORERO, JAZTINE MARIE M
TESTON, ANNA NICOLE R
TESTON, FERDINAND C
TEVES, YDEL BENIDICT V
TIAMA, CARMELO ARNEL N
TIAMSIM, NICHOLSON BORJ A
TIBAYAN, SARAH JANE A
TIBAYAN, YIANNU MIKHAEL M
TIBURCIO, REGGIE LEE F
TIEMPO, GAY ROSE H
TIMBREZA, HARLEY DAVID JONES U
TIMOG, KEVIN LESTER G
TINIO, JELLUZELLE M
TINO, RAE DENISSE DAPHNE C
TIPO, JONARD A
TISBE, ALDREA ESTHER A
TITAN, EMIL V
TIU, MIKHAEL VINCENT B
TIÑANA, JEMAROSE ANTHONETTE A
TOLEDO, ALEXIS B
TOLEDO, JIAN PAULO C
TOLENTINO, ALYANNA T
TOLENTINO, ANDREA MARIE V
TOLENTINO, ERROL JAMES M
TOLENTINO, EVANGENEL D
TOLENTINO, HAZEL FAYE P
TOLENTINO, JOHN RENAN D
TOLENTINO, JUSTINE MARIE D
TOLENTINO, LUISITO JR. C
TOLENTINO, MICHAEL T
TOLENTINO, MONIQUE J
TOLENTINO, PATRICIA ANN C
TOLENTINO, SHALIE S
TOLIBAS, DENIEZA S
TOLOSA, CARLOS N
TOMAGAN, ELSIE M
TONGOL, ELLAINE JOYCE A
TORDILLOS, ALEC RAINART P
TORGA, IRAH C
TORIO, CAMILLE JOYCE F
TORRALBA, MARY JEAN L
TORREDA, JOSE AMADO DS
TORREFIL, DIANNE N
TORRENO, GIAN KARLO M
TORRES, ANGELIQUE ANNE F
TORRES, BENICE MAE R
TORRES, CATHERINE J
TORRES, JANNA AIVA A
TORRES, JERICK D
TORRES, MARIA KATRINA P
TORRES, MARICEL M
TORRES, RISSI ANN MAE A
TORRES, SHANIA
TORTE, TRICIA JOY
TOTICA, BLANCA ISABEL D
TRABA, SARAH MAY M
TRAQUEÑA, ABIGAIL B
TRAZONA, HARLEN A
TRILLANA, RONEL P
TRINIDAD, KRIZZ AUDRIE D
TRINIDAD, NICHOLE JOYCE D
TRINIDAD, VANESSA ANN N
TRIVIÑO, MA CLARISSA MARGARETTE B
TUANDO, MARJORIE B
TUAZON, ALMIRA D
TUAZON, JHOVEN C
TUAZON, JOEMABIL G
TUAZON, JUSTINE DANELLE H
TUBELLEZA, JOHN CARLO V
TUGADE, JAN IRA B
TUGADE, NIKKI G
TUGAY, RICHARD LHEO R
TUMBAGA, CEDRICK JOSHUA C
TUPAZ, ALEXANDER RONALD H
TURALBA, MILBERT JOHN Q
TUTANA, EMERICO D
TY, JANINE FAYE C
UBALDE, KATHERINE V
UBANA, ROY N
UBIBI, MICHAEL N
UCHI, ROWENA M
UDAUNDO, RUSSELL JAE A
UERA, MARIA CORAZON K
ULANIMO, ROCHELLE D
ULAT, ALDRIN TROY C
ULIP, COLLEEN GRACE S
ULPINDO, MARY ANTOINETTE D
UMALI, DONNA JOY C
UMALI, ELOISA MEI DM
UMALI, KATHY A
UMALI, KEITH MARTIN A
UMALI, SOPHIA LYNELLE M
UNIDA, NONNIE B
UNTALAN, CHRISTINE R
UNTALAN, MA MIKAELA P
UNTIVERO, GLORIFE L
URBANO, JOSEPH DWIGHT B
URBANOZO, BRENDON R
URBINA, ARRIANE GRACE S
URETA, ARLENE R
URGENA, OLIVER JR. P
URRIZA, ARIANE MAE A
USI, JONATHAN G
USODAN, FATIMA D
UY, JEZZIKA T
UY, MARY GRACE ANN E
UY, SELIN M
UY, SIENNA MAY M
UYPICO, SHYLL ERICA B
VALDEABELLA, CHERIELYN C
VALDEABELLA, LADY HARRY M
VALDELLON, HARLET A
VALDERRAMA, MARY GLEN C
VALDEZ, AIRA JINELLI J
VALDEZ, LOIDA M
VALDRIZ, SAMANTHA NICOLE G
VALENCIA, CARISSA MAY A
VALENCIA, JAN JEMLAH V
VALENCIA, PATRICK NOEL C
VALENCIA, ROJEMAR ART M
VALENCIANO, AEROME DUSTIN P
VALENZUELA, CAMILLE B
VALENZUELA, JAY AR C
VALENZUELA, MONALIZA M
VALENZUELA, PAULINE C
VALERA, MARIA CHERRY-LYN C
VALIENTE, ROSALIANNE T
VALINO, WILBERT S
VALLARTA, NIÑA ALYSSA C
VALLE, KATHERINE A
VALLEDOR, RHAZY D
VALMONTE, NICOLO EMMANUEL D
VALMONTE, ZHARLYN MAE A
VALMORES, JULIANNE DANCELSHIRE M
VARGAS, CECILLE S
VARGAS, ERNESTO JR. M
VARGAS, PAUL JOSHUA D
VARGAS, REGINALD B
VARGAS, REMELYN B
VARGAS, RYAN C
VARONA, LAWRENCE E
VASQUEZ, ANNA ROZELLE L
VASQUEZ, KAREN JOY J
VASQUEZ, MARY ROSE M
VASQUEZ, NATHALIE FAITH C
VELA, LAARNI G
VELASCO, ERNEST JASON O
VELASCO, MARY GRACE F
VELASCO, SHEEN MAY R
VELASQUEZ, BERNARDO G
VELASQUEZ, JOHN VINCENT DARYL P
VELASQUEZ, PATRICK S
VELEZ, MANUEL JR. B
VELEÑA, KARYLL DIANNE S
VELEÑA, WENDELL M
VELUZ, JEREMY BEATRICE S
VENTOSA, PATRICIA JEAN R
VENTURA, MARIELLE LOUISE O
VENTURA, MARY ROSE R
VENUS, LADY HAZEL G
VENZON, ERYCSON O
VERACRUZ, ANDREW A
VERANA, BLESSIE MARIE T
VERANO, SHEILA MAE F
VERASTIGUE, AILEEN M
VERDEFLOR, RIXETT LUI L
VERGARA, ARMAND VENTURA P
VERGARA, GIZELLE C
VERGARA, JOAQUIN LEWIS V
VERGARA, KIMBERLY DL
VERGARA, MYRON O
VERGARA, SHARLYN C
VERZO, DAISY M
VESLIÑO, ANTONETTE P
VIADO, JAYA MEA D
VIADO, RHODERICK P
VIAÑA, MYLA L
VICENTE, MENAPELLE NICART A
VICENTE, PEARLY DAWN A
VICENTE, VERONICA IRA C
VICERA, ALFREDO JR. Q
VICTORIA, JUDY ANN B
VICTORIANO, MA KHELLY ANN J
VICTORINO, ALLEN RICK T
VICTORIO, ARACELI P
VIDAL, JAIMEE G
VIDAL, MARIEL L
VIDAL, SARAH JOY R
VIDAMO, GIAN MIGUEL P
VIDAMO, HANNA GRACE C
VIDAMO, LORELIE E
VIGILIA, NEIL CARLO K
VILAGA, CALVERT B
VILLA, RICHARD R
VILLAALBA, JESSELYN L
VILLACAMPA, EVAN B
VILLACARILLO, KYLE G
VILLACRUSIS, FRANCIS B
VILLADIEGO, AYESA CARLA V
VILLAFLOR, FRIALIZA T
VILLAFLOR, MERRY CHRIS S
VILLALOBOS, DELANO JR. T
VILLALOBOS, KREESSHA KAYE LOUNEL B
VILLALUZ, JEAN LOUIE S
VILLAMARIN, LISZT ASHLEY G
VILLAMIL, JOHN GLEN V
VILLAMIL, JOHN KERBY V
VILLAMINO, CRISTALYN C
VILLANCIO, HANNAH DIANE M
VILLANUEVA, ANGELICA S
VILLANUEVA, AYESSA E
VILLANUEVA, CARL ERIC L
VILLANUEVA, CHERRY ANNE G
VILLANUEVA, CHRISTINE JOY C
VILLANUEVA, CLAIRE S
VILLANUEVA, CLARENCE D
VILLANUEVA, CLARISSE O
VILLANUEVA, DICK ISRAEL N
VILLANUEVA, GENNELYN IVY V
VILLANUEVA, KARISSA L
VILLANUEVA, KHRIZIA MAE J
VILLANUEVA, KHRYSNA AYRA P
VILLANUEVA, MARY ANN I
VILLANUEVA, NEIL JOHN S
VILLANUEVA, PAULO A
VILLANUEVA, REXANDER F
VILLANUEVA, RHENIEL F
VILLANUEVA, RODSON ROBERT M
VILLANUEVA, RONEL S
VILLANUEVA, SHAIRA MAE F
VILLANUEVA, STELLA JOYCE G
VILLAPANDO, HOLDEN ANDREW A
VILLAPANDO, JEANEVIE M
VILLAPANDO, JESSA V
VILLAPANDO, JONNA V
VILLAPANDO, PRINCESS JADE O
VILLAPLANA, WARREN P
VILLARANTE, IRISH JEAN B
VILLARAZA, ARREN JAY P
VILLARIN, CHARMAINE B
VILLARINO, CHARIS D
VILLARINO, JOYCE ANN C
VILLARIVERA, JOHN ARLEE U
VILLAROJO, ERICA G
VILLARUEL, CAMILLE M
VILLAVERDE, ERICK ARVIN L
VILLAVEZA, PRINCESS LEA PAULA D
VILLEGAS, CHRISTOPHER ODIN L
VILLEGAS, JULIO GERARDO A
VILLEGAS, MITCHELL CLAIRE S
VILLENA, ALYSSA MAY C
VILLENO, JOSEPHINE I
VILLEZA, JOHN RICO C
VILLOCILLO, JEAN ELAINE A
VILLON, CHRISTIAN ANTHONY T
VILLON, PATRICIA MAE G
VINSON, CARL B
VIRAY, ALFRED JUNBEL C
VIRREY, GAIL NATALIE C
VIRTUCIO, FATIMA S
VISPERAS, FRANCIS JAMES M
VISPERAS, RAHNIE M
VITAL, ATHENA MEI B
VITAL, LEIRA S
VITAN, RICHARD JORDAN R
VITO, ANA LEONORA C
VIVARES, AZEL MAY R
WAJE, MARVIN R
WALANGSUMBAT, CARROL B
WONG, MARYNELL ROSE P
YABUT, CRISHA MAE P
YABUT, ELOISA A
YABUT, SHERLYN JOY C
YAMBA, DAFHNEE L
YAMO, MARY ANNE M
YANG, HAN CHRISTIAN JOSEFSON H
YARE, MARJON L
YASAY, SOFIA REGINA P
YASOÑA, HANNAH GRACE A
YBAMIT, JEN RACHEL B
YEBAN, ZAIRA JANE M
YEDRA, GLADY L
YLAGAN, ARJAY P
YOLOLA, KENNELYN P
YOSHIHARA, KATHRENE THERESE A
YUSON, MARICEL G
YUTUC, ALLEN MARVIN H
ZACARIAS, PRINCESS C
ZAGADA, MARIELLE VICTORIA D
ZAMORA, ANGELICA JOY O
ZAMORA, FRANCHESCA JOY C
ZAMORA, JEHAN S
ZAMORA, JELYN ROSE L
ZAMORA, LIANNE ZENEAL B
ZANDUETA, KAREN MAE R
ZAPANTA, ABELARDO III A
ZAPANTA, HESSAH MARJONIE E
ZAPANTA, JULIE ANN S
ZARA, CHRIST JOHN B
ZARA, IAN JOSEPH G
ZARA, ZANDRA GEVALYN A
ZARSUELO, CHRISTIAN LEEZ ANDREI A
ZASPA, RUBEN JR. V
ZAVALA, CIARA MAE T
ZOLETA, YOCHANG JOHN M
ZOLETA, ZINNIA M
ZORRILLA, DAVID ANGELO I
ZRIQAT, FLEUR DE LIZ P
ZUMARRAGA, JOANNA GRACE
ZUMARRAGA, KIM MICAH E
ZURBANO, ARIANNE Q
Exam Coverage
Professional Level (Prof) – In English and Filipino
Numerical Ability (Basic Operations; Word Problems)
Analytical Ability (Word Association – identifying assumptions and conclusions; Logic; Data Interpretation)
Verbal Ability (Grammar and Correct Usage; Vocabulary; Paragraph Organization; Reading Comprehension)
General Information (Philippine Constitution, Code of Conduct and Ethical Standards for Public Officials and Employees RA No. 6713, Peace and Human Rights Issues and Concepts, Environment Management and Protection)
SubProfessional Level (SubProf) – In English and Filipino
Numerical Ability (Basic Operations; Word Problems)
Clerical Ability (Filing; Spelling)
Verbal Ability (Grammar and Correct Usage; Vocabulary; Paragraph Organization; Reading Comprehension)
General Information (Philippine Constitution, Code of Conduct and Ethical Standards for Public Officials and Employees RA No. 6713, Peace and Human Rights Issues and Concepts, Environment Management and Protection)
Release Date
The official exam results are expected to be released within sixty (60) days after the last day of examinations or on October 10-13, 2019.
Note
However, the CSE results might be released earlier or later without prior notice from CSC.