Here is the Civil Service Exam Result August 2019 Including Region 8 Passers (Professional Level)
CSC is about to release the Civil Service Exam Result August 2019 including the Region 8 passers (Professional Level).
The August 2019 Civil Service Exam Results including the official list of passers and top notchers for both Professional and Sub-Professional Level will be available on this website after it will be released by CSC.
The Civil Service Exam – Pen & Paper Test (CSE-PPT) have been given at CSC testing centers in NCR, CAR, CARAGA, ARMM, and all regional testing centers in the country on August 4, 2019.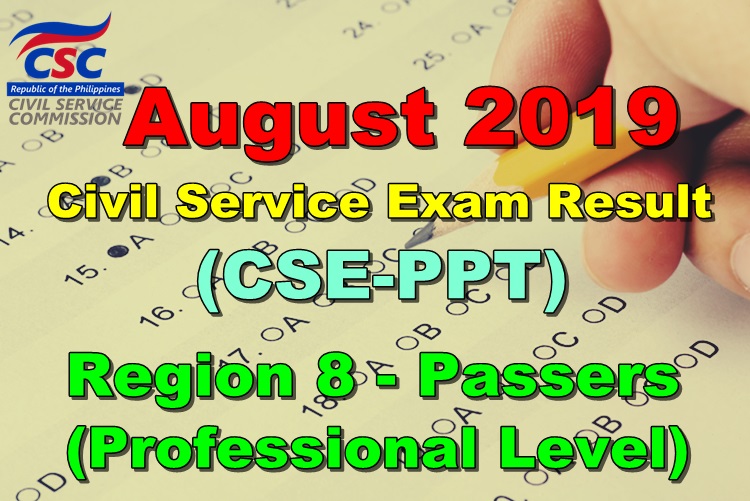 The CSE-PPT is an eligibility examination that gives opportunities to Filipino people to work in local government positions.
SUMMARY OF RESULTS:
Here is the List of Region 8 Passers (Professional Level)
August 4, 2019 Civil Service Exam – Pen & Paper Test (CSE-PPT)
Professional Level – List of Passers
Civil Service Commission Regional Office No. 8 (Eastern Visayas)
ABASOLO, AIREEN   C
ABAYAN, ROGELIO   P
ABAYAN, ROSALYN   G
ABEDEJOS, MARY ANNE   C
ABENOJA, MARK ANTHONY   B
ABGAO, NANCY   O
ABLAY, RICA   G
ABREMATEA, CHIARA   M
ABRIA, LARRY   L
ABRIL, JERICO IAN   Y
ABRILLO, JONAH MAE   B
ABUNALES, LUIGI MARTIN   R
ADA, SHARMAINE   F
ADRALES, JILL LEA   L
ADVINCULA, VENZ ANDREI   P
AGBON, MARIAM   G
AGOTE, JONATHAN   S
AGUJA, JOVY-ANN   P
ALAAN, MARLON   S
ALABANZA, ELIZA ROSE   M
ALBAÑO, LORRAINE KIMBERLY   L
ALBIA, NIÑO JOHN   P
ALCOBER, JULIET   S
ALEGRE, JERIC MICHAEL   C
ALFONSO, MAUREEEN KAYE   L
ALIMAN, GISELA MEA   A
ALINDAO, VIRGIL   O
ALMERO, KLYDE   Y
ALO, LADY ANN   P
ALVAREZ, LEIRA ROSE   S
AMANTE, KERRY AL XYNAH   C
AMANTILLO, RICHARD   J
AMARILLE, RIZALDO  JR. A
AMPARO, DENNIS   O
ANAS, ABIGAIL   N
ANGELO, LIZA MAE   P
ANI, APRIL VICROSE   N
ANIBAN, FELIFLOR ANN   M
ANTIDO, SHEENA MAE   B
ANTONI, LANI   G
APIGO, NATSUKI   V
AQUINO, RHEA   A
ARAYAN, DIO REGINE   T
ARAÑEZ, VANESSA   D
ARINGOY, DINA   B
ARRIVADO, TRYLLE OLIVE   R
ASIS, SHIELLA MAE   L
ASISTER, RONAMAE JOY   D
ASTILLA, CHARLESTON   A
AURELIA, JAKE   G
AVESTRUZ, MARTIN   E
AYO, VENESS   S
AZORES, CHER   P
BACSAL, DALIE ANN   Q
BACSAL, GIA GRACIA   C
BALDEVIA, ALLYSSA JANINE   T
BALDONO, JETHRO SAMUEL   T
BALES, MA ERIKA   D
BALIGUAT, VEK   C
BALINGKIT, IRVIN   C
BALIÑA, CATHERINE   B
BALLESPIN, BIANCA CAMILLE   L
BANDAL, LYNMER   T
BANDAL, MARY ROSE   O
BANDIBAS, SARAH JEAN   L
BANTANG, OLEVILLE LYAN   E
BANTUG, MARIA LUCIA   T
BARBOSA, KIRZTIN   R
BARCA, AFELYN
BARCELO, CIENA RAE   G
BARDAJE, JOSEPH SALVADOR   P
BARSOLASO, GLENN   C
BASALO, DANILO  JR. A
BASARIO, JOY   O
BATISTIL, LUDELYN   D
BAYOT, MA APRIL   P
BELARMINO, ANALYN   A
BELEGORIO, IMEE CHRISTINE ANN   P
BENAIRES, KENNEY   D
BERDAN, RYTH JAY   V
BERIOSO, FRENMAR   M
BERONGOY, KENAN DOMINIC   C
BIANES, CHRISTINE FAYE   D
BIAY, NILMA   V
BICAR, DARYL GRACE   V
BLANCO, DANIELLE MAE PATRICE   F
BOBILES, MARY LYN   L
BORDIOS, WINGER   L
BORLAZA, ERIC   R
BRAGAS, MARLOU   F
BRILLO, APRIL DAISY   A
BRU, JEJOMAR   S
BRUNO, CRISAMJELYN   T
BUCATCAT, MA ELIZABETH   T
BUENASAGA, NOEL   M
BUENO, KRISTOVAL
CABACABA, LEAH   A
CABACABA, SARINA AMOR   P
CABAG, MARK VINCENT   Y
CABANGUISAN, NIÑO   T
CABARRUBIAS, IRELAINE ANN   L
CABERTE, HARVY   N
CABIA-AN, JUVY   O
CABIDES, MARIE JANE   A
CABONCE, JOBELLE   B
CABRAL, SARAH JANE   L
CABRITO, HAROLD GAMALIEL   A
CABUGWASON, JIM CLYDE   B
CADAVIS, VAN ERICKA   N
CADIENTE, HARLYN   O
CADIZ, KRISMABELLE   E
CADUHAY, MARTIN OLIVER   R
CAGOMOC, ALEJANDRO   Y
CAJARA, CATHERINE   S
CALAPRE, DAIANA   M
CALATRAVA, STEPHEN CARL   M
CALBAN, AIZA   D
CALCETA, DESIREE   O
CALDO, CELINE ZYRRAH   A
CALESA, LYKA   T
CALLEDO, NEIL GABRIEL   F
CALLOSA, FE   D
CALUAG, NICOLE MAE   C
CALVADORES, PRINCESS HANNAH ALYZZA
CALVARA, JOHN RAFAEL   J
CAMARA, ELLA MAE   V
CANILLO, PETER IAN   A
CANTERO, JOMAR ARVIN   T
CAPATOY, RANJET   B
CAPILOS, KAECEE GHLYDELLE MAE   F
CARDENAS, ERVIN   J
CARDEÑO, GLENDA   P
CAROSCOS, JOSEPH   B
CARPON, JUN AMIEL   R
CARREON, ANN SOCORRO   B
CARREON, MARK ROWELL   S
CASAS, JACQUILINE   A
CASILI, NIÑA DANICA   T
CASTIL, DIOSY MARIELLE   C
CASTILLO, ARIANE   P
CASTILLO, MAEVELYN   J
CASULLA, TRICIA NICOLE   S
CATUDIO, DAISY   O
CATUGAL, JAQUELYN   B
CAVITE, JEFFREY   B
CAYETANO, MARICEL   M
CELEBRE, ZHARINA   D
CEPEDA, RIZALYNE   B
CERDEÑA, LEALYN   M
CERVANTES, CHERRY   A
CHAN, JIMARIE   C
CINCO, BERNICE   S
CINCO, CINDY MAE   S
CLERIGO, JADE   C
CODILLA, JOEMAR   C
COLETE, JORDAN   E
COLLERA, MARIEL   P
COLO, ARIES   P
COMEO, MYLYN   B
COMIA, RHOMMILL   A
CONCEPCION, MA ALYSSA   G
CORAPAO, CATHERINE   N
CORCILLES, SARAH MAY   P
CORDAÑO, RENZY   C
CORILLO, AGATHA FAYE   D
CORPIN, LIEZL   D
CORPUZ, CINDY   F
COSTILLAS, JC   L
CREER, LEAH JOAN   Q
CROBELLA, JHERLAN   K
CRUZA, MA CHRISTINA   A
CUBIAN, JUVIE   R
CUESTA, SHANITA GEM   S
CUI, NYRA   C
CUYAG, JUNITH   G
DAA, JESSA MAE   M
DABAN, FLOR DIVINE   M
DABASOL, CHIZZA PEARL   V
DABOCOL, EMMANUEL  JR. P
DACILLO, RUTCHIELYN   J
DADO, ALWYN GEOFF   R
DADULLA, JERALYN   M
DAGA, MINETTE ALENA   C
DAGAMI, JANNIEH RUTH   T
DAGANIO, GIDEON   L
DAGO, MICHAELA   T
DAIZ, CHRISTINE   B
DANCEL, MARY JOYCE   D
DANDAN, MAYCEIL   B
DAPUG, JOSEFINA CARLA   T
DARANG, SHARMAINE JOY   B
DAVANTES, SIMONETTE BELLE   B
DE GUZMAN, RYAN PAUL   C
DE LA CRUZ, ROWENA   L
DE LA PEÑA, BENESSA   M
DE LOS SANTOS, ARLENE   C
DE LOS SANTOS, MARY ANNE GELINE   B
DE LOYOLA, CARLOS LOUIS   N
DE OCAMPO, REYNALDO RAJAH MELNCSHAVF
DECENTECEO, CLOVIS
DEDAL, ADONIS   L
DELA TORRE, GRACE   G
DELLORO, CARL ARJAN   S
DELLORO, MARY GRACE   L
DIMAKILING, ALFRED   R
DIMATANGAL, LEONARDO  JR. E
DIMATAWARAN, MARK LESTER   G
DIONSON, JANELLEN   C
DOLOR, MARY ANN   M
DONAYRE, CHRISTINE MARIE   J
DORADO, JOHN CYRIL   D
DULA, JASPER   M
DULFO, SAMANTHA ROSE   B
DUMAGUING, JENNIFER MARIE   P
DUMALAY, JANE ROSE   E
DUNGZAL, MAE CHRISTINE   C
DUZON, MA DESIREE   T
DUZON, MAYDEE   T
EBUENGA, VINA JOY   C
EGIDO, HANNA RICA   S
EGIDO, JOCELYN   B
ELARDO, VALERIE ANGELIE   T
ELONA, JUDELYN   C
ENAGE, JENNELYN   S
ENDING, FEBELYN   C
ENOJO, KIM MACY   M
ENRIQUE, DIANE   A
ESCUADRA, JAMES   B
ESPADA, THERESA   P
ESPALDON, ROWENA   L
ESPEDILLA, SHEENA MAE   S
ESPEJO, NISSI PRAISE   S
ESPINA, REA LYN   C
ESPOCIA, KEVIN   K
ESQUIBEL, MARY ABEGAIL   R
ESTANILLA, KRYSTAL   M
ESTIOCO, MARIA DESA   C
ESTOR, FRANCES MAE   U
FABELLA, RUTH   P
FAJARDO, NELIA   G
FAUSTINO, MARIE PEARL   C
FERNANDEZ, JOSS ALEXIS   B
FIECAS, KIM CARLO   A
FIGUEROA, NICA ISOBELLE   A
FRAGA, ROSELYN   O
FULGAR, CLARICE   C
FULGUERAS, PYRO CHRISTIAN MILES   B
FULMINAR, LEONARD   D
FUSIO, CHRISTINE MAE   L
GABISAN, CHRISTIAN RYU
GABRAL, SHEENA FATIMA   P
GABRONINO, RHETT ANTHONY   T
GABUCAN, ADROWELL   B
GACHO, GERLIE   A
GACHO, JOHN MARK   A
GADAINGAN, JAY VINCENT   T
GADICHO, ROMAR   M
GAGANAO, ETHEL   O
GAJOL, JULY   S
GALENZOGA, LESETTE   B
GALLANO, JENIELYN   D
GALLANO, SOPHIA SANDRA   C
GALVEZ, MELANIE   P
GALVEZ, RAYNARIO  JR. C
GANOSA, CECILIO  JR. S
GARA, EARL NORWIN LLOYD   B
GARCES, MARK LOUIS   L
GARCIA, CHARINA EDEN   J
GARCIA, KIRSTINE MAE   A
GARDE, LEANDRO DAX   T
GATCHALIAN, MELDRICK   T
GATELA, STEPHANIE   E
GATIL, AGNES   B
GAVILO, RALPH MARIUS   S
GAVINE, MARY GRACE   D
GAYO, ROBERTO  JR. V
GELI, OSCAR RHUM  IV D
GELIG, PAOLO JAN   B
GESULTURA, JOSHUA   G
GIGANTO, GIL   A
GLORIA, DOREEN   F
GLOVA, NEIL  JR. M
GO, ZAINAH BELLE   A
GOLES, LYRA   C
GOMPAD, SAMSON  JR. U
GONZALES, FRANCIS RICO   N
GONZALO, LYKA JO   L
GRUTA, MARY ANNE   I
GUIAL, KLIM LESTER   L
GUIRA, KESLEY ANNE   A
GUISIHAN, MICHELOU   E
GULA, MERA   G
GUTANA, PERLY   B
GUY-JOCO, STEPHANIE   O
HERMOSURA, KYRILL JANE   J
HERNAEZ, ZENITH   L
HERNANDEZ, MA ELIZABETH   C
HIZON, JIREH   L
HOBAYAN, LEONIE   G
HOMERES, JANN ARNULF   P
HUANG, SHAO LING   M
ICHON, JONALYN   S
ILUMBA, RHEA   P
INTALES, JEAN   B
ISRAEL, JERELIE   T
ITABLE, EARLY   FE
JABINES, KEZIA ADELYN   P
JACOBE, JIMMY   E
JAMILE, JINKY   M
JIMENO, JHOANNE MICHELLE   C
JOMADIAO, MARY LYN   P
JONALE, AIREEN   S
JUNTILLA, JEFFREY   S
KINTANA, NEIL PHILIP   T
KISKISAN, KINDRA JOY   A
LABAGALA, MA JESSA   V
LABIDES, WILSIE   M
LABRA, MARICIRS   A
LACDO-O, ADELINA   L
LAGONOY, LORIE LYN   C
LAGUMBAY, RENO NELSON   C
LAMOSTE, FRANCIS URFEL  II P
LAO, JOSE KATHERINE  III L
LAO, RUDLI   D
LAOTINGCO, AILEEN   M
LARAN, ANALO   S
LARAN, ARIEL   A
LARIOSA, CARRIE MAY   F
LASDOSI, DAISYLYN   P
LEGALIG, RIGIL KENT   O
LELIS, LINCELL MAE   J
LENOGON, ERIKA JANE   R
LESIGUEZ, RACHEL LYNN   S
LETADA, LAIZA   O
LIBASNON, JESSA   G
LIM, TACHI ROSLENN   O
LLANOS, DARLYN   C
LLAVORE, ERTHELINA   V
LLENA, MERVIN TED   T
LLEVADO, HANNSCEL CARIMFE   A
LLEVARES, RONETTE ERZSI
LOCOP, JUN JOSHUA   O
LONTAGA, MARY ROSE   C
LOON, MERCE   N
LOPOS, MARY JOY   G
LORENZO, BLYKE JUSTINE   N
LOREÑO, KAREN VENUS   C
LOZANO, GLECEL   O
LOZARES, IRENE   C
LUBANG, JOEL MARTIN   T
LUBANG, MILCAH JEIN ROSE   T
LUZON, JELLY MARIE   L
MABAJEN, NELVIN   R
MABANAG, JOHN PHILIP   U
MABANSAG, EUNICE   N
MABANSAG, RENNIE JONJON   G
MABINI, NOEL   A
MACABARE, MARY ROSE   B
MACABASAG, NICIAVEL   B
MACALALAD, REGINE   V
MACALALAG, BENCEL REY   N
MACAPANAS, PAUL ANTHONY   T
MACASA, JAN KEVIN   C
MACASA, PAUL MARVIN   G
MACASPAG, LITO   Q
MACAYAN, NORIEL   S
MACEDA, ARJAY   A
MACEDA, EARL REXELL   M
MACION, MA JEZABELLE   M
MADRIAGA, MARK ADRIAN   L
MAESTRE, DONNYL KANE   T
MAGADAN, JOMARI   O
MAGALLANES, CHARLOTTE   R
MAGDUA, CHABELITA   M
MAITEM, JOHN RAY   C
MALANA, JOHN PAUL   Y
MALATAMBAN, MAGS MORTEN   R
MALAZARTE, MARY COLEEN   S
MALLANTA, GLEZZA   A
MANALIGOD, CATHELYN   N
MANGALA, CHARLOTTE   A
MANICANI, ELY CEDRIC   G
MANLANGIT, EMILY CORAZON   C
MANOLONG, PRENCES REX MARL   R
MANRIQUEZ, FLORAMIE
MANTILLA, ARACELI   R
MARABUT, MARIA SARAVEN   O
MARAYA, IZZABELLA   R
MARGALLO, NIÑA ERICKA   Q
MARMOL, ARVEE   Q
MARQUEZ, FRANCIS LOUTCHI   L
MARTINITO, DARREN   J
MARTIRES, BILLY JONEL   DL
MASCADILLA, REYNALDO   U
MASECAMPO, TROY   N
MATAWARAN, ELREEN   I
MAUYAG, NABILAH   S
MECINA, RODEL  JR.  A
MEDALLA, CATHERINE   A
MEMBRANO, LORNA   G
MENDIOLA, CRIZZADYL   T
MENESES, RONY   D
MENESES, SERGS   D
MERCADO, CLIFF JOHN   P
MERCADO, IAN PAULO   C
MERCADO, MELANIE   S
METRAN, PRINCE RM   D
MIBULOS, KIM JASON   C
MILITANTE, LENGEL   M
MODESTO, ZAMYLHA   C
MOMBAY, MA GLAIZA   A
MONARES, BLENDA   T
MONTAÑEZ, AGNES   E
MONTEJO, KIM ARRIELLE   A
MONTES, DANICA LYNETTE   I
MONTES, JOHN DENZEL   B
MORILLO, DEBBIE   L
NAAGAS, IRISH   A
NARCA, MYUKA ANDREA   Y
NARIDO, DENISE   B
NAVAL, ARGEL EMMANUEL   M
NAVAL, ARIEN   R
NAVAL, AURA MAY   R
NAVARRETE, KEITH FROILAN   E
NAYAD, ALJON   C
NEBRIDA, MA FATIMA   R
NIERRA, REAH   B
NOPAL, FEL STANLEY   V
NUÑEZ, ABIGAIL MAE   T
OBALES, BRIDGET   M
OBEDA, WARREN   L
OBERA, RUFFA MAE   O
OBIÑA, REALIE ANN   R
OBLIGADO, HANNAH   O
OBREGON, CHARLENE   N
OFANDA, APPLE CHERRY MAE   F
OGALESCO, JANELLE   A
OLIVEROS, EUNICE   V
OLO, RUY NIÑO   L
OMAMALIN, LEO   A
ONIDA, DONA RICA   M
OPEÑA, ARA GRACIELA   A
OQUIAS, MONICA TYRA   Z
ORAYLE, ANTHONY   M
ORIAS, JULIE ANN
ORIQUEZ, SARAH JANE   R
ORQUILLA, LEOMAR   A
ORTEGO, ALBERT   S
ORTEGO, BENNIE CYNTHIAN   O
ORZAL, JENNIFER RUTCHEL   Y
PABIA, KALLY   B
PABUNA, LYKA MAE   D
PACAANAS, KARLA JANINE   B
PACANAN, MA BEVERLY   M
PACAS, ANGUSTIAS   H
PACAYRA, JOVE NEIL   L
PACLE, ABRAM CHRISTIAN   A
PADA, ALEXAR   S
PADA, JOELIE ANN   P
PAL, LOREEN DAWN   G
PALANAS, JAERA   C
PALAÑA, KRISTINE ANGELIQUE   A
PALCE, MA VINA   B
PALLONES, ROUALDO   L
PALLONES, VAN DIEL   E
PAMEN, MARK PAUL   E
PANCITO, JUSHIA ROSS   Z
PANIS, RIZZA JOYCE   T
PAPIONA, JANINE   G
PARAN, ROSEMARIE   M
PATAGNAN, JESSICA
PATANO, APRIL ROSE   B
PAVO, MARIA JASTENE   P
PAZ, JON REY   R
PEDERIO, JOSE LUIS   S
PEDRERA, ALEXIS   A
PEDRERO, CRISTIAN LEONARD   G
PEDROLA, IGMEDIO  III C
PEDROSA, CHARISSE MELIN   A
PEDROSA, KAREN ALODIA   L
PEDROSA, STEPHANIE   T
PELIGRO, LYDWINA   C
PEPITO, JODL CHRISTI   S
PEREGRINO, JEROME   R
PERITO, CHARMAINE   C
PEÑARANDA, EUNEL   O
PIA, VICTORINO  JR. S
PICARDAL, KHAREN   H
PIDO, CHERYLIN   E
PINTO, MAY   C
PIZON, AIMEE ROSE   C
POGADO, JHAD   Y
POMBO, GIL   R
PONCE, LICA MARIE   S
PRAYOS, ROTCHIEL   A
PRUEL, KLEAH ELSIE RIZA MARIE   A
PUNDAVELA, REI RASHID   L
QUIANZON, PAUL RODI BENEDICT   M
QUICHO, DESIREE ROSE   H
QUIDATO, FRENCISS ANN   O
QUIGAO, ANDREAN   P
QUILING, JOSEPH MEYRRICK   G
QUILLA, NERISSA   A
RAMA, MARK GERALD   P
RAMIREZ, DAVEN LLOYD   C
RAMOS, ANGELA   C
RAMOS, ROVENE   A
REBUCAS, ALYSSA   U
RECLUTA, PRIMO  JR. S
RECOPELACION, INA LAINAIA   T
REGANON, MA IVORY AMOR   E
REGLA, KENNETH   S
REGNER, LILIBETH   R
REPASA, JASLYNNE MAE   M
REPOSO, ALNIA   O
REPOSO, MARK AIAN   T
RESOS, ANDY   L
RESTITUTO, LEILA   L
RESURECCION, ROBIN JEAN   L
REYES, MENERVA   T
REYES, PRECIOUS NIÑA   R
RIVAS, KENDY JOY   D
ROA, QUENNIE   S
ROLDAN, JOHN CARLO   E
ROMEN, JOZEL   C
RONDA, HONEY GRACE   P
ROSARIO, SHIRLY   A
RUEDA, JO ANNE KRISTIE   L
RUIZ, REANA LYNN   C
SABALBERINO, JESSA GRACE   B
SABALLA, RUTH   L
SABALO, APRIL   M
SABINADA, BALBINO  III M
SAGA, VANESSA MAY   V
SAJA, JILLY AN   C
SALATAN, JOHN EMMANUEL   C
SALAZAR, FRANCE ZYRONNE   U
SALAZAR, NICKEE   L
SALMO, NESHIEL   P
SALUIB, ANTHONY LOVEN   A
SAMBERI, MARJORIE   F
SAMSON, PAOLA   T
SANICO, FINA EDRIENNE   G
SAS, CYNTHIA   S
SEGUROS, KAREN MARIE   F
SEPE, MARY JOY LOUISE   O
SEPTIMO, JENNY   L
SERDAN, JOANNA MARIE   V
SEVILLA, ELAINE CLAIRE   S
SIEGA, JOCELYN   C
SIMBLANTE, RONA   B
SINGSON, FLORRAY KIZZEL   G
SO, JOHN ROBINSON   D
SOBREVIGA, GIOVANNI   Y
SOLIANO, CHRISTINE JOY   A
SOMODOY, NANETTE   M
SORIA, SHANNEN FAITH   E
SORIANO, SHERRY JOYCE   M
SUAREZ, AREANE   B
SUBIAGA, MARK LESTER   G
SUMAYA, JECYL MARIE   R
SY, JOANA LIN   C
TAFALLA, FERJHON BRYNT   O
TAGANAS, MARIA FATIMA EUNICE   S
TAGBAK, CARMILLE   G
TAGRA, ALLAN  JR. S
TALDO, RONALD   E
TAN, BILL PATRICK   P
TAN, MARLY   C
TAN-PIENGCO, ROSE JOY   C
TENIO, JENNIFER   M
TINAJA, JENNIFER   G
TING, ARIANNE AUBREY   L
TITOY, RHONA JEAN   P
TOLIBAS, LIAM KYLE   A
TORDA, DORYNCHIN   M
TOREJOS, NOEL   T
TORRES, HENRY ANTHONY   M
TORRES, JOANNA MAY   S
TORRES, JOSHUA SLIM   C
TORRES, MERCENARIO SLIM   S
TUANG-TUANG, JASON   G
TUPAZ, NEKO   P
UNTALAN, JESSICA   B
UYVICO, HELENA JOY   L
VALERIANO, ATHENA   O
VALERIANO, ERICA   V
VALIDA, ANGELICA   D
VAN TONGELEN, DAVID   C
VENTURA, JEFFREY PAUL   Q
VERAS, BETOIN   A
VERBO, ROLANDO  JR. A
VERZOSA, ARMIE JOSHUA   S
VESAGAS, JOEY   T
VIBAL, SELENA GRACE   C
VILBAR, MARIET MARIE   L
VILLAMOR, NOVA   S
VILLANUEVA, CHRISTOPHER   C
VILLAR, JEMUEL   B
VILLARINO, OMAR VINCENT   I
VILLEGAS, KRISLYN   C
VINEGAS, JESSA   O
VIRTUDES, KRYSTAL ANNE   P
VOCES, RALPH JOEL   P
YAN, MARIE ANGELI   O
YAP, KEVIN   A
YNQUE, ROSEMARIE   D
YODICO, ELAISA TRISHA   M
YODICO, GRACE   A
YRIGAN, KIMBERLY   S
YUBIA, JIM   C
ZABALA, ARNEL   P
ZARTIGA, JULLIENE MAY   D
Exam Coverage
Professional Level (Prof) – In English and Filipino
Numerical Ability (Basic Operations; Word Problems)
Analytical Ability (Word Association – identifying assumptions and conclusions; Logic; Data Interpretation)
Verbal Ability (Grammar and Correct Usage; Vocabulary; Paragraph Organization; Reading Comprehension)
General Information (Philippine Constitution, Code of Conduct and Ethical Standards for Public Officials and Employees RA No. 6713, Peace and Human Rights Issues and Concepts, Environment Management and Protection)
SubProfessional Level (SubProf) – In English and Filipino
Numerical Ability (Basic Operations; Word Problems)
Clerical Ability (Filing; Spelling)
Verbal Ability (Grammar and Correct Usage; Vocabulary; Paragraph Organization; Reading Comprehension)
General Information (Philippine Constitution, Code of Conduct and Ethical Standards for Public Officials and Employees RA No. 6713, Peace and Human Rights Issues and Concepts, Environment Management and Protection)
Release Date
The official exam results are expected to be released within sixty (60) days after the last day of examinations or on October 10-13, 2019.
Note
However, the CSE results might be released earlier or later without prior notice from CSC.