Here is the Civil Service Exam Result August 2019 Including Region 4 Passers (SubProfessional Level)
CSC is about to release the Civil Service Exam Result August 2019 including the Region 4 passers (SubProfessional Level).
The August 2019 Civil Service Exam Results including the official list of passers and top notchers for both Professional and Sub-Professional Level will be available on this website after it will be released by CSC.
The Civil Service Exam – Pen & Paper Test (CSE-PPT) have been given at CSC testing centers in NCR, CAR, CARAGA, ARMM, and all regional testing centers in the country on August 4, 2019.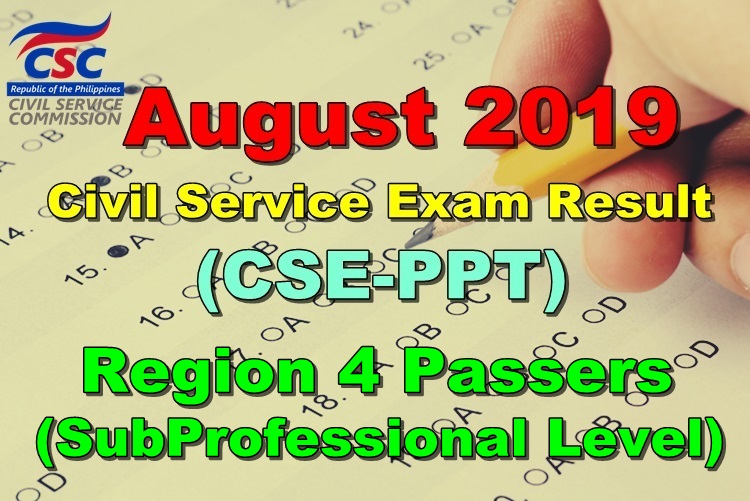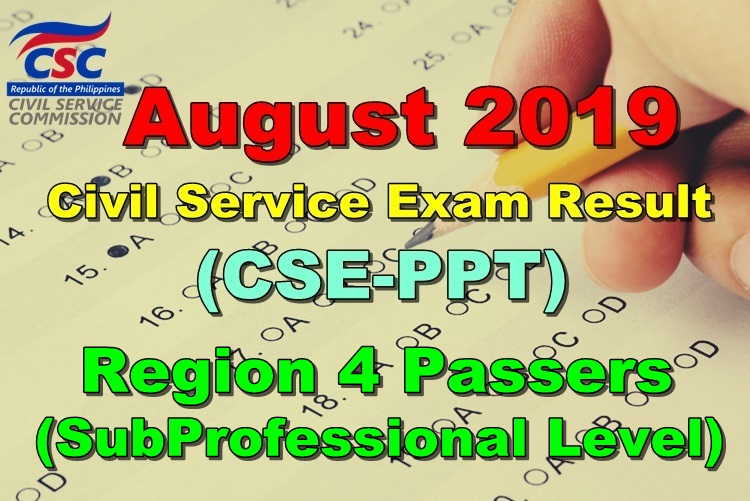 The CSE-PPT is an eligibility examination that gives opportunities to Filipino people to work in local government positions.
SUMMARY OF RESULTS:
Here is the List of Region 4 Passers (SubProfessional Level)
August 4, 2019 Civil Service Exam – Pen & Paper Test (CSE-PPT)
Subprofessional Level – List of Passers
Civil Service Commission Regional Office No. 4 (Southern Tagalog)
AALA, EUFRINIA   R
ABACA, ANNAFEL JOY   B
ABANILLA, ANGELA   B
ABANTE, APRIL
ABARCA, SHECAINAH MAE   Z
ABELLA, FLORESCEL   P
ABREGANA, GRACE   D
ABRUGENA, LOVELY ELLAINE   D
ABUEL, GENOA ATHENA   J
ABUGAN, CHESTER JAMES   P
ACEDERA, PATRICK JASON   C
ACEDILLO, RAIZA MARIE   P
ACORDA, RHONETT   P
ACOSTA, ROSELYN   A
ACUESTA, CZARINA   M
ADALIA, CLARK ADRIAN   L
ADDUCUL, KATHERINE BENEDICT   P
ADLAWAN, DINALYN   T
ADRIANO, ALDOUS RODLIE   L
AGATON, WIL'OHREL ELIJAH  II R
AGLERON, CLAIRE JOY   L
AGRAVANTE, JOARNIE   S
AGUILA, LOVELY APRIL   S
AGUILAR, JANNELLE KC   M
AGUILLON, NORILYN   B
AGUSTIN, FRED IAN   M
AGUSTIN, MARK NATHANIEL   G
AKMAD, ABDUL MOJEER   M
ALARAÑA, MARK JAYSON   C
ALARCON, CELWYN JOHN   V
ALBURO, ALYANNA   L
ALCANTARA, ERIEKAY   D
ALCANTARA, MARVIN
ALCAZAR, IRISH   L
ALCONERA, MARICILLE   S
ALDA, JERICO
ALDAY, JANNEL VENICE   C
ALEA, ELWIN JAMES   D
ALESNA, AMARIEL   P
ALFONSO, ELDRICH CLARK   A
ALI, ALDIN VAN   T
ALIMAGNO, CLARISSE JOY   S
ALMAREZ, MARY ROSE   P
ALMAZAN, EJERCITO   B
ALMENDRAL, MARIA JANICE   A
ALMIREZ, SHERYL   M
ALMONTE, MARK JUSTIN   L
ALON, LIEZEL ANNE   T
ALPAJANDO, MA FE   D
ALTEA, DARNILO   C
ALVAREZ, ALYN ROSE   P
ALVAREZ, MELANIE   T
AMBAS, MONIQUE   A
ANAM, RENNE   D
ANAS, KAREN ANN   I
ANDES, GREG FRANCIS   K
ANDES, GREG JULIAN   K
ANDO, DESIREE   M
ANDO, ELIVER   D
ANDRES, RUBELYN   F
ANOL, JENNY BAVE   D
ANTOLIN, KAY CHARMAINE   R
ANTONIO, RUSSEL JOHN   L
APUADA, GIANE ROLDAN   B
AQUINO, JAMES MICHAEL   B
AQUINO, JEZA   B
AQUINO, MA MICHAELA JOANA   O
AQUINO, PATRICIA MAY   D
ARANDA, JUNE   S
ARAÑA, LEONIL JOHN   C
ARAÑEZ, EDWIN   C
ARCEO, ANGELIKA PHILLINE   B
ARCILLA, PAOLO DAVEN   B
AREVALO, JOHN EDUARD   S
ARPA, CHAILANI   V
ARTEZA, ALDWIN JOHN   L
ASEDILLO, SHAIRA JOY   C
ASINAS, MARIA DANIELLE   D
ASIS, ENRICO   C
ASISTIN, LUIGI   A
ATAYLAR, MELCHOR   E
ATIBAGOS, MARK ANTHONY   B
AVE, JUNILYN   P
AVELIDA, GENESIS   R
AVERILLA, LIZETTE ANNE   A
AVERION, SHERWIN   B
AVILLA, CHRISTIAN   A
AVIÑANTE, JESS   L
AÑONUEVO, ANGELI   V
BACLOR, PRINCES NICOLE   Q
BAGUIO, RECY JANE   S
BAILLO, ANDREW   M
BAJARO, RONILO   M
BALAHIM, THARA GWEN MARIE   A
BALBA, MIA PAULEEN   F
BALDOVINO, LAILANIE   S
BALDWIN, PETER PAUL   M
BALEIN, MELVIN   E
BALGEMINO, EMMYLOU   P
BALINO, JEAN CHARLOTTE   D
BALMORES, ARVIN   S
BANDARLIPE, CHERRY ALEXIS   P
BANTE, NIÑO GIAN CEZAR   A
BAQUIRAN, JAYNHELL   E
BARACHINA, JEANNE THERESE   A
BARROGO, JUVELLE   M
BARTE, CHARISMA   A
BASBAS, MARY GRACE   A
BASCO, MARY ANN   D
BASIO, CHARLIE   B
BATITIS, PAOLO   G
BAUTISTA, JUAN MIGUEL   F
BAUTISTA, MA KATRINA   I
BAUTISTA, MARIA KRISTINA   S
BAUTISTA, REYNALDO   M
BAYOT, XAVERY KYLER   D
BAÑAL, RUEL   J
BELTRAN, KATHLEEN   E
BELTRAN, MARK AARON   C
BENAVIDEZ, MHICO   C
BERMUDO, CRISTINA   D
BERNARDO, MARJORIE   R
BESO, JAN ALLYSSA   C
BILALE, ALLYSSA   C
BITANG, APOLINAR KRISTOFFER   F
BITONG, RAYMOND   D
BLANCO, CAROL   P
BOBIER, JELENE   G
BOCTOT, JEAN   G
BONETE, VHERLYN   T
BORBORAN, SHIELA MAY   F
BOUAZZI, ANWAR FABIO   C
BUELA, HARRY   M
BUGHAW, AILEEN   B
BULAWAN, GLENDALE ANNE   D
BUMATAY, JANET   Q
BUNGAR, LEAH KATRINA   L
BUO, ERWIN ANDREI   S
BUQUID, LILIA   M
BUSBUS, MARK ALJER   S
CABITAC, JAN ROBIN   S
CACAL, JUAN ANTONIO   P
CACAO, HARMON   B
CADACIO, BEA MARIZ   D
CADACIO, SARAH MAY   D
CAJAYON, GAYLORD   A
CALABIA, FRANCES ERICA   V
CALARA, KEITH ADLER   R
CALARA, MAVERICK   R
CALLE, RACHELL   P
CAMIA, REX CEDRIC   C
CAMILLAN, CHERRY JEAN   N
CAMPOLLO, RAESELLE   G
CANTAO, JILL   E
CANTUBA, RHEALYN   T
CAOILE, CHARMAINE   Z
CAPACIO, DAISYLENE   V
CAPITO, ERWIN   V
CARAIT, JARA MAE ROLLYN   M
CARIAGA, ANGEL   I
CARPIO, ANNGELOU   P
CARRIOS, JESSICA   R
CARTONEROS, MARLON   P
CASANOVA, MIA CHARISSE   C
CASAPAO, KIMBERLY   V
CASAS, KYLE MARVIN
CASCARA, ABIGAIL   V
CASCULAN, JERALD   C
CASQUETE, JIMBY   E
CASTILLO, BERNADETTE   M
CASTILLO, JEWELLYN   A
CASTILLO, JULIE ANN   G
CASTILLO, PRECIOUS MARIE   O
CASTILLO, ROXAN   N
CASTRO, JOBELLE   D
CASUBHA, RUEL   V
CASUBUAN, TROY   L
CATAQUIZ, JULYN   V
CATINDIG, ARGHIL ROVAN   C
CATURA, ARIES   V
CAÑEDA, YOLO   R
CAÑETE, ANGELICA   V
CEREDON, MA RICNETTE   S
CHAN, ALYANNA FAYE   R
CHAVEZ, ELOIZA   D
CHAVEZ, KIMBERLY JOY   M
CHUA, MELODY   O
CHUA, SHEENA CHRISTINE   P
CINCO, LOUIE   M
CLEMENTE, ELAINE   C
COLLANTES, KYLE PATRICK   M
CONCEPCION, MAY ANN   A
CONDES, CYRIA DANE   D
CONEL, MICHAEL JAN   E
CONSIGO, DESIREE   R
CONSTANTINO, CHRISTINE   P
CONSTANTINO, JEFFREY   V
CORDERO, SHELA MAE   L
CORONADO, ANFERNEE CARL   C
CORPUZ, ANGELICA   O
CORTEZ, ALFRIO   C
CORTEZ, MICHELLE   T
COTONER, EUNICE   V
CREENCIA, ROWELL   N
CRUDO, DONNA LILA   B
CRUZADA, MARNELL   L
CRUZAT, CARL JASPER   D
CRUZAT, MARY JANE   L
CUA, JOAN RONA   G
CUETO, AZENITH   B
DAGAME, MARIFEL   J
DALIT, DRAVEN LANCE   D
DAVID, FRANCE MARIELLE   S
DAYAHAN, LI'L BELLE   M
DAYRIT, JOHN ENOCH   B
DE CASTRO, JOMAE CHRISLEY   L
DE CASTRO, KARL JAYSON   A
DE CASTRO, MARY JOY   F
DE CHAVEZ, GERALD   R
DE JESUS, KARL JACOB   B
DE JESUS, MINA   B
DE LA CRUZ, JAN KRISTOFFER   R
DE LEON, RODEL   A
DE LIMA, JENNELYN   P
DE LUMIN, KELLY   G
DE SILVA, JOYMEE   N
DE VILLA, MELANIE   O
DECENA, NICOLE   M
DECENA, NOEL   D
DEL ROSARIO, CATHERINE ANN   C
DELA CRUZ, ALEXANDRA   D
DELA CRUZ, JANETTE   M
DELA CUEVA, JEISCHELLE MARIE   A
DELA PEÑA, JACOB   J
DELA RAGA, JOHN HEXELL   B
DELA TORRE, MIKAELA MA DAMIEL   R
DELGADO, ROUBERT   O
DELICA, MARJORIE   C
DELIGENTE, MENERVA   S
DELIMA, RENZ ROBIN   O
DELOS REYES, PRECIOUS ANN   A
DELOS REYES, ZYRA   S
DIANELA, SHAHARA   A
DIDAL, DAVE   D
DIEGO, MARCELINO  JR D
DIEGO, MELISA   O
DIESTA, MARNELLI   M
DIMAANO, KRISTINE MARIE   C
DIMACULANGAN, LORNA   P
DIMALIBOT, DESIREE   J
DIMAYUGA, JESSICA   M
DIOKNO, NEIL CLAUDE   L
DISTRITO, ANGELICA   A
DOMINGUEZ, JOHN ELEAZER   I
DONESA, RUTH   D
DONGUYA, OSHIN   G
DOROIN, IMELDA   S
DUKA, MA TRISHA NICOLE   G
DULDULAO, ABIGAEL   B
DUNGCA, DIVINA   O
EGUARAS, BILLY FRANZ   S
ELMIDO, RAYMOND   T
ENG, EDNIEL ALDOUS   V
ENRIQUEZ, MARK ANTHONY   S
ESCAMA, ROSIELLE   H
ESCOTO, ALLELI   T
ESMAS, SARAH JANE   A
ESPILLARDO, RONMART   M
ESPINO, MISAEL   A
ESPORLAS, JONALYN   C
ESTOLANO, CHARLES JUSTINE   C
ESUMADIA, FAITH   D
EUSEBIO, RANDOLF   E
EVANGELIO, JESUS VICTOR   M
EVERO, ERICA MAE   M
EZEBB, DIANNE KAREN   P
FABELLA, ROXANNE   C
FACTOR, PRINCE JOEL   S
FANG, FERMIN   E
FEGARIDO, ARSENIO  JR C
FELICIANO, EMELINDA   M
FELIX, MA FLAVEL   M
FERANIL, KIM PATRICK   C
FEROL, JHONEL   V
FETALCO, QUEEN CATHERINE   C
FIEDALINO, MARICAR   A
FIELD, EZEKIEL   M
FLORENDO, APRIL   B
FLORES, ALCHRIST   C
FLORES, ROEL   H
FORTES, RYAN KRISTOFFER   L
FRANCIA, SOFIA
FRANCISCO, JENYLYN   B
FRIAS, PRINCESS ZARAH   T
FUNTANIEL, VANESSA   F
GALANG, CARLA   C
GALAURAN, APRIL ROSE   B
GALLANO, MA ANGELICA   D
GAMILLA, KATHERINE   T
GAMOTIN, REINHARD JADE ROUY   T
GANDOZA, ARDIE   D
GARCELLANO, CEDRIC DEAN   V
GARCELLANO, CHARM MAE   V
GARCIA, ANGELO REY   D
GARCIA, ANNA MAE   P
GARCIA, ARLENE   V
GARCIA, GEORGE NELSON   C
GARCIA, LESLIE   M
GARCIA, MARY GRACE   E
GARCIA, SONNY   I
GATA, WHEMBLEY SHAINE   R
GATDULA, LAICA   M
GAUDIER, KRISTINE DOROTHY   A
GAUDIER, MICHAEL ANGELO   A
GAYANES, MARY ANN   G
GECOLEA, EDUARDO   R
GELITO, SIDNEY DANI   S
GENERAGA, LOVE ARIELLE   L
GENTOLIA, JOISEL   M
GEONZON, DAPHNE JULY   G
GERONDA, JENEROSE   M
GERONIMO, PRESSYL   E
GLORIOSO, DARWIN   W
GONZALBO, LAILA   A
GONZALES, ALISON MAE   M
GONZALES, KAREN   M
GONZALES, MARIBETH   F
GREGORIO, CON ANTHONY   N
GUAVINO, GERALD ALDRIN   S
GUAYCO, HANNAH   J
GUEVARRA, LIEZEL   C
GUTIERREZ, CARLA CAMILLE   P
GUTIERREZ, MARIA SHIELA   D
HALLASGO, KRISTEL   S
HARINA, RIZZA MAE   N
HERNANDEZ, FERDINAND   J
HERNANDEZ, HERLENE   A
HERNANDEZ, LAURICE AYN   N
HERNANDEZ, MARVIN   B
HIPANAO, LAMBERT   T
HIPOLITO, PAUL MICHAEL   B
HONRADA, CHRISTIAN BON   L
IBLAN, ABIGAIL   C
ICARANGAL, KRISTAL MARY   U
IGNACIO, AIRA MEA   L
IGNACIO, JANELLE ANDREA   H
IGNACIO, LIEZEL   A
IGNACIO, MARC ANTHONY   O
ILAGAN, JOCELYN   M
ILAO, JHIENLENE   D
INSIGNE, CRESSA JOY   B
JAEN, LYCA JANE   N
JAMOL, MARIAN JADE   G
JAPLOS, MARIA CRISANTA   A
JAPLOS, MART   A
JARABATA, ANJELYCA   A
JAVIER, JEMIMA   G
JIMENEZ, DAISY   L
JIMENEZ, TRICIA ANNE   I
JULIAN, DOROTHY MAE   R
JUNIO, HUDSON   V
JUSAY, RONEL   F
KILALA, KIM CAMILLE   C
LABOG, MARILYN   N
LACOD, JOMIL MURNI   I
LADIANA, MA ALYSSA   M
LAGANA, JOHN RIO   G
LAJARA, JHOAN   S
LANCETA, ANGELINE   E
LANDERITO, ROMAN GABRIEL   S
LANTO, MARIELLE ROMINA   M
LANTO, ZIENNA MARIZ   D
LAPICEROS, ANJANNETE   A
LAPITAN, SYRA   E
LAPIZ, VALERIE CLAIRE   C
LARON, CHERRIZA   F
LAUDATO, JULIET ROSE   R
LAYCO, NANCY   A
LAZAGA, JASMINE   C
LEDESMA, EDEN GRACE   A
LEDESMA, PAUL CHRISTIAN   L
LEQUIRON, LAARNI   B
LEYNES, ANGELICA   G
LEYNES, MICHELLE   G
LIANGCO, NARWIN   C
LIBERATO, MAIDEN   T
LIBRADA, PAOLO NICO   T
LIJAUCO, ERIC   J
LIM, BENITO   D
LIMBO, RANILLO  III R
LLANA, MARCK DARWIN   L
LLANA, REGGIE TROY
LLAVANES, ARA RONELA   P
LLENARES, MARIA SOPHIA   L
LOLONG, MARJORIE   L
LONTOC, LYRA   B
LOPEZ, ANGIELA MARIZ   C
LOPEZ, UBREY   M
LORENZO, LOURDES   V
LOTO, VORRIES   N
LOZADA, MAILA   A
LOZADA, MARIFI   G
LUBIGAN, PAUL JOHN   E
LUMAGUI, NEIL PATRICK   C
LUMANOG, MARISSA   J
LUNA, RUCHELL   S
LUPAC, ZAIRRA MAE   A
MACARAEG, MELANIE   B
MACATANGAY, MARK LOUIE   R
MACAUYAM, NIKKI ELINOR   L
MACHICA, IRIS ANN   A
MADERAZO, NOREEN   R
MADRIAGA, LESLIE   B
MAGBOO, ERICA   N
MAGBOO-DIMASACAT, RUCHEL   A
MAGLALANG, ANGELI   P
MAGPARANGALAN, JONALIE   B
MAGPULHIN, MA THERESA   E
MAHUSAY, MARK FRANCIS   M
MALIMATA, GESSEL   R
MALLARI, ASHLEY MAE   D
MALLEN, MARY ANN   B
MALONZO, IRA MAE   R
MAMING, APRIL   N
MANALO, EINELA REANN   A
MANALO, KRIZIA MAE   S
MANALO, MARIA CRISTINA   R
MANIPOL, LEO   H
MANOG, ROWEL   H
MANONGSONG, KIM AUDREY   U
MANUEL, JOHN ROY   L
MANZANO, HARIET   T
MAPANG, BERLYN   J
MARAMOT, RENANTE   C
MARANAN, JONRIC   A
MARASIGAN, MARY JANE   J
MARASIGAN, NESTOR  II R
MARCIAL, JASON   D
MARQUEZ, HUSSEIN   T
MARQUEZ, RONALD TRISTAN   C
MARTILLOS, MARY KHADINE   G
MARTINEZ, ABEGAIL   H
MASILANG, BABY JANE   D
MASONGSONG, MICHELLE   V
MATIBAG, MARY ANN   C
MAYOR, WINONA MARIELE   V
MAÑAGO, LEONEL   O
MEDINA, JANINE   A
MEDRANO, ADRIAN   A
MENDEZABAL, JAYCEL ANN   M
MENDOZA, HAZEL   M
MENDOZA, NICA MAY   M
MENDOZA, ZHARINA MAE   M
MERCADER, LOPE  JR M
MERCADO, JOAH   G
MERNILO, EPHRAIM   T
MIAGA, JEFFREY   F
MICULOB, HERALD   O
MIGUEL, JENNIFER   E
MINTU, JAN HARIETTE   C
MIRABETE, PATRICK
MISA, MARJORIE   O
MOGOL, JHONALYN   C
MOLATO, EIMERENZ   S
MONDIA, JEROME   M
MONREAL, JENALYN   A
MONTALES, JOSE ADOLFO   R
MONZON, RHODA   S
MORADA, MICAELA   C
MORANDARTE, FRANCES GAIL   B
MORES, SHEILA MARIE   R
MOSTERA, CHERRY   M
MUTYANGPILI, MARY KNOLL   M
MUÑOZ, PAMELA MARIE   G
NABEJAS, ABEGAIL   M
NARAG, CHRISTER JONAS   F
NARZOLES, LARICHE   R
NATAYA, JUNE CAESAR   I
NATIVIDAD, SOFIA   R
NICOR, LYCA ANNE   S
NOLASCO, FERNANDO  JR S
NUADA, MATILDE   P
OANE, GIENOR   L
OAÑA, MARYANNE   F
ODPER, RACHELLE   DC
ODULIO, DON DANIELLE   B
OGAYON, MA JOSELLE   L
OLAVE, DINA   M
OLAZO, ANABEL   J
OLESCO, MICHELLE ANN   E
OMAL, MARICHELLE   R
ONELIA, CHERRY LOU   M
ONILONGO, ARTONIELYN   J
ONTE, MARK   D
ORIVIDA, MELANIE   U
ORNEDO, ANGELA CLARISSE   M
ORTAL, GRETCHEN   B
ORTILLA, EUNICE   A
PABLICO, JARIZZA PEARL   B
PABLO, JOHN PAUL   C
PADOJINOG, EPIMA   D
PALINO, CHRISTINE JOY   R
PALLANAN, JAYZELL FAYE   C
PALMA, ROMER   L
PALOMA, ALLAN ARMANDO   S
PANESA, JODESA
PANGANIBAN, JAY   M
PANGANIBAN, MELINDA   P
PANGANIBAN, REYNALD ACE   M
PANSOY, JOANNA JOY   I
PANTALEON, JOHN LESTER   T
PANTOJA, CHRISTINE   S
PANTOJA, JERIC JEREME   T
PARATI, BABYLYN   I
PARDILLA, CASANDRA ELLAINE   R
PARUNGAO, CRIS LEONARD   E
PASTRANA, BEVERLY   B
PECHON, CHRISTINE   C
PERALTA, PATRICIA CARLA   R
PEREZ, CHARL ARMEL   C
PEREZ, CHRISTIAN BERNARD   B
PEREZ, CINDY   P
PEREZ, MARY ROSE AILEEN   P
PEREÑA, HARRAH MAE   R
PEÑAFLOR, LALAINE   D
PEÑALOZA, CHARIZZA MAE   A
PIAMONTE, MARY MHAE   L
PICAZO, CLICHARD TROY   P
PILLADO, RENNAN   O
PIONELA, CLARENCE   B
PLEÑOS, APRIL   L
PLOCIOS, JOANNE   D
POLIQUIT, ROWIE   D
PONCIANO, PAOLO   P
PORNETE, APRIL MARY   D
PRESBITERO, CHRISTOPHER   N
QUIBEN, RENZ LOUIE   G
QUIJANO, MA JONALO   D
QUILALANG, MADELEINE DREW   P
QUINTIA, MA CECILIA   F
RABE, ALYSSA MAY   P
RAMIREZ, CHUBASCO   R
RAMIREZ, JEZZAMIN   C
RAMOS, CHERRY
RAMOS, ERWIN   M
RAMOS, GINO MIGUEL   A
RAMOS, GISELL-ANNE   L
RAMOS, GLAIZA JOEVANNE   V
RAMOS, JAN AMOS   A
RAMOS, LAWRENCE JUKE MAR   M
RAMOS, MERRY
RAMOS, RIANA ANGELICA   C
RANOCO, ROSANELLE   A
RAPANAN, KATHERINE   A
RAYOS, IRIS   M
RAZ, CHRISTENZEN   R
RAZALAN, DARRYL   C
RAZOL, KURT KEVIN   C
RECILLA, SHIELA MARIE   P
REDIMANO, DENMARK   I
REYES, MARIE REGINA DOLORES   G
REYES, MARION IÑO   C
REYES, NENITA   R
REYES, PATRICK KEVIN   B
REYES, RONNIE   G
RICAMARA, GENROSE   G
RICO, JERLYN   M
RICOHERMOSO, JOSE FRANCISCO   C
RINGIA, NOR-ASHLEY   D
RIVERA, ANNA   R
ROBEDILLO, RIZALYN   L
ROBLEDO, DECERIE   R
ROCO, SARAH   B
RODRIGUEZ, CHERISSE ANNE   P
RODRIGUEZ, MARIA LOURDES   Q
RODRIGUEZ, MARIA VERA   P
RODRIGUEZ, MARY CHRISLYN   L
ROJALES, PATRICIA JOY   J
ROLLO, MARY ROSE LYNN   H
ROMULO, ERNAN JOHN   A
ROSALES, KEN NATHANIEL   M
ROSARIO, KATE ROXELLE   M
ROSARIO, RACHEL MARI   C
RUBIALES, DEIDRIE ALLEN   O
RUFLO, MARJORIE   C
RUIZ, SHANE FABRIENNE   B
RUSTIA, JAN RAE   I
SAAVEDRA, GLOWEN   V
SABATER, LIEZEL   E
SABIDA, ANABELLE   I
SABOCOR, GINA   A
SAHAGON, ROCHELLE   N
SALAZAR, JOHN PAUL   G
SALAZAR, RHEA   L
SALAZAR, ZIERLYNE   A
SALCEDO, LOVELY   P
SALIVA, JULIENA MAE
SAMONTE, ARBY JANE   A
SAN DIEGO, MITCHEL   D
SANCHEZ, ELMARIE   R
SANTIAGO, JOHNVICTOR   C
SANTOS, CERS JOY CJ   C
SANTOS, CLARIZZE   C
SANTOS, ROXANNE   M
SANTUYO, HALDRICH   A
SAPIN, EZEKIEL   Q
SAPUNGAN, MERY GRACE   D
SAQUILAYAN, MA THERESA   M
SAULON, CHARMAE   A
SAYENGA, ALLAN   B
SAYSON, GEORGE   G
SECO, CHRISTIAN BERNARD   M
SEDANO, MARIA RUZELL   M
SEGUI, CAROLYN   E
SERRANO, MARICRIS   N
SIBAYAN, JENNIFER   H
SILVERIO, RONEL   A
SIMAN, REYNALDO  JR J
SIMANGCA, MARK JASSON   F
SISON, MARK LESTER   L
SOLARTE, AILLEN   D
SOLIMAN, KRISTINE   M
SOMBILLO, LORNA   M
SORIANO, IONA AMARIAH   S
SORIANO, MA GIALEI VERENA   S
SOTERO, NATHANIEL   A
STA ANA, ROSEJANE   M
SULANGUIT, JANICE   D
SUPNET, JOHN CHRISTOPHER   O
TABUCALDE, TWINK JHOAN   S
TALAGTAG, RALPH   E
TAN, JISSA MAE   V
TAN, JOYCE   B
TATIL, KAZHMIR   P
TEJERO, MARIA MICKAELA   T
TENDUGARANAO, NORONISA   S
TENORIO, AUGUSTUS CAESAR   M
TEODORO, BRYCE JOSHUA   A
TERCERO, PABLITO   G
TIMOG, CHIKIE ELLA BEATRIS   C
TINDUGAN, GEDEON   B
TIVIDAD, HAZEL FAITH   S
TOLEDO, EDMUNDO   T
TOLENTINO, GLYZL   A
TOLENTINO, MARYCRIS   A
TOLENTINO, MICHAEL   L
TORREGOZA, MA RONALYN   K
TORRES, ANNA MEI   G
TORRES, ROSEMARIE   M
TRASMIRAS, ZYRE HOPE   M
TUAZON, MA PAULA   A
TULAY, REDEN   A
UDAN, JOAN   B
UMALI, CRISTINE JOY   S
UNTALAN, JANE DAHRELL   D
VALDEZ, LAGRIMAS   I
VALDEZ, MICHELLE   N
VALDEZ, VIVIEN NORINE   T
VALENZUELA, GREG   L
VALEROS, CHRISTOPHER JOSEPH   S
VANGUARDIA, ANNABELLE   R
VELAS, VANESSA JOY   N
VERGARA, CHRISELLE   M
VERGARA, HERMINIA   M
VICO, RONALDO   R
VIDAL, ERICA CLAIRE   D
VIDANES, DARWIN   T
VIERNES, JOMAR   G
VILLANUEVA, JOLIN   N
VILLANUEVA, KATHRYN JOY   D
VILLAROSA, GLADYS ANN   A
VILLASEÑOR, CERA PAULENE   Q
VILLENA, PAUL ALBERT   G
VILLUDREZ, LANIE LYN   C
VISDA, MICHAELLA JOYCE   G
VISPO, CATHERINE   A
VITAL, FRANCIS VINCENT   A
VIYAR, WILFRED  JR M
VIÑAS, WILMA DIANE   F
VOLANTE, MARIE CHRISTINE   B
WENCESLAO, KAYSER JOSEPH   C
YAMBAO, MARIA JASAN   J
YECLA, ROMEL   D
YLAGAN, ANN-SHAMMEL   M
YU, JOHN MICHAEL   B
ZARATAR, DIANA ROSE   P
Exam Coverage
Professional Level (Prof) – In English and Filipino
Numerical Ability (Basic Operations; Word Problems)
Analytical Ability (Word Association – identifying assumptions and conclusions; Logic; Data Interpretation)
Verbal Ability (Grammar and Correct Usage; Vocabulary; Paragraph Organization; Reading Comprehension)
General Information (Philippine Constitution, Code of Conduct and Ethical Standards for Public Officials and Employees RA No. 6713, Peace and Human Rights Issues and Concepts, Environment Management and Protection)
SubProfessional Level (SubProf) – In English and Filipino
Numerical Ability (Basic Operations; Word Problems)
Clerical Ability (Filing; Spelling)
Verbal Ability (Grammar and Correct Usage; Vocabulary; Paragraph Organization; Reading Comprehension)
General Information (Philippine Constitution, Code of Conduct and Ethical Standards for Public Officials and Employees RA No. 6713, Peace and Human Rights Issues and Concepts, Environment Management and Protection)
Release Date
The official exam results are expected to be released within sixty (60) days after the last day of examinations or on October 10-13, 2019.
Note
However, the CSE results might be released earlier or later without prior notice from CSC.