Here is the Civil Service Exam Result August 2019 Including Region 3 Passers (Professional Level)
CSC is about to release the Civil Service Exam Result August 2019 including the Region 3 passers (Professional Level).
The August 2019 Civil Service Exam Results including the official list of passers and top notchers for both Professional and Sub-Professional Level will be available on this website after it will be released by CSC.
The Civil Service Exam – Pen & Paper Test (CSE-PPT) have been given at CSC testing centers in NCR, CAR, CARAGA, ARMM, and all regional testing centers in the country on August 4, 2019.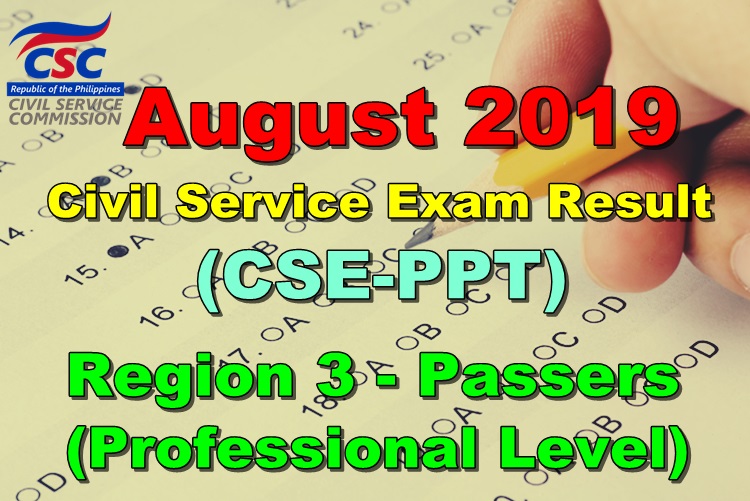 The CSE-PPT is an eligibility examination that gives opportunities to Filipino people to work in local government positions.
SUMMARY OF RESULTS:
Here is the List of Region 3 Passers (Professional Level)
August 4, 2019 Civil Service Exam – Pen & Paper Test (CSE-PPT)
Professional Level – List of Passers
Civil Service Commission Regional Office No. 3 (Central Luzon)
ABAD, MARGIE   M
ABALOS, VINCE JEREMY
ABAN, LOUIELA   R
ABAROO, ANGELYN   P
ABAYA, RACHELLE MAE   A
ABEL, JENNIFER   B
ABELLA, APRIL   G
ABESAMIS, RECHELLE   M
ABILLON, MARY ELLAINE JOY   T
ABRAJANO, JAN PAUL NIÑO   G
ABRERO, JOVELYN   C
ABRIGO, EPREYLEN   P
ACEBO, SHIELA MAE   S
ACIBO, KIM GENESIS   G
ACOSTA, ANN CATHLYN   T
ACUEZA, ARIS   A
ADALEM, JAESARY MAE   P
ADORA, ADRIAN   C
ADOREMOS, APRIL   A
AFAN, LIEZEL   B
AGAD, ANA MARIE   C
AGOSTO, JULIUS   E
AGSAOAY, JULES MARTIN   J
AGUAS, JOANA MARIE   C
AGUAS, NOVIAN   M
AGUILAR, BRUCE MICHAEL   R
AGUILAR, EMELITA   O
AGUILLON, PATRICK JAMES   V
AGUSTIN, JAY-R   C
AGUSTIN, KATHLEEN   P
AJOSE, JOYSSALEX   L
ALCANTARA, AL XANDER   V
ALCANTARA, ERLYNE KARELLE   C
ALDANA, INAH   D
ALDAY, JANELLE   R
ALEJANDRINO, ALYANNA JESSETTE   P
ALENIA, LAWRENCE   C
ALFONSO, ROZEN   G
ALIVIA, DAISY   D
ALLANIGUE, PAUL ANGELO   D
ALMARIO, NOAH   G
ALMAZAR, SYRILL   B
ALONZO, NESTER   B
ALONZO, PRINCESS ROBERIZZ   V
ALTURA, ROVELENE   S
ALVARADO, DONNABELL   M
AMBOY, JUSTINE FAYE   L
AMMAY, EUNICE GRACE   F
AMPER, CATHERINE MAE   S
AMUL, VERONICA   B
AMURAO, ARVIN-LAN   B
ANAMOS, CHRISTINE JAENA   S
ANDAN, JOHN KENNETH   N
ANDRES, ANGELA JANE   M
ANDRES, MEL ROSE CASSANDRA   S
ANGELES, JOCHEBED   D
ANGELES, RICHARD CHRIS   U
ANI, MARIA ROSARIO   R
ANNAGUEY, ARIANNE GRACE   L
ANTONINO, POCHOLO LLOYD   O
ANTONIO, NIKKA PAULINE   A
ANTONIO, REIGYN MAYE   D
ANULAO, CHEYENNE   M
APAN, LLOYD JANVER   S
APARIS, FRANCISCO  JR. D
AQUILLA, GLADYS   C
AQUINO, ALEXA   S
AQUITANIA, JOSHUA   F
ARAMAN, MICHELLE   P
ARANETA, ALVIN   P
ARANETA, VALERIE   W
ARCA, GENE NICOLE   E
ARCILLA, JUAN KARLO
ARDENIO, EDZEL JOY   C
ARFAPO, JEREMY   M
ARIBE, SOPHIA ANNE   M
ARIOLA, JOHN LOUBERT   S
ARIOLA, JONAH PRAISE   M
ARMOSILLA, JADE MAUREEN   M
ARREOLA, AGATHA YOWZHA   D
ARROZAL, CYRILE   P
ARTHUR, REGINE ISABELLE   B
ARZANAN, CONNIE   M
ASID, TOFIC
ASUNCION, JEDDIE ANN   S
ASUNCION, KANE   D
ATACADOR, MAEZY ANN   B
ATENDIDO, JAYSON   V
ATIENZA, TRIXIE MAE   M
AUSTRIA, JUDE POLO   E
AUSTRIA, MARK ANTHONY   P
AVENDAÑO, DIANA   M
AVENTIJADO, KRISSA PAULINE   R
AVILA, MARICON   R
AYAP, YONAIDA   M
AYCO, ESTEFFANY   D
BACANI, AVIE CLARE ANTONETE   B
BADA, JERCY   D
BADAR, THERESA MARIE   Q
BADUA, JONATHAN   B
BAGONOC, EDINEL   G
BAGUIWAN, RICHELLE ANGELICA   P
BAJALA, MARK JOSHUA   D
BALADHAY, JERICO   S
BALAGTAS, EVELYN   L
BALAGTAS, PAULINE   M
BALAGUER, ABIGAEL   L
BALANA, MARY ANGELIE   L
BALANG, JUSTINE HAROLD   M
BALASTA, JERICK CHRISTIAN   P
BALCUEVA, MICHELLE   F
BALDONADO, FREYA   V
BALEAN, NEILMAR   C
BALIGAD, JUDY ANNE MAE   O
BALILO, AILEEN   S
BALITE, JOSEPH ROSS   F
BALLARAN, ANNALYN   C
BALLENER, GHIA FRANCIA   D
BALMEDINA, NIÑA JEWEL   P
BALMEO, KRYSTYNE JOYCE   C
BALMORES, KATHERINE   Q
BALTAZAR, GELINA AMOR   V
BALUYOT, JOASH   V
BALUYUT, CHRISTIAN   S
BALUYUT, JANICE ANA
BALUYUT, MARIVEE   S
BANDERADO, SHARON   B
BAQUIRAN, MARBHEN   W
BAROMAN, NICO   M
BARRIBAL, FRANZ CHESKA   M
BARTOLOME, RENARD   M
BARUZO, FRANCIS   C
BASA, EDWIN   B
BASIAO, JON CARLO   F
BASILIO, RENA AIRA   D
BASUEL, JERICA MAE   C
BATAC, ANGELICA   P
BATAC, JESALIE   D
BATAC, LOIDA   S
BATAC, REYALYN   B
BATALLA, MARK JAYPEE   M
BATALLA, PRINCESS   B
BATHAN, BEATRICE GABRIELLE   Y
BAU, ELLA MAE   G
BAUTISTA, AARON ISAAC   P
BAUTISTA, ANNA KATRINA   S
BAUTISTA, ARIANNE   A
BAUTISTA, GABRIEL   J
BAUTISTA, JOHN ARAM   A
BAUTISTA, JOHN NIKKO   B
BAUTISTA, KIMBERLY   A
BAUTISTA, PIA RICA   Z
BAUTISTA, RAI CARLO   B
BAYAIS, MIA SARA   L
BAÑARIA, JONESSA LYN MARIE   P
BECHAYDA, NICOLE   A
BELEN, MELANIE   Q
BELMONTE, ALLAN   R
BENITEZ, GIO-MARL   M
BENITEZ, PATRICK HENDRYX   M
BERGONIA, ALLISON CLAIRE   A
BERIN, EDNA   E
BERMAS, RICA ANDREA   D
BERMUDEZ, GIAN ANDRE   D
BERMUDO, ABBYGALE   G
BERNAL, EUGENIE MARIE   P
BERNAL, JEAN KRYSTLE   C
BERNAL, JEANETTE IVY   P
BERNARDO, ADELINA   C
BERNARDO, DIANA   P
BERNARDO, JAYSON LOUIS   G
BERNARDO, MARIMAR   E
BERNARDO, VANESSA   M
BERNARTE, JENIEVA MAE   Y
BERSAMINA, CYRIL   G
BESA, RODA FE   F
BETITA, AMABELLE   D
BETONIO, MARIA JUDITH   J
BILON, JUSTINE DALE   D
BITONIO, RONALYN   L
BLANCO, RAENAN   B
BLANCO, VIENNA ROSE   B
BLANES, VERNELLINE ANNE   M
BLANQUIZA, ELLAINE   C
BLAS, JUNE VINCENT   R
BOGNOT, JANELLE FRANCES   V
BOLISAY, MARVIN   M
BONDOC, IVY   V
BONDOC, MA. EUFEMIA   P
BONDOC, ROCHIE ENNE   L
BORLONGAN, PAULINE MAE   B
BRACAMONTE, NICK DANIELLE   G
BRAVO, KENNETH XAVIER   V
BRETAÑA, RONNA   D
BRIONES, JESSELEN CHRISTINE   A
BRIONGOS, DANIEL   C
BRISTOL, NORIEL MAY   S
BRUA, CRIZALYN   O
BUAN, ANGELICA   V
BUCAD, PHOEBE KATES   G
BUCO, JEA LYNN   T
BUENAVENTURA, JOISIE   C
BUENAVENTURA, KAMIL   B
BUENO, LOVELY JENNY   C
BUENSUCESO, ROGEL  JR. C
BUENVENTURA, RAYNA ROSE   S
BUGARIN, CAMILLE   M
BULACSO, ROGELIE   G
BULANADI, ANESKA   D
BULANADI, AUDRHAY   M
BULANDAY, MARIA THERESA   S
BULAWIT, MARVIN   B
BUMAGAT, JHAMIL KHARL   L
BUNGAR, SHIRLY   A
BUZON, CARMELINE   C
CABABARO, ALBERT   C
CABANGBANG, ROCK   P
CABARLES, ELLA GABRILLE   L
CABARUBIAS, NIÑA KRISEL   J
CABIGAN, MICAIAH JOYCE   T
CABRERA, JENNYVIBB   C
CABUG, EUGENE PAOLO   B
CABUHAT, CEDRICK   A
CABUNOC, CRISTHEL JOY   D
CABUSAO, HANNA MAE   G
CABUSLAY, JONALIN   A
CACHUELA, STEPHANIE DAWN   R
CADANO, JINKY JOYCE   E
CAILANG, MA. BERNARDINE   A
CAISIP, ELOYSA ANDREA   G
CALADIAO, ABIGEAL JOYCE   P
CALALANG, BEVERLY   DV
CALANDAY, ROSEANN MAE   B
CALIMBAS, CLAIZA   J
CALIMLIM, JEANNE CHRISTINE   F
CALMA, EMMY LOU   C
CALMA, JANE   C
CALMA, JOHN JERICHO   G
CALMA, MARIA ALELI   F
CALMA, PAULINE JOYCE   C
CALMACIO, DONA JANE   D
CAMACHO, PRINCESS KRIZIAH   P
CAMAT, CATHERINE   R
CAMATA, FLORISSA
CANAVE, DAVID JOHN   C
CANDELARIA, JOHN CARL   M
CANDELARIO, CELYN MAE   M
CANDELASA, ALLEN   C
CANILAO, ANGELA   E
CANLAS, JESLI   D
CANLAS, RYAN   M
CANOZA, EMMANUEL   S
CANUELA, JANEVA   V
CANUTO, JOSEPHINE MAE   D
CAPALAD, MA. THERESA   N
CAPARAS, KIM RYAN   C
CAPINGIAN, RICARDO   V
CAPINPIN, NIKKIE ROSE   O
CAPINPIN, ROSE ANNE   O
CAPISTRANO, KIMBERLY ROSE   S
CAPULONG, JASPER LINUS   M
CAQUILALA, REBECCA   F
CARANDANG, VEGA LYRA   M
CARAOS, JOEMARIE JOY   M
CARGAMENTO, GRANDEUR   S
CARIASO, NIÑO DAN   C
CARIG, IRENE   M
CARINO, ANNA LIZA   L
CARLOS, JENICA   T
CARLOS, SAMUEL IVAN   T
CARPIO, MARICRIS   A
CARREON, MELIZAH   D
CASERO, HANNAH JOY   C
CASIMERO, SHEENA MAY   D
CASTILLO, CHRISTINE IRISH   C
CASTILLO, DANILO  JR. C
CASTILLO, JOYCE ANNE   P
CASTILLO, MARRION   DC
CASTILLO, ROI VINCENT   D
CASTRO, CARINA   P
CASTRO, DEVINE GRACE   G
CASTRO, MARK GEORGE   D
CASTRO, RICHELLE   C
CASTRO, RYLN ROSE   L
CASTRO, ZAIRYLLE JOY   I
CASTRONUEVO, SHARON   V
CATANGAL, JANELLE   V
CAYABYAB, LEANDRO   M
CAYABYAB, REA   G
CAYANAN, IARA JEENSHANE   B
CAÑO, KHEYNA MAE   S
CELESTE, LOVELAINE   G
CENTENO, MA THERESA   J
CERVANTES, CHRISTINA   N
CERVANTES, RESALYN   A
CHAN, RICHARD JOSEPH   F
CHAN, VICTOR   L
CHAVEZ, DARYL JAMES   V
CHIONG, DYANNE   D
CHUA, PEARL COLEEN   C
CIELO, JUAN   E
CIRIACO, JOMALYN   C
CLAMOR, LYSA NIKA   D
CLEMENTE, JOHN DAVID   G
COCO, JALINE KYLA   R
COLARINA, ROSILOE   S
CONDICION, MARIAN GRACE   P
CONQUILLA, MIKE ALDRIN   L
CONSTANTINO, MAXIMO   D
CORALES, SHERYLL   C
CORDOVA, MELIZZA   R
CORDOVA, MICAH   A
CORONEL, JANICA PAULA   R
CORPUS, ANNA MINORKA IA   L
CORPUZ, CHRISTIAN   R
CORPUZ, DONITA NEALLE   T
CORPUZ, MEDELYN   I
CORTEZ, DANICA   M
CORTEZ, ERWIN ISRAEL   S
CORTEZ, GLEN   A
CORTEZ, JEJOMAR   C
CORTEZ, JULIE ANN   A
CRISANTO, LAILANI   F
CRISOSTOMO, CYRUS ASHLEY   Y
CRISPIN, JESA MAE   R
CRISTOBAL, MARK ANTHONY   S
CRISTOBAL, RAMON   S
CRUZ, AIRA JANE   N
CRUZ, DANIELLE   G
CRUZ, DANNA MAY   H
CRUZ, DIANA ROSE   D
CRUZ, FRENSEN   C
CRUZ, GIAN AMIEL   N
CRUZ, HERVIE   G
CRUZ, JED MICHAEL   P
CRUZ, JEFFREY   P
CRUZ, LARRAINE MIANN   G
CRUZ, LESLIE ANN   M
CRUZ, MA CHRISTINA   G
CRUZ, MA FE   T
CRUZ, MARILETTE   M
CRUZ, MELIAH GABRIELLE   L
CRUZ, MIKHAIL ISHMAEL GABRIELLE   P
CRUZ, RACHELLE   D
CRUZ, XENIA KAYE   E
CUDIA, JEFFER KARR   S
CUDIA, JENNIFER   G
CUDILLA, JESSICA   A
CUNANAN, ANGELYN   R
CUNANAN, CISTINE MARIE   M
CUNANAN, KELLY ANN   P
DABU, AHRESA   A
DACUMOS, JANSSEN   V.
DAGAWIN, KATE   Z
DAGDAGAN, TROY GABRIEL   B
DALIT, NOELLE   P
DALUZ, EDMON   P
DAMIAN, MARK JERROM   L
DAPAT, JONALEE   R
DATUGAN, HAZEL JEANNE   R
DAVID, AIKO   DG
DAVID, ALDRIN   S
DAVID, CHRISTIAN   M
DAVID, CHRISTINE MARY   B
DAVID, CRISABEL   L
DAVID, DANICA FAYE   S
DAVID, ERICK JAIE   O
DAVID, GENESIS   S
DAVID, HANNAH   B
DAVID, JUNY   M
DAVID, KAREN JOY   P
DAVID, KNOWELL CARLO   T
DAVID, MARIONNE   Y
DAVID, PAMELA FAYE   C
DAYRIT, EMERSON   R
DAYRIT, JOSELITO   Q
DAZA, REYSON   C
DE DIOS, AILEEN   C
DE GUZMAN, ADRIAN WENDELL   M
DE GUZMAN, ANDREAJ   C
DE GUZMAN, ARVI   Q
DE GUZMAN, BOBY GREYSON   M
DE GUZMAN, CATHERINE   C
DE GUZMAN, CHIKILOU   G
DE GUZMAN, CLOUIE ANN   N
DE GUZMAN, DANICA   M
DE GUZMAN, EUNICE JANE
DE GUZMAN, JOLINA   S
DE GUZMAN, KIMBERLY   C
DE GUZMAN, KYLA MICHELLE   C
DE GUZMAN, LEONARDO   M
DE GUZMAN, MARIA CECILIA   I
DE GUZMAN, MARRADETH   G
DE GUZMAN-ILAO, LADYLYNE   S
DE JESUS, ERNEST RAPHAEL   D
DE JESUS, JACQUELINE   Z
DE JESUS, JOHN CARLO   S
DE JESUS, MA. DIVINA   P
DE LEON, AN-MARCELLE   B
DE LEON, ANGELICA   P
DE LEON, DWAYNE LESTER   A
DE LEON, JULIAN   C
DE LEON, LYGIE ANN   E
DE LEON, MYLA   M
DE LEON, RAMON CHRISTOPER   E
DE LEON, REB MARTI   L
DE LEON, REGINA GRACE   C
DE LEON, RENZO JOSEPH   C
DE LEON, VIA MARIE   D
DE MESA, KATHLEEN ANNE   J
DE MESA, MARGOT   T
DE OCAMPO, MIA VANESSA   I
DE VERA, KAROLINE   P
DEANG, JAREN ANN   D
DEGALA, ANDRO LORENZO   P
DEGOLLADO, ALLEN   D
DEGUIDOY, INGRID   M
DEJITO, KATHLEN   T
DEL ROSARIO, GLAIZA MARIE   V
DEL ROSARIO, MARK BIEN   A
DEL ROSARIO, SHIELA MAE   R
DELA CRUZ, AARON   L
DELA CRUZ, ALMIRA   L
DELA CRUZ, ALYSSA JOY   R
DELA CRUZ, ANDREI   SR
DELA CRUZ, ATHLEY   C
DELA CRUZ, CHARMAINE   M
DELA CRUZ, CHAROLYN   B
DELA CRUZ, DANILLA SOFEEA   D
DELA CRUZ, EMMANUEL   D
DELA CRUZ, HENNESIE   B
DELA CRUZ, JALEENE   R
DELA CRUZ, JASMIN   L
DELA CRUZ, JEANETH   C
DELA CRUZ, JOANA MARIE   B
DELA CRUZ, JONALYN   L
DELA CRUZ, JULLIAN BENARD   A
DELA CRUZ, KIM JOSHUA   G
DELA CRUZ, MARIA CRISELDA   V
DELA CRUZ, MICHAELLA   A
DELA CRUZ, NOEMI ANN   U
DELA CRUZ, REGINE   P
DELA CRUZ, RENZO JOSHUA GABRIELLE   S
DELA CRUZ, RICHARD   E
DELA FUENTE, FRANELIZA   S
DELA PEÑA, DIVINE   M
DELA PEÑA, JONALYN   L
DELA PEÑA, LANCE IRVIN RICOH   C
DELOS SANTOS, JAYMEE   L
DELOS SANTOS, SHERMAINE   B
DELOS SANTOS, VAL OWEN   M
DELUROZA, MARY JOY   F
DEMITION, PRINCESS ANNE   DG
DEPONA, MARLON   R
DESPUES, CHRISTIAN NICKOLE   P
DETUBIO, ALYSSA JOYCE   S
DIAL, RAMYLLE BECCA
DIANO, GLENN   E
DIAZ, ANGELIKA   Q
DIAZ, JOHN ANGELO   C
DIAZ, KATLEEN JOY   B
DIAZ, SHAIRA ROSE   M
DIEGO, MARJORIE   C
DIEZMO, DIANNE HANNAH   B
DIMABUYU, AIRA   M
DIMABUYU, MARK CEASAR   B
DIMABUYU, WILSON   B
DIMAGIBA, MARIE FAYE   V
DIMALIWAT, JOHANA   V
DIMAPAWI, MARK ANGELO   B
DIONISIO, ANN DANELLE   R
DIONISIO, CHERISSE ANN   J
DIONISIO, CHRISTINE PAULINE   R
DIONISIO, LENNIE GRACE   F
DIONISIO, NOREEN BERNADETTE   R
DIZON, AARON PAUL   S
DIZON, ANGELIKA
DIZON, CAMILLE   D
DIZON, HEATHER LORIELLE   F
DIZON, JAMAICA   M
DIZON, JOHN MELVIR   B
DIZON, KIMBERLY   S
DIZON, KYLE FRANCIS   R
DIZON, MARTHY JOHN   T
DIZON, PIA ALLYSANDRA   D
DIÑO, MARY GRACE   C
DOLOJAN, JOHN HENRY   D
DOLOJAN, KEZIAH LIEZL   D
DOLORITOS, NANCY   A
DOMETITA, HJALMAR KENESSY   S
DOMINGO, BEVERLY MAY   S
DOMINGO, MA MARJORIE GRACE   F
DOMINGUEZ, LANA JOY   M
DORDE, PRINCESS JOVELYN   A
DRAPEZA, CHRISTOPHER   C
DRIZ, GILLIAN MARIE   P
DUCUT, ALYZA ANNE   A
DUERME, LUCILYN   A
DULAY, JANINE MARIE   V
DULDULAO, KAREN   T
DULWERAS, PRINCESS   T
DUMLAO, JASON   A
DUMPIT, KIEFER JOHN   M
DUNGCA, CATHERINE ANNE   P
DUNGO, CAMILLE   P
DUQUE, ZAIDY MAE   S
DURON, JESSA   D
EAY, JULIE ANN   E
EBON, ALYSSA MAE   P
EBRON, ROJAN JOSHUA   S
EBUENGA, ALLENE MEI   P
ECLARINAL, JUSTINE KAYE   E
ECLEO, DWAYNE JUSTINE   C
EDARAD, FAITH HOPE   S
EDARAD, FERNAN   S
EDER, ROWELL PAULO   A
EDING, CLAUDINE   M
EDODOLLON, GEROME   B
EGUITA, WINCY   S
EISMA, JESSICA   C
EMBIEN, CARL HARVENN   G
EMPABIDO, RICHELLE   C
ENCISO, JAYME   C
ENERVA, ZIARRAH JOY   B
ENRIQUEZ, ERICK JEROME   T
ERMITANIO, JOHN KENNETH   T
ESCALER, NEIL GRAHAM   A
ESCALONA, CONRAD MARCO  JR. R
ESCOBAR, MARK ADRIAN   H
ESCOBER, NOEL   E
ESGUERRA, ALLELI MARIELLE   H
ESGUERRA, ANGEL ACE   B
ESGUERRA, HENNESSY   B
ESGUERRA, JERALD   M
ESGUERRA, JOHN KENNETH   M
ESMA, MARY JEAN   C
ESMAR, ANNE CAMILLE   A
ESMELO, WINDY   B
ESPADILLA, JEAN RISSELLE   F
ESPEJO, CHRISTINE KYLA   M
ESPENIDA, MARIE JESEBEL
ESPINOSA, DIVINE GRACE   N
ESPINOSA, JOVEGEL   R
ESPINOSA, RUSTY   G
ESPIRITU, MAITHA CLAIRE   A
ESPIRITU, NATHALIA   C
ESPIRITU, PETER JOHN   O.
ESPIRITU, RINGO   E
ESTACIO, ALYSSA JOY   R
ESTEBAN, CHRISTINE   L
ESTEBAN, KENNETH   F
ESTEVES, JOSELITO   V
ESTRADA, HARLENE   F
ESTRADA, RIZELLE ANNE   M
ESTRELLA, ALMIRA   E
ESTRELLA, JUSTIN MIGUEL   C
ESTRELLA, LANCE JOSEPH   L
ESTRELLA, MA EDCEL DIVINE   A
EUGENIO, FAIRY JOY   O
EUGENIO, LOURIZE MAE   V
EUGENIO, NORIEL MARIE   M
EUSEBIO, JERAMIA   R
EVANGELISTA, ALLISON   B
FABABIER, JUDEE BERT   F
FABRIGAS, KIMBERLIE MAY   V
FAJARDO, ANGELICA   A
FAJARDO, GLORY   B
FAJARDO, REYNALYN CRISSEL   C
FANDINO, ANA LIZA   A
FARALA, JOYCE ANN   G
FARNE, FAYE AMY   D
FASTIDIO, RONNEL   V
FAUSTINO, PAMELA MARIE   C
FEDERICO, GABRIEL   R
FELICIANO, MA. ANGELIKA   H
FELICIANO, MARK LOUIE   B
FERAS, ERICK   L
FERIA, VINCENT   A
FERMIN, MIGNONETTE   G
FERNANDEZ, BENICK DAESON   C
FERNANDEZ, JADELYN   G
FERNANDEZ, JEROME ELVIN   B
FERNANDEZ, MICHAEL ORVEN   B
FERNANDEZ, VAL   P
FERNANDO, LYNDON   N
FERRER, JEO MARZEL   C
FERRY, KRISTINE   A
FETALVERO, LOUELLA   C
FISCO, HERMINIO  JR. F
FLORES, ABBYGALLE CENICA   R
FLORES, ALDRIN JAY   A
FLORES, FRACIS JAMES   C
FONTECHA, SHAIRA MAY   M
FORTIN, IRIS TRISHA   D
FORTIN, KHRIS ANN LOUIZE   P
FOSTER, RACHELL CARISSA JOY   M
FRANCISCO, ANGEL  JR. M
FRANCISCO, FRANCIS BOTVINNIR   P
FRANCISCO, FRANCIS OLIVER   M
FRANCISCO, JOYCE CRISIA   S
FRANCISCO, JUSTINE TERRENCE   I
FRANCISCO, MARK ANGELO   M
FRANCO, ROSIELLE   R
FRONDA, GERALD RYAN   D
FRUELDA, GENNINE   F
FULO, JOSHUA RUNIEL   G
GABAGAT, NHORIEL   M
GABAO, JENNY ROSE   B
GABRIEL, DANICA   D
GABRIEL, JONNEL ROBIN   C
GABRIEL, RITCHELLE   M
GACO, JOVELYN   B
GADDI, OCEANY   C
GALAMAY, PRINCE JOSHUA   L
GALAN, MICHAEL RAY   P
GALANG, CATHERINE   R
GALANG, ENA MARIE   R
GALANG, JAYSON GREGORY   C
GALANG, JONATHAN DAVID   I
GALLARDO, LEIGH ANNE   A
GALVEZ, WIMSY ARANNIELLE   I
GANADEN, KARL ANGELO   E
GANZON, JOSE MARIA GIL   C
GARCIA, CATHY   A
GARCIA, CHRISTIAN JAYE   A
GARCIA, DANILO  JR. G
GARCIA, EDWARD CARL   S
GARCIA, JOHN DARRYL   T
GARCIA, JUAN CARLOS   DR
GARCIA, KARLINE SHEEN   D
GARCIA, MAUREEN MAE   DG
GARCIA, MICHAEL   DM
GARCIA, SHERWIN   S
GARDOCE, ELANOR MAE   L
GARNICA, ALNAN REY   C
GASPAR, MARLA KAYE   P
GATDULA, JANE   L
GATUS, MA CHERILYN   S
GAVINO, HALLEL EDAR   L
GAVINO, LEAH   C
GENIOSO, NOEL JOHN   C
GERONIMO, CAROL   M
GERONIMO, CHANTAL CLAIRE   D
GERONIMO, JON ROBERT   N
GIRON, MARISOL   C
GITA, NIKKI ANNE   E
GO, ANGELI MAE   S
GO, CLARISSE ANNE   B
GO, ERSON   G
GOBRIN, RACQUELLE   F
GODINEZ, PAULO   M
GOMEZ, STELLA MARIES   L
GONOY, JENICALYN   J
GONZAGA, JAMEL   M
GONZAGA, MIGUEL IRWIN   P
GONZALES, CONDESA   P
GONZALES, DENESSE AURORA   A
GONZALES, DENIELLE   S
GONZALES, GERSHON EARL   A
GONZALES, GLAIZA   C
GONZALES, JOAN   H
GONZALES, KAROL PAULA   D
GONZALES, KAYE   A
GONZALES, KRISHA JOYCE   Y
GONZALES, MARISTELLA
GONZALES, MARK ANTHONY   A
GONZALES, NOREEN KATHLEEN   R
GONZALES, TIMOTHY CHRISTIAN   A
GOPIAO, MA. CHRISTINA   B
GOTICO, GWEN ASTRID   DB
GOTICO, MARCO ALEXIS   DB
GOTOMAN, CASSANDRA NICOLE   A
GOZON, CELENE FRANCHETTE   B
GRANIL, DJAY   T
GREZULA, CLOYD   G
GUANZON, HERBERT PAUL   N
GUARIN, JUDY ANNE   S
GUECO, JENNER JEWELL   C
GUERRERO, KEVIN JAYSON   M
GUERRERO, LUNINGNING   D
GUERRERO, MA. THALIA AN JOY   R
GUEVARRA, ARMIELYN   R
GUEVARRA, IRIS ANN   P
GUEVARRA, PIA GRACE   L
GUEVARRA, THEA MARIE   N
GUIANG, ED LAUREN   D
GUILAS, SAZSHEANNE   P
GUILLEN, LAURICE   G
GUINA, ANGELI GRACE   J
GUPO, ERIKA JOY   B
GUTIEREZ, LORAINE   L
GUTIERREZ, FREDERICK  JR. M
GUTIERREZ, LEAH LYNN   L
GUTING, DON EMMANUEL   N
GUTOC, ANGELO   B
HALILI, RANGELLE CAEZAR   A
HATOL, DONALYN   M
HECHANOVA, RICHARD ZHACK   P
HERBUELA, RAYAH ANNE MAE   D
HERNANDEZ, BEA   A
HERNANDEZ, BER   S
HERNANDEZ, DENZEL   E
HERNANDEZ, DIANA ROSE   P
HERNANDEZ, FRANCHESCA DIANNE   L
HERNANDEZ, JUNAR JORDAN   G
HERNANDEZ, LIANNE MAE   I
HILARIO, MICAELLA   M
HIPOLITO, KANRA BUENA   B
HIPOLITO, RACHEL ANNE   M
HIPOLITO, WHILMELL   T
HORARIO, HOMIAH DIANNE   G
HUERTO, NELSSA JANE   B
IBAY, CATHERINE JOY   G
ICO, CHRISTIAN   G
IDA, CHRISTIAN PAUL   T
ILETO, RICA EUNICE   T
IMPERIAL, GENESIS   D
INALVEZ, JUDY ANN   F
INFANTE, CLARISSE ANNE   L
INIGUEZ, JOHN KEVIN   G
INLONG, GERALD LAPITAN
INOCENCIO, RAZELLE JOY   P
ISIDRO, BRYAN JAMES   B
ISIP, MARITES   D
ISLA, KAREN   S
ISON, JOHN PAUL   P
JACOBE, MONICA   F
JAMERO, RONA MAE   B
JAPOR, JEAN   T
JAPSAY, JANEL MARIE   J
JARABA, FLORENCIO  JR. A
JAVIER, JEREMAIA   DC
JAVIER, KIMBERLY MAE   C
JAVIER, MARIVIC   D
JIMENEZ, CHRISTINE JOY   G
JIMENEZ, CLARC JOERYL   D
JIMENEZ, IRIS BEATRIX   T
JIMENO, WILL ANN   L
JOSEP, JOHN KENNEDY   A
JOSON, ESTER GRACE   G
JOSON, JOHN HAROLD   D
JUAN, YOANA ALEXIS   F
JUGUILON, KEVIN ANDREI   R
JUMAWAN, LEJOY   D
LA TORRE, MECHELLE   P
LABARETE, DAINE ROSE   C
LACANILAO, ESTELLA   B
LACANIN, DESIELYN   P
LACAP, IVY ANN   D
LACSON, JEFFREY JAY   M
LACSON, RAPHAEL JOHN   E
LACTAOEN, RIA JAYA   R
LADRINGAN, HANNAH GRACE   T
LAGMAN, DONN MATT IVEREM   P
LAGMAN, EUNICE   C
LAGUATAN, KRYSTIAN MON   L
LAGUATAN, REYMON   M
LALIC, JOSHUA MIGUEL   G
LALO, MERWIN   C
LAMBAN, SHAIRA MAE   G
LAMPA, PAULINE   A
LANDERO, ALLAN FREDERICK   L
LANDICHO, MICHAEL ANGELO   L
LANDIG, MA. BERNADETTE   B
LANON, LANCE EDMOND   M
LANORIA, RIZZEL ANN   N
LARA, IME CAMILLE GAY   F
LARA, MA JHONA   H
LAURENTE, ALBERT   P
LAURENTE, JUSTIN RAE   M
LAURETA, MARVIE   B
LAURETA, SHERYL   K
LAWAN, CRISTINE JOY   B
LAXAMANA, MERRY ANN   O
LAXAMANA, ROCELLE   T
LAYUG, ANDREA   M
LAZATIN, KARLA NICHOLE   R
LAZATIN, ROSEVEEN   E
LEGASPI, GENEECE   G
LEGASPI, REGIE   S
LEGASPI, RHEALYN   J
LEMENCE, SHELLETE   A
LEODONES, JAMAICA   M
LEONCIO, DENETH MICAH   G
LEONES, MARIEL   O
LEONOR, JOY MARIE   S
LEYNES, ALJON   B
LIBIRAN, EDWARD JANN   F
LIBIRAN, MARY CLAIRE ANGELINE   A
LIBRADO, MARVIN   B
LIBU, KRISTIAN JOHN   C
LICUP, COLEEN
LIM, AILEEN   R
LIM, ELISE MITCHELLE   D
LIMBAG, LEONARD   I
LIMON, MAEL   B
LINGAD, KIMBERLY   V
LINTAG, JEROME   S
LINZAGA, JENEVIVE MAE   C
LINZO, KATLYN MAY   P
LISING, CHARRY   S
LISTANA, JENNIE LYN   C
LLORANDO, KATHREEN JOY   B
LOBO, RODOLFO   C
LOLINGCO, ARRA MAE   M
LOMAHAN, JAIRA   L
LONGALONG, PINKY MAE   T
LOPEZ, CARMINA   F
LOPEZ, IRA MARIELLE   B
LOPEZ, JERICA JANE   R
LOPEZ, JESSICA   O
LORENZANA, MARK JOSEPH   P
LORENZO, CHRISTINE PAOLA   D
LORENZO, MARIA ANA PIERINA   D
LORENZO, MICHELLE   P
LORETO, CARMELA   M
LOZADA, FENELLA MAY   M
LOZADA, JOY CARYL   A
LUBAO, BABYLYN   P
LUIS, ROXANNE   S
LUMABAS, CHRISTIAN   A
LUMANOG, ANGELICA   D
LUMAWAG, LORRAINE   V
LUMBOY, REIN-DANIELLE   D
LUMIBAO, HECTOR   R
LUNA, HANNAH CLARICE   G
LUNA, PATRICIA ANNE   J
LUPANGGO, ROBERTO  JR. S
MABALAY, LHOAN CHRISTINE   P
MABANTA, SHERLYN   F
MACABALLUG, HECTOR  JR. A
MACADANGDANG, HAIDEE   L
MACADANGDANG, SHERLENE   R
MACALINO, ANGELICA CLARIZ   B
MACALINO, RAVEN   A
MACALMA, EDWARDSON   A
MACAPAGAL, JAKE MARIUS CHRISTIAN   C
MACAPINLAC, MARK JEFFERSON   F
MACATBAG, EDUARDO  JR. M
MACATIAG, CARL NOMER   T
MADRIAGA, MA JESUSA   C
MADUCDOC, VIARRA LARIZA   P
MAGALING, JOHN RUSSEL   S
MAGAT, JOANA ROSE   P
MAGBAG, EMILIO JESUS  III C
MAGBAG, TRIXIA ANNE   L
MAGCALAS, ROMMEL   M
MAGDAONG, ERIKA   L
MAGLAQUI, EIZLE FAYE   B
MAGLAQUI, NIECO   P
MAGLASANG, COLLEEN   C
MAGLATANG, SOPHIA ANGELU   G
MAGSAIL, JHAYMIE   T
MAGTALAS, BARBIE ROSE   E
MAGTOTO, YNA AUBREY   P
MALAQUE, NESTOR  JR. M
MALIBIRAN, DANAROSE   E
MALIBIRAN, GEWIST   U
MALINAO, MYLYNN   M
MALIWAT, MARIA KATE NICOLE   M
MALLARI, JEANELLE   S
MALLARI, MARTY   S
MALLARI, MIA CRISIA   R
MALLARI, RONABIE   P
MALLARI, SANDY   S
MALLARI, STEPHANIE ARIANE   C
MALLARI, VINCENT  JR. C
MALONZO, JOLINA RICA   P
MAMARIL, GLENDA   G
MANAHAN, JAECEE KYLE   DL
MANAHAN, OLINON   E
MANALANG, ANGELA   S
MANALANG, KEVIN   P
MANALANSAN, KIMBERLY
MANALASTAS, OMAR   D
MANALO, JEIZELLE ANN   T
MANALO, JELIE ANNE   S
MANALO, JUVIELYN   P
MANALO, MARY ANTHONETTE   P
MANALOTO, JAY DEE   B
MANALOTO, MARRIANE   C
MANALOTO, NEIL FRANCIS   D
MANALUZ, WILSON   P
MANANGAN, CRISELE   O
MANANGHAYA, CYRILLE KHAYE   L
MANANSALA, MARIEL   E
MANANSALA, SIMON ROMEO   C
MANAOG, MARCUS   M
MANAOIS, JAN VINCENT   SD
MANARANG, MAY ANN   M
MANDAP, ROSETTE   M
MANGARIN, JENNA AIRA   B
MANGAYAO, JESSICA NOREEN   G
MANGUERA, MARJORIE   F
MANGUERA, RAZEN JOY   V
MANGULABNAN, ROSETTE   T
MANGUYOT, MARY GRACE   V
MANIAGO, BRIAN HAROLD   D
MANIBLE, MARNIE   E
MANILA, CHRISTIAN   S
MANIO, KIMIE ELLA   R
MANIO, KISSES DAYLE   R
MANIO, MARK ADRIENNE   T
MANIO, NADINE ROSE   S
MANITI, HAZELINE   L
MANLAPAT, IRIS LYNETTE   M
MANLAPAZ, ANNGELA JOICE   M
MANLUSOC, JEAN CAMILLE   S
MANUBAY, JEAN ALYZA   M
MANUEL, JEANNE KAREN   P
MANUEL, JOSHUA CALEB   M
MANUZON, GEMYCA KRISTEL JOY   S
MANZON, MELANIE JOY   S
MAPAGU, ARVIN JAY   T
MAPILISAN, VIVIEN JOYCE   DC
MARAVILLA, PHILIP JAMES   B
MARCELO, EDRALICE   M
MARCELO, ROMEL   P
MARCIAL, CHRISTIAN PAUL   O
MARCOS, JESSICA VENISSE   P
MARCOS, MICHAEL MICO   M
MARGAJAY, DONAVE LYN   S
MARIANO, GLAIZA   E
MARIANO, JEANELL AURA   G
MARIANO, LENCEL   M
MARIANO, RONNALIE   E
MARIN, RONA JOY   V
MARISTELA, AUDINE   Y
MARQUINA, MARY LYN   Y
MARTICIO, ELIZELLE   B
MARTIN, CRISTOPHER   V
MARTIN, JUAN LORENZO   C
MARTIN, KIMBERSON   B
MARTINEZ, ALEXIS MAUI   L
MARTINEZ, JAYSON   M
MARTINEZ, JEWEL MAE   E
MAS, JOSELITO   M
MASAOAY, KHRYZ MA DANNIELLE   F
MASCAREÑAS, GEORGIA   T
MASILANG, JERRY   L
MATA, KIMBERLY JOY   E
MATIAS, KAREN   S
MATIAS, LORAINE   L
MATILDE, AHLENE KAYE   M
MATULAC, MICHAEL   L
MATULIN, LEE AN KRIZEL   B
MAURICIO, JORMISEL   B
MAÑALAC, DIANA   A
MEDINA, CHADSEY   F
MEDINA, LUDY   A
MEDINA, LYKA JOY   D
MEDORA, MARIA SOCORRO   L
MEGRIÑO, MARK JAYSON   P
MEJIA, CHRISTINE   E
MELIS, APRIL JOY   M
MENDIOLA, KEVIN   D
MENDIOLA, MARIONE GRACELE   A
MENDOZA, BLESSIE   A
MENDOZA, CHINO MIGUEL   P
MENDOZA, EZEKIEL   DR
MENDOZA, FERNANDO R   JR
MENDOZA, FLORENCE JOSEPHYNNE   M
MENDOZA, HERMIE   F
MENDOZA, JANELLE   M
MENDOZA, JIOMEL   L
MENDOZA, JOHN MARTIN   C
MENDOZA, MARY JOYCE   L
MENDOZA, NAZARENE JAMES   B
MENDOZA, PAOLA MAE   B
MENDOZA, PATRICIA LOUISE   D
MENDOZA, ROLLETH CRISTALE   L
MENESES, HIYAS   B
MENSORADO, ANGEL ROSE   A
MERCADO, JOHN CARLO   T
MERCADO, MELISSA   D
MEREZ, ANGELO   C
MERNELO, JULIUS JOSEPH   S
MICLAT, JONALENE   H
MICLAT, KAREN   B
MILLA, JONATHAN   B
MILLO, HAZEL   G
MINA, MARIEL   V
MINGA, ROLDAN   S
MINGUA, INNAH SOFIA   M
MINGUA, LYNWEL   M
MIRANDA, AKIMI THEA   G
MIRANDA, ALIAH GRACE   L
MIRANDA, JOAQUIN MIGUEL   Y
MIRANDA, JOHN MICHAEL   G
MIRANDA, LESTER JOHN   L
MIRANDA, MATTHEW   R
MIRANDA, PATRICIA GAIL   R
MIRANDA, VIEL AYANA   A
MISA, MARIVEL   M
MISLAN, MARY ANN
MISOLA, DONNA MARIE
MIZONA, FRANCES JO DANIELLE   R
MOHAMMED ANJUM YAQUB, ISMAEILL   A
MOJICA, ANDCEL   V
MOJICA, JEANJEN   S
MOJICA, MARYELLA   S
MON, AGATHA JOY   T
MONTE DE RAMOS, KRIZELLE   C
MONTEAGUDO, MARIAN   C
MONTEMAYOR, JANN MARIELLE   V
MONTES, MARISSA   H
MONTOYA, YVETTE JOY   S
MONTUERTO, JUDY ANNE   B
MORA, CRISTINA   V
MORAL, JULIUS LEO   C
MORALES, ALYSSA SARAH   E
MORENO, IAN NICOLE   C
MORENO, JEANETTE   C
MORENO, MARISOL   T
MORES, YHASMIN FE   C
MORONIA, JAN RISHAEL   P
MOYA, LYKA CLARISSE   R
MUEGA, KYLE CEASAR   V
MULI, RAMANNE ARYL   C
MULI, RHAGN AUBREY   C
MUNAR, IBY   Z
MUNAR, JENNIFER   M
MUSNGI, SEANNE DENISE   F
NACU, JUDY ANN   D
NAFURA, JOHN MARK   C
NAGAL, PAUL JANCINT   T
NAGUIT, AUDREY MAE   F
NAPO, JENNY LYN   S
NARCISO, ANGELO   M
NATIVIDAD, JULIEFLOR   G
NATIVIDAD, RONA   F
NAVALTA, LARA MELISSA   A
NAVARRETE, CHESSERYN   Y
NAVARRO, ANGELICA   R
NAVARRO, JOSE ANGELO   S
NAVARRO, LEONARD VINCENT   R
NAVARRO, MARIBETH   SD
NAZAIRE, ARCELA   B
NICDAO, ARRIANE   Y
NIEBRES, ANJO   S
NIEVES, EZRA JANE   M
NITO, FERDINAND   R
NITURA, LAURIE JAYNE
NOLASCO, CHRISTIAN   R
NOOL, ARDELIE ROCHELLE   S
NORA, JAMES EDWARD   A
NOVELLES, MORRIS ALBERT   L
NUCUM, AIMEE   S
NUCUM, CRISTINE RHENZ   B
NUNAG, RONILLO CARLO   C
OBILLO, CARL RUDOLPH GILBERT   Y
OCAMPO, ANNE MARIEL   S
OCAMPO, ERIKA JOY   T
OCAMPO, JAP   R
OCAMPO, KRISTINE JEWEL   M
OCAMPO, MA ANGELA   C
OCAMPO, MARY GRACE   M
OCAMPO, MYLA   L
OCAMPO, RALPH IVAN NEIL   E
OIRA, MARIELLA JOYCE   P
OLANDA, HANNAH MARIE   E
OLGADO, MYREN   P
OLIVEROS, JOHN ARON   L
OLIVES, JOHN CHRISTIAN   F
ONG, ARTHUR GABRIEL   M
ONOFRE, DARRYL   B
ORDIALES, IZA CARLA
ORETA, MA TERESA   S
ORIGUE, CANDIDO  III F
ORTEGA, HAZZEL   V
ORTILE, FRANCIS NOEL   B
ORTIZ, CHARMAINE   B
ORTIZ, RENZ BYRON   B
ORTUA, KURT JOSZHELLE   G
OSORIO, ARCHIE   A
OTSU, KRIS   H
PABALAN, CHRISTEL FAITH   P
PABALAN, ERRICE   B
PABILOÑA, JOHN EMMANUEL   G
PACHECO, ROUGENN GABRIEL   D
PACULAN, ANN JANETT
PADERES, CHERYL ANN   S
PADUA, ANGEL LOVE   T
PADUA, RIO MARR   M
PAGADUAN, RODALYN   DR
PAGARIGAN, FERNANDO   L
PAGLINGAYEN, IRISH JOHN ROGER   A
PAGTALUNAN, ERWINSON   B
PAGUIA, JAYVEE ERIC   L
PAGUIO, PAOLA CRISTINA   R
PAGULAYAN, RYAN JEFFERSON   G
PAGUNSAN, ARLENE   B
PAGUNTALAN, JOHN LLOYD   L
PAJARILLO, MARK ALFRED   A
PALILEO, JOHN CHRISTIAN   G
PALISPIS, RAYGAN PETER   L
PALLARCA, ANJELLO   C
PALMA, CLARISSE   S
PALMA, DENMARK   F
PALMA, MARK JOSEPH ANTHONY   D
PALO, CARLO LOUIS   P
PALOMO, HERSHEY   R
PAMINTUAN, JOAN   B
PANGAN, DEANNE MARIELI   Y
PANGAN, IRA LOURIZ   D
PANGAN, JOSHUA ERIN   G
PANGAN, LEILANIE   T
PANGAN, MAR LESTER   O
PANGAN, ROSETTE   T
PANGAN, VILLA RICA   P
PANGAN, YRO   P
PANGANIBAN, DARWIN   C
PANGANIBAN, RENZ MARIEL   M
PANGANIBAN, SHIERINA MAY   M
PANGILINAN, CEZANNE FRANCESCA   A
PANGILINAN, MA JUSTINE   DC
PANLILIO, JOSE GIAN CARLO   L
PANZO, CHARLES PHILIP   M
PANZO, MARIANNE   C
PAPA, NOEL JEROME   P
PARAS, ZYRA   D
PARDO, ROBBY   N
PARICO, CAMILLE AILENE   D
PASA, GERALDINE   C
PASAMONTE, KAREN   C
PASCUA, MAGGIE MAE   C
PASCUAL, BRYAN   P
PASCUAL, DAISY   S
PASCUAL, DEVINE GRACE   A
PASCUAL, KEANU   G
PASCUAL, KLARICE   M
PASCUAL, MICHELLE   B
PASCUAL, PATRICIA BIANCA   D
PASICOLAN, MARY ANN   F
PASTOR, HANIE JOY   P
PATAWARAN, JOY   S
PATIAG, JOSE DANIEL   P
PAULE, CATHLENE
PAYONGAYONG, JERALD   A
PAZ, JANINE PAULA   D
PELAGIO, REICHELLE ANN   V
PELAYO, PATRICE GEM   L
PENE, PAMELA CAMILLE
PEREZ, BEA ANGELA   T
PEREZ, IRIS CHARMAINE   L
PEREZ, LIANNE KIARA   P
PEREZ, NICOLE GENE   S
PETIL, GLADYS ROSE   M
PEÑA, ALLAN JUDE   D
PEÑA, BEATRIZE ANNE   F
PEÑA, CHRISTIAN   B
PEÑA, JUN EDWARD   L
PEÑA, KATHLEEN   G
PEÑA, VINCENT   C
PILONE, JULIE ANN   L
PINEDA, ANGELO MIGUEL   M
PINEDA, JOHN CARLO   L
PINEDA, MARK JOSEPH   B
PINEDA, RANCE JENO   C
PINILI, GERRIAN   D
PINTASON, JOSEPH ANTHONY
POBLETE, MIKEE ANNE   C
POBRE, KAHANA QUEENIE
POLICARPIO, ARVEE JAY   T
POLICARPIO, PIA   Q
POLICARPIO, ROBERT   G
POLINTAN, ANGELICA   C
PONCE, DONNA   R
PONCE, GEAN ARIANE   R
PONTANARES, MARYJANE   G
PORTILLO, MARY GRACE   L
PRIMAVERA, DONNA   E
PUNAY, MARICAR   M
PUNLA, ARCHIE   M
PUNO, ALYSSA   S
PUNO, PRINCESS   T
PUNONGBAYAN, REIN IRISH   T
PUNZALAN, AICKA JANINE   S
PUNZALAN, RICHARD   C
QUIAMBAO, KATE DANIELLE   V
QUIBUYEN, CHRYSHIELDA   A
QUIJANO, ROMAR JAY   D
QUILATON, ABEGAIL   H
QUIMBO, NEEVE   E
QUIMSON, GEROME   V
QUIMSON, SARAH MAE   B
QUINTO, JONAH MAE   F
QUIOC, CHRISTIAN   C
RAFAEL, CHRISTIAN   A
RAGA, ERWIN JOHN   S
RAMIREZ, ABEGUIL   A
RAMIREZ, JOHN PATRICK   C
RAMOS, AMIEL ROGEL   C
RAMOS, CHARRISE KAYE   R
RAMOS, CYRILE ANNE   D
RAMOS, JOHANN LOUISE   D
RAMOS, JOHN IVERSON   S
RAMOS, JULIUS CAESAR   C
RAPADA, MARK JOSEPH   P
RAQUIDAN, CESAR   E
RARAMA, MARY KRIS   Q
RAYOS, WILBERT RAYMUND   R
RAZAL, AARON   S
RAZON, ERNA   P
RAZON, STEPHANIE NICOLE   R
REBLORA, JEROME   L
REBUSQUILLO, CYRUS   L
REDOBLE, JAQUELINE   DB
REGALA, CINDERELLA   G
REGALA, KARL ROBERT   B
REGALADO, DELBERT  JR. C
REGENDIN, JOHN DANIELLE   I
REOTAN, ALLAN   T
REQUINTON, JADE   B
REQUIOMA, ERICA MAE   O
RESCAR, IVAN PAUL   C
RESUELLO, JOANA MARIE   B
RESULTAY, CAMILLE   B
RESURRECCION, ROSE   D
REVELAR, ERICKA   DC
REVIS, NICHOLE   O
REVOLLEDO, MARIVIC   M
REYES, MARIA ERYKAH ROSE   R
REYES, MARIEL JOYCE   S
REYES, PETER PAUL  JR. S
REYES, ROBERTO  II A
REYES, ROCHELLE   P
REYES, RON LIMUEL
REYES, RONARISSA   D
REYES, SHERALYN   D
REYNES, MARI DANICA   M
RIBOT, JACKIE LOU   B
RIVERA, JORINA CAMILLE   A
RIVERA, KHALELA   B
ROBLEDO, JOSE LEONARDO   C
ROBLES, JEFERSON CARLO   DC
ROBLES, JOTHAM EBBOCCI   R
ROBLES, MARX   T
ROCA, KATHERINE   C
RODRIGO, ANGELICA   G
RODRIGUEZ, CAITLEEN   L
RODRIGUEZ, CRISTIAN   T
RODRIGUEZ, KATRINA LEI   E
RODRIGUEZ, ROWENA JANE   I
ROMANES, JEROME IVAN   C
ROMERO, DIANNE   E
ROMERO, RONALENE   DV
ROMUAR, COLLEN MAY   A
RONAS, JENIFER   G
ROQUE, ABBIE GAIL   D
ROQUE, ANGIELINE   DC
ROQUE, GRACE JOY   Q
ROQUE, MIGUEL ALLEN   A
ROSALES, ARISTOTLE   R
ROXAS, MARCO REGINO   I
ROXAS, ROSALIE   S
RUBINO, MICHELLE MAY   C
RUBIO, JAY FRANCIS   R
SABADO, ANN LOUILAINE   S
SABADO, SARAH JANE   V
SABAS, RACHEL ANNE   G
SABERON, JOANA MARIE   E
SAGUM, MA TERESA   M
SAGUM, ROI FRANCIS   A
SAHAGUN, JOHN LOUISE   H
SALARIA, CAMILLE   C
SALAS, CHRISTIAN DALE   M
SALAS, JOHN PATRICK   D
SALAS, KEVIN ANTHONY   D
SALCEDO, SHUSMITA MARIE   G
SALDI, ABE-JOHN   C
SALDIVAR, PAOLA BIANCA   D
SALES, JODY ANGELO   B
SALOMON, CRISTINE BERNADETTE   I
SALONGA, JUAN MIGUEL   D
SALONGA, LEIAN   P
SALONGA, RAFAELA PATRICIA   T
SALONGA, RAYMOND  JR. S
SALUNGA, MAURENE   Q
SALVADOR, JIM BRYAN   P
SALVADOR, MA MIKAELA   P
SALVADOR, PAOLO   L
SALVADOR, ROGELIO   Y
SALVALOSA, MITZI BERNADETTE   M
SALVATIERRA, DHANALHAY
SAMIA, JULIE ANN   S
SAMPANG, MA. CHANTELE   S
SAMPANG, SHAIRA   G
SAMSON, DOMINIC CHRISTIAN   M
SAMSON, EMMANUEL   D
SAMSON, KEVIN   F
SAMSON, LLOYD RAFAEL   R
SAMSON, MA CHRISZEL   E
SAN DIEGO, JAYSON   D
SAN JOSE, CHRISTINE JOY   L
SAN JOSE, KARLA FAYE   A
SAN JUAN, ADONIRAM   G
SAN PABLO, JANEL LIANNE   B
SAN PABLO, JAYLENE LOUISE   B
SAN PEDRO, RICA MAE ELLA   R
SANCHEZ, MIKEE   S
SANCIO, CESAR ANGELO   G
SANGUYU, RAISA KATRINA   A
SANTE, JHUN CZEAZAR   D
SANTIAGO, ARCHIMEDES   DR
SANTIAGO, CARLO ANGELO   M
SANTIAGO, CHERRYLN   T
SANTIAGO, FAYE   B
SANTIAGO, JILLIEN MARIELLE   D
SANTIAGO, MAC JEFFERSON   R
SANTIAGO, NIEL ANNE   V
SANTIAGO, ROMAR   L
SANTOS, ABEGAIL JOY   D
SANTOS, ANGELICA   B
SANTOS, ANNE PAULA   B
SANTOS, CHRISTIAN MIKE   B.
SANTOS, DIOLO NIÑO   R
SANTOS, HEIDY   V
SANTOS, JAYSON   B
SANTOS, JOHN ERROL   P
SANTOS, JONAH LORAINNE   S
SANTOS, JOSHUA ANGELO   A
SANTOS, LADY RULET   H
SANTOS, MA AMPARO   T
SANTOS, MARGARETH   P
SANTOS, MARIA JUDY ANN   E
SANTOS, MARVIE   D
SANTOS, MIKO ELI MANUEL   N
SANTOS, RYAN CHRISTOPHER   R
SANTOS, VAN ALLEN   M
SANTUA, HANAH MAE   B
SAPIN, MA ELAINE   S
SARDILLO, ALEXIS JEROME   D
SAWALI, AKKIARA SYMONN MAY   Z
SAYCO, RANNEL   D
SAYSON, QUENNIE   Q
SAYSON, SHAIRA MAE   G
SAZON, HERMIE   L
SAZON, JOANA MARIE   C
SAZON, ROSE ANN   C
SEBASTIAN, FELIZA MAE   DC
SEBASTIAN, FRANCESCA   P
SENENCE, DEMI ANNE   N
SENIN, NUR ADLYN   G
SERGIO, NOELLE MARIE   D
SERRANO, CATHERINE   C
SERRANO, CHRISTIAN   A
SERRANO, DANICA MAE   DL
SERZO, KAMILLE CATHLEA   C
SEVILLA, MA.MIKAELA   R
SEVILLA, MAC DONALD   J
SEVILLA, MICHELLE   R
SIBUG, ARJAY   G
SICAT, PRINCESS   V
SICAT, RICA MAE   L
SIERTE, FLORENIO  JR. R
SIGUA, FEBIELYN   M
SILOS, HANJALI   M
SILVA, CRISTINE DAVE   B
SILVAN, CINDY   M
SILVESTRE, CRISTINE ANNE   S
SIMBOL, ALDOM   L
SIMBOL, ANGELO   L
SIMBULAN, JOHN RIAN VON   M
SINAMBAN, NIÑO PAOLO   M
SINGCA, RENZ KHRISTINE   D
SINGH, BETTINDER   D
SISON, MARIA ALEKXANDRA   B
SISON, TIMOTHY JULIUS   E
SO, GERALD   L
SOLANO, STEPHEN PAUL   L
SOMERA, FREDELENNE   S
SONAJO, JOSELLE   DL
SONZA, KATHRINA   L
SORIANO, CHARISSE   H
SORIANO, EMMARIE ROSE   V
SORIANO, JOHN BIE JORN   D
SORIANO, JUSTIN JAN   M
SOTTO, MARICRIS   D
SOZA, JOHN PAUL   D
STREETER, JESSEBEL   M
SUAN, CHRIST RUSSELL   D
SUATENGCO, MA ANGELICA LHORIZE   R
SUMAYANG, ALDRINE   L
SUNGA, HAZEL MAE   A
SURIO, ALYZZA MAE   DJ
SURIO, JOSEPH ANGELO   T
SUSA, CLEO FAYE   M
SY, KARLA CANEISHA ROZZ   D
TABAMO, AILEEN   M
TABINAS, MARYNOL   M
TABUGAN, HERDAN CHRISTOPHER   F
TABUNDA, ABIGAIL   P
TADENA, CARIÑO  II P
TADIAMAN, CIANADEL   S
TAGABAN, MARIECRIS   E
TAGANAHAN, JOHN ALLEN   L
TALA, MERY JHANE   L
TALAMPAS, REI ANN   D
TALAVER, JESSICA MAE   A
TALENS, YASMIN KATE   S
TALLORIN, PATRICK   D
TALON, MARK MILRANI   E
TALPLACIDO, JOHN EMMANUEL   U
TAMARES, MARY CHRIS   S
TAMAYO, APRIL JOYCE   S
TAMI-ING, ARIANE JOY   S
TAMUNDONG, LA CHARMANE   G
TAN, AMIEL HOWELL EDD   C
TAN, JHESSLEE   J
TANINGCO, CARINA   F
TANTE, KEMBERLY   A
TARNATE, EDWEENA JEWEL   GC
TAWATAO, MINARD   P
TAYAG, CAMILLE VICTORIA   O
TAYAG, GARNET   R
TAYAG, JOVIE ANN IRA   G
TAYAG, JUSTINE NINA   M
TEODORO, CARL JEROME   H
TIANGCO, MEL FRANK   G
TIGNO, JOHN RUSSEL   N
TIMBANG, IVAN JOE   M
TIMBOL, MARIA TERESA   C
TIMOG, MARIA AULINCARREZA   P
TINTERO, AILEEN JOY   P
TIONGSON, JOHN CARLITOS   U
TIONGSON, KRISTEL ANNE   J
TIRI, MICAH   G
TOBIAS, MARC ROZANO   S
TOBIAS, RAINVILLE   Q
TOLEDO, CARL ALDOUS   DC
TOLENTINO, AIRON   D
TOLENTINO, ALAYSA MARIE   A
TOLENTINO, CEDRICK   D
TOLENTINO, JAMES ANTHONY   C
TOLENTINO, JARED   A
TOLENTINO, JERALD   M
TOLENTINO, JOSE KIELLE   V
TOLENTINO, MARC KENNETH   S
TOLENTINO, MARY DIANA ANN   D
TOLENTINO, SEAN MITCHELL   Y
TOMAS, CHERRY MIA   B
TOMAS, KAREN CRISTHYL   E
TORRES, EDRYLL   T
TORRES, GLENNIE MOLI   C
TORRES, JULIANNE   H
TORRES, RICH JOE   C
TORTONA, JOSEPH STEVEN   A
TRANCO, GERRYMEL   A
TRINIDAD, AIKO   V
TRINIDAD, ANGELITO TERRENCE   M
TRINIDAD, JAMINA LEI   D
TRINIDAD, JAN LOWELL   D
TRINIDAD, JIANNE DALE   B
TRINIDAD, LAWRENCE   H
TRINIDAD, MARIA SOPHIA   S
TUAZON, CHRISTINE   S
TUAZON, JOLANCE   C
TUAZON, JUNELLA PATRICE   A
TUAZON, JUSTINE CHEYENE   B
TUAZON, RONICA   C
TUCAY, VIMAR KAREL   T
TUGADO, WILMA   B
TULABUT, AIRA   L
TULOD, DANICA MAE   R
TUMANG, ERA   D
TUNGOL, JACOB   L
TUZON, JONATHAN   A
UBALDO, EDRIAN JACOB   S
UMALI, MARIA KASSANDRA   T
UNCIANO, KARL NIÑO   N
UNISA, CHESKA ERA   J
URAGA, KRYSHA ANN   G
URBANO, MA NIÑA   G
URIGANAY, MYKA   B
USI, PRECIOUS GRACE   S
UY, RONALD   C
VACUAL, JOYCE   C
VALDEZ, CEDRIEX PAUL   V
VALDEZ, KHRYSTEL PEARL   B
VALENCIANO, PRINCESS   C
VALENTIN, PAULYN   Y
VALENTINO, DEXTER   O
VALINO, KEN JOSHUA   D
VALINO, PAULINE   P
VALINO, TIM JOSEPH   D
VALLOYAS, JOHN LEI-RE   D
VALONDO, MELANIE   G
VANTA, CHRISTIAN JOMER   G
VARGAS, ARREN DOMINIQUE   D
VASQUEZ, JERICO
VELASCO, ALVIN   T
VELASCO, DANNERIE JOY   T
VELASCO, HAYDIH ANNE   T
VELASCO, MISCHA FRANCIS   C
VELASQUEZ, ELLAHNAE   E
VELEZ, SHIREEN   A
VENDIVIL, JOYCE INAH   T
VENERACION, KARL ALVIN   C
VENICO, JOYCE ANNE APPLE   G
VENTURA, RIZZA ANN   C
VERGARA, JERIC   B
VERGARA, TRIXIA MARITHE   B
VEROCIL, CHRISTIAN JAY   M
VIADO, JASON ARIEL   M
VIANZON, JASMIN   T
VICENCIO, RYAN CHRISTIAN   G
VICENTE, PRINCESS DIANE   V
VICENTE, ROUIE JONELL
VICTORIA, CHARLENE   M
VICTORIA, CHARRISE   M
VICTORINO, NANCY JANE   D
VIERNES, HERLYN RHOZE   J
VIERNES, JOEL   S
VILLALUNA, SHERYL   D
VILLANO, RICA MAE   S
VILLANUEVA, CATHERINE   R
VILLANUEVA, LADY ANJELLIE   SJ
VILLANUEVA, LYNETTE   J
VILLANUEVA, MELIZZA ANNE MARIE   DJ
VILLAROSA, ANGELICA IRAH   P
VILLAS, EANNE ETHEL JOYCE   M
VILLEGAS, REACH ANN   M
VILLEGAS, ZAIRA MAE   M
VILLENA, VERONICA   T
VILLEZA, PATRISHA RAE   G
VILLONES, ANNALIZA   M
VILLOTA, RIAN CHRISTOPHER   R
VINUYA, JOANA JESSICA   C
VINUYA, JOHN ALVIN   B
VIQUIERA, ANGELICO   P
VISTAN, KARLO JAE   B
VIVAR, DARRYL   O
VIZON, CHARINA   A
VOLANTE, MARIDEZ   M
YABOT, MYLA   M
YABUT, ALDWIN   B
YADAO, KEITH   D
YALONG, ELIJAH SHEM   G
YAMAKAWA, JOSHUA   B
YANDAN, NELSON  JR. C
YANDOC, JOHN IAN   F
YAP, MICHELLE   M
YAP, QUINO DOMINIC   O
YERRO, JAN MICHAEL VINCENT   P
YUMUL, KYLE   B
YUTUC, PATRICK GABRIEL   M
ZABALA, ABIGAIL   G
ZABLAN, RANDELL JAN   D
ZAMORA, IRISH   M
ZAPATA, RONILYNE ROSE   A
ZERRUDO, ANTON LUDWIG   G
ZURBITO, LANDER   B
ZUÑIGA, JOANNA MAY   B
Exam Coverage
Professional Level (Prof) – In English and Filipino
Numerical Ability (Basic Operations; Word Problems)
Analytical Ability (Word Association – identifying assumptions and conclusions; Logic; Data Interpretation)
Verbal Ability (Grammar and Correct Usage; Vocabulary; Paragraph Organization; Reading Comprehension)
General Information (Philippine Constitution, Code of Conduct and Ethical Standards for Public Officials and Employees RA No. 6713, Peace and Human Rights Issues and Concepts, Environment Management and Protection)
SubProfessional Level (SubProf) – In English and Filipino
Numerical Ability (Basic Operations; Word Problems)
Clerical Ability (Filing; Spelling)
Verbal Ability (Grammar and Correct Usage; Vocabulary; Paragraph Organization; Reading Comprehension)
General Information (Philippine Constitution, Code of Conduct and Ethical Standards for Public Officials and Employees RA No. 6713, Peace and Human Rights Issues and Concepts, Environment Management and Protection)
Release Date
The official exam results are expected to be released within sixty (60) days after the last day of examinations or on October 10-13, 2019.
Note
However, the CSE results might be released earlier or later without prior notice from CSC.
comment(s) for this post "Civil Service Exam Result August 2019 – Region 3 Passers (Professional Level)". Tell us what you think abut this post by leaving your comments below.