Here is the Civil Service Exam Result August 2019 Including Region 1 Passers (Professional Level)
CSC is about to release the Civil Service Exam Result August 2019 including the Region 1 passers (Professional Level).
The August 2019 Civil Service Exam Results including the official list of passers and top notchers for both Professional and Sub-Professional Level will be available on this website after it will be released by CSC.
The Civil Service Exam – Pen & Paper Test (CSE-PPT) have been given at CSC testing centers in NCR, CAR, CARAGA, ARMM, and all regional testing centers in the country on August 4, 2019.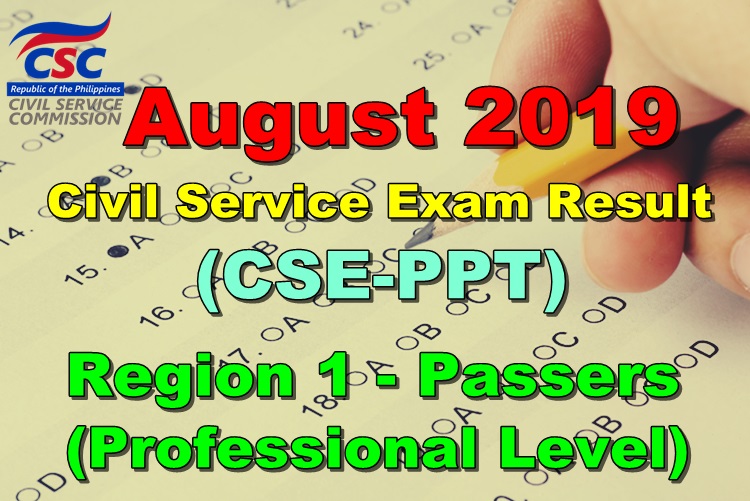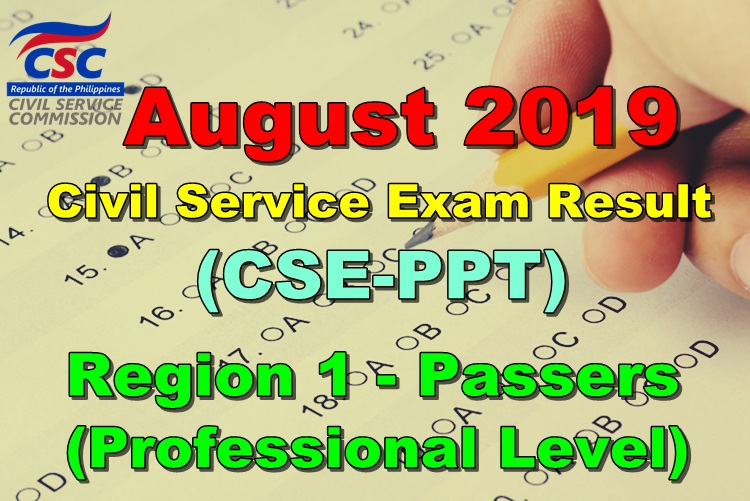 The CSE-PPT is an eligibility examination that gives opportunities to Filipino people to work in local government positions.
SUMMARY OF RESULTS:
Here is the List of Region 1 Passers (Professional Level)
August 4, 2019 Civil Service Exam – Pen & Paper Test (CSE-PPT)
Professional Level – List of Passers
Civil Service Commission Regional Office No. 1 (Ilocos Region)
ABAD, VIRGINIA   M
ABALOS, DANIELLE ANNE   L
ABALOS, MARGIE   F
ABANDO, MARC ARIZON   B
ABELLERA, MARIBEL   A
ABEN, CAROLINE   F
ABIAN, APRIL KATE   B
ABON, JASTHEN   U
ABON, SHARMAINE   A
ABRIGO, GIOVANNI   B
ABRIO, RUTH   P
ABUAN, AIRA ALYSSA   R
ABUAN, TIFANIE   F
ABUN, BEVERLY KIM   O
ACEBES, ALTHEA JAN   O
ACOB, JERIECKA
ACOB, RICHARD   A
ACOSTA, CHRISTIAN   G
ACOSTA, DIETHER PAUL   P
ACOSTA, ELLEN   S
ACUÑA, AILEEN   C
ADALEM, JUBY ANNE   L
ADRIANO, JENINE   M
ADVINCULA, JENIKA   S
AFICIAL, TRISHA MAE   C
AGAS, DHAN MARK   O
AGLOSOLOS, JOY MARIEL   N
AGPAOA, ARIANE MAE   C
AGRUDA, NIÑA MAE   E
AGTANG, CRIS JADE   T
AGTARAP, LORI-AN   P
AGUIRRE, YOLANDA   M
AGUSTIN, VEACHRYZZEA JOYCE   E
ALAC-AC, RUTHLYN JADE   B
ALBALOS, NYLA KRISELLE   A
ALBARILLO, PIO  II R
ALBEZA, CAROLINE   B
ALCONIS, GWENDLE MAI   S
ALICAY, ALVIN   B
ALMERO, KENDREE   A
ALMODOVAR, EDDY BANAT R   JR
ALONZO, ROMEO  JR. D
ALVAREZ, ERIKA   L
ALVIENTO, MARCO ANTONIO   R
ANCHETA, BERNADETTE   L
ANDAL, TRISTAN JAMES   S
ANDAYA, ABIGAIL   A
ANDRES, ELOISA JEAN   L
ANGA- ANGAN, JERIK   P
ANGALA, KRISTELLE JOY   R
ANGALA, KRISTIAN ROSE   S
ANSELMO, NICOLE
ANTOLIN, AIRA MAE   R
ANTOLIN, HANNAH MARIE   T
ANTONIO, ANA SOPHIA   S
ANTONIO, IAN CHRISTOPER   A
APALISOC, KHAYLE MARIE   F
APIGO, ISMAEL   N
APILADO, ABBY   C
APILADO, EUNICE   C
AQUINO, ARBE RYLE   Q
AQUINO, BOJO   D
AQUINO, CLARITA   C
AQUINO, JERICA
AQUINO, JULESSA THERESE   D
AQUINO, KIMBERLY ANN   B
AQUINO, MARGARITA   M
AQUINO, MARK JOVEN   L
AQUINO, THERESA   D
AQUITANIA, VICTOR  JR. F
ARCE, ALELI   T
ARMAS, JOHN MARK   A
ARNESTO, RAFAEL   B
ARQUILLO, VICTORINO  III C
ARQUITOLA, MARIANE   S
ARZAGA, JOHN REY   B
ASCAÑO, MICA   R
ASUNCION, MAY ANN JOYCE   B
ASUNCION, VALERIE THEA   B
ATAYEV, MA ELENA   R
AUJERO, JOHN NATHANIEL   J
AZADA, JONATHAN   S
BACUD, FLORDELINO  JR. C
BAGUINO, RAYDELYN   A
BALADAD, ALVIN BRYAN   P
BALADAD, MARK   F
BALBAS, HERBERT   Y
BALDESTAMON, MARIA LUISA   C
BALLESTEROS, MONICA PAULA   G
BALOLONG, JESSICA   S
BALTAZAR, BENEDICT   C
BANAL, JORDAN   N
BANAN, DANIEL CLARK   P
BANAYAT, KATTIE ANNE   C
BANISA, ROSEMARIE   G
BARBADILLO, BERNARD JEROME   C
BARGAS, MARGO ANGELICA   C
BARRIOS, CARI MARCO   P
BARROGA, MELISSA   C
BARTOLOME, ROSALIE   V
BARUT, ROMELIA   V
BASCO, ZEATRIX   A
BATARA, FLORIE MAE   V
BATTAD, MARGERY MILINE   C
BAUTISTA, JERICA   M
BAUTISTA, JOSEFINA FLORA   L
BAUTISTA, KIMBERLY ANN   P
BAUTISTA, MA PHIE-ANN   G
BAUTISTA, MARIELLA   V
BAWAT, JANUARY GUIA   C
BAYONA, KENNY JOHNSON   M
BEDANIA, JOVELYN   B
BELARMA, KEANU   C
BELEN, NINA RICCI   B
BELENA, HERMI LORAINE   D
BELLON, EMERSON JAY   P
BELO, JAYSABEL   M
BENITO, MELANIE   G
BERIN, IRENE   V
BERMUDEZ, ALEXANDRA YVES   M
BERNAL, JUNEL CHRISTIAN   B
BERNAL, KRISTINE ANN   B
BERNARDO, JUNNAICA AIRA   M
BILAG, JASMIN   B
BILLOTE, JAN DARIEL   C
BINGAYAN, ANGELINE   S
BLANCO, CHRISTIAN PAUL TOBY   M
BOSNILA, MARK LAWRENCE   B
BRAGA, NIKKA MARIE   S
BRAVO, AURELIO   M
BRIONES, JAYE DANIELLE   B
BROWN, MART STEPHEN   B
BUENALUZ, MYLENE   C
BUENAVENTURA, JOANA CHRISTINE   M
BUGARIN, JEROME   T
BULATAO, ELREYNIZA   A
BULOSAN, JANE LOUISE   I
BUMACOD, MARJORIE   C
BUSTAMANTE, CLARENCE   E
BUTAC, PRINCESS KATRINA   P
CABALLERO, MARJORIE   B
CABANAYAN, CAREN GRACE   R
CABANTING, REGIE   P
CABILDO, MARIDEL   P
CABILLO, DOLOR   G
CABINGAS, RUSSELL   G
CABUNOC, VON ERICKSON   R
CACAYAN, CHRISTIAN BRIAN   C
CACOT, CHRISTIAN ACE JOHN   A
CADANG, JEAN   G
CADIZ, LIZETTE   B
CALABAG, SYRELL   L
CALANTES, KRISTEL   G
CALIMLIM, JEROME   O
CALISAAN, AZIEL JOY   D
CALIZO, MAE   S
CALMA, ROWBBY GWYN   C
CALUSCOSIN, BUENAVENTURA  III P
CANILANG, CHRISTILE JOY   J
CAPITAN, NATHANIEL MARK   V
CARAG, JAN PAUL   R
CARAGAY, MARIA FLORIDA   P
CARAGAY, MARYLYN   R
CARANE, JERUSZEL GRACE   D
CARBONELL, JENNIFER   M
CARDENAS, LORRAINE   M
CARGANILLA, HANNA MAE   T
CARGO, APRILYN JOY   T
CARIASO, HAZEL   R
CARIÑO, DICKSON   C
CARIÑO, JARED ANDREW   C
CARIÑO, KIMBERLY   M
CARIÑO, RENATO  JR. B
CARIÑO, STEVEN JOHN   C
CARRERA, DIVINE GRACE   T
CARTA, MARIA JHOANNA   A
CARVAJAL, JUDITH   C
CASEM, ELENA MAE   S
CASEM, RIZZA   N
CASIL, CYD   B
CASIPIT, CHRISTINE JOY   B
CASPE, IRISH NICOLE   B
CASTAÑEDA, KEVIN ARNOLD   M
CASTELO, CHRISTINE ANN   C
CASTILLO, MARIA ERIKA   N
CASTILLO, VANESSA   B
CASTRO, KEANU   V
CASUGA, MARC EMERSON   R
CASUGA, ROLAND  JR. B
CATABAY, DWIGHT RYCHL   R
CATARIG, NIKKA DIANNE   P
CAYABYAB, ALYSSA   C
CAYABYAB, JERMIE   P
CAYAGO, MARK GENESIS   C
CAYAGO, ROWENA   DC
CELI, IRVIN   M
CENTENO, MINELLI   B
CERENO, KAREN   A
CHAVEZ, JAMAICA   O
CIANO, SHEILA MAE   U
CLOMERA, DANNIELLE JEANNE   E
COLIS, LAURENCE MARK   G
CONCEPCION, JHEYZIEL   C
CORBILLON, MA KRISTINE JOY   F
CORPUZ, KARL VINCENT   C
CORPUZ, MARK LOWIE   B
CORPUZ, RUTH ANNE   B
CORPUZ, SHANE LYCKA   G
CORRALES, CLEVER GENE   G
CORREA, KRISTINE VENUS   S
CORTES, ROSEMARIE   F
CORTEZ, DONITA   V
CORTEZ, MARICON   R
CRISOSTOMO, DANIELLE ANGELA BERNADE
CRISOSTOMO, GERALDINE   C
CRUZ, CRESELDA   J
CUDAL, PAMELA KATE   M
CULBENGAN, WILBERT   D
DABU, JOAN   C
DADIS, ANGEL MAE LYKA   S
DAGUPION, MONETTE   B
DALISAY, JAMAR   E
DALIT, LOREN JOY   R
DAMASCO, KYLA ANGELA   R
DAMASO, DANILO  JR. B
DANGCIL, GUILLAN JOYCE   T
DAOA, MAR JURINE   R
DAPROZA, SAMANTHA   R
DATU, ANNA RUTH   E
DAVID, JAZEL JAN   E
DE DIOS, ELMA   M
DE GUZMAN, AMAPOLLA   C
DE GUZMAN, BENJIE   M
DE GUZMAN, DENNIS   L
DE GUZMAN, GWEN DARYL   B
DE GUZMAN, JANET   C
DE GUZMAN, MARIA LUISA   V
DE GUZMAN, MARY JANE   N
DE GUZMAN, MICA JOYCE   C
DE GUZMAN, ROSELLE JOYCE   M
DE GUZMAN, ROY   M
DE LA CRUZ, CHARMIN JOY   B
DE LARA, JOHN LESTER   G
DE LEON, RIZA JAYNE   L
DE VERA, BEA MICHAELA   B
DE VERA, CHRISTINE JOYCE   F
DE VERA, ROY CHRISTIAN   T
DE VERA, VON JOSEPH   G
DECANO, CINDY   P
DEL ROSARIO, AGNUS DEI   P
DEL ROSARIO, CRISTINE JOY   A
DEL ROSARIO, MAYJETH CLAIRE   L
DEL-IS, BENJIE   B
DELA AUSTRIA, ESTHER JOY   P
DELA CRUZ, DIAN   S
DELA CRUZ, KRISTINE ANNE   T
DELA CRUZ, KRISTINE JOY   R
DELA CRUZ, MARIEL   V
DELA CRUZ, PRINCESS   J
DELA CRUZ, RALF   L
DELA CRUZ, SHAIRA MAY   C
DELA CRUZ, WINDY   P
DELFIN, MARK MEYNARD   C
DELIM, ELMIRA   G
DELOS ANGELES, JOMAR   E
DELOS REYES, JENNIFER   F
DELOS SANTOS, KARL MATTHEW   A
DEOCALES, ROEL ADRIAN
DEPALAC, JOVITA   R
DEUS, CHARLOTTE   B
DIAN, ANNAJANESSA ANGELICA   D
DIAZ, CHARLENE IVY   S
DIAZ, STEPHANIE GAIL   B
DIEP, MAJALYN   M
DIFUNTORUM, JENIFFER   T
DIMAYA, JAYSON   C
DIOLASO, ARTHEMNSON   A
DISIERTO, RICHARD   R
DISPO, KATHLEEN   G
DISPO, KRISTINE   F
DIZON, KATHLEEN   B
DOMINGO, ENA HAEL PORTIA   A
DOMINGO, FARAH JAINE   C
DOMINGO, LUIS MIGUEL   T
DOMINGO, NATHANIEL CHRISTOPHER   J
DORIA, SHANADINE   D
DREESSEN, COLEEN   T
DUL-LOOG, JANINE MAE   B
DULAY, JOSHUA ALPHONSUS JAMES   B
DUMANAS, SHARMIE ROSE   D
DUMAYAG, PRINCESS KAYE   J
DUMO, LOVELY JOY   A
DUMPIT, PRINCESS   R
DUQUE, JENNILOVE   G
EDJAN, DIANA   P
EISMA, SHIELA MARIE   E
EJERCITO, PAULINE MAE   E
EMATONG, JEZELLE   P
ENRIQUEZ, JELLEN   D
ENRIQUEZ, KATHERINE   Q
ERAZO, JOHN RAYMUND   L
ERISE, JAMAELA ROSE   S
ESCAÑO, MICHAEL   C
ESCAÑO, XYRA KAREN   DC
ESMERALDA, MAURINE MAE   Q
ESPEJO, JAEMEE ERLEEN   T
ESPELITA, CHARLENE   B
ESPENILLA, DIVINE ANGELIE   M
ESPERO, OLIVER   D
ESTACIO, JODIE   Q
ESTONILO, EDEN GRACE   V
ESTOQUE, JASMIN   V
EUFEMIA, GISELLE ANN   F
EVANGELISTA, APRILLE JOY   B
EVANGELISTA, NIKKO ANDREW   B
FABELICO, JULEI MARANATHA   G
FABRIGAS, LILIBETH   C
FERNANDEZ, CHARIZE   S
FERNANDEZ, GLAMORFE   A
FERNANDEZ, JANE ROSE   T
FERNANDEZ, JAZREEL   A
FERNANDEZ, JOY   M
FERNANDEZ, KHICY   N
FERNANDEZ, MARY JANE   E
FERNANDEZ, RIZALYN   B
FEROLINO, RENALYN   S
FERRER, ANNIKA ROSE   C
FERRER, DEXIE JUDITH   D
FERRER, EUNICE   G
FERRER, JELLY PEARL   C
FERRER, ROWEL   G
FESTEJO, GIAVANESSA   L
FIGUEROA, ROBERT FRANCIS  II A
FINES, MARIELA CELINE   A
FLORENDO, ARI STEVEN ZEUS   L
FLORES, MARJORIE ANN   G
FLORES, MICHAEL KARL   C
FLORES, PRINCESS MAE   B
FONTANILLA, KATHLEEN MAE   D
FORMACION, FERDINAND  JR. A
FRANCHE, ALAIN MICHAEL   M
FRANCISCO, ELDRIDGE FLORO   T
FRIAS, CARLO   L
FRIAS, MARIANNE CHESKA   T
FUCLAN, KARISKA   B
FURUGGANAN, ATHENA LUIZA   B
GABRIEL, JOE MARIE   B
GABRIEL, MA. PANELA   D
GABRILLO, NICO   C
GACAD, JAN ALENDER   S
GACULA, ROMMEL   G
GACULAIS, JOSHUA JOHN   M
GADIA, JOANNA LOURDES   H
GADINGAN, JENNIFER   E
GADINGAN, LEA   A
GADUT, FILIPINA   D
GALA, CHRISTINE   E
GALACE, GERARDINE   C
GALAPATE, REGINA JOYCE   C
GALAPON, MAUREEN   D
GALDONES, CELINE D   C
GALERO, JEROME NEIL   G
GALINDO, ANGELICA   C
GALLARDO, EDISON JAY 'EJ'   D
GALLARDO, NIEVA ERALYNN   M
GALLARDO, RISCEL ANGELA   D
GALVEZ, MARGIE   V
GAMAYON, LYLE WAYNE   C
GAMOL, REYWARD JAKE   M
GANAPIN, VINCENT   V
GANGE, CARLA JANE   R
GAOIRAN, MARK LEVIE   J
GAONA, YUNIQA RHOSS   F
GAPUZ, ERVIE   R
GARCIA, CHRISTINA   C
GARCIA, CRISTINE JOY   O
GARCIA, DANICA   L
GARCIA, KAREN COLLEN   G
GARCIA, MA ANTONETTE   S
GARCIA, MARIVIC   B
GARIN, RICHARD GLENN   Z
GASCON, KENNY HENSCHLL RAY   A
GAUDIA, AMIEL BRYAN   R
GAYO, ASLEY JAN KENNETH   A
GAYO, JOJINA   A
GOMEZ, KRISTIAN LEIGH   C
GOMEZ, NINA JOYCE   B
GONZALES, CLARESSE   P
GONZALES, PRECIOUS JANNELE   B
GONZALES, WENIE LOU
GRAGASIN, SHERWIN JOHN   F
GUALON, RIA MAE   G
GUIEB, ABNER   B
GUINID, LOVELYN DANICA   T
GUITTAP, REYNA MYR   C
GUNTANG, FATIMA AUDREY   R
GUTIERREZ, ANTHONETTE   B
GUTIERREZ, ESTHER   R
HABAN, RODALYN   L
HERNANDEZ, RON JOSHUA   L
HERNANDEZ, THEA ELOAH LAARNI   V
HIDALGO, RHEMA  II M
HILOMA, SHERWIN   M
IBAÑEZ, TAIRELYN   B
IBO, JOANA JANE   A
IGNACIO, JAYSON   C
INES, JARMAINE JOHN   M
INOCENCIO, RUFINA   C
JACINTO, RACHELLE   D
JAVIER, CRISTINE ANNE   R
JAVIER, ERWIN  JR. C
JAVILLO, HANNAH DIANNE   D
JAYPE, KAREN   M
JIMENEZ, CHARLOTTE LOVELY   S
JORGIO, BRYAN RHEY   L
JOSE, JAYVEE   P
JOVES, KRISTINE MAE   S
JUAN, ABIGAIL   R
JUAN, CHRISTINE   R
LABAHAN, SHIELA   R
LABARO, XYRELLE GRACE   D
LABIANO, MARK KELLY   V
LACSON, CHRISTINE   DS
LAGLIVA, ROBINSON   Y
LAGRANA, GELLIE   C
LAGUNA, ANNE EUNICE   I
LAMPITOC, FRANCIS IANDALE   M
LANGCAO, PRECIOUS YVONNE   M
LAPEÑA, LARA JENICA   O
LASQUITE, SHEKINA KIM   L
LATIZA, KRIZZIA   B
LAUD, JAMAICAH   B
LAVITORIA, ALMIRA JOY   L
LAXAMANA, KENETH   S
LAYUG, AUDREI   B
LAYUGAN, RITZ SHYRIEL   A
LAZA, MARK VINCENT   R
LAZO, KATE VALERIE   D
LAZO, PRINCESS VALERIE   R
LEDDA, DOMINIE   B
LIBRES, MA STEPHANIE MAE   M
LICUAN, STEPHANIE JOY   C
LICUDAN, LILYBETH   H
LIMON, MARICAR   L
LIWAG, KARLA MAE   C
LLOBRERA, ZAYRA GRACE   B
LONTOC, ALFRED   F
LOPEZ, ED RAYMOND   D
LOPEZ, LEAH   C
LORENZANA, RANDY   V
LOW, RUTH ANNA   A
LUBAT, JOYME ANN   D
LUCENA, AIMEE   P
LUCERO, NIÑA ROSE   S
LUETE, JERELYN   R
MABALOT, ELLA MARIE   T
MACANAS, ALICIA   M
MACAPULAY, CLINTON JOHN   D
MACARAEG, JESSAMINE PAULA   Q
MACARAEG, PETER LAWRENCE   D
MACARANAS, ALYSSA   B
MACASINAG, JOSSA MAE   L
MACEDA, RUBEN  JR. F
MACUSI, KING JARED   B
MADOLORA, ALYSSA IVY   C
MADRIAGA, AARON JAN   B
MAGAOAY, DONNALYN TWINKLE   A
MALABED, AIRIEL VOSS   C
MALASIG, ANTARES   G
MALLARI, SIGRID   Y
MAMACLAY, CARLA JONES
MANDAPAT, BERDIEN KEITH   T
MANGAOIL, ALTA VIDA   V
MANGILAYA, CHRISTINE   N
MANGLAL-LAN, JANINA SHAINE   T
MANGRUBANG, QUEENY JROSE   G
MANUEL, ALLIAH COLLEN   R
MANURAC, VHIAH   E
MANZANO, MERY JANE   G
MAPANAO, XENA NETHANEL   N
MARAÑA, JOSHUA   P
MARIANO, JANTRIE   L
MARQUEZ, BERMORQUIZO   B
MARQUEZ, KARL GEORGE   A
MAYNES, DAVID REDMON   A
MEDRANO, JENNILYN   O
MEDRANO, JOYCE ANN   A
MELCHOR, KAHREM   M
MENDOZA, ANGELIKA   P
MENDOZA, RUFINA   A
METIAM, MIHUKO   P
MINA, ALEXANDRA   M
MIRANDA, ALVIN   C
MIRANDA, DEXTER   A
MIRANDA, DIANA MAE   L
MISLANG, ANGELICA   E
MOLINA, FRENNIE LEI   A
MOLINA, JASPER IAN   F
MOLINA, VALERIE   F
MONTILLA, MIA ROSE   A
MORALES, ELLA MAE   A
MORANTE, CHRISTELLE JOE   A
MORANTE, SOPHIA MARIE   B
MOULIC, ARLENE   T
MUNDA, GRACE RINA LEIGH   C
MURAO, GEMMA   DC
MURAO, RICHARD   R
NABONG, KRISA MARIE   P
NACARIO, JOANNA MARIE
NAJERA, AJEI   G
NAVALTA, MARIA ELIZAJHEN   G
NAVIDA, LAARNI   S
NEMEDEZ, JEWELL RAE   F
NGAYAAN, JEREMY   D
NICOLAS, DEBBIE   S
NIDUAZA, DANICA   T
NILO, SYL ANDREA
NIÑO, CIR JOHN   E
NOBLE, RACHELLE   N
NONGA, RIZA MAY   C
NORBERTE, JENNED CARMELA   G
NOVELOZO, SONNY JIM   G
OBADO, KRISTINE CAZANDRA   U
OBICE, XILCA JAY   N
OCAMPO, DIANE   C
OCAMPO, STEWART   C
OCAMPO, VINCENT ADRIAN   J
OCSAN, ALEXANDRA   N
OLIVEROS, FRANCIS JONATHAN   P
OLLER, CHARISSE   U
OREAL, ZHIELBE ROSE   O
ORIBADO, ARLENE   V
ORPILLA, SAPPHIRE JENN   A
OSTREA, MARY JO   B
OYANDO, MAY   L
PABLICO, FRANCES NOREEN   S
PACION, MARK BENELTON   O
PACPACO, MATT ANGELO   A
PADILLA, JOAN   D
PADILLA, PERSEVERANDA   D
PADILLA, RHEA MAE   G
PADRIGO, PAUL JOHN RIGOR   T
PAGDILAO, CLAIRE JASMIN   S
PAGUIGAN, MARILYN   M
PAINO, MYLA NIKKA   D
PAJIMOLA, BENJIE  JR. L
PAJIMOLA, KARL JOSHUA   R
PALABAY, ROWELA   A
PALACAY, IVYFER   P
PALAPALA, RONALD   P
PALILEO, ANGELA DEBRA   S
PALISOC, JANINE MARIAH   S
PALMA, MARIE JANE   R
PAMANI, WINALYN   C
PAMBID, JAY MAURO   G
PANLILIO, ERICA MAE   J
PARAGAS, NICO   P
PARAYAOAN, JANN CARLO   E
PARAYNO, MARJORIE   M
PARONG, GABRIEL LORENZ   S
PASCUA, DULCE AMOR   H
PASCUA, FRANCES JOY   V
PASCUA, HERSHEY JOY   C
PASCUA, LORY JAMES PATRICK   T
PASION, JAN VINCENT   M
PAZ, NIMALYN   G
PERALTA, AILEEN   R
PERALTA, ANNA MARIE   R
PERALTA, PATRICK AVIEL   R
PEREZ, JULIE ANN   F
PEREZ, KIMBERLY   G
PERIÑA, MARIVIC   M
PIANO, JAMAICA IVY   H
PILLADO, ALEXIS   Z
PILORIN, MONICA FAYE   C
PIMENTEL, MELISSA FAYE   A
PINEDA, ALBERTO  JR. P
PIOQUINTO, RANELYN MAE   R
PITAS, NOVEE JANE   M
PITPIT, SHEELA MAE   V
PIZARRO, DIOSDADO   L
POBRE, MARIAH KATHLYN   S
PONDOC, JOHN LYNDON   S
PRADO, ELMHER   G
PUNGTILAN, MARC DAVID   M
PUYOT, FLORENZ ANTHONY   M
QUARIO, DIANA JANE   Q
QUIJANO, RACHEL   C
QUIMMA, JOHNRY PAUL   A
QUINDIPAN, FERDIE   A
QUINES, AILDON RON   P
QUIÑONES, MARIA ANABEL   B
RABADON, JESSAMINE   C
RABAGO, VICKY   N
RABANAL, JENNYLENE   C
RABANG, ABBYGAIL   A
RABE, JOYCE   R
RACRAQUIN, JAYREEN   M
RADOVAN, TRIXIA MAE   M
RAFAEL, KIM DAVE   B
RAFANAN, HAZEL COLEEN   R
RAGUCOS, BRIAN   L
RAI, KAREN   B
RAMIREZ, VINCENT   E
RAMOS, EDINA   C
RAMOS, MA CHRISTIAN   A
RAMOS, MARILOU   P
RANCHE, JAMAICA RENZ   F
RANCHES, SHIELA ANN   M
RANTE, CHRISTINE MIA   G
RAPACON, RYAN   T
RAVANA, MARK ANGELO   B
REALIN, RUSSELL DAVE   L
REBAULA, MA CAMILLE FAITH   P
REBOLDELA, IAN CHRISTOPHER   D
RECOSANA, GLYDEL   M
REDONDO, MIKEE KRIZZA   P
REOTUTAR, MARY JASMINE   R
RESPICIO, JULMAR JADROSS   L
REYES, JULIAN CYRIL CHRISTIAN   P
REYES, MELODY   Q
REYES, REYMARI FE   G
REÑIDO, LHIZE JOY   C
RICARDOS, KLENTH MARIZ   J
RILLORTA, BRIX BRYAN   C
RIMAS, LOIME   J
RIMORIN, ARIES   H
RIMORIN, MARK   P
RIN, VERENA   V
RIÑEN, ROJAN JUVEL   M
ROAQUIN, KRISTINE MARIE   N
ROCERO, FERNANDINA   C
RODRIGO, RENALYN   A
ROGANDO, MAEGAN   F
ROL, ESTELITA   B
ROSARIO, HAROLD   P
ROSARIO, TALISHA BERNADETTE   B
ROSAURO, CORAZON MARIA VICTORIA   P
ROSETE, ROSELIN GRACE   L
RUIZ, GRACE   C
RUIZ, KRISTONEIL   R
RUMBAOA, KRISTINE JOY   B
SALAK, FLORA MAY   D
SALAYOG, HANAN KORIN   S
SALTA, ANTONINO   Q
SAN JUAN, RATZIEL   A
SANCHEZ, JOHANNALYN   M
SANCULI, MIEL YSABEL   P
SANGALANG, ABIGAIL   M
SANGIL, ARYANN PAMELA   G
SANTELLA, NOEL   U
SANTIAGO, KATHERINE DENISE
SANTOS, APPLE KATE   B
SANTOS, HAZMINE   P
SANTOS, JUNALLYSA   D
SAOIT, KIM JOSHUA MARI   S
SARENO, BRIAN DEL   P
SEBASTIAN, CRESTEVELLESA   B
SERQUINIA, MON CEDRICK
SIAPNO, GRACE   M
SISON, MARVIN   B
SOBREPEÑA, KRISTINE JOY   R
SOCIAS, KIMBERLY   D
SOLAR, JULIUS CAESAR   A
SOLIS, MARILOU   C
SOLIS, RACSHED   P
SOLIVA, ELMARIE   A
SOLMERIN, CHERRY GRACE   S
SORIA, JUNE MARLOWE   A
SORIANO, MARIEL   E
SORIANO, MIKEL MORRIS   R
SORIANO, PAMELA   C
SORIANO, RENALYN   A
SOTELO, LAIMA   Q
SREEDHARAN, EDITHA ELEONOR   C
STALCUP, FRANCES   I
SUDIACAL, STEPHANIE ANNE   V
SUNGGAY, CRISELDA   S
SUPANG, CHRISTINE MAE   M
SUPNET, MA ISABEL   S
SY, REUBEN MARI   E
TABANGIN, JESSABEL   D
TABARNILLA, CHERYLL ANN   T
TABOGA, INNAH MARIE   V
TACADENA, LEIANNE   M
TACDOL, KC LHYN   P
TADENA, ASLEY JOY   V
TADINA, GEL   G
TAGACAY, ALDEJAMEN   S
TAGATA, HALE JAPETH   R
TAGAY, CHINO RODNEY   A
TAGULAO, MA REANN MAIZIE RIZZA   B
TAHIL, SIEGFRED ACE   M
TALUBAN, SHALOM AMORE   C
TAMAYO, MARIBETH   A
TAMAYO, VANNESSA   S
TAMONDONG, MA KLEIA NICOLE   C
TAN, ELAINE GABRIELLE   A
TANGO, KAIZEN   A
TEÑOSO, JOHN DAVE   L
TIONG, TROI DANIEL   B
TIU, MARIAH KRISTHIANNA   P
TOBIAS, JOHN DAVE   S
TOLEDO, OSCAR   R
TOLENTINO, ANND'RHEA MARIE   R
TOLENTINO, JULIUS   M
TOLENTINO, KRISTINE MAE   A
TOLENTINO, WINSTAR KING   G
TOMAS, JAYZEL MAE   S
TOMAS, MARIA JONALYN   C
TOQUERO, RACQUEL   R
TORRES, IVY ROSE   I
TUAZON, JHYTT   R
TUGAS, EDDIE   R
TULIAO, KATHLYN JOYCE   T
TUMABCAO, AIMEE   N
TUNGPALAN, REGGIE LYN   C
UBALDO, LEAH FAYE   P
UBALDO, MICHELLE   C
UGALDE, SHARLYN   R
UGALE, ANALYN   R
UGERIO, CRISTIAN GHIL   S
ULABO, MCKLEENE ALLEN JOY   V
ULANDAY, MARJORIE   M
ULEP, MA KRYSIA MAE
UMAGUING, JOANA MARIE   S
UNGOS, ERICA   B
URBANO, LEMUEL JOHN   F
VALERIO, LIANNE CARLA   S
VALEROSO, RHEA   A
VALLENTE, JOHN COBY   A
VALMONTE, JONALYN   P
VASQUEZ, JONALYN   B
VELASCO, RIZELLE JOY   M
VERZOSA, ALOYRA GAYLE   P
VICTORIO, JOLLY HAZEL   R
VILLAMOR, MARK LAWRENCE   R
VILLANDA, RUBY LYN   M
VILLANUEVA, KATHLEEN MAE   A
VILLAR, JADE GLYDEL   R
VILOG, JEFFREY   S
VILORIA, AILA MARIE   C
VILORIA, GELYN MAY   G
VILORIA, MEL JOSEPH SKY   C
VINLUAN, KENNETH WAYNE   P
VISPERAS, NEAH SOPHIA   V
YADAO, MYRA   Y
YAMBOT, JOHN KENNETH   Q
YAMBOT, TEODI MARK   C
YSIP, BRENDA LYNN   P
YUNGCA, GEE-YROLLE   R
ZARENO, CHELSEA RAI   C
ZULUETA, LEE ANN   H
Exam Coverage
Professional Level (Prof) – In English and Filipino
Numerical Ability (Basic Operations; Word Problems)
Analytical Ability (Word Association – identifying assumptions and conclusions; Logic; Data Interpretation)
Verbal Ability (Grammar and Correct Usage; Vocabulary; Paragraph Organization; Reading Comprehension)
General Information (Philippine Constitution, Code of Conduct and Ethical Standards for Public Officials and Employees RA No. 6713, Peace and Human Rights Issues and Concepts, Environment Management and Protection)
SubProfessional Level (SubProf) – In English and Filipino
Numerical Ability (Basic Operations; Word Problems)
Clerical Ability (Filing; Spelling)
Verbal Ability (Grammar and Correct Usage; Vocabulary; Paragraph Organization; Reading Comprehension)
General Information (Philippine Constitution, Code of Conduct and Ethical Standards for Public Officials and Employees RA No. 6713, Peace and Human Rights Issues and Concepts, Environment Management and Protection)
Release Date
The official exam results are expected to be released within sixty (60) days after the last day of examinations or on October 10-13, 2019.
Note
However, the CSE results might be released earlier or later without prior notice from CSC.