Here is the Civil Service Exam Result August 2019 Including The CARAGA Passers (Professional Level)
The Civil Service Commission is about to release the Civil Service Exam Result August 2019 including the CARAGA passers (Professional Level).
The August 2019 Civil Service Exam Results including the official list of passers and top notchers for both Professional and Sub-Professional Level will be available on this website after it will be released by CSC.
The Civil Service Exam – Pen & Paper Test (CSE-PPT) have been given at CSC testing centers in NCR, CAR, CARAGA, ARMM, and all regional testing centers in the country on August 4, 2019.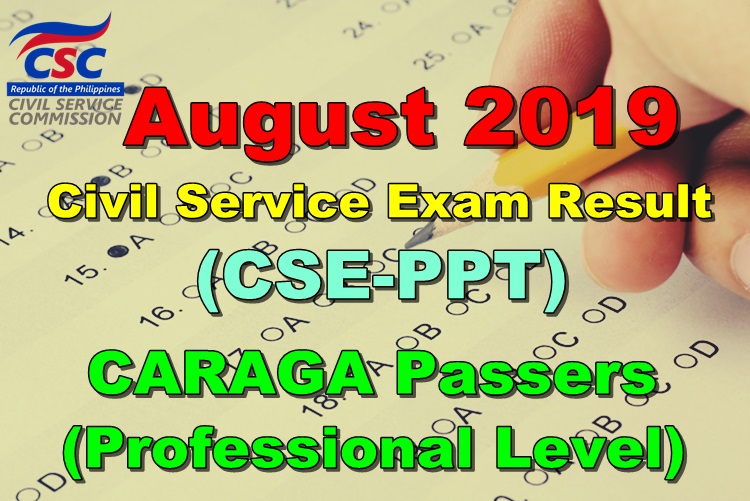 The CSE-PPT is an eligibility examination that gives opportunities to Filipino people to work in local government positions.
SUMMARY OF RESULTS:
Here is the List of CARAGA Passers (Professional Level)
August 4, 2019 Civil Service Exam – Pen & Paper Test (CSE-PPT)
Professional Level – List of Passers
Civil Service Commission Regional Office No. 16 (CARAGA)
ABALOS, JHUN   L
ABAO, ARA   C
ABAO, JAY   L
ABRAO, MARY HAZEL   D
ABRENICA, JOYMAE   P
ABRIGO, JESSICA   A
ACASO, IVY ROSE   D
ACIDO, JOHN MARK AGUSTIN   E
ACIDO, MARNELLIE   E
ADLA-ON, HANNALOU   J
AGRAVANTE, ANARIE   D
ALCANTARA, ARTZI CONZ   N
ALGABRE, ARIEL   P
ALLIAN, ARDHASER   U
ALMENARIO, NEIL IVAN   E
ALMONTEROS, JAYRHOM   R
ALNGOG, GRACE   A
ALVAREZ, KIMBERLY   M
AMPER, GENLIE   P
AMPOLOQUIO, EDU   B
ANCIO, BRYAN   R
ANIÑON, ARIANNE KIM   T
ANIÑON, NIKKA MAE   M
ANNO, BEA   T
ANTIGRO, ANTHONY JHAKE   R
ANTIPORDA, MANELYN   J
ANTONIO, APRIL LOVE   J
APATAN, EDDIE   B
APELLADO, AIRA   S
ARREZA, DAN JASON   B
ARTIGO, KRISMAE MARIE   A
ATENTA, FLORIE ANN   L
AUSTIN, MICA   J
AVILA, LEO AQUILINO   I
AZARCON, JULIA TONI   L
AÑODA, AIRENE FAYE   S
BA-A, DAISY   M
BADANA, ADRIAN JOE   J
BADIAN, JUN REY   I
BADIOLA, APRIL AN   N
BAGCAT, LEO TRISTAN   S
BAGNOL, RUFFA MAE   D
BAHATAN, BLESIE   S
BALBIN, JUNRIE   A
BALDERAS, MARLOU   L
BALDOMERO, EDEM JOY   D
BANDO, HONEY MAE   S
BANDOY, KIM   A
BANOSONG, JOYBEL   B
BAROTIL, NANCY   G
BARRIOS, CHRISTY   A
BASTES, SHARLIN   B
BATINGAL, FLORDELITA   M
BAYSON, KATE DENNICE JOY   O
BESINGA, JAN CHRISTIAN   C
BESMONTE, EUMILYN   S
BIBAT, JESSA MAE   G
BICO, COLEEN FAYE   V
BOLAMBOT, MELISSA JANE   L
BOMEDIANO, CHESKA   M
BOMEDIANO, LOVELLA JEAN   M
BONDOC, KAMILLE ANN   S
BORCES, JOHNSON   J
BORDARIO, KENNETH RAY   J
BORJA, CESAR  III A
BORJA, JENEVA   M
BRIER, EMILY   P
BRIONES, MERALYN   A
BRUCE, RAYMUND   D
BULAT-AG, ERNALYN   A
BULLANDAY, MARTH JID   A
BUSTAMANTE, ROSELLE   D
BUTAYA, JEZYL   V
BUYCO, KRISTINE   D
CABAÑEZ, DANICE ROSS ANNE   A
CABERTE, JENNYZELLE   J
CABILLON, MERLYN   D
CABODBOD, CHRIS ANN   M
CAGAMPANG, JUNIDE JAMES   D
CAGUMBAY, MARK   D
CALIHAT, JADE   E
CALLANO, KIMBERLY   S
CALLOTE, JOCKEY BOY   D
CALMA, MARYANN   S
CALO, ARA
CALO, JOSEPH BIEN CONRAD   V
CALUMBA, ANGEL ROSE   C
CAMPOS, EMMANUEL   C
CANE, GLAIZZA MAE   D
CANONO, HANNA DANNIEN   S
CAPITAL, PRINCESS   C
CAPULONG, MA. KARINA ROSARIO   S
CASINILLO, SHEENA MAE   L
CASTAÑEDA, MARK ROBERTO   A
CASTAÑO, DOYEN   T
CEMBRANO, AMIRA ZVIA   P
CENIZA, ANNALIE   M
CHEN, GOLDIE MAE   D
CHIU, DARYLL   G
CIOCON, BEN ISHMAIL   U
CO, MARY NICOLE   B
CODILLA, KELVIN   Q
COGAL, RAYSEN FAITH   M
COMILLAS, DIONAH MAE   B
CONSUEGRA, BRYAN   P
CORDORA, REGINE   M
COSTA, JONAH   P
CRUIZ, DOMINIC PAUL CHINO   N
CUENCA, ARA KATE   C
CUIZON, ANGELA   M
CURAY, NIDA   P
DAGOC, THERESA MAYE   A
DAGUPLO, KESSA   P
DALUGDOG, MARY GRACE   C
DAPAL, RYAN JAY   G
DARGANTES, MERISSA   T
DE ASIS, ELYSYLLE   E
DE BENITO, DINA   T
DE GUZMAN, CATHERINE   M
DE GUZMAN, CHRISTIAN   M
DE LUNA, DONAVILLE   G
DEIMOS, VHAY   E
DELA CRUZ, BIANCA JUNE   F
DELA CRUZ, JIENNECA   K
DELA ROSA, RIENE CLOYD   S
DEMATA, ROGINCEL   T
DEMETRIO, NIKKA LAI JIN   Y
DIAZ, BETHEL JOY   O
DIAZ, ZARAH   M
DIGOL, NICOLE NIÑA   M
DINGGAL, JOHNMAR   B
DINOPOL, RIZZA   U
DOLLANO, AYESHA RIA   O
DOLORES, DANIEL RHINO   B
DOLZ, DONNALYN   L
DOMINGO, MARK MENUEL   S
DONQUE, JULIOUS REY   A
DUGLAS, ACE RYAN   L
DULPINA, RENANTE   C
DUMANIG, JAY FORD   Q
DUMPE, KAREN JANE   B
EDPAN, FATIMA   M
EDRADAN, ANDRIAN   B
EIGO, MARIA GILDA   C
ELCARTE, MARY GRACE   B
ELICAN, LECENIO  JR. T
ENCARNADO, THERESA   P
ESCABOSA, RITCHELL   O
ESCOTO, PRINCESS CHARMAINE JOY   M
ESCUDERO, MELDY ROSE   T
ESPAÑOLA, JOCELYN   L
ESPEJON, JERICHO   C
ESPERAS, FRENZE
ESPINA, EULEMIO  JR. G
ESPINOSA, CARLITO  JR. D
ESTOBO, PREJELISA   D
ESTOPITO, JEWELLA   C
ETANG, REMAR   C
EVIOTA, KYLE ANDRESON   E
FELICILDA, RODEVICK   L
FERNANDEZ, JAMES FRIAR   A
FRANCIS, JENNIFER   C
FUENTES, MARY JANE   A
FUGNIT, DONNA MONIQUE   N
GALA, TERESA   C
GALAGALA, DIANA JANE   D
GALGO, JUN BRYLLE   V
GAMULO, REGIE   F
GARAY, RAFAEL   O
GARCERO, ELVIE   C
GARCIA, ALYSSA CAMELLE   T
GARCIA, ELAINE ANGELIQUE   O
GARCIA, ROSHEEN PEARL   M
GARCIA, SWEETZEL JANE   L
GARDOSE, ARLEEN   B
GARIBAY, IREN   B
GAVINO, RENZ RODNEY   R
GAYO, ANLENE   A
GERARCAS, CARLYN   T
GERASMIO, NOVELYN   A
GERODIAS, RIZA MAE   H
GIALEN, JOSELLE PATRICIA   S
GILLO, RUSSEL BENJIE   E
GO, MARIA SALVIE   C
GOCELA, JAY MARIE   O
GOLORAN, REYNALD   O
GOMEZ, RICO JAN   C
GONZAGA, CHERRY GRACE   D
GONZALES, ANDREW   A
GONZALES, KRISTIANE MAE   J
GORDO, FELJHUN   A
GRANADA, MICHELE   M
GUARIN, NOEL CHRISTIAN   A
GULLE, ZACHARY CLAIZE   B
GUZMAN, JANICA   L
HANDAYAN, JANDIEL   C
HERNANDEZ, ZENON   G
HIMO, JENNY   L
HUSAIN, DAVE OMAR CHRISTIAN   V
ILAGAN, FRANCIS MIKO   B
INOCENTE, MARLON   S
ITING, DIVINE GRACE   S
ITING, ROSEMARIE   I
JAHALLA, CHRISTINE JANE   S
JALOP, DONALYN   M
JAMORA, MARELLA KRISTIN   E
JIMENEZ, ADRIAN JAN   A
JOSOL, MICA   M
LABAO, VALREX   F
LABITAD, RIENZO JONN   S
LACIA, CRISTINE JOY   P
LAGNASON, CIONE ANNE   R
LAGUNA, MARK VENJI   A
LAMATAO, MYFFER   A
LAMELA, NIELL JHON   P
LAPE, LAIRY BETH   B
LASALA, HYACINTH   B
LAVANZA, ERVIN CHRISTIAN   L
LEAL, JEFFREY   C
LEGASPI, EDLYN   G
LEGASPI, MARIE LOISE   G
LEGASPI, MIGUEL AL LOUIS   L
LEYROS, MAE   P
LIBARNES, CHRISTINE   P
LIBERTINO, AIZA   A
LIGAD, SHERLENE   Y
LOANG, KENAN SHEM   R
LONGAKIT, JEAN   T
LOPEZ, LAURENCE JASON   A
LOREN, SUSETTE   L
LOREN, VON LLOYD   L
LOYOLA, JOHN MICHAEL   L
LUAREZ, ARTH ANTHONY   A
LUBIANO, ALJUN   S
LUIG, RUBY MAE   C
LUMAGOD, JANREY   P
LUMALIS, JONALYN   M
LUMANAO, ANGELEA ELIZABETH   F
LUMANAO, KAYE   A
LUMANAO, NIKKA GEM   A
LUSTERIO, FRITSCHE JOY   A
MABALE, JULIE PEARL   A
MAGALLANES, CHEILA MAE   F
MAGANTE, CLARA   C
MALINAO, FREN ELIAS   D
MALUPA, MICHAEL JAY   A
MAMACOS, JERELYN   C
MANGAPIS, CLAODIN   T
MANONGAS, LEAH GRACE   G
MAPALO, ALVIN   M
MAPULA, JESSA MARIE   P
MARTINOTE, MECHE   F
MAYANG, ORCHID MAE   T
MAYOR, JERRAH   P
MAYORMITA, KYLA CHRISTHER   T
MEDALLA, PANFILO  JR. E
MEJOS, ROWENA   N
MELLOMIDA, KEITH JAN KARL   A
MERCADO, JESSIE MARIE   L
MESINA, KARLA ANDREA   B
MIJARES, AARON JOSEPH   E
MILLANES, DANTE  JR. B
MINDAÑA, CLYDE   S
MINERALES, DECEBEL   C
MOCSANA, NIHAYAH   P
MOLA, PRELYN   C
MOLATE, JOYCE ACE   S
MONTERO, MICHAEL NEIL   A
MONTESCLAROS, LUNYL   S
MONTIL, JAMES   V
MORADA, ALEJO   J
MORENO, MARCO   U
MULA, EDCIL   V
MULA, JOHN KENNETH   P
MULLANIDA, REXJOY   M
MUNDAS, RIZA   F
MURILLO, JERAH   B
MUTIA, ZENNIA GRACIA   V
NABORTE, JEDAHLYN   T
NATAD, THEA INDRA VYRISZZA   M
NAVARRO, JACKYLYN MAE   N
NAZARENO, AIRENE JANE   V
NEIS, ZANDRA LOU   C
NOB, GERSON  JR. R
NOGUERRA, ROWENA JOY   L
OBERIANO, KATE   P
OCHAVILLO, KEZIEL   O
OLIVEROS, HAIDE KENNETH   S
OMAY, EDZELLE ROSS   M
ONGUE, ROGER   L
ORILLO, VINCE   C
ORTIZ, JOHN PAUL   C
PACOT, CHRISTINE JANE   D
PACULLO, CLAIRE   S
PADAYJAG, KISSY MAE   D
PAGAYON, ROWENA   D
PAGLINAWAN, KENNETH   G
PAGUIA, CHERRY   B
PAGUMPANA, LOVEJOY   T
PAL, LAARNI   C
PARING, ALONA   D
PARPAN, ALMOJIL   L
PAULIN, GLENN RABBY   N
PELICANO, JOSHUA   S
PENTIN, PIO   B
PEPITO, ALVIN JAMES   P
PERLAS, MICHAEL JOHN   D
PESCUESO, ABEGAIL   P
PESIDAS, HONEYLYN   D
PINEDA, IAN   G
PITONG, LLOYD   R
POLINA, HEIDE   M
PONTILLO, COLEEN   G
PUDE, CAROLINE   G
PULIDO, RHEA ANGELIE   G
QUIOBE, MARY REJEM   P
RABUYO, MAEGAN GRACE   L
RAMIREZ, RAZUL RADDAMMI   L
RAMOS, REY   D
RAPISTA, MARY ROSE
RASONABE, JOHN CARLO   A
RECAMARA, MARIENELLE   R
RECOMATA, FRANCYN ANN   Y
REGLOS, GLORIA   V
REMOJO, JEVIE   R
RENDON, IMEE CHIARA   B
RESPUESTO, HONEY PEARL   R
REYES, VERNIE MANASSEH   E
REYNA, GODFREY DALE   O
RIVAS, FRANCIS EFRIN   O
ROBUCA, REY MARK   F
ROMERO, JEFREE   S
ROSAL, EVIE   B
ROSALES, JONALYNN   C
ROSALES, RONA CLEOCEN   P
RUEGO, DARYL MAE   M
RUYANA, JOEL   C
SABUTE, ELSA   E
SALADO, FLORDILUNA   S
SALAMO, JEVI RYAN   M
SALAZAR, ALLENE   M
SALISE, ELMER VINCENT   L
SALVANI, GENEROSE   G
SANCHEZ, PAULA SHAINE   P
SARATE, JOBELLE   O
SARMEN, JOHN RON   M
SARMIENTO, DONAH GRACE   B
SARUSAD, RICA   A
SAYAWAN, GLEN BLAIR   B
SAYON, DARYL   C
SEGUNDINO, KEN WOOD   L
SERONDO, GENEROSE   C
SESCON, MARICEL   P
SINTOS, JOSE MARIE   T
SIOLAO, SHIELA   D
STO. TOMAS, GIANN CARLO   B
SUGAY, WILVIE GRACE   R
SULLANO, KIMBERLYN   C
SUMILE, JANE CHRISTINE   T
TABACON, RACQUEL   N
TAN, HANNIE ROSE BEBS   T
TANTOY, AILEEN ROSE   A
TAÑEDO, GILYCA MARIE   C
TELEN, MARAIAH PHILLINE   S
TIAPE, HYACINTH MAY   C
TIBLE, GIRA MAE   G
TIBON, GIBRIAN   S
TOLENTINO, CHERREL   B
TORION, LORDGINA   B
TRAZO, MA ANGELICA   E
TUAZON, APRIL MAE   V
TUAZON, CLYDE ANDREW   L
TUAZON, JEFFREY   U
TUGAY, LAVERNE KEITH   B
TUMALAYTAY, JENIFER   T
UNDUNA, LEO CYL   O
URQUIA, ALEX  JR. E
USON, GENEVIEVE   E
VELASCO, CARLOS VALENTIN  II A
VILLAESTER, ANGELICA
VILLAFUERTE, JARN   T
VILLANUEVA, JOHN   P
VILLANUEVA, MA. KLEAH RONA ROMMELA
VILLARIAS, RAY FRANCIS   L
VILLARINO, JOANINE BLYTH ROSS   C
VILLEGAS, KENDY CLAIRE   A
VIOLANDA, SHEENA   N
VITORILLO, JONALYN   Y
WALIDJI, MARIE   N
YAMSON, GENLY MAE   P
YONSON, ELLAINE MARCIA   T
YUIPCO, CARLOS GAVIN LYNUS   D
ZEMBRANO, ROLDAN DAVE   T
Exam Coverage
Professional Level (Prof) – In English and Filipino
Numerical Ability (Basic Operations; Word Problems)
Analytical Ability (Word Association – identifying assumptions and conclusions; Logic; Data Interpretation)
Verbal Ability (Grammar and Correct Usage; Vocabulary; Paragraph Organization; Reading Comprehension)
General Information (Philippine Constitution, Code of Conduct and Ethical Standards for Public Officials and Employees RA No. 6713, Peace and Human Rights Issues and Concepts, Environment Management and Protection)
SubProfessional Level (SubProf) – In English and Filipino
Numerical Ability (Basic Operations; Word Problems)
Clerical Ability (Filing; Spelling)
Verbal Ability (Grammar and Correct Usage; Vocabulary; Paragraph Organization; Reading Comprehension)
General Information (Philippine Constitution, Code of Conduct and Ethical Standards for Public Officials and Employees RA No. 6713, Peace and Human Rights Issues and Concepts, Environment Management and Protection)
Release Date
The official exam results are expected to be released within sixty (60) days after the last day of examinations or on October 10-13, 2019.
Note
However, the CSE results might be released earlier or later without prior notice from CSC.