Keith Thurman Said Manny Pacquiao Will Be Facing A Hungry Young Lion
Pacquiao VS Thurman – Boxing legend Manny Pacquiao and undefeated Keith Thurman is about to face in the ring on their July 20 welterweight brawl.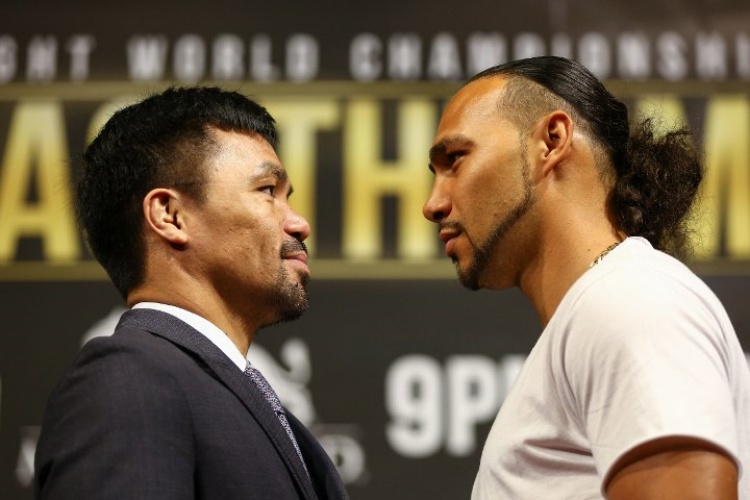 Manny Pacquiao singlehandedly carried Filipino boxing into the worldwide boxing radar. After his recent win against Adrien Broner, here's a list of boxers he could possibly take on next.
Included in the list, is the young undefeated boxer Keith Thurman. After beating Joselito Lopez on the ring, Keith Thurman called out to have a fight with Pacquiao.
Thurman also said he always wanted to face Manny Pacquiao in the ring. He has nothing but respect for the veteran boxer, yet he also vowed to put the veteran boxer where he belongs.
His dream battle would be brought to reality this July 20 in Las Vegas where the two boxers are set to fight.
Keith Thurman is younger by 10 years compared to Manny Pacquiao, he also has an impressive record with zero loss.
This is according to an article from Manila Bulletin.
The orthodox fighter is also aware that Manny Pacquiao can still pack a punch but he's prepared to show what he's like. In his statement, he compares himself to a young, hungry lion:
"He's definitely not done. But I am going to show how it is to be in with a hungry, young lion."
He also said that he's working on himself:
"Adrien Broner might have been young but he wasn't as hungry as I am. The hunger is there. I am still working for greatness."
He also have apparently watch Pacquiao's previous fights and analyzed his style and capabilities. He has seen Manny Pacquiao fight bigger men.
"Manny is a small guy who has done big things. He has fought welterweights who are a lot bigger than him. He's used to fighting welterweights I know he's going to be comfortable even though he's going to see a bigger man in front of him."
That is all there is to it, at least for now. We'll post updates as soon as we got them.
comment(s) for this post "Pacquiao VS Thurman: Manny Will Face A 'Hungry, Young Lion'". Tell us what you think abut this post by leaving your comments below.