ENGLISH-TAGALOG TRANSLATE: What is the Tagalog translation of the word Eclipse?
ENGLISH-TAGALOG TRANSLATE – Here's the Tagalog translation of the English term "Eclipse".
Undeniably, there are lots of English words that many of us don't know about their Tagalog counterparts. One of them is the English word "Eclipse".
According to FHM, eclipse refers to "a total or partial obscuring of one celestial body by another". We often hear the word eclipse most especially when it happens. Lots of people really make it to the point of watching it.
But, how do we say eclipse in Tagalog? What is its Tagalog translation?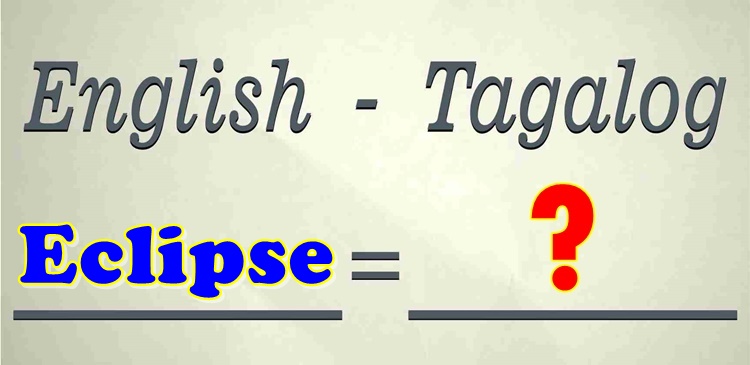 The Tagalog translation of eclipse is duyog.
English: Eclipse |

Tagalog:

Duyog
Examples of Sentences using the word "Eclipse":
Have you watched the eclipse last night?
Stella is really fond of staying up late for the eclipse.
In Jake's 23 years of existence, he has yet to witness an eclipse.
Mga Halimbawa ng Pangungusap na gumagamit ng salitang "Duyog":
Nanood sina Kiko at Susan ng duyog kagabi.
Pangarap niyang makakuha ng litrato ng duyog.
Umuwi ka na at huwag mo nang hintayin ang duyog.
English-Tagalog Translate: Tagalog Counterparts of Sentences Using the Word "Eclipse":
1. All of them were asleep when the eclipse happened.  | Lahat sila ay tulog noong mangyari ang duyog.
2. Do you also wish to see the eclipse tomorrow? |   Nais mo rin bang makakita ng duyog bukas?
3. It was reported last night that an eclipse will happen next week. | Naiulat kagabi na may duyog na mangyayari sa susunod na linggo.
See Also Tagalog Translation for:
See Also English Translation for: