Vicki Belo Receives Rare Hermes Bag From Hayden Kho
VICKI BELO – Celebrity doctor Vicki Belo received a rate Touch Berkin Hermes bag from her husband Hayden Kho.
Filipina dermatologist and famous tv personality Dra. Vicki Belo is the founder of the Belo Medical Group. She married her longtime boyfriend Dr. Hayden Kho in Paris, France on September 2, 2017.
They have a 4-year-old daughter named Scarlet Snow. Last year, the celebrity doctor showed off her expensive holiday gift from her husband. Vicki received a three-toned Kelly bag from Hayden. "Did you know that for every six Birkins, only one Kelly is made? That's why it's so much harder to find a Kelly than it is to find a Birkin. And when you go to Hermes, there's never any," Vicki Belo shared.
Dra. Vicki Belo, who turned 64 on January 25, 2020, received a rare Hermes bag from husband Hayden Kho. She shared her unboxing video on her Instagram account.
In the caption of the post, she said: "Thank you God for a loving husband."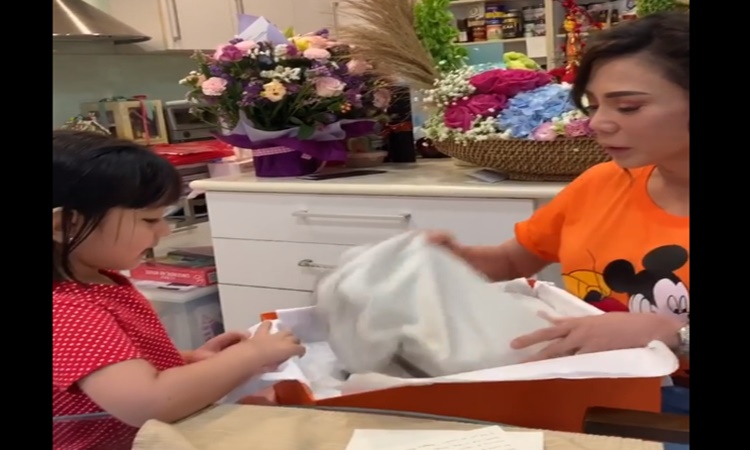 On Dr. Hayden Kho's Instagram account, he uploaded a photo of his wife and penned a sweet message for her special day. "Strong yet gentle. Fierce yet compassionate. Childlike yet wise. When she loves, she loves fully. She gives generously without expecting anything in return. She finds delight in the delight of others. She makes wishes and dreams come true. She's extraordinary… and she's my wife. I am honored. I thank our Lord for you, @victoria_belo. Happy birthday. I love you," he wrote.
The unboxing video has garnered 554K views as of this writing. While Vicki and daughter Scarlet continued checking the expensive bag, Hayden asked, "Do you like it, mommy?" She answered, "I love it, daddy. It's very pretty. It's so cute. It's so classy."
Watch the video below:
Vicki Belo's unboxing video earned various reactions from the netizens. Here are some of their comments on the post:
@prettybubbles29: "Nice bag. happy birthday po"
@mestisang_ina: "Mapapa sana oil na lang talaga ako"
@sansu_sgm24: "Happy birthday doctora how sweet of doc hayden to give u a bag u deserved it. Love the bags"
What can you say about this article? Leave your comments and reactions below.
READ ALSO: Vicki Reacts To Dingdong Dantes, Daughter Zia Sweet Moment