Cavite Police Chief Clarifies Priest Arrested in Drug Op in Bacoor Not Roman Catholic Church Member
PRIEST ARRESTED – The Cavite Provincial Police Chief clarified that the priest that was nabbed by the authorities in a drug operation in Bacoor City, Cavite is not a member of the Roman Catholic Church.
Lots of people accused of involvement in the drug trade were nabbed by the authorities. Buy-bust operations were conducted in line with the pursuit of the Duterte Administration to clean the Philippines.
President Rodrigo Roa Duterte has always been vocal about how he hates drugs as it destroys people's lives. The operations conducted arrested personalities from different walks of life.
Recently, unexpectedly, a priest was nabbed by the joint forces of the Philippine Drug Enforcement Agency (PDEA) and the Bacoor City Police  in Bacoor City, Cavite.
The authorities conducted an operation in Tagumpay Compound, Tabing Dagat, Barangay Alima and it led to the arrest of a priest and another persona.
The priest arrested by the authorities is reportedly known in the said barangay for his alleged involvement in the drug trade. The other persona nabbed is known as alias Perling.
Recently, Cavite Provincial Police Chief Police Senior Superintendent William Segun made a clarification regarding the priest based on a post of "Justinne Punsalang" tagged to News5 on Twitter.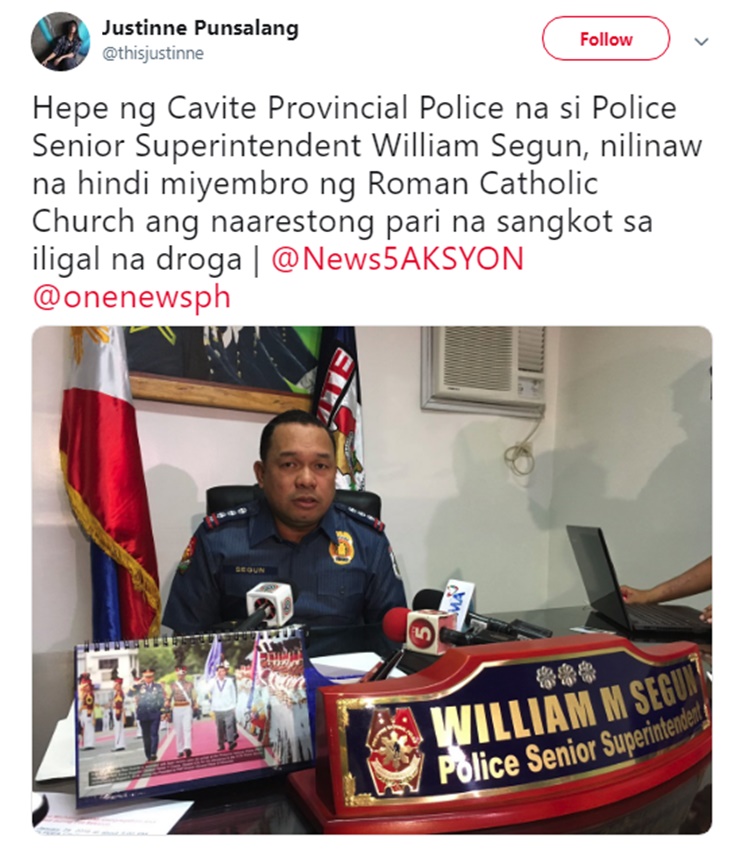 According to Segun, the priest arrested in the drug operation in Bacoor City is not a member of the Roman Catholic Church. He's identified as Bishop Richard Alcantara of the Sacred Order of Saint Michael.
The Cavite Police Chief also showed photos of the priest in an interview with the media.
As of this writing, no further details have yet to be released. We'll keep you posted for updates.
Thank you for visiting our website. You may express your reactions or thoughts through comments below.