Here is the Black Nazarene Traslacion 2019 Procession Route
Catholic devotees of the Black Nazarene are expected to flock on the streets of Manila on January 9, 2019, and here is the traslacion procession route.
Street vendors near Quiapo Church are already selling images and relics.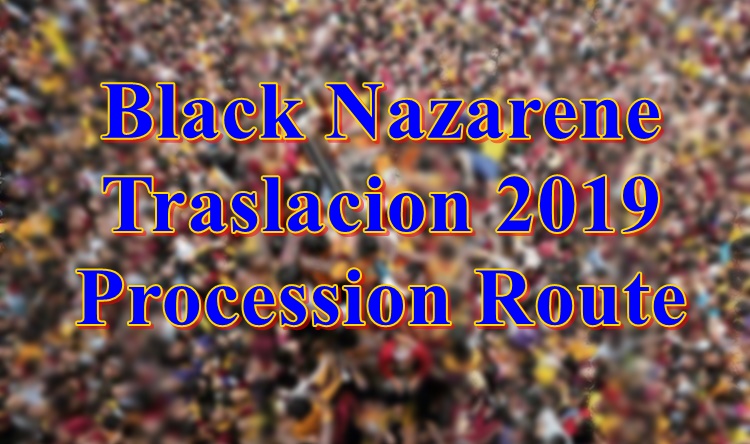 Along thousand of Catholic devotees, several celebrities in the Philippines also spend time to show their faith during the said feast.
Among the celebrities who are devotees of the Black Nazarene are:
Angeline Quinto
Coco Martin
Melai Cantiveros and Jason Francisco
Bayani Agbayani
Noli de Castro
Christopher de Leon
McCoy de Leon

Here is the Black Nazarene Traslacion 2019 procession route:
FROM QUIRINO GRANDSTAND (Rizal Park)
LEFT TO KATIGBAK DRIVE STRAIGHT TO P. BURGOS ST.
LEFT TAFT AVENUE THRU JONES BRIDGE
RIGHT TO DASMARINAS ST.
RIGHT TO PLAZA STA. CRUZ
LEFT TO CARLOS PALANCA ST. THRU UNDER QUEZON BRIDGE
LEFT TO QUEZON BOULEVARD
RIGHT TO ARLEGUI ST.
RIGHT TO FRATERNAL ST.
RIGHT TO VERGARA ST.
LEFT TO DUQUE DE ALBA ST.
LEFT TO CASTILLEJOS ST.
LEFT TO FARNECIO ST.
RIGHT TO ARLEGUI ST.
LEFT TO NEPOMUCENO ST.
LEFT TO CONCEPCION AGUILA ST.
RIGHT TO CARCER ST.
RIGHT TO HIDALGO THRU PLAZA DEL CARMEN
LEFT TO BILIBID VIEJO THRU GIL PUYAT
LEFT TO J. P. DE GUZMAN ST.
RIGHT TO HIDALGO ST.
LEFT TO BARBOSA ST. (BAUTISTA ST.)
RIGHT TO ARLEGUI ST.
LEFT TO QUEZON BOULEVARD
RIGHT TO PALANCA ST. THRU UNDER QUEZON BRIDGE
RIGHT TO VILLALOBOS THRU PLAZA MIRANDA
INGRESS: QUIAPO CHURCH