Maxene Magalona Ties the Knot with Rob Mananquil
MAXENE MAGALONA – The video of the Boracay wedding of actress Maxene Magalona and her musician husband Robby Mananquil has already been posted.
In January 2018, actress Maxene Magalona officially tied the knot with Rob Mananquil. Based on a report, the celebrity couple was married twice – first on a church wedding and then a beach wedding.
The church wedding of Maxene and Rob was reportedly held at Santuario de San Antonio Church in Forbes Park, Makati. Only the couple's immediate family and principal sponsors were invited to the private wedding ceremonies.
According to the report, among the celebrities who came to the private church wedding of Maxene Magalona and Rob Mananquil were the owner of Bench, Ben Chan; the best friend of the bride's father, Michael V; singer Gary Valenciano; and celebrity couple Richard and Lucy Gomez.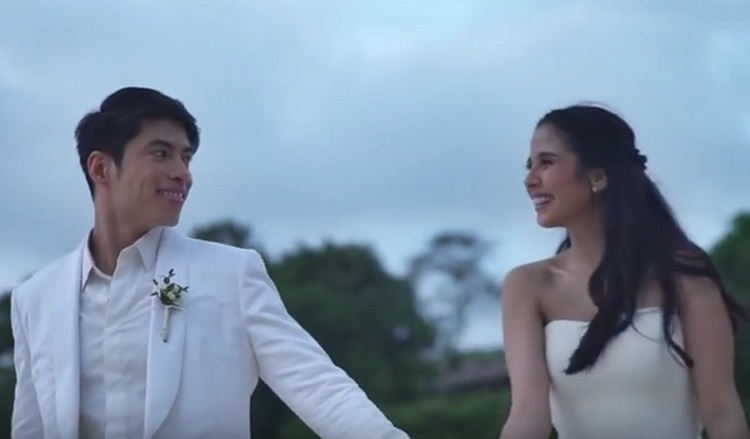 A few days after the private church wedding, Rob Mananquil and Maxene Magalona tied the knot again in a beach wedding in Boracay. It gathered the couple's family and friends.
Unfortunately, one of the sisters of the bride, Sab Magalona, was not able to attend the beach wedding of the actress as she was not allowed by her doctor since she is currently carrying twins in her womb and she is near to giving birth.
One of the celebrities who were invited to the beach wedding of Maxene Magalona and Rob Mananquil is actress Janella Salvador, the loveteam partner of the bride's actor brother Elmo Magalona.
At the reception, Elmo and Janella who are collectively called as the 'ElNella' by their fans and supporters performed on stage together. It was on-the-spot and the young actor admitted that he don't usually sing in front of his family.
Everyone visibly had a great time at the wedding of Robby Mananquil and Maxene Magalona. Recently, on Youtube, the musician has posted the video of his wedding with the daughter of celebrity couple Francis and Pia Magalona.