Chapter 4 Noli Me Tangere – "Heretic and Filibuster" (SUMMARY)
CHAPTER 4 NOLI ME TANGERE – Here is the full summary of Chapter 4 of Noli Me Tangere written by Dr. Jose Rizal.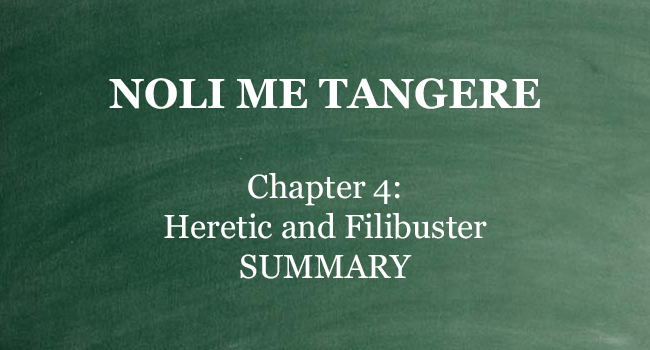 The novel is one of the connected novels that were written by the Philippine national hero Jose Rizal (full name Jose Protacio Mercado Rizal y Alonzo Realonda).
He wrote the novel to make Filipinos see the abuse of power the priests show during the Spanish Colonization period.
The novel has 64 chapters. We are going to read the fourth chapter.
Chapter 4 is entitled "Heretic and Filibuster". Here is the summary of the Chapter:
Ibarra continues his travels. One day, there was a moment that he was unsure which path he will take until he ended up in Liwasan ng Binundok.
He noticed that the place where he grew up haven't changed at all. He spent most of his time reminiscing the past and exploring the place.
The Lieutenant arrived and told Ibarra of his father's terrible demise. A year before Ibarra's return, he received a letter from Don Rafael, his father. The letter told Ibarra not to worry about him.
The Lieutenant told Ibarra why Don Rafael was imprisoned and everyone hated him; how he was imprisoned; the allegations against his father; and his death inside the prison.
READ ALSO:
Chapter 3 – The Dinner
Chapter 5 – A Star In A Dark Night
comment(s) for this post "Chapter 4 Noli Me Tangere – "Heretic and Filibuster" (SUMMARY)". Tell us what you think abut this post by leaving your comments below.