Militants Allowed Near Batasan For The First Time, Duterte SONA
Duterte SONA – For the first time, militant groups have been allowed to get nearer to Batasang Pambansa in Quezon City wherein the groups will be declaring their concerns towards the first State of the Nation Address by President Rodrigo Duterte.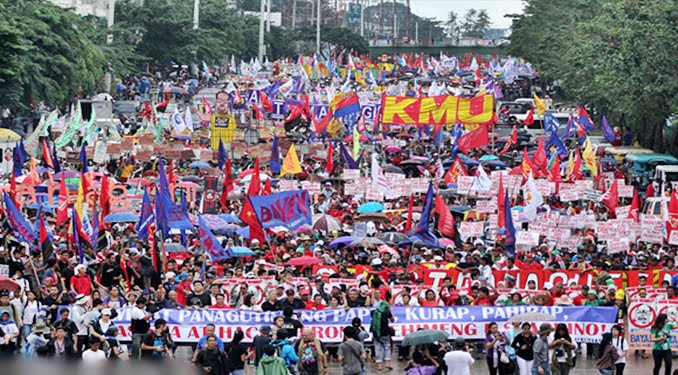 In a report by GMA News, these militant groups already got past Ever Commonwealth Mall earlier. Even Bayan Secretary-General Renato "Nato" Reyes expressed that from 1992, this is the first time that he set foot near the Batasan Complex in a rally during a SONA.
When asked about what the militants will do during their 'rally', Reyes clarified that they will be supporting the agenda of Duterte, deliver their concerns, and not to throw protests.
Renato Reyes: 1992 nagsimula akong mag-rally sa SONA pero first time akong nakatungtong malapit sa Batasan. pic.twitter.com/rcjMBTsCgn

— DZBB Super Radyo (@dzbb) July 24, 2016
"Rally ang tawag namin dito… Rally para sa agenda ng mamayan at suporta sa magagandang hangarin ng administrasyong Duterte," Reyes said in an interview.
[We call this a 'Rally'…A rally for the agenda of the citizens and a support to the aspirations of the Duterte administration.]
LOOK: Mga militante, labis na ikinatuwa na nakatungtong sila sa Batasan Road ilang hakbang sa Batasan Complex. pic.twitter.com/Xb37oHil3C

— DZBB Super Radyo (@dzbb) July 25, 2016
Even the Quezon City Police District Director St. Supt. Guillermo Lorenzo Eleazar expressed his gratefulness to the militants as they have already committed that the rally would be peaceful.
The QCPD District Director even mentioned that just like in other times, the police officers will be implementing maximum tolerance over the course of the SONA but, will be eliminating barbed wires, container vans, and long barricades to keep away the militants.
Reyes thanked the President for allowing the militant groups to go near Batasan Complex and do their programs. According to Reyes, they have already asked President Duterte to allow them to go near Batasan, and the President gave it a go.
Reyes described Duterte to be understanding and not afraid to listen to the grievances of the people.