Here is the Certified Public Accountant Board Exam Result May 2022 Including the List of Passers (S-Z)
Here is the Certified Public Accountant Board Exam Result May 2022 including the list of passers (S-Z) as per released by PRC.
The May 2022 Certified Public Accountant Licensure Exam Results including the list of passers, top 10 passers, top performing and performance of schools will be available on this website after it will be released by PRC.
CPA board examinations have been conducted at PRC testing centers in Metro Manila, Baguio, Cagayan de Oro, Cebu, Davao, Iloilo, Koronadal, Legaspi, Lucena, Pagadian, Pampanga, Rosales, Tacloban, Tuguegarao and Zamboanga.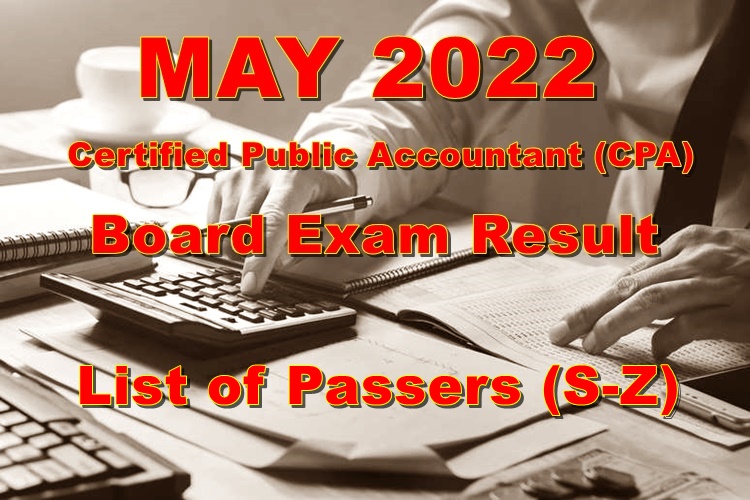 PRC Board of Accountancy headed by its Chairman, Noe G. Quiñanola, Vice-Chairman, Marko Romeo L. Fuentes and its members Gloria T. Baysa, Samuel B. Padilla, Arlyn Juanita S. Villanueva, Thelma S. Ciudadano and Gervacio I. Piator on May 22-24, 2022.
SUMMARY OF RESULTS
Here is the List of Passers (S-Z)
820 SABINIANO, MICHELLE LLENA
821 SACAY, MARIA ESTELLA TABLEZO
822 SACNANAS, MARJORIE EDIZA
823 SADIE, EDCEL MACALINO
824 SALANDANAN, EDGAR ANDREW ESPORLAS
825 SALEN, ANGELICA ANN UNDAZAN
826 SALIK, SAFARINE SANGABAN
827 SALIM, SOFIYA ANNI
828 SALONGA, ALDRIN MANALASTAS
829 SALONGA, MARK JOSHUA VERANO
830 SALVA, JAN PHILIPPE BACANI
831 SALVA, JOHN ROMEL BASCUGUIN
832 SALVADOR, KHAREN JOY PASCUAL
833 SALVADOR, OLIVIA MAE VICENCIO
834 SALVANERA, JESSA SALVADOR
835 SAMPANG, ALYSSA FAITH MUÑIZ
836 SAN ANDRES, MIKA RAFAEL LACSAMANA
837 SAN DIEGO, MARIELLE LINDY RIVERA
838 SANCHEZ, JOHN WENDELL MANAMTAM
839 SANCHEZ, ZEUS KEYNS ESPINIDA
840 SANDIGAN, TRISHIA PALLANAN
841 SANDOY, MARIBER GARCE
842 SANGALANG, BEANNE CARELEEN DIZON
843 SANGGALAN, CHERRY DEANNE GRONIFILLO
844 SANICO, SANDY PETITO
845 SANITA, LUCILLE RAE TANPIENGCO
846 SANO, KHAYCEE MAE BILLOD
847 SANOY, MARIANNE KAYE ABADIES
848 SANTIAGO, FRANCES CHARLENE RABINA
849 SANTIAGO, MIGUEL FRANCISCO NONES
850 SANTOS, ALYONNA SANTOS
Roll of Successful Examinees in the
C. P. A. LICENSURE EXAMINATION
Held on MAY 22, 2022 & FF. DAYS Page: 19 of 21
Released on JUNE 1, 2022
Seq. No. N a m e
851 SANTOS, DENISE DE VERA
852 SANTOS, ISABELA LOUISE SALES
853 SANTOS, JOSHUA MARC NG
854 SANTOS, MARIA PATRICIA VONNE FRANCISCO
855 SANTOS, MIGUEL ARIEL DIMAANO
856 SANTOS, PRINCESSLYN GARCIA
857 SAPERA, LEE ANNE MIRABEL
858 SARACANLAO, SHEENAH FAYE ESTORES
859 SARI, GRAZIELLA GRACE FLORENDO
860 SARMAGO, JULIENNE ANNE SAQUILON
861 SARMIENTO, EMMANUEL JHAYMILE JOSE
862 SARMIENTO, JOHN DANIEL MADRIAGA
863 SASUMAN, CLAREBELLE MONREAL
864 SAURA, REX BINUYAT
865 SAYCO, PAMELA ANGELICA DAOS
866 SEDA, ALYSSA ASHLEY CONSULTA
867 SEGUNDO, CAINE MARTINEZ
868 SEQUIJOR, YZEL MACATANGAY
869 SERRANO, CHRISTIAN MALAGUEÑO
870 SERVANO, IRISH MARIE ALCOS
871 SERVIANO, IVY JOY CABIHAGAN
872 SIBAYAN, LYKA SAGUCIO
873 SILAN, BESSIE
874 SILLA, NOWELL SANTIAGO
875 SINGANGAN, DAYBETH ILONEN
876 SINGCA, MICHELLE ANNE MALLARI
877 SINGCO, ANNE KRISTELLE MORTERA
878 SISON, ANA PHAULINE ABOBO
879 SORIANO, SHANE LOUISE BARTOLOME
880 SORIBELLO, ABEGAIL CABATUANDO
881 SOSING, JOHN PHIL ONG
882 SOTO, CHRISTINE LOUISE NICOLE TEODORO
883 STA. ROSA, DANIELLE YAP
884 SUBA, ANNE NICOLE ACOSTA
885 SUELAN, JAIRAH GLENN BOLA
886 SULIGUIN, ROMA ANDRE
887 SULIGUIN, RYAN MAPALO
888 SUNGLAO, KATHLEEN ZYRAH FIDEL
889 SURIAGA, SEAN DOMINIC ELLANO
890 TABAÑAG, CATHRINA JOY
891 TABUDLONG, ANGELICA CABONCE
892 TABUENA, MA ROMELLIE CAPACITE
893 TABUJARA, LEVE MARIE CUSTODIO
894 TADE, JESSEBEL CELINO
895 TALAMAYAN, KENNETH CALAGUI
896 TALIMBATOG, BENJAMIN BRIAN MELAD
897 TAMARAY, REYMUND IAN PAGULAYAN
898 TAMINAYA, ALLYSSA MAE FERNANDEZ
899 TAN, CIELA MAE BERNARDO
900 TAN, JOSEPH PAUL SILO
Roll of Successful Examinees in the
C. P. A. LICENSURE EXAMINATION
Held on MAY 22, 2022 & FF. DAYS Page: 20 of 21
Released on JUNE 1, 2022
Seq. No. N a m e
901 TAN, LANCE ADRIAN GUTIERREZ
902 TAN, PATRICIA JIA DELA CRUZ
903 TAN, REXIELYN MENDOZA
904 TAN, SOFIA NICA SAYSON
905 TAN, STEPHANIE NICOLE CHING
906 TANGA-AN, LADY HERME ALCOS
907 TAPIC, CONNIE SALMAZAN
908 TAPICAN, ALYSSA MAGDAEL
909 TARAY, MICHELLE PANCI PANCI
910 TARROSA, BIEN GABRIEL MARTINEZ
911 TARUC, MICHELLE ANGELA MANALANG
912 TAYAOTAO, MECAR CARIAS
913 TAÑOLA, AARON PAUL REY
914 TEE, ANDREW LEMUEL SALES
915 TEJADA, MARIELLE SHERY OLARTE
916 TENIZO, EFREN MICHAEL ALCANO
917 TERTE, REINIEL GERARD JUAN
918 TERUEL, GERARDO MIGUEL REYES
919 TEVES, CRISTELYN JOY CAMORO
920 TEVES, JUDITH TORRENTE
921 TIAMZON, JAMAICA BRIONES
922 TIBAR, PAULENE TEOFILO
923 TIMBOL, GERARDO JR ESPIRITU
924 TOBIAGON, JORDAN SMITH
925 TOLENTINO, JOANNE GUANLAO
926 TOLENTINO, MALIYA GABRIELLE CASTILLO
927 TOLENTINO, RALPH ADRIAN DELA CRUZ
928 TOLENTINO, TJ HANS BARREO
929 TOLIBAS, KHLYNE PREJULA
930 TONDO, NICOLE KIMPA-OY
931 TORNO, ANA JESSICA ANTONETTE GADDI
932 TORRES, CONCEPCION VIENICE MARTILLANO
933 TOYAMA, AKARI PAMINTUAN
934 TRANGIA, RHEA MONTERDE
935 TRAVENIO, CLAIRE AIRA PARANA
936 TRINIDAD, SOPHIA WILLIAM GONZALES
937 TROCIO, ELAINE DENOY
938 TUAZON, ELAILA MAE TOBIAS
939 TUBUNGBANUA, GWYN TYRONE ROBLES
940 TUMALON, ELLAINE
941 TUPAS, MIKAELA MAE MARJES
942 UBANAN, JEAN MAE AYAG
943 UGALI, CHRISTIAN RALPH DUGURAN
944 UGAY, DIANNE CLARISSA FELIX
945 UGAY, FRANKCYL BADAJOS
946 UMLAS, JOYCE DANIELLE CREDO
947 UNSANG, JONEL RIVERO
948 URSULUM, GERANDY CARPIO
949 USMAN, AL-RADDADI MALACO
950 USMAN, MARY JOY SOMERA
Roll of Successful Examinees in the
C. P. A. LICENSURE EXAMINATION
Held on MAY 22, 2022 & FF. DAYS Page: 21 of 21
Released on JUNE 1, 2022
Seq. No. N a m e
951 USMAN, MUMTADJ ALUG
952 USMAN, NORBEYAH ABDUL
953 UY, RENZO JOHN CHUA
954 UY, SEAN PATRICK TAN
955 VALDEZ, JARED CAPURAS
956 VALDEZ, JECKER ENOPIA
957 VALE, MARIAN NICOLE DIONGSON
958 VALENCIA, JOSHUA MEDENILLA
959 VALENTINO, JASPER MARIE NOEL
960 VASQUEZ, JOSHUA JAMES MIGUEL
961 VASQUEZ, MARIA ANTOINETTE SALVA
962 VEGA, JAMES BRYAN ZENAROSA
963 VELASQUEZ, CIARA JANE NICOLE SAMSON
964 VELCHEZ, MICHAELA MILLENN ELIZABETH VERGARA
965 VELOTA, KAREN JOY TUAZON
966 VERGEL DE DIOS, CHARLENE ANTONIO
967 VILLACAMPA, FAITH ANGELENE JALUAG
968 VILLAFANIA, ANDREA VANESSA REDOBLADO
969 VILLANUEVA, ARIANNE JOY MARIANO
970 VILLANUEVA, JOHN KENNETH CULTURA
971 VILLANUEVA, MARIEL NICOLE TY
972 VILLAVER, ED JOSEPH LAMSEN
973 VILLENO, ISABEL ANGELA VILLASEÑOR
974 VILOG, MOIRA CABANES
975 VINZON, GABRIELLE VILLANUEVA
976 VIRAY, MARY ANNE JAZEL SUNGA
977 VIRAY, PAULA MAE AQUINO
978 VITORILLO, NEIL MARK PADILLOS
979 WONG, JAN CLAIRE AGUSTIN
980 WONG, MAY ANN MARALIT
981 YLAGAN, JUDEJAY CABALES
982 YOLOLA, DIANA MARIE CASTILLO
983 YU, NERICE ATHALIA CHIANG
984 YUMANG, ARLENE MACAPAGAL
985 YUNOS, HAMOUDAMIN HADJI SALIC
986 YUPANGCO, JOSE LORENZO MONTENEGRO
987 ZABALA, KATE DUMIGPI
988 ZAMBRANO, LENDL IAN MACASIEB
989 ZAMORA, ANGELICA VENTURA
990 ZUÑIGA, MARK LESTER POSADAS
NOTHING FOLLOWS———————-
Requirements
Notice of Admission
Duly accomplished Oath Form
2 pieces of passport-sized ID photos in white background and with complete name tag
2 sets of documentary stamp
1 piece short brown envelope
Exam Coverage
Auditing
Management Advisory Services
Taxation
Regulatory Framework for Business Transactions
Financial Accounting and Reporting
Advanced Financial Accounting and Reporting
Release Date
The exam results are expected to be released within six (6) to thirteen (13) working days after the last day of examinations or on June 10, 2022.
Note
However, examinees should expect that the exam results might be released earlier or later than the expected date without prior notice from PRC.
Aspiring certified public accountants can visit PRC official website and use the verification page for the results of board examination passing rate. CPA examinees will be required to provide their full name, birthdate, exam name, date of examination and application number.
Thank you for visiting Philippine Trending News (Philnews.ph). You may also follow us on the following social media platforms; Facebook, Twitter, and YouTube.
comment(s) for this post "Certified Public Accountant Board Exam Result May 2022 – List of Passers (S-Z)". Tell us what you think abut this post by leaving your comments below.