Here is the Certified Public Accountant Board Exam Result May 2022 Including the List of Passers (A-F)
Here is the Certified Public Accountant Board Exam Result May 2022 including the list of passers (A-F) as per released by PRC.
The May 2022 Certified Public Accountant Licensure Exam Results including the list of passers, top 10 passers, top performing and performance of schools will be available on this website after it will be released by PRC.
CPA board examinations have been conducted at PRC testing centers in Metro Manila, Baguio, Cagayan de Oro, Cebu, Davao, Iloilo, Koronadal, Legaspi, Lucena, Pagadian, Pampanga, Rosales, Tacloban, Tuguegarao and Zamboanga.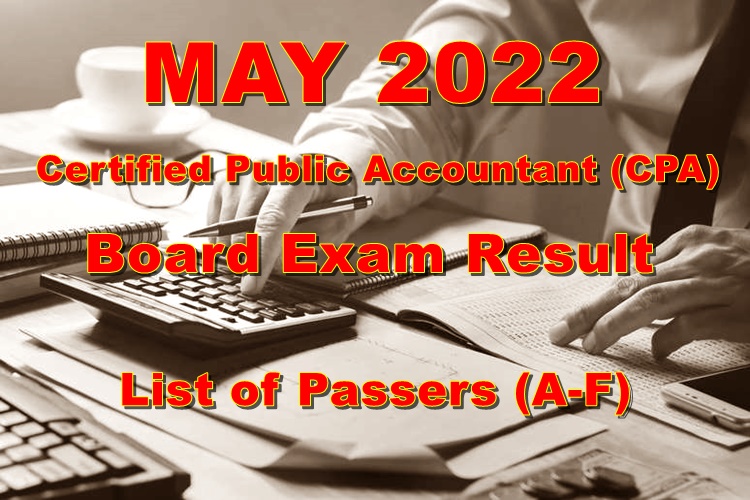 PRC Board of Accountancy headed by its Chairman, Noe G. Quiñanola, Vice-Chairman, Marko Romeo L. Fuentes and its members Gloria T. Baysa, Samuel B. Padilla, Arlyn Juanita S. Villanueva, Thelma S. Ciudadano and Gervacio I. Piator on May 22-24, 2022.
SUMMARY OF RESULTS
Here is the List of Passers (A-F)
Seq. No. N a m e
1 ABAD, AILEEN ERMEJE
2 ABAD, MARISTEL JOY VALLESCAS
3 ABADAY, RON JACOB CAYA
4 ABADESA, NICOLE CASULLA
5 ABADILLA, NICO ANDREI CABLAIDA
6 ABAINZA, RAYMART NOTAR
7 ABALLE, ELLA MARIE PADILLO
8 ABALUS, DARRY GOLD LOMBOY
9 ABANDO, LOUISE ANTONETTE PEREDO
10 ABANGAN, KRISTIANNE MARIE TORRIZO
11 ABANILLA, MICA ELLA DIAZ
12 ABAS, TROY JASTIN RECEBIDO
13 ABAYA, TRISHIA MAE PABLICO
14 ABDUL WAHAB, JANIDAH TAMBUG
15 ABDULLAH-NAGA, ASMERAH MACABANDO
16 ABELLA, DEMOSTHENES CALLANTA
17 ABELLA, XAMPER JANLEO LASAM
18 ABELLON, CRISTINE FLORES
19 ABIERA, FRANCIS ZABALA
20 ABINAL, NUR-HAFEIZA JANNAH IMAM
21 ABIOG, MA. EZRA ABELLO
22 ABISTANO, RONALYN REDOBLADO
23 ABITRIA, CELINE JOY BERCASIO
24 ABRIO, MARSYL MARIE ZAMORA
25 ABUBAKAR, NORMALLAH CALBE
26 ACAPULCO, JOY JOY GABALDON
27 ACOBA, ANGELICA ALEJO
28 ACOSTA, KEITH ALJON FAJARDO
29 ACQUIATAN, HAZEL ORTIZ
30 ADARME, REX LAMBERT DY
31 ADLAWAN, TIMMIE NICOLE TELIN
32 ADVIENTO, SHAINMAUGNE LIQUIGAN
33 ADVINCULA, JERLO LECAROS
34 ADVINCULA, MARYCON BOLLER
35 AFABLE, JULIE ANN DIGA
36 AGTA, KERYL TIMATIM
37 AGUDA, MARIA JEWEL
38 AGUDERA, THEA MAY
39 AGUILOS, CHRISTINE MARIE DELIS
40 AGUINALDO, AEROSE DIANNE IBANA
41 AGUSTIN, NEIL JETHRO UMBLAS
42 AGUSTIN, NIMFA JANE SORIANO
43 AGUSTIN, RALPH PAUL MIGUEL
44 AHUNIN, ARCH DEMERIE BARRERA
45 ALAMADA, HASSIM DIANATON
46 ALAURIN, WILBERT AÑONUEVO
47 ALBUCAR, NICOLE ANGELA DAVID
48 ALCANTARA, DARLEEN MAY BARIA
49 ALCARAZ, PRECIOUS ADRIANNE MAGLEO
50 ALEGRE, MARNELLIE ANTONIETTE JOY BUENAFLOR
Roll of Successful Examinees in the
C. P. A. LICENSURE EXAMINATION
Held on MAY 22, 2022 & FF. DAYS Page: 3 of 21
Released on JUNE 1, 2022
Seq. No. N a m e
51 ALEJANDRIA, ALFREDO CRISANTO ESTARES
52 ALFABETE, ATHENA CHRISTINE PORE
53 ALIMORONG, GLENZEL ANDREI DALANGIN
54 ALINSUG, MERRY CHRIS SEMBLANTE
55 ALIPUSAN, CHRISTIA ALYSSA EBORA
56 ALISASIS, ROLLYN MAY ALLADO
57 ALLANIC, RYAN ANGELICA TABADA
58 ALLAS, ADRIAN SPENCER DAYAG
59 ALMONTE, LAURENCE JR MANGAHIS
60 ALONTO, MOHAMMAD-HAYDAR BANTUAS
61 ALSOL, DOMINIQUE JOY ESTAVILLO
62 ALUNAN, KERTH JAY OMILIG
63 AMAMEDA, ANGELA MAY SAGUM
64 AMBE, JEREMY GRANT
65 AMEROL, JOHANIE ALI
66 AMONCIO, CHRISTIAN DOMINIC LABASTILYA
67 AMPON, BENJAMIN III LLEGUE
68 ANAS, JOHN REY SUBIGCA
69 ANDOJOYAN, EVELYN ANNIE CHUA
70 ANDRADE, KEITH CEARNEL MORENO
71 ANDRES, DIANE DULDULAO
72 ANDRES, JANINE MAE RUIZ
73 ANDRIN, MARIA FERLIN MENDOZA
74 ANG, LYNETTE MARIE LAM
75 ANGELES, ALETH MICKAELA CAVITA
76 ANGOB, MARIELLA BONGGO
77 ANGOLUAN, MANUEL ALVIN LOUISE JR GUILLERMO
78 ANTIPORDA, ROMER JR DIFUNTORUM
79 ANTONIO, ARVEE JAMES PINEDA
80 ANURAN, CRAIG NICO MALDONADO
81 APOSTOL, GILBERT JAMES TAN
82 AQUINO, CLIFORD ALTRE
83 AQUINO, GABRIEL IVAN MORALEJA
84 AQUINO, JOGEN SISON
85 AQUINO, JUNICCA PAONOR MADERA
86 AQUINO, MARIA THEREZE TALAY
87 AQUINO, MARVIN NAWANAO
88 AQUINO, MILLEYJN AIRA ELIZAGA
89 ARANTON, ALVARO JOAQUIN KONG
90 ARCEGA, FLORENCE DIANE REAL
91 ARENAS, STANLEY ARCA
92 ARENILLA, JESSEL MAE CARDAÑO
93 ARGUELLES, FERNANDO JOSE MARAVILLA
94 ARMILLA, RUEL CADUSALE
95 ASPERELA, KAYL BONA
96 ASTILLERO, CARYL MEDEL
97 ASTRO, ALLEN CEDRICK CARAMBAS
98 ASUNCION, JOMAR GRANDE
99 ASUNCION, VEN JOHN BUTOY
100 ATAYDE, SOFIA NICOLE DINIO
Roll of Successful Examinees in the
C. P. A. LICENSURE EXAMINATION
Held on MAY 22, 2022 & FF. DAYS Page: 4 of 21
Released on JUNE 1, 2022
Seq. No. N a m e
101 ATENCIO, RHESTYL MHAE DURAN
102 ATIENZA, FLAVIANO RAPHAEL FRANCISCO
103 ATIENZA, RODALYN CASAO
104 ATUD, HANNAH PARIL
105 AUREO, SETH RAYMUNDO SANTIAGO
106 AVILA, CARMINA DELOS SANTOS
107 AWINGAN, CHERRY BELLE BAGTANG
108 AZANZA, IVAN JEFFERSON ARNESTO
109 BABARAN, BENVIELYN GALLIBU
110 BACANTO, JO LOVELY PATROCINIO
111 BACARRA, KAITHLEEN JOULE DACUMA
112 BACLEA-AN, ANGELI BADION
113 BADANOY, JONNA FE FABILLAR
114 BAGOOD, JADE PATRICK
115 BAID, AL-RAHMA GINSING
116 BAJO, RALF VINCENT GLORIA
117 BAJOYO, CRISTINE NIEL
118 BALAYO, YVONNE BANGERO
119 BALDERAS, ANGELIE ROMPE
120 BALDONADO, PRINCESS PADERANGA
121 BALINAS, THEA KLARISSE SENAPILO
122 BALLESTER, KARL ANGELO GONZAGA
123 BALMACEDA, MARVI ANN ALARTE
124 BALMES, KRUFELSON GUERRERO
125 BALTAZAR, DONITA JOY PANLILIO
126 BALUSCANG, FRANKLIN JR CALIZO
127 BANDAO, KENNETH BRYAN MATICALDAO
128 BANGAYAN, LORENZO RUBEN YU
129 BAQUIRAN, CHRISTEL JOHN FLORES
130 BARAWID, GENEVA LEECEA MALIWAT
131 BARBA, KENNETH JOHN COMODA
132 BARCELO, DARIZ GAYLE LAGMAN
133 BARCINAS, CARMELA ANGELEEN VALLE
134 BARDAJE, MARY GRACE MADELA
135 BARICUATRO, ADRIAN ALPAS
136 BARIZO, ROXANNE JOY UGADDAN
137 BARNACHEA, JERICK JHON TEODORO
138 BARROSA, ABIGAIL VALLENO
139 BARSALOTE, CHRISTINE JOY ANDRADE
140 BASA, MICHELLE MAE GANDEZA
141 BATALUNA, RALPH JOHN LAMBATING
142 BATE, ISAAC O'NEAL GUEVARRA
143 BAULA, KEVIN DAO-WAN
144 BAUTISTA, EARL JAKE AGNO
145 BAUTISTA, KHIEN JASON DAPUSALA
146 BAUTISTA, MICA ERMITA
147 BAUTISTA, SHERWIN INSAURIGA
148 BAYABAO, HEDAYATUL-YMAN ARIMAO
149 BAYLON, LYN HOLLY ANDRES
150 BAYONGAN, JHOEBE ANNE BERNARDINO
Roll of Successful Examinees in the
C. P. A. LICENSURE EXAMINATION
Held on MAY 22, 2022 & FF. DAYS Page: 5 of 21
Released on JUNE 1, 2022
Seq. No. N a m e
151 BEATO, GIAN KARLA CORONADO
152 BEHIGA, JENNYFER DALONDONAN
153 BELARDO, MERWIN GONZALES
154 BELGICA, JULLIA FRANCESCA DIZON
155 BELLO, MARK EDZON ALEJO
156 BENATIRO, CINDY DOMINGO
157 BENGCO, MA. AMABELLE ROJAS
158 BENJAMIN, FAITH MARIE TUPAZ
159 BENLOT, RIALYN DUNQUE
160 BERINGUEL, JANICA DE VEYRA
161 BERNARTE, LEENUEL MENDOZA
162 BERTULDES, CHERIE ANN ARABA
163 BETITA, ISABELA MARIE WONG
164 BINALAY, JOBYLIN KRIEZL BALORAN
165 BINWAG, RAIZA AGUINAYA CATTI
166 BIRUNG, MA. RIKKA ANGELA BUSTILLO
167 BISNAR, ANGELICA KATE CAPINDO
168 BITABARA, MICHAELA REGONDOLA
169 BITASOLO, ANGELY LOGROÑO
170 BLANCO, ALVONNE MARIE DELOS REYES
171 BOCALAN, GIANNE RAPHAEL DON DIEGO
172 BOCALES, MEROSE BASILIO
173 BOCALING, RAYJEANE INFANTA
174 BOCAYONG, LINDOLYN TAUCAN
175 BOGNOT, TRACY MIRANDA
176 BOJA, EDLYN MORALES
177 BONDOC, KRISTINE JOY NUCOM
178 BONTO, PATRICIA CALANO
179 BONTUYAN, JOSE LORENZO AMPER
180 BOOC, KATE PATRICE TAN
181 BORBON, ABIGAIL UNSAD
182 BORJA, ANGELICA DYMPHNA TOMELDEN
183 BORJA, PATRICIA AMOR CARANGUIAN
184 BOTECIAL, JUDE CATAGUE
185 BRAGANZA, APPLE JANE DAMASCO
186 BREIS, PATRICK JOSHUA LIBRADA
187 BUARON, MA. ELIZA GRACE BIDES
188 BUCAOTO, ROWIELYN PADRIGO
189 BUDOMO, KRISCIA MARIE PLURAD
190 BUENAOBRA, DANIEL ULEP
191 BUENVENIDA, DANIEL DAVE GALLANO
192 BULAONG, JHASHMINE MARIANE GATCHALIAN
193 BULAR, JOPHETTE ORTEGA
194 BULLECER, NYLL RAPHAEL
195 BURAGA, PETER RAFAEL NAVARRO
196 BUTAC, PHILIP PAUL ANTHONY DULAY
197 BUTUHAN, CLARISSE ANN VIZCONDE
198 CABACOY, MA. CECILIA FALCUTO
199 CABALLERO, VAN LEWRAINE APURADO
200 CABALLES, DJENDELLE HAZEL
Roll of Successful Examinees in the
C. P. A. LICENSURE EXAMINATION
Held on MAY 22, 2022 & FF. DAYS Page: 6 of 21
Released on JUNE 1, 2022
Seq. No. N a m e
201 CABALQUINTO, RYAN LLOYD BULAN
202 CABAYA, FLORIAM DAWN PILIPIÑA
203 CABOLES, MA ANGELA GINEZ
204 CABRERA, JOSHUA EXEQUIEL SIA
205 CABUNOC, RIZZA ANGELICA CARIÑO
206 CACHO, ERLINDA ELEGADO
207 CAGURANGAN, MARCO TELAN
208 CAJANDAB, KELVIN LLANTO
209 CALAMBRO, LOUIE ABUELO
210 CALANGI, CIARA NICOLE PANGANIBAN
211 CALAWEN, ELLA DEANNE SORROSA
212 CALAWEN, RAQUEL PALEYAN
213 CALDERON, LINDO CALO
214 CALIXTERIO, GERSON SIGNO
215 CALMA, EDRIAN PAULE
216 CALUNGSOD, BRIANNE JOSUA CALUNSAG
217 CAMERING, MA KRISTEL JAMISON
218 CAMPORIDONDO, GLEZ MIC QUILLA
219 CANASA, ERIKA BIANCA UGALINO
220 CANDA, CHRISHELLE MAE ACASO
221 CANDA, KATELEEN CORTEZ
222 CANDILAS, MONICA DUMRIQUE
223 CANDOR, MONICA CHEYENNE CULPA
224 CANE, MARY BELLE CENA
225 CANSADO, EDEN ANDAL
226 CAPULE, MARILOU GOZO
227 CARAGAY, AIRAH MARIZ PEREZ
228 CARANDANG, MONICA
229 CARANIAS, LOWIE JAY DE VILA
230 CARCUEVA, GIULIANA PUERTAS
231 CARIZO, BETHANY JAYNE IBAÑEZ
232 CARIÑO, PAMELA DALAPUS
233 CARLOS, JOHN PAULO VINLUAN
234 CARMEN, MICHELLE YUEN
235 CARO, ROMINA PASION
236 CARREON, ANGELLIE THEA CARVAJAL
237 CASAJE, ALVIN LOZARES
238 CASELA, JEREMY JOSE IGNACIO
239 CASISON, ALLIAH MARIE PERALTA
240 CASTELO, CHELSEA ANABELLE DELLOSA
241 CASTILLO, CHARMAIGNE ELLEN GRACE CASTULO
242 CASTILLO, MANNELIE CARPIO
243 CASTRO, DARYLL PORTUGAL
244 CASTRO, DREXIL MONTON
245 CASTRO, MACELLE CARYL DIONISIO
246 CASTRO, ROBILYN VERGARA
247 CASTRODES, ZACHER CENIT
248 CATACUTAN, JOHN FREN CORTEZANO
249 CAÑEDO, MARY BERNADETTE
250 CAÑIZARES, IANE FRANCIS PARDILLO
Roll of Successful Examinees in the
C. P. A. LICENSURE EXAMINATION
Held on MAY 22, 2022 & FF. DAYS Page: 7 of 21
Released on JUNE 1, 2022
Seq. No. N a m e
251 CEDILLO, CJ PENKIAN
252 CERVAS, DAVE UY
253 CHEN, JESSICA MARIS HERMITANIO
254 CHUA, JILLIAN RAE RONQUILLO
255 CHUA, SHERLEEN MAZEL KHO
256 CHUA, SOPHIA KELLY GO
257 CHUA, WARREN HUNG
258 CLARA, MARRA DEL ROSARIO
259 CLEMENTE, KANE LOUISE LABAGUIS
260 COLINA, JEHRALYN ALQUEZA
261 COMIA, CESAR JR BAARDE
262 CONCISO, REYMART TARAMPI
263 CONCORDIA, JANINE VILLARIN
264 CONDINO, KENT DEL PILAR
265 CONEJOS, MOIRLA DAWN HILLARY CAGBABANUA
266 CONSTANTINO, ALLEN CARL SARMIENTO
267 CONTILLO, ADRIAN ANTHONY BILAG
268 CONTORA, AISAH DONGUINES
269 CORTEZ, ANNA MAE LOFRANCO
270 COSICOL, CHRISTIAN JAMES CAÑON
271 CRISTOBAL, REGINA MARIE JIAO
272 CRUZ, ALYSSA MAE DE ASIS
273 CRUZ, CEDRIC KYLE CHOO
274 CRUZ, CHRISTINE JOYCE GIGANAN
275 CRUZ, RENMAR JUMARANG
276 CRUZ, YANNA JILLIANNE BERIARMENTE
277 CU, KENNETH BRYAN MORALES
278 CUA, JOANNE MAE YEUNG
279 CUA, ROLANDO JR GUDILANO
280 CUALING, VAUGHN MARK CENTINO
281 CUANAN, ARTCHIEL REY MEDAVILLO
282 CUBILLAS, CARLO SAS
283 CUDAL, LYRA BELLE PRADO
284 CUENCA, MA. LUISA BARRIOS
285 CUETO, KAYE MARIE LIBRANDA
286 CUNANAN, RYAN JOSHUA DAQUIZ
287 CUPAL, KENNETH JOHN DOTAROT
288 CURA, CARLO JONEL
289 CUSTODIO, MA. BEVERLY RECENTE
290 DA-O, JOVY MARIE MANGIGIL
291 DABU, PATRICIA SISON
292 DACARA, BEATRICE CHRISTIE DUPAYA
293 DACLIZON, KARL ANGELO BANTULA
294 DAGALA, PIERCE NIÑO
295 DAGALEA, ARRA JEN LUMPAY
296 DAGDAGAN, XELA MARGARETTE ELISEO
297 DAGU-OB, HONESTY ESTOCE
298 DAGZA, VIRTUD NORBERTO III GONZALES
299 DAMASCO, CLINT DOMINIC ANO-OS
300 DANGO, KARA OTGALON
Roll of Successful Examinees in the
C. P. A. LICENSURE EXAMINATION
Held on MAY 22, 2022 & FF. DAYS Page: 8 of 21
Released on JUNE 1, 2022
Seq. No. N a m e
301 DANIEL, KHRISTINE MAE SEVILLANO
302 DANTES, MICAH REVIL
303 DATU, ALYANA JANE JUDIN
304 DATU, ROLLIE RANDALE ISANAN
305 DAYUTA, KAILYN DALLE GOZUN
306 DE GUZMAN, ARAM CLARK MORALIDA
307 DE GUZMAN, DENIEL BALBABOCO
308 DE GUZMAN, JESSA AQUINO
309 DE GUZMAN, LAWRENCE OAMAN
310 DE GUZMAN, LEI JASMINE DANAO
311 DE GUZMAN, LESTER ANTONI GIBO
312 DE GUZMAN, RHESSA HULIPAS
313 DE GUZMAN, ZHANALEE KAYE PUENTE
314 DE JESUS, BEA DEL ROSARIO
315 DE JESUS, MARY GRACE AQUINO
316 DE LA ROCA, DIANE VILELA
317 DE LEON, GIO ANGELO BUSTOS
318 DE LOS REYES, MARIA ALLYSA CORDERO
319 DE PEDRO, ANGEL PAZ SEGUNDO
320 DE VERA, IVAN PEREZ
321 DE VERA, JAZREEL SADIO
322 DE VEYRA, NATHALINE THEA CACHAPERO
323 DEE, DANIELLE LOUISE ANCHETA
324 DEGAMON, LEA MAY BORDIOS
325 DEL ROSARIO, CLARICE BUHAYO
326 DELA CONCEPCION, PAULINE GUZMAN
327 DELA CRUZ, AUGUST JOSHUA TAÑEDO
328 DELA CRUZ, DANTE JR QUANICO
329 DELA CRUZ, IAN LEMUEL TUMAQUE
330 DELA CRUZ, MARIA WRENILLA MERLA
331 DELA CRUZ, MARK LAWRENCE MADERAL
332 DELA CRUZ, MARNIE ORTILANO
333 DELA CRUZ, NEIL JAY NICOLE MENDOZA
334 DELA CRUZ, NIKKO NEL GAN
335 DELA CRUZ, ROXANNE OPURA
336 DELA PEÑA, LIZA
337 DELA RAMA, JOHN ACE CHAVEZ
338 DELMENDO, KRYZA MAE RIVERA
339 DELOS SANTOS, ALBERT FILARDO
340 DELOS SANTOS, CEDRIC JOHN VILLALOBOS
341 DEMDAM, ANTHONY MURRY JOSH GO
342 DESAGUN, SHEILA MAE DELGADO
343 DESTURA, JOHN PATRICK VILLENO
344 DEVELA, KEANNA SIENA
345 DIAMLA, SAMSHEDA CAMPONG
346 DIAZ, ARDRICH BERNHEL PALIN
347 DIEGO, JOHNSON SAGUIPIL
348 DIGAL, EMMILOU EUSEÑA
349 DILANGALEN, JUHARA ABDULLAH
350 DIMACALI, RYAN JOSEPH AGLUBA
Roll of Successful Examinees in the
C. P. A. LICENSURE EXAMINATION
Held on MAY 22, 2022 & FF. DAYS Page: 9 of 21
Released on JUNE 1, 2022
Seq. No. N a m e
351 DIMALALUAN, RYAN PATARATA
352 DIMALANTA, HERALD JOSHUA LUMABAN
353 DIOSO, MEL TAN
354 DISAMBURUN, ISCANDAR PACASUM
355 DISOMA, SITTIE NAIFA MACAGAAN
356 DISTOR, GIANN MARC MOSES APILADO
357 DIÑO, DAPHNE CHLOE CHAN
358 DOLINOG, MAYCHELL ANN VILLORENTE
359 DOMINGO, KATE YVONNE DAMASO
360 DOMINGO, KIMBERLY LOPE
361 DOMIQUEL, LIEZL TALON
362 DRIZ, RAVEN DRIZ
363 DUCLAN, DONNA LATAWAN
364 DUMLAO, PATRICIA ANN AGAMAO
365 DURAN, JOHN FELIX CABALLEGAN
366 DURAN, MARTIN AMIEL ABDON
367 DURIGUEZ, CRIZZA JEANILLE EJES
368 ECHON, DIVINE MERCY EGANGO
369 EJADA, ANGEL JOY CASILAO
370 ELVIÑA, FRANCHESKA LOIS SANTOS
371 EMBILE, THADDEAUS EUSEBIO
372 EMBODO, GLENN PAUL AÑOVER
373 EMILIA, MARIZ SARITA
374 ENOC, KRIZIA DANIELLE ASION
375 ENRIQUEZ, MA CASSANDRA PERNITES
376 ENRIQUEZ, MARENELLE ESPIRITU
377 ENTERESO, ANGELA DEANNE GABEST
378 ESCALA, KYLE DOMINIQUE AGUILAR
379 ESCOSIO, SHARMAINE BESOYO
380 ESCOTE, AYLASOELLE
381 ESGUERRA, ANGEL DELMO
382 ESPADA, BLESSIE ANN SALES
383 ESPERANZA, TIMOTHY JOHN SENTILLAS
384 ESPINA, JOEL MAYNARD BOLO
385 ESPINAR, ANGELIKA MAE TAN
386 ESPUERTA, EDMIE ANN OBERES
387 ESTA, MARK ANGELO ANTONIO
388 ESTABILLO, RAYSON DE GUZMAN
389 ESTACIO, JORRALYN DARAPISA
390 ESTALILLA, CHRISTIAN PULMANO
391 ESTANILLA, LADY JANE BASLOT
392 ESTANISLAO, IOLO ANDRIC PADILLA
393 ESTIMO, ADRIAN MOMVILLE
394 ESTRADA, MILES TONN SORIANO
395 ESTROPIA, ESTELLE JONNA JAO
396 EUGALCA, VENCE WARREN RAMOS
397 EUGENIO, MARICON GAY BAGGAY
398 EUGENIO, RUIZA ANGELICA VILLAS
399 EVANGELISTA, MARION BEATRICE PEREZ
400 EVANGELISTA, MARK AGNES PASABING
Roll of Successful Examinees in the
C. P. A. LICENSURE EXAMINATION
Held on MAY 22, 2022 & FF. DAYS Page: 10 of 21
Released on JUNE 1, 2022
Seq. No. N a m e
401 EVAROLA, MARK JHON REALA
402 EVIOTA, PATRISHA PAULINE MARTIN
403 EXITO, PRINCESS MAY PELAYO
404 FABILANE, MA. FATIMA ESTREMERA
405 FABROA, DAPHNE JOANNES MORALES
406 FAGYAN, CLAUDINE SAGSAGO
407 FAJARDO, XY-ZA MARIE TURGO
408 FALCO, ELYSIA KALLYSTA ROCES
409 FAROL, JOSEPH ANDREW CAMPOSANO
410 FAUSTINO, CLARIETTE RANCE
411 FELIPE, GLAIZA MAY TUMANENG
412 FERANCULLO, MAIRI DENISSE MARANAN
413 FERNANDEZ, JENNIFFER AMAT
414 FERNANDO, MICA YSABELLE CABRERA
415 FERRER, EARL JUSTINE CAMIGLA
416 FERRER, HILARY MAY GOROSPE
417 FERRER, PRINCESS MAE GUIYAB
418 FERRER, RAMIE JR FELIX
419 FESTEJO, ANGELICA MICHELLE DYOGI
420 FIGAROLA, STEPHEN RYAN SAGUCIO
421 FLORES, ADRIAN DOMINIC SEVILLA
422 FLORES, BJ-MARK BONGLAS
423 FLORES, CYNTHIA FAYE COZ
424 FLORES, FERDINAND JR PADILLA
425 FLORES, MANUEL MARI VINCENT JR MENDOZA
426 FLORES, MARIA KATRINA MENDOZA
427 FONTANILLA, LUIS CHRISTIAN MAGNO
428 FRANCISCO, ELLA REGINA PACIA
429 FRANCISCO, MARIE NADINE CHRISTINE PLACIDO
430 FRANCISCO, RODRIGO III CAPATI
431 FRANY, JOYCE ANNE PARREÑO
432 FRIA, JUAN PAULO RICOHERMOZO
433 FRONDA, CHESKA JANEENA PANELO
434 FUENTES, RAINIEL AMADO
435 FUENZALIDA, LORALYN COSTALES
436 FURIGAY, TRISHA MEI PIZARRO
Requirements
Notice of Admission
Duly accomplished Oath Form
2 pieces of passport-sized ID photos in white background and with complete name tag
2 sets of documentary stamp
1 piece short brown envelope
Exam Coverage
Auditing
Management Advisory Services
Taxation
Regulatory Framework for Business Transactions
Financial Accounting and Reporting
Advanced Financial Accounting and Reporting
Release Date
The exam results are expected to be released within six (6) to thirteen (13) working days after the last day of examinations or on June 10, 2022.
Note
However, examinees should expect that the exam results might be released earlier or later than the expected date without prior notice from PRC.
Aspiring certified public accountants can visit PRC official website and use the verification page for the results of board examination passing rate. CPA examinees will be required to provide their full name, birthdate, exam name, date of examination and application number.
Thank you for visiting Philippine Trending News (Philnews.ph). You may also follow us on the following social media platforms; Facebook, Twitter, and YouTube.
comment(s) for this post "Certified Public Accountant Board Exam Result May 2022 – List of Passers (A-F)". Tell us what you think abut this post by leaving your comments below.