Here is the Certified Public Accountant Board Exam Result May 2022 Including the List of Passers (G-L)
Here is the Certified Public Accountant Board Exam Result May 2022 including the list of passers (G-L) as per released by PRC.
The May 2022 Certified Public Accountant Licensure Exam Results including the list of passers, top 10 passers, top performing and performance of schools will be available on this website after it will be released by PRC.
CPA board examinations have been conducted at PRC testing centers in Metro Manila, Baguio, Cagayan de Oro, Cebu, Davao, Iloilo, Koronadal, Legaspi, Lucena, Pagadian, Pampanga, Rosales, Tacloban, Tuguegarao and Zamboanga.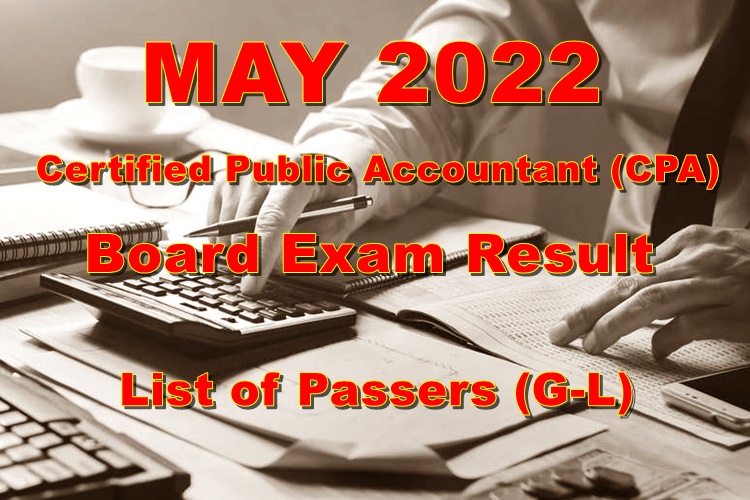 PRC Board of Accountancy headed by its Chairman, Noe G. Quiñanola, Vice-Chairman, Marko Romeo L. Fuentes and its members Gloria T. Baysa, Samuel B. Padilla, Arlyn Juanita S. Villanueva, Thelma S. Ciudadano and Gervacio I. Piator on May 22-24, 2022.
SUMMARY OF RESULTS
Here is the List of Passers (G-L)
437 GABINETE, RAYMAR BRYANT VILLARETE
438 GABO, SHEILA MAE JAVAR
439 GABUD, MARY FLOR ATIENZA
440 GACUTAN, ENRICO JR TURQUEZA
441 GADIN, LYRA JEAN BAQUILOD
442 GADITANO, JUSTINE GADIEL MARCIANO
443 GALING, LEONARDO III DE ASIS
444 GALON, ZANDRA NISNISAN
445 GAMBOA, JAYVEE ABUEL
446 GAMBOA, REGINO SHAUN IV GANA
447 GAMOROT, YVES RAZO
448 GARCEL, MYRTLE CORTEZ
449 GARCES, JESHELLE SIGUE
450 GARCES, MARY GRACE NACUSPAG
Roll of Successful Examinees in the
C. P. A. LICENSURE EXAMINATION
Held on MAY 22, 2022 & FF. DAYS Page: 11 of 21
Released on JUNE 1, 2022
Seq. No. N a m e
451 GARCIA, EDRALIN LAYUGAN
452 GARCIA, EMERSON MARIANO
453 GARCIA, EMMA MARIZ BERNAS
454 GARCIA, JENA CLYDE GALANG
455 GARCIA, KYLE MARINEE VALENTIN
456 GARCIA, NICKSON ASUNCION
457 GARDINI, PATRICK DAVID PONS
458 GATO, ABDUL BARRI INDOL
459 GAYADOS, MARVIN DAMPALIG
460 GELVEZON, KRISTINE CLAUDETTE PATIÑO
461 GEPILANO, MARIA BLESSILDA DELA CRUZ
462 GERVACIO, FRANCES GABRIELLE RAMIREZ
463 GIMAO, ISABELLA PALO
464 GLANG, HANNAN KAMID
465 GLORIA, TRIXIE VAN SEMACIO
466 GO, BURBERRY LAO
467 GO, EARVIN MICKELL DILANCO
468 GO, GENNIE MAE BERNICE ANG
469 GOMEZ, DENISSE MIKHAELA CRUZ
470 GONZALES, BIANCA TIPAN
471 GONZALES, MARZO MARI BAÑARES
472 GOZUM, SHEI SIMANGAN
473 GRAVADOR, JOHN RIO III PERA
474 GREGORIO, JETT TIANGCO
475 GREGORIOS, ASHLEY LOUISE PACIS
476 GUIAO, MARK JORENZ REYES
477 GUIDES, JEZRA DAYE GAYAT
478 GUILING, KAREN RHIA DELA CRUZ
479 GUILING, SITTIE NADZMAH PINTO
480 GUINGAB, MARVELOUS CHRISTIAN GERONIMO
481 GUMIRAN, JULIA MARI SAN LUIS
482 GURREA, ALYZA BUTALID
483 GUSTO, AMIEL SALEM
484 GUTIERREZ, GLYDEL OCAMPO
485 HAVANA, ETHELBERT IVAN MALLARI
486 HERBITO, LYED LAO
487 HERMENO, MARC GABRIEL CHANICO
488 HERNANDEZ, JOHN MAVERICK MABALOT
489 HERUELA, ALYSSA NYN LOMONGO
490 HILARIO, ANA BEATRIZ CRUZ
491 HINOLAN, MARK ALVIN CASTOR
492 HIPOLITO, KRIS LOUISE REPATO
493 HONRADO, ENA JOY CAMERO
494 IGNACIO, RESTY DANIEL REYES
495 ILARDE, CHRISTIAN KING SERGAN
496 ILUMIN, JOHN DANIEL JACINTO
497 IMAM, JONAID MALA
498 INGAL, DIVINA DELA CRUZ
499 INIEGO, JUSTIN MIGUEL LEE
500 JAMAROLIN, JR ALCANSARE
Roll of Successful Examinees in the
C. P. A. LICENSURE EXAMINATION
Held on MAY 22, 2022 & FF. DAYS Page: 12 of 21
Released on JUNE 1, 2022
Seq. No. N a m e
501 JANDOG, VINCE BRYAN CATUBIG
502 JAO, VINCENT MEDINA
503 JAPITANA, KRISTINE ROSE CHONG
504 JAPSON, REY ADRIAN CABURUBIAS
505 JARAPAN, MARYZ NOVELINE BAIT-IT
506 JAVIER, KATERINE REBUYACO
507 JERUSALEM, EMMANUEL ZARAGOSA
508 JIMENEZ, CRISTY ELLAINE LABAYO
509 JOAQUIN, ELIZABETH JANGAYO
510 JOVER, MARBY MIKAELLA REDELOSA
511 JUAN, NIÑA ANGELICA MARTINEZ
512 JUHASAN, FADZRAMA INDASAN
513 JULIANO, KENNETH SORIANO
514 JUPI, AHMAD MARUJI
515 KAKIM, FARNAN WADAS
516 LABALAN, MARY DIMPLE NAVERA
517 LABELLA, LANDER CHRISTIAN ITABLE
518 LABINE, JOSEPH JR LAPIDO
519 LABRADOR, JAYNARD MARTINEZ
520 LACAP, PATRICIA NICOLE SANTOS
521 LACBAYEN, IAN GHER TUBAON
522 LADIA, ROUNE POUL BAGAOISAN
523 LADUA, HECTOR JR QUILLO
524 LAGUNDINO, PAULINE KATE ESPIRITU
525 LALIMARMO, ANNE GABRIELLE WIJESEKARA
526 LAMAN, KIMBERLY
527 LAMBINO, MICHAEL FUENTECILLA
528 LAMSEN, MARLO RENE HERNAN
529 LANDIG, PATRICK PATULOT
530 LANORIO, RAYMOND GALANTA
531 LANTION, DINUEL PAULO QUEJA
532 LAO, ANN MARGARETTE SAN PEDRO
533 LAPIZ, MA. LOREN PADILLA
534 LAPIZ, MATTHEW VAN MICHAEL PULIDO
535 LAPPAY, JOHN PAUL ASUNCION
536 LASUDEN, DAKILA TANGONAN
537 LAUDE, MARK SHERLOU MUTIA
538 LAURICO, LAURICE LEIN OLAES
539 LAVADO, JOHN LESTER DIVINO
540 LAVARIAS, REI JEZREEL NONATO
541 LEAÑO, JOHN PAOLO LUZ
542 LEBAQUIN, JOAN VENCER
543 LEGASPI, MER RINNA DYNE MARIÑAS
544 LEGASPI, PAULA BEATRICE DEL ROSARIO
545 LETRERO, PATRICE LIEZL DAMPAS
546 LETRONDO, ANGEL JOY RAMIREZ
547 LIBADESOS, MARY FE DUMAS
548 LICUP, CAMILLE CO
549 LIM, BRYAN JAO
550 LIM, MATTHEW MARCUS PAGSANJAN
Roll of Successful Examinees in the
C. P. A. LICENSURE EXAMINATION
Held on MAY 22, 2022 & FF. DAYS Page: 13 of 21
Released on JUNE 1, 2022
Seq. No. N a m e
551 LLAMA, KATHRYN NICOLE ACIBAR
552 LOFRANCO, ROANNE CABRERA
553 LOM-OC, LYLE CHRISTIAN GULAYAN
554 LOON, RON NIÑO
555 LOPEZ, JOHN PAUL SUNGA
556 LOPEZ-VITO, NEMI DANE CAPAO
557 LORENZO, HARRIS PANOPIO
558 LORENZO, SAM FRANCIS VIÑAS
559 LOYOGOY, JUNELL ROGER SALAZAR
560 LOYOLA, SHEENA KATE DISOMOL
561 LUAREZ, NELIE CALE
562 LUGTU, AIVEE MARIE SOTTO
563 LUISTRO, DUSTIN ANDREI HIPOLITO
564 LUZA, LORD JOHN MATIVO
Requirements
Notice of Admission
Duly accomplished Oath Form
2 pieces of passport-sized ID photos in white background and with complete name tag
2 sets of documentary stamp
1 piece short brown envelope
Exam Coverage
Auditing
Management Advisory Services
Taxation
Regulatory Framework for Business Transactions
Financial Accounting and Reporting
Advanced Financial Accounting and Reporting
Release Date
The exam results are expected to be released within six (6) to thirteen (13) working days after the last day of examinations or on June 10, 2022.
Note
However, examinees should expect that the exam results might be released earlier or later than the expected date without prior notice from PRC.
Aspiring certified public accountants can visit PRC official website and use the verification page for the results of board examination passing rate. CPA examinees will be required to provide their full name, birthdate, exam name, date of examination and application number.
Thank you for visiting Philippine Trending News (Philnews.ph). You may also follow us on the following social media platforms; Facebook, Twitter, and YouTube.
comment(s) for this post "Certified Public Accountant Board Exam Result May 2022 – List of Passers (G-L)". Tell us what you think abut this post by leaving your comments below.