Bong Go Website Hacked Following Withdrawal From 2022 Elections
BONG GO HACKED – A few minutes after announcing his withdrawal from the 2022 elections, Senator Bong Go's website was hacked.
The hackers responsible for defacing Go's site are known as the Pinoy Grayhats. Initially, the hackers exposed information regarding Go's volunteers for next year's election.
But, following this, the hackers simply left the site barren with one of Go's most viral photos being the centerpiece. "Hippity Hoppity ur site is now my property", welcomes the website.
Afterward, the Grayhats expressed that they wanted a push for vulnerability disclosure programs for government assets. With how easily the site was hacked, it should definitely be looked into.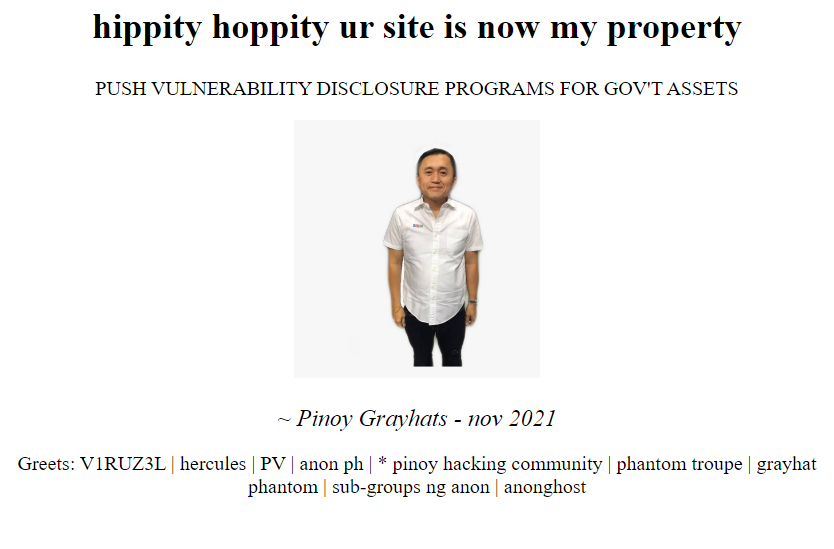 What are Gray Hat Hackers?
In the world of computing, hackers are often viewed in a negative light. However, there are some hackers out there that conduct ethical hacking to help secure vulnerabilities of systems. There are Black, White, and Gray Hat hackers.
Black hat hackers are most likely criminals who manage to break into systems with malicious intent. Once they're in your system, they can destroy files, release malware, steal personal information, credit card numbers, and more.
Meanwhile, white hat hackers are called "ethical hackers". They can sometimes be paid by companies to help discover vulnerabilities or gaps in their security.
Gray hat hackers, on the other hand, are in between white and black hat hackers. These hackers often look for security gaps in a computer system without the knowledge of the owner.
If issues are found, they could report them to the owner and ask for a fee to fix them. However, others do it to show off their skills to the public.
Thanks for reading. We aim to provide our readers with the freshest and most in-demand content. Come back next time for the latest news here on Philnews.
READ ALSO: Marcos Jr. Speaks on Duterte's "Build Build Build" Program
comment(s) for this post "Bong Go Website Hacked After His Withdrawal From Presidential Race". Tell us what you think abut this post by leaving your comments below.