Guide on Selfless' Meaning in Tagalog
SELFLESS MEANING IN TAGALOG – Here is what the English adjective "selfless" means in Tagalog.
A lot of people now most especially the younger generation are more equipped in the English language than in Tagalog. Probably, it is because the universal language is widely studied now.
Knowing how to speak English well brings a lot of advantages. However, it is whole lot better if we know both English and our native language – Tagalog. In that way, we can communicate well with people from the different walks of life.
We can begin by actually studying certain words that are quite hard to translate in Tagalog. It can be a translation of its meaning or the Filipino counterpart of the word itself.
Let us begin with the word "selfless".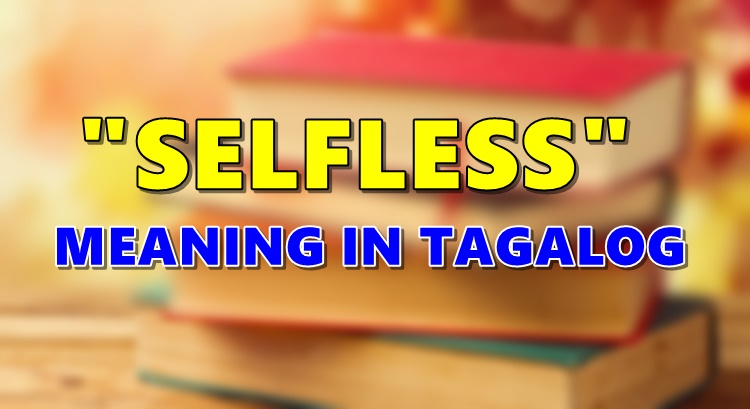 Selfless' meaning in Tagalog is "hindi makasarili". It means, the person is not thinking all about himself or herself only. He or she may be prioritizing others more than his or her own welfare.
"Selfless" Meaning in Tagalog = Hindi makasarili
Here are some of the examples of sentences using the English adjective selfless and as well as its meaning in the Filipino language:
Jonathan is really selfless when it comes to his family.
Si Jonathan ay sadyang hindi makasarili pagdating sa kanyang pamilya.
Niño wants a best friend who is selfless and humble.
Nais ni Niño ng isang matalik na kaibigan na hindi makasarili at mapagkumbaba.
According to Jackie, among them siblings, Demetry is most selfless.
Ayon kay Jackie, sa kanilang magkakapatid, si Demetry ang pinaka hindi makasarili.
Seeing how selfless Franco is, Vina's father is more than willing to let his daughter marry the young man.
Ang ama ni Vina ay payag na pakasalan ng kanyang anak si Franco nang makita kung gaano ka hindi makasarili ang binata.
What makes Anthony different from his brothers is that he is selfless and respectful.
Ang ipinagkakaiba ni Anthony sa kanyang mga kapatid na lalaki ay ang pagiging hindi niya makasarili at pagiging magalang.
READ ALSO: CLINGY IN TAGALOG – Translate "Clingy" From English To Tagalog