Guide on the Translation of Clingy in Tagalog
CLINGY IN TAGALOG – Here is a guide on the Tagalog translation of the English word "clingy".
Nowadays, there are a lot of English words that are more commonly used now compared before. Usually, these words are part of the everyday conversations of the people most especially the millennial.
One of these words is the word "clingy". Are you one of those who usually use this word in referring to a sweet person who is so showy?
Undeniably, "clingy" is usually taken negatively. It is associated with being too dependent or too showy that goes beyond the limits. Meanwhile, on the lighter side, it means being too attached to a person or thing.
You can usually hear this English word but have you also thought of its Tagalog counterpart?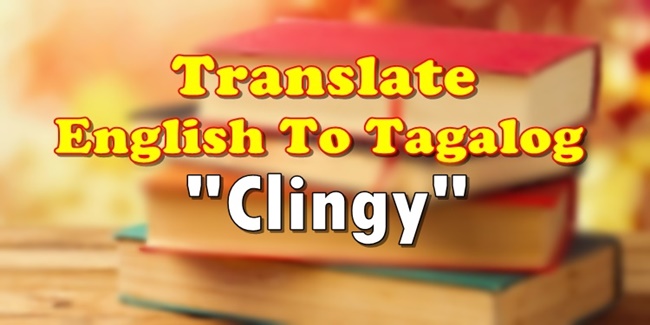 What is clingy in Tagalog?
Did this question ever cross your mind too? The English word clingy may not actually have a direct one-word counterpart. It can be translated as mahilig kumapit or fond of holding on.
Clingy = mahilig kumapit
Here are some examples of English and Tagalog sentences using this word:
Dominic is clingy when it comes to Rachelle.
Si Dominic ay mahilig kumapit pagdating kay Rachelle.
Simeon does not want a clingy person.
Ayaw ni Simeon ng taong mahilig kumapit.
Clingy, talkative, and eater are the best descriptions for Nathaniel.
Mahilig kumapit, madaldal, at palakain ang pinaka magandang paglalarawan kay Nathaniel.
The principal called Adam for being too clingy to his classmates.
Ipinatawag ng prinsipal si Adam sa pagiging masyadong mahilig nitong kumapit sa kanyang mga kaklase.
David is clingy so Rosa chose to end their relationship.
Mahilig kumapit si David kaya tinapos ni Rosa ang relasyon nila.
READ ALSO: TRANSLATE ENGLISH TO TAGALOG – "Parsley"