Carlo J. Caparas Contemplates Making A Movie Based on Christine Silawan's Life Story
CHRISTINE SILAWAN – Carlo J. Caparas contemplated on making a movie based on the life story of Christine Silawan.
In a previous article, the person of interest in Christine Silawans death, Jonas Bueno, was arrested by authorities in Davao City yesterday.
The whole nation was shocked and heartbroken after seeing the photo of the lifeless and peeled off skin on the face of the 16-year-old alms collector.
The authorities linked the death of Christine Silawan to the previous incident in Danao City, Cebu. A 62-year-old farmer was also slain like her.
Jonas Bueno is an alleged cult leader. His two brothers collaborated the killing of an old man in January 2019.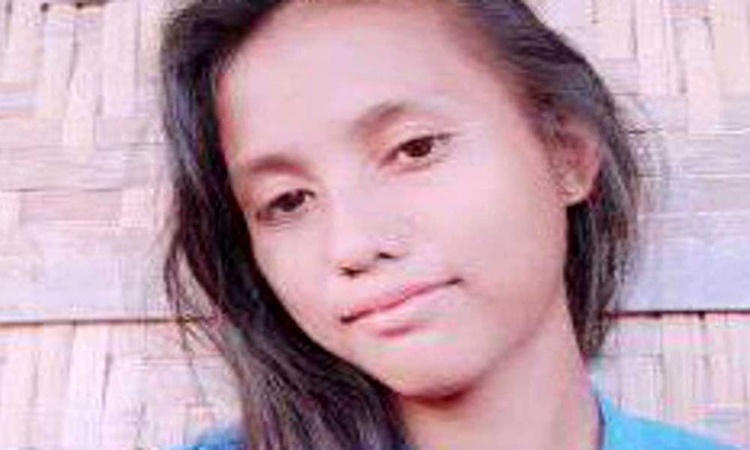 Sun Star Cebu shared photo of the well-known movie director Carlo J. Caparas visiting the wake of Christine Silawan.
On March 15, the director went to Barangay Mactan to express his sympathy to the family of the young girl.
In the caption of the post, it stated that Caparas was accompanied by Engineer Rolando Patalinjug which is the cousin of his spouse, Donna Villa.
Founding chairman of Volunteers Against Crime and Corruption (VACC) Dante Jimenez and his members were also with him.
Carlo J. Caparas was thinking about making a film about the persecution of Christine Silawan but he hasn't given any official announcement yet.
The director is tagged as the "True-to-Life Story King" and has directed movies like "Lipa 'Arandia' Massacre: Lord Deliver Us From Evil" and "Vizconde Massacre."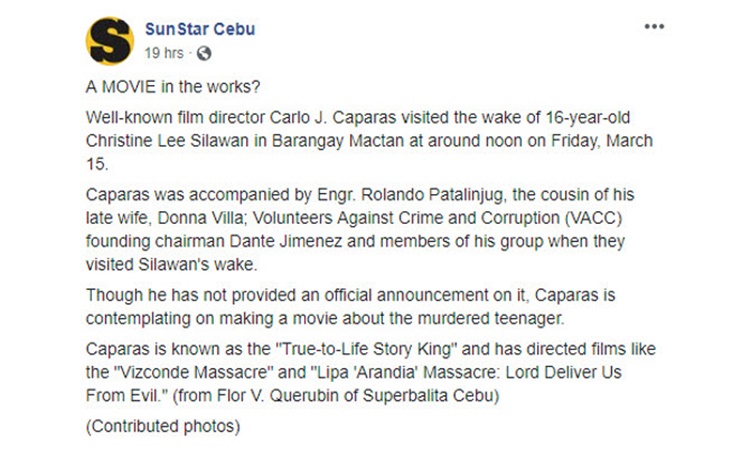 The plan of making a movie out of Christine Silawan's life story gathered negative reactions from netizens. Here are some of their comments on the post:
@Ivy Jane Parinasan: "If gagawan ng movie, do you really think that the families of the victim would love to watch it? It will only make them feel the pain again and again!"
@Will Giuseppe Malinao: "Excuse me! We don't need a movie for this incident. We want justice and not a movie!
@Quen Li: "Ang pelikuang ito ay para sa lahat para ma aware ang buong mundo na dapat magingat"
What can you say about this article? Leave your comment and reactions below.