The National Economic Development Authority (NEDA) Investment Coordinating Committee (ICC) approved the project that will paved the way for Manila's first subway along with five other public private partnership projects. Only President Aquino's approval will be needed for the project to push through.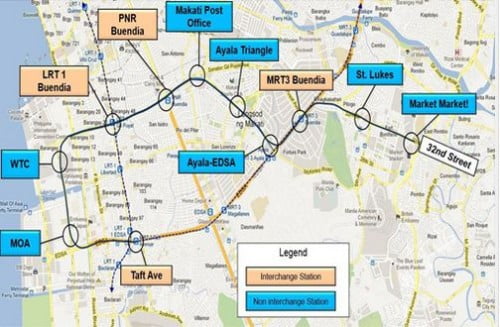 According to NEDA deputy-director general Ronaldo Tungpalan said the projects were approved with some conditins but should be presented to the NEDA Board.
The Manila's first subway will run from Market Market and St. Luke's Hospital in The Fort to the EDSA-MRT stations on Buendia and Ayala, to Ayala Triangle, the Makati post office and the PNR station on Buendia, then to the LRT-1 station on Buendia and Taft, then across Roxas Boulevard to the World Trade Center and SM Mall of Asia, then back to the EDSA-MRT station on Taft.
According to NEDA the estimated cost for a mere 12 kilometers is P370 billion, considered as the government's most expensive PPP project. Some experts noted that subways are more expensive than the elevated rails which could double the price per kilometer, but the government has no choice but to implement the said project.
NEDA also pinpoints that some influential property owners and developers may appreciate a hidden underground line rather than an above-ground eyesore.
Here are the 6 projects approved by NEDA-ICC:
1. Fort Bonifacio-Makati-SM Moa subway
2. Manila-Legazpi-Calamba railway
3. Tarlac-Pangasinan-La Union expressway (TPLEX)
4. Motor Vehicle Inspection project
5. Bureau of Fire project
6. Civil Registry project