Callie Rogers, the Britain's youngest lottery winner at age 16 was featured on Closer Magazine. The Cockermouth native and currently living in Workington, Cumbriahe hit the jackpot £1.9 million last 2003.
With the winning prizes she was living in her life to the fullest.  The former shop (–foul word(s) removed–)istant spending money £11,500 on breast implants for herself,  a £550,000 four properties and her family before splashing out £85,000 on cars. She spent £200 a month on hair extensions and much more on clothes she ended up in parties and vices costs on£250,000 the good life doesn't last for long.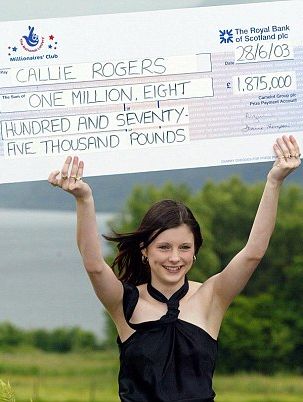 The National Lottery winner Callie Rogers had two children Debony and Kian on her previous relationship to Nicky Lawson they split in 2010, after she lost the custody of their children she attempt suicide three times.
The 25-year-old Callie Rogers is now currently living in Workington, Cumbria with her live-in partner the 33-year-old, Paul Penny they were expecting twins Callie Rogers is now pregnant.
She stated that although some of winnings were not used in a positive way she was still thankful with what happened to her life. She was quoted as saying that  "I might not have any of my millions left, but I have met the man of my dreams and together we are about to have twins and both of us could not be more excited." Callie Rogers stated.
Carrie Rogers was featured in Closer Magazine for the cover this week, showing off her baby bumps and tattoo.