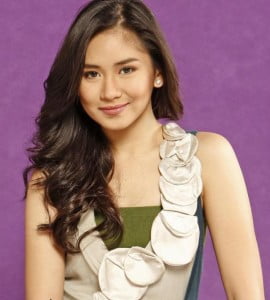 Singer-Actress Sarah Geronimo speaks out regarding the rumors that her parents Delfin and Devine Geronimo have already separated.
In an interview with the Pop Star Princess in the "Buzz", she denies this allegation and said that their family are intact and her parents did not parted ways.
Sarah admitted that their family is not a perfect family, there are times that both of her parents are having misunderstanding but it did not came to the point that they decided to separate and she is very much thankful to God about it. She also hopes that God won't allow this thing to happen in their family.
The speculation of her parents break up started to spread after rumors came out that despite of her parents living in one house, they are not in good terms and so they decided to separate.
However Sarah said that issues like this is already normal for her, according to the singer even before there are a lot of controversies being thrown to her family and her career but instead of taking it personally she rather choose to disregard it and added that as long as her family is okay and they are okay she is already thankful for it
Geronimo just arrived from United States where she took a voice and dance lessons.
Aside from her family, the issue of rivalry between her and Star Power Grand winner Angeline Quinto is getting hotter. Sarah made a statement about it recently that there is nothing to be compared between her and Angeline because they both have their own strength when it comes to singing and besides they are good friends ever since.