Francis Jay Gumikib, 14, died after allegedly being slapped by his teacher in Filipino subject.
Gumikib, a fifth-grade student at Peafrancia Elementary School in Antipolo City, died a few days after complaining of headaches caused by a slap from his instructor.
Grade 5 Student Passes Away After Alleged Slap by Teacher
Grade 5 Student from Peñafrancia Elementary School in Antipolo City Passes Away After Allegedly Slapped by Teacher
ANTIPOLO CITY – A grade 5 student from Peñafrancia Elementary School passed away after allegedly being slapped by his teacher.
A 14-year-old grade 5 student, Francis Jay Gumikib, passed away after several days of complaining of headaches, allegedly due to being slapped by his teacher at Peñafrancia Elementary School.
The incident reportedly happened on September 20, 2023, when Gumikib was reportedly slapped by his Filipino subject teacher for making noise in class. According to witnesses, the teacher grabbed Gumikib's clothing, pulled his hair, and delivered a slap.
"According po doon sa mga bata is hinawakan daw po sa damit then hinakawan sa buhok saka po natampal. 'Yun po ang pagkasumbong ng witness na kaklase din nung bata," said Women and Children Protection Desk of Antipolo City Police Station PEMS Divina Rafael said.
One of the students witnessed the incident and reported it to authorities.
Despite initially continuing to attend school, Gumikib began to experience severe headaches and ear pain in the days following the alleged assault. His family took him to Amang Rodriguez Medical Center for medical attention.
Unfortunately, he fell into a coma and, despite medical efforts, did not recover, and eventually succumbed to his injuries.
The family of the victim sought to communicate with the teacher involved but were unable to do so. They approached the school, but the class adviser was the only one they could talk to. The grieving parents sought justice for their son, and they were determined to sue the suspect.
"Ang gusto niya is makausap 'yung subject teacher na nakapanakit sa anak niya pero ang nakausap ay adviser. Hinihintay na makausap pero hindi po nangyari," Rafael added.
The accused teacher denied the allegations made by the victim's family. According to the teacher, the incident involved a mere tap on the cheek and not a full-blown slap.
The Antipolo City Police initiated an investigation into the incident, with the case potentially involving violations of the Anti-Child Abuse Law (RA 7610). An autopsy of the victim's body was scheduled to determine the exact cause of death.
In another report, UP student dies after depressed mom stopped her to escape from burning house, she shouts "gusto ko pang mabuhay!"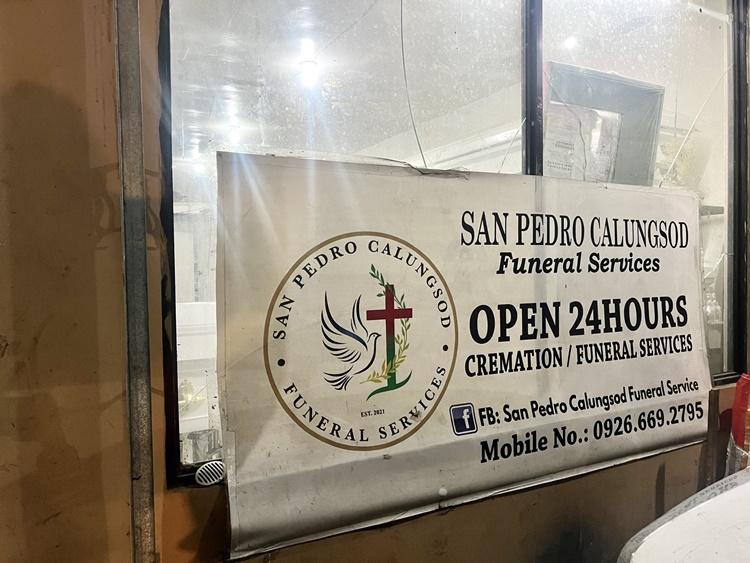 The social media users expressed their reactions to this shocking incident: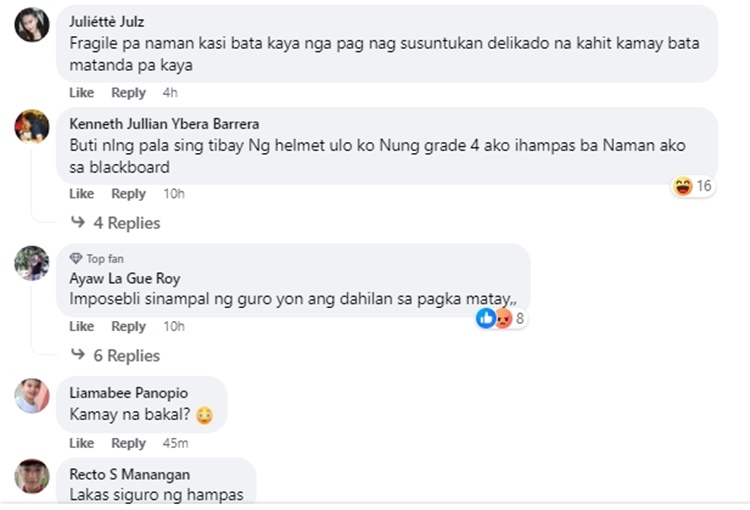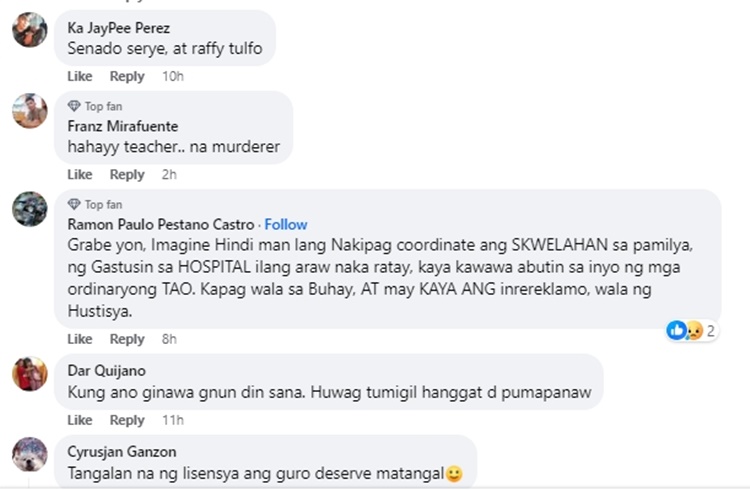 Thank you for visiting Philippine Trending News (Philnews.ph). You may also follow us on the following social media platforms; Facebook, Twitter, and YouTube