Two individuals who were crossing a road in Tanza, Cavite, sustained minor injuries when they were hit by an ambulance.
The victims had attempted to cross the road after an SUV had cleared their path, but an ambulance accidentally collided with them, resulting in both individuals falling to the ground with minor injuries.
Ambulance Accidentally Hit 2 Pedestrians in Tanza, Cavite
2 Pedestrians Sustain Injuries After Being Hit by Ambulance in Tanza, Cavite
An ambulance accidentally hit two female pedestrians in Tanza, Cavite, the victims suffered minor injuries.
The accident took place in Barangay Punta Uno in Tanza, where four women were waiting to cross the road on a late Monday evening (September 25, 2023). One of the pedestrians proceeded to cross the street ahead of the others, taking caution to wait for an SUV to pass by.
As soon as the SUV cleared its path, the remaining three women followed, attempting to make their way across the road. Unfortunately, an ambulance approached and collided with two of the pedestrians.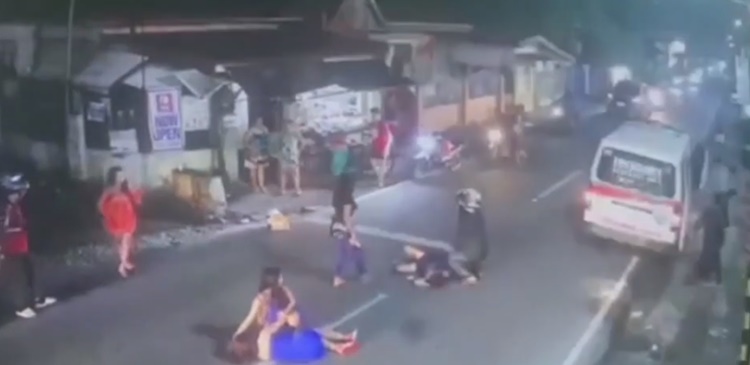 The collision left them lying on the road, injured, and in need of immediate medical attention. The same ambulance that was involved in the incident was quickly transformed from a vehicle of emergency assistance to a means of transportation for the injured women.
It rushed them to the hospital to receive the necessary medical treatment.
Barangay Punta Uno officials reported that the ambulance was heading back to Rosario town in Cavite after successfully delivering a patient to Trece Martires when the accident happened. The ambulance is owned and operated by the local government unit of Rosario.
Tanza police officials worked to mediate and resolve the situation. A settlement was reached between the two victims, who fortunately suffered only minor injuries and the driver of the ambulance.
As part of the settlement, the driver agreed to pay for all of the costs paid by the injured pedestrians.
The incident emphasized the importance of education, awareness campaigns, and adherence to traffic laws to prevent accidents. It also promotes safer journeys for everyone on the road.
In another story, an ambulance earns reactions for not picking up kamote rider involved in accident
The social media users expressed their reactions to this unfortunate incident: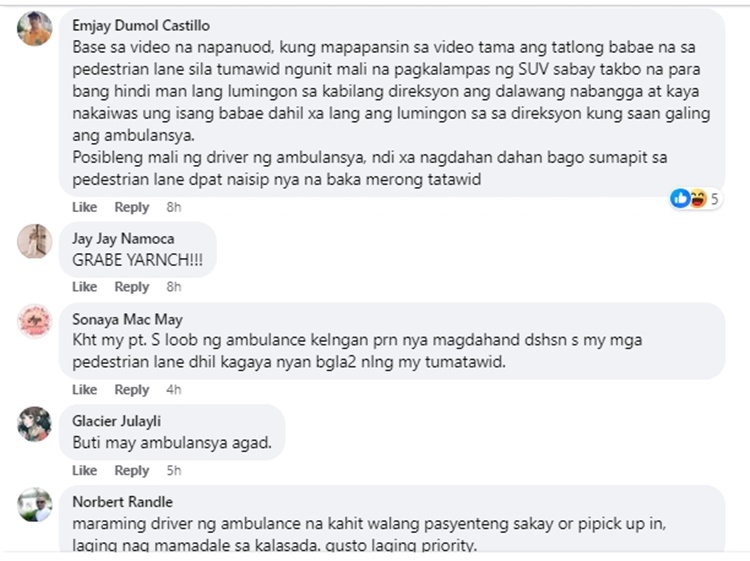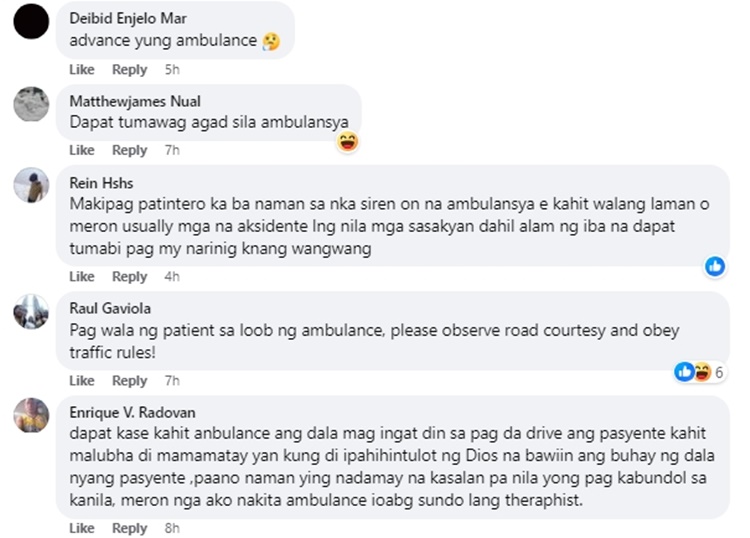 Thank you for visiting Philippine Trending News (Philnews.ph). You may also follow us on the following social media platforms; Facebook, Twitter, and YouTube