Online love scammers were caught using the faces of celebrities and social media influencers to lure victims.
The police authorities discovered that a syndicate is using the profile photos of famous celebrities and influencers to lure unaware victims. The scammers primarily target unsuspecting foreign nationals.
Syndicate Uses Faces of Celebrities and Influencers in Online Love Scam
Online Love Scammers Use Faces of Celebrities and Influencers
ONLINE LOVE SCAM – The faces of celebrities and influencers were reportedly being used by a syndicate in online love scams.
Authorities have uncovered a disturbing trend in the world of online love scams, where the profile photos of famous celebrities and influencers are being utilized by a syndicate victimizing unsuspecting foreigners.
The Presidential Anti-Organized Crime Commission (PAOCC) made this discovered the modus while investigating approximately 3,000 cellphones seized during a raid on a cyber scam hub in Pasay City last month.
The syndicate reportedly employs the images of celebrities and influencers as profile photos on their fabricated social media accounts, aiming to lure foreign nationals, according to PAOCC chief Undersecretary Gilbert Cruz.
"May folder sila eh ng activities ng mga artista, o kaya mga influencer's, pag sinabi, ano ang ginagawa mo ngayon, ipapakita nag-gi-gym yung artista kahit hindi sila 'yon. 'Pag sinabi naman, ano breakfast mo? Ano ulam mo? May folder sila ng mga pagkain. Pipili siya ro'n, tapos hanggang sa ma-inlove yung tao," Cruz said.
Cruz revealed that the syndicate will request money under the pretense of investing in a business opportunity once the victim's trust is gain. PAOCC are currently investigating where the funds acquired by the group from their victims end up.
In a previous report, two suspects on alleged "love scam" modus arrested in Pampanga
Authorities have issued a caution to the public to remain vigilant to avoid falling victim to such scams.
"Ang profile ng mga binibiktima nila is 35 above, 'pag nakita nila medyo emotionally unstable, ang love life mo di maganda, papasukan ka nila. Dapat maingat tayo dun sa mga fine-friend natin online," Cruz advised.
The social media users expressed their reactions to this modus: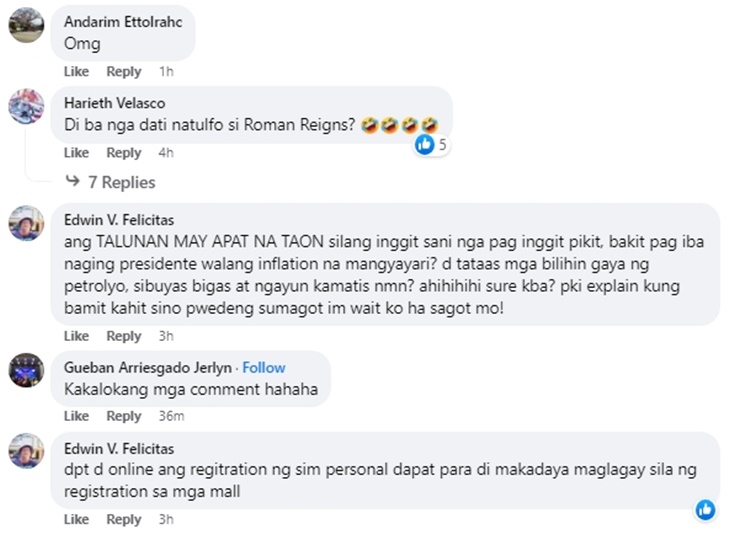 Thank you for visiting Philippine Trending News (Philnews.ph). You may also follow us on the following social media platforms; Facebook, Twitter, and YouTube