Darryl Yap Disowned Fake Facebook Account With His Name
Controversial director Darryl Yap disowned an active fake Facebook account with his name that is allegedly made by Kakampinks.
The director of "Maid in Malacañang" used social media to refute the purported bogus Facebook account. Yap posted a picture on Monday, September 26, that depicts a post from an account with the name "Director Darryl Yap."
The authenticated check or Facebook logo on the director of MIM's original account serves as evidence. The bogus Facebook account questioned individuals who inquired about the president's whereabouts during the recent Super Typhoon "Karding" in a post of that nature.
"Ayan na naman sila sa #NasaanAngPangulo? bakit si PBBM ang hinahanap nyo pag may bagyo at sakuna? eh dapat si madumb leni ang iharap nyo dyan dahil kayo na rin ang nagsabi na pag may malakas na ulan at malakas na hangin na sya ang nag papatigil neto dahil diba nga may superpowers sya? #SuperPowers," he said on the fake account.
Yap denied it and insisted that he is not the account's owner. He said that the account was made by the so-called "Kakampinks," who were Leni Robredo's followers. Kakampinks are his fiercest detractors and critics.
"Hahahaha! itong mga Kakampinks na ito, nangarap na naman na makakapoints sa akin. Hindi talaga kayo mananalo kung imbento nyo ang away, kaaway at argumento hahaha! para sa mga cotton candy ang utak— DI AKO YAN. haahhaah," he said.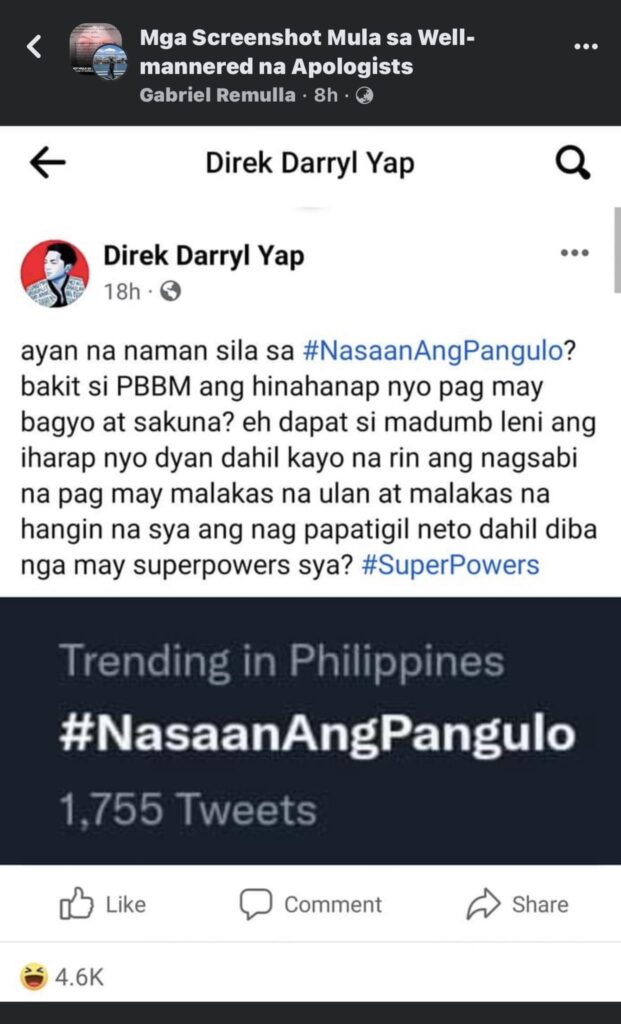 READ ALSO: Jam Magno Criticized Online for Calling 'Leni lumabas ka!'
What are your thoughts on this article? Just feel free to leave your reactions in the comment section.
Thank you for taking the time to read this. We aim to give the freshest and in-demand content to our visitors. Come back next time at PhilNews for more updated news.