Typhoon Karding Agricultural Damage Reach P160M; DA said
Agricultural damage of super typhoon Karding (international name: Noru) have reached for over P160.1 million
The Cordillera Administrative Region (CAR), the Ilocos Region, Central Luzon, Calabarzon, and the Bicol Region were all included in the most recent estimations made by the DA's Disaster Risk Reduction and Management Operations Center (DRRM).
This amounts to a loss of 7,457 metric tons (MT) of commodity production, affecting 3,780 farmers and fishermen. These commodities include rice, corn, high-value crops, and fisheries.
On it's latest bulletin on September 26, 5 pm the Department of Agriculture (DA) said that; "These values are subject to validation. Additional damage and losses are expected in areas affected by 'Karding'."
Based on the report of GMA News, according to the organization, affected farmers and fishermen can get help in the form of 133,240 bags of rice seeds, 5,729 bags of corn seeds, and 4,911 kilograms of various vegetable seed varieties.
Additionally, it has biologics and medications for animals and birds, as well as fingerlings and help from the Bureau of Fisheries and Aquatic Resources (BFAR).
The report also mentioned that, the DA claimed that it may also use P500 million from the Quick Response Fund (QRF) and the Survival and Recovery (SURE) Program of the Agricultural Credit Policy Council (ACPC) for the rehabilitation of impacted areas.
The Department of Social Welfare and Development (DSWD) also said that they will extend their help and give P1.1 billion pesos for disaster response for the people and community that ravage by typhoon Karding.
As of 8 p.m on Monday the PAGASA said that the super typhoon Karding officially left the Philippine Area of Responsibility (PAR).
"Typhoon Karding left the PAR region at 8 p.m. today. Karding will continue moving its westward track towards Vietnam. This tropical cyclone will further intensify throughout the forecast period," PAGASA said.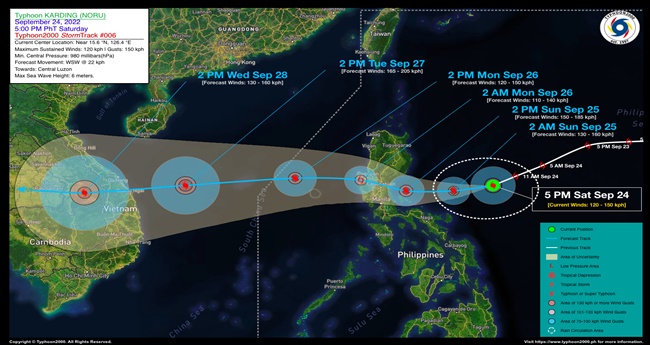 However, Karding damaged total of 60,817 person and eight (8) of them died including the 5 rescuers that were killed by flashflood in Barangay Camias on Sunday evening.
You may also visit: Bulacan Gov Salutes Heroism 5 Rescuers Who Died amid Karding