Young Lady Slams College School After She Failed to Make It on List of Passers
A young lady named Jelyn Zeb P. Estores earns criticisms online after lambasting a college school for not including her on list of admitted students.
A Facebook user named Jelyn Zeb P. Estores has expressed her disappointment after failing to make it to the list of admitted students although she passed the entrance examinations. The post garnered various reactions from the social media users.
Estores lambasted the Carlos Hilado Memorial State College (Fortune-Towne Campus) after she did not make it to the list of students who could enroll. She considered the school's decision as offensive.
Read Also: Young Lady Who Slams College School for Rejecting Her Issued Public Apology
The lady student voiced out due to the impact of the incident to her and her fellow student who also failed to make it to the admission list. The woman cried because she don't want to disappoint her parents.
Jelyn also blames the school and expressed her desire to check the record and make sure that no error happened. She also encouraged her fellow students not to lose hope although they failed to be admitted on the school.
Read Also; Lady Student Answers Learning Modules on Bridge Just to Get Signal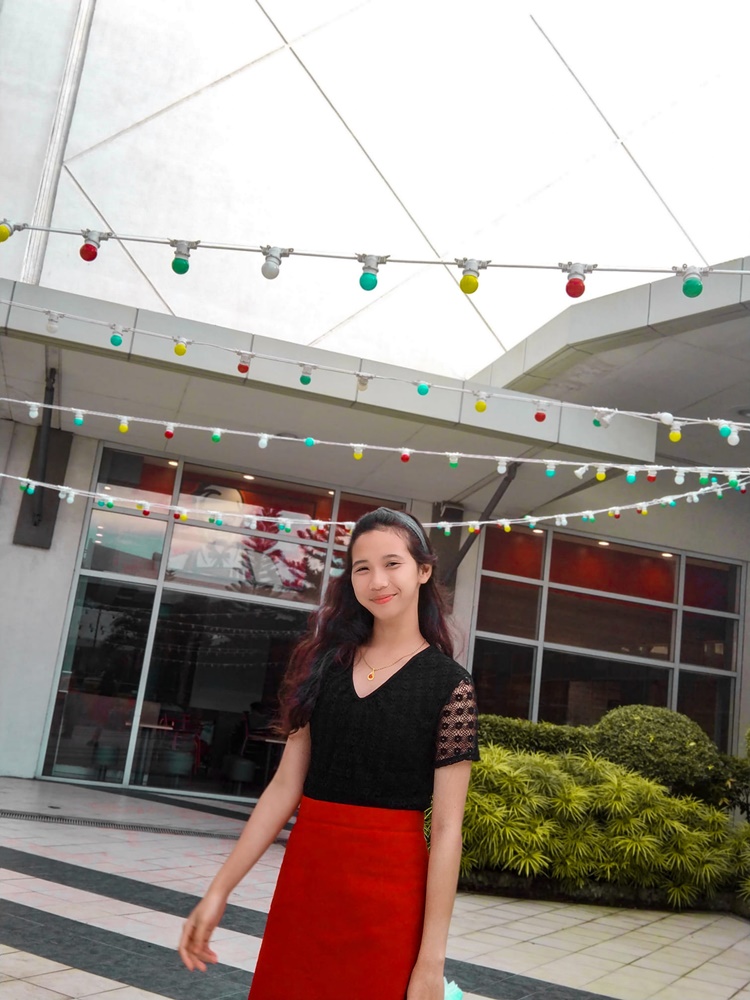 Here is the full post:
"Nag post lang gane kay wanted to share diba? HAHA naka move on namn ko da gin sturya ko lang na agyan ko dw kamo paya bala apektado para mag bash HAHAHA kag clarify ko lang ndi students ka school ang gina point out ko da so kalma baga mga sheshhh HAHAHA I pity you with your foul words towards me, if you don't know where I'm coming from why I felt like that mind your own business ga effort pa kamo sa memes salamat sa time, am I that important for you ? Way kamo ambag sa tuition fees ko hililipos kamo da I don't care about your side comments. And if you think that you can hurt me with the shades you are all throwing on me, sorry I'm not affected I won't stoop down on your level just to argue with you.
And what you are doing now reflects on who you are. Yes I posted thing na wala kamo nanamian for some reasons. But it's my account you can skip my post, you can unfollow and block me. Easy right? and some are questioning why nag post ko without sending an email, I did not send an email anymore kay I know na puno na and probably may available but ndi na ang main course ko. I made up my mind and I have plans already kn maano ko after what happened. So stop questioning me about my actions because I'm accountable for it and this is not your life. Some are claiming that gina tirada ko dw ang taga chmsc kaluoy gd ko knu sa memes HAHAHAH dw way manko da may gin hambl na malain about sa inyo nga students? I even clap my hands for those na admitted for enrollment I just shared what happened to me. If you are all too bored and ako nakita nio, I highly recommend that you should Stream SOUR album and SOUR prom by Olivia Rodrigo
For those na ga send skun message telling me that they've experienced the same, padayon lang gyapon despite of disappoinment. Let's continue to pray for each other
Let it sink, I'll leave it all here. God bless you "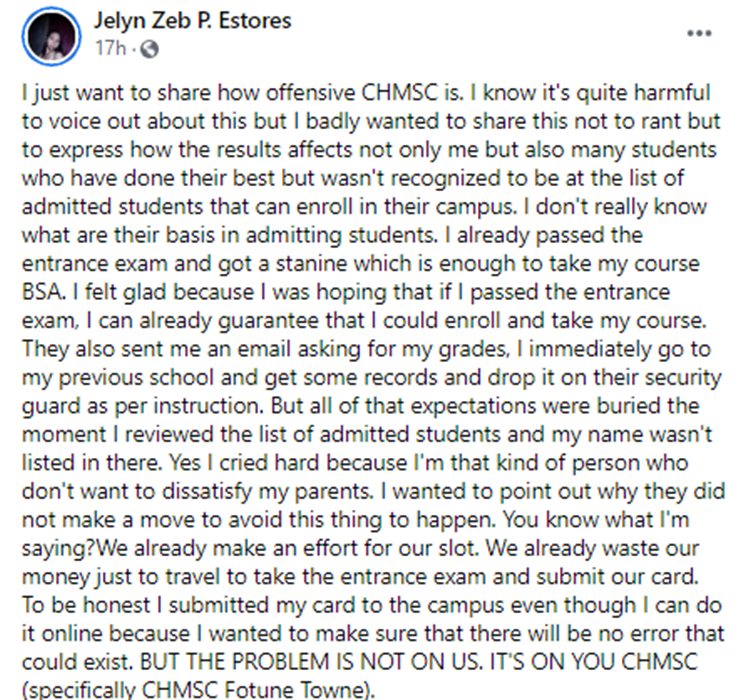 What can you say about this incident? Just feel free to leave your comments and reactions to this article.
Read Also: Lady Student Selling Chicharon & Snacks Finally Graduates From College