Titan, Saturn's Moon, Has Unusual Molecule In Its Atmosphere
TITAN – Researchers have discovered an unusual molecule within the atmosphere of Saturn's largest moon, Titan.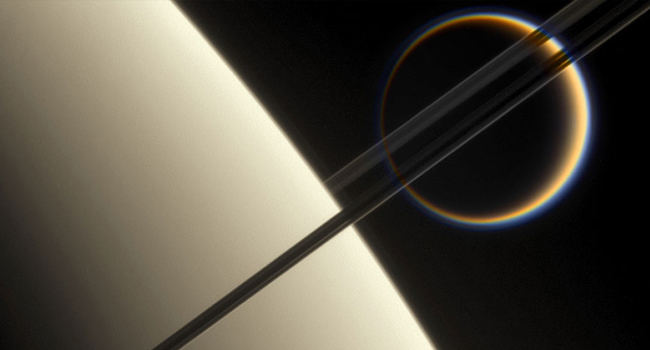 As the only moon in the solar system that has a thick atmosphere, the largest moon of Saturn's atmosphere is four times denser than Earth's, according to a report from CNN Philippines.
The said molecule is called cyclopropenylidene, or C3H2, which is made of carbon and hydrogen. The simple carbon-based molecule is possibly a precursor that contributes to chemical reactions which can make complex compounds, which could be a basis for potential life on the Moon.
It was first noticed as researchers used the Atacama Large Millimeter/submillimeter Array of telescopes in Chile, which captures a range of light signatures. The said telescope revealed the molecule among the unique chemistry of the moon's atmosphere.
This was from a study that was published earlier this month in the Astronomical Journal.
Lead study author Conor Nixon, planetary scientist at NASA's Goddard Space Flight Center in Greenbelt, Maryland admitted that this was an unexpected discovery upon looking at the unusual molecule since this can be found elsewhere across our galaxy, mainly in molecular clouds of gas and dust.
This can also be found in the Taurus Molecular Cloud, where stars are born, which is 400 light-years away in the Taurus constellation. There, temperatures are too cold for many chemical reactions to occur, based on the report.
Cyclopropenylidene can react easily which it collides with others to form something new, considering its discovery in the atmosphere. The researchers were able to spot it because they were looking through the upper layers of Titan's atmosphere, where there are fewer gases the molecule can interact with.
What do you think of this report? How will you react to this? Let us know more about it in the comments below.

READ ALSO: What Is Psychology? About The Social Science Branch
Check out our latest news at philnews.ph or in our following social media pages
Facebook: /PhilNews
Twitter: @PhilNews247
Instagram: @philnewsph
comment(s) for this post "Titan, Saturn's Moon, Has Unusual Molecule In Its Atmosphere". Tell us what you think abut this post by leaving your comments below.