10 Food You Shouldn't Miss
FOOD – The Philippines is a home to delicious food that will surely fill both your hunger and cravings.
Are you planning to visit the Philippines soon or to bring your foreigner friends to our country? Aside from taking them to the best resorts or hotels, why not introduce to them the sumptuous food available in PH?
The Filipino people are food lovers by nature. We love to try new tastes and as well as come up with unique ones. Meanwhile, despite the great curiosity, we never forget those dishes that are perfect to eat anytime of the day.
In case you are planning to visit the Philippines or bring some people in our country, here is a list of ten food that you should not miss:
1. Adobo
The slow process of cooking the chicken or pork meat in vinegar, soy sauce, and black pepper gives adobo its delicious taste. It is one of the most prominent Filipino dishes.
2. Kare-Kare
People who love to eat peanut butter will surely like Kare-Kare. This favorite-of-many mixes both the pork meat and the vegetables in a truly impressive flavor of peanut butter. Many people pair this with shrimp paste.
3. Pancit
Aside from adobo, another food that is greatly known in the Philippines is pancit. May it be in simple gatherings or big parties, pancit is present. It is a pasta mixed with vegetables and small cuts of meat.
4. Kinilaw
The Kinilaw or raw fish salad is one of the most unique dishes that you can try in the Philippines. You may hesitate at first, but, most likely, you would really be impressed by its taste after trying it. It can be paired with rice but it can also be eaten without it. Men often have this food during their drinking session.
5. Sinigang
Do you want to try a different-tasting soup? Don't miss Sinigang or sour meat stew. This food which is a blend of pork and vegetables cooked in souring agents like the tamarind is a perfect viand.
6. Pork Sisig
Aside from Kinilaw, another food that is usually present in dinners and as well as in drinking sessions is Pork Sisig. It is a fatty meat dish with consists of liver and small cuts of meat cooked in chili peppers, soy sauce, calamansi, and vinegar.
7. Balut
Many would surely not dare to try balut or duck embryo. Those who won't might miss the chance of meeting their supposed favorite food. It is a popular food in the Philippines.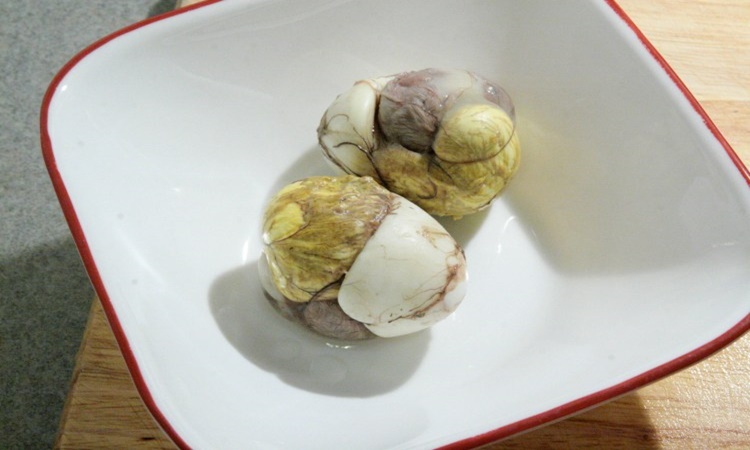 8. Bibingka
Most especially after mass, lots of Filipino people gather in front of the church as there are lots of Bibingka or rice cake being sold. It can be the perfect breakfast or snack for you and your loved ones.
9. Halo-Halo
One food that many people turn to most especially during the summer season is Halo-Halo. It is a blend of the different fruits mixed with milk, beans, ice cream, corn flakes, and ube. They are all put on top of a crushed ice – a perfect escape from the heat of the sun.
10. Chicharon
During your visit to the Philippines, don't miss eating chicharon or fried pork rinds. Lots of people love to eat this crunchy snack and pair it with vinegar.
What can you say about it? Feel free to drop your thoughts below.
You may also visit our official Facebook page @TravelPhilippines.
comment(s) for this post "LOOK: Top 10 Food You Must Try During Your Visit To PH". Tell us what you think abut this post by leaving your comments below.