Jose Javier Reyes appeared to be suggesting replacements for Idol Philippines judges
Prominent writer-director Jose Javier Reyes appeared to be suggesting replacements for the judges in the Kapamilya talent search Idol Philippines.
The show is featuring Regine Velasquez, Vice Ganda, Moira dela Torre, and James Reid as the judges.
Previously, the judges caught the attention of the online community because of their contradicting comments. Netizens criticized Moira, James, and Vice for saying "no" to reggae singer Luke Baylon.
After this, Moira and Regine even had an episode of "sagutan" because of the "same sound" comment of the Asia's Songbird.
In line with this, some netizens are questioning the credibility of the judges. Moira even received hate comments for being a judge in the talent search.
The recent issue about Idol Philippines which caught the attention of netizens was the audition video of Ibrahim Onggo. The video was uploaded on June 2.
Again, Regine contradicted the views of other three judges who said that the contestant did not exhibited right emotion for the song.
However, the Asia's Songbird said that it was a hopeful song and Onggo showed the right emotion.
It appeared that Jose Javier Reyes has his own choice of judges, although he did not specify what show he is referring to.
He said on his Twitter post, "Suggestion: Jed Madela, Gary Valenciano, Morisette Amon as replacements? Credibility is important … more than celebrity".
Then, netizens have this comment on his post: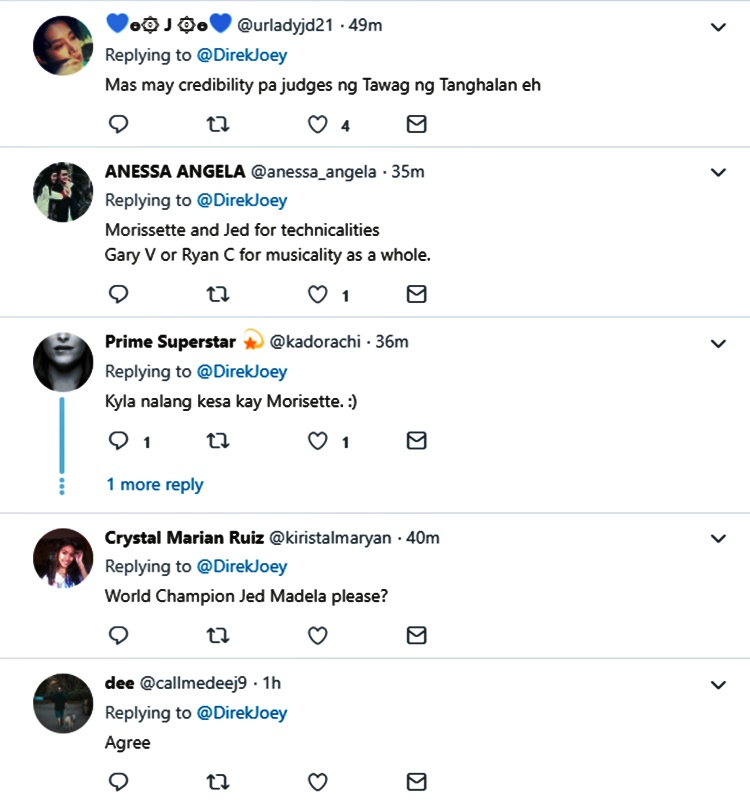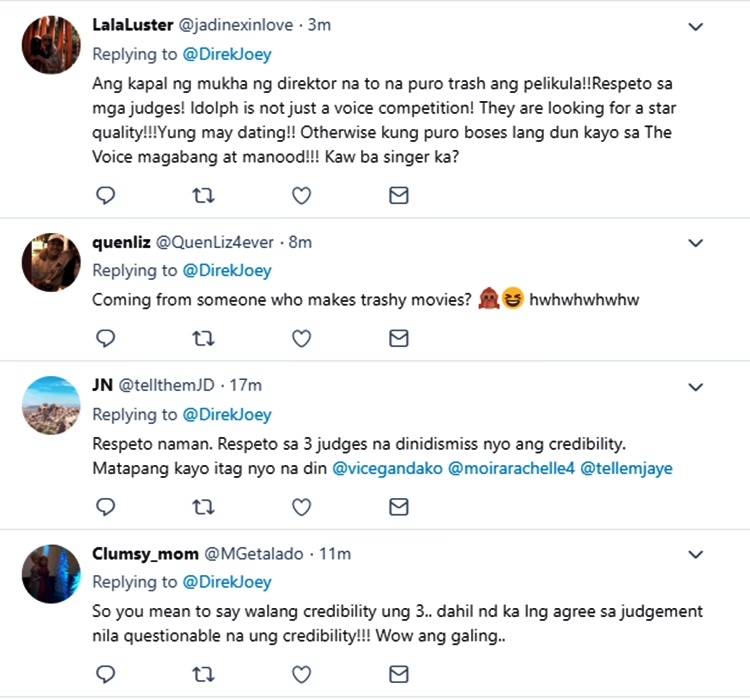 Later on, the director apologized for making his suggestion. "A misstep to make the suggestions. We all want the show to work to give chance to new talents. My apologies for the insensitivity," he said.

FOLLOW-UP:
'Idol Philippines': These Four Singers Were Supposed To Be The Judges?
Jose Javier Reyes' Apology For 'Idol' Judges Post Elicits Various Reactions
What can you say about this?
READ ALSO: Why Jaclyn Jose Contradicts Director's Acting Instructions?