Members Of The Tindig Pilipinas Coalition Protested Against The Alleged Election Fraud
TINDIG PILIPINAS – The members of the opposition coalition Tindig Pilipinas gathered near and protested against the alleged election fraud.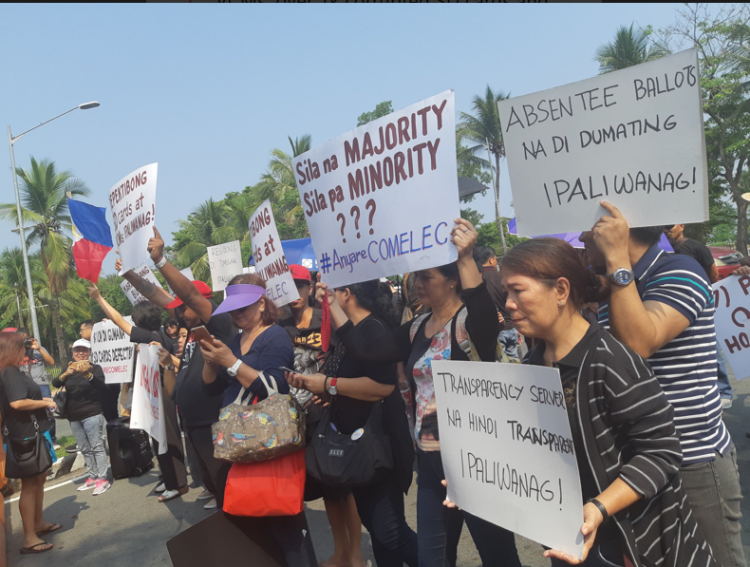 The nationwide elections were conducted last Monday (May 13, 2019). Right after the polls, people started following updates on the results. Watching closely, some people were disappointed when they heard news about VCMs malfunctioning and other election troubles.
An IT expert also insinuated that the malfunctioning VCMs could possibly be a misdirection to allow nationwide-level cheating.
Meanwhile, the protesting members of the Tindig Pilipinas coalition decided to take the stand and voice out their opinions. They brought placards with written signs calling for explanations.
Some of the phrases they wrote were:
"Sila na majority, sila pa minority? [They have the majority, now they also have the minority?]" says in a sign held by a lady protester apparently referring to Comelec's decision to designate Nacionalista Party as the dominant party for the minority.
"Transparency server na hindi transparent, ipaliwanag. [A non-transparent transparency server, explain it]" – says in a sign held by another lady protester probably referring to the delay of transmission of election results that lasted 7 hours.
"Absentee ballots na di dumating, ipaliwanag. [Absentee ballots that did not arrive, explain]."
Photos of the protesters during their protest were posted by Llanesca T. Panti on Twitter.
In the photo updates, it can be seen that the protesters eventually arrived at their desired spot – Philippine International Convention Centedr and began their program.
They were also intercepted by the local police force. There were much more police officers than protesters in the area.
As the protesters arrived at their destination, they then began their program by saying "...narito tayo para ipagtanggol ang ating mga boto.[ we're here to fight for out votes]"
Netizens also shared different reactions towards the protest. Some were disappointed of the protesting individuals while some praised them .
That is all there is to it, at least for now. We'll post updates as sson as we got them.
comment(s) for this post "Tindig Pilipinas Protests Against Alleged Election Fraud". Tell us what you think abut this post by leaving your comments below.