Steps on How To Book Flight Tickets with Cebu Pacific Online / Cebu Pacific Online Booking
CEBU PACIFIC ONLINE BOOKING – Here are the easy steps on how took a flight ticket with Cebu Pacific Airlines online.
One of the prominent airlines that offer local and international flights from and to the Philippines is the Cebu Pacific Air. You may book a one-way ticket, a round trip one, or a multi-city.
Due to the huge number of people traveling daily, it is undeniably beneficial to book your flight tickets ahead of time. Aside from saving money due to a lesser price, you will be able to make sure that a seat is available for you on your target date of travel.
To book, you may head to a Cebu Pacific Air office or a travel agency or you may also go for Cebu Pacific online booking. You can book a travel flight even without going to the office of the airline.
To book a flight ticket, here are the easy steps through Cebu Pacific online booking:
Step 1
Visit the official website of Cebu Pacific Air to book a flight ticket online.
Step 2
Provide your ticket detail, the place where you will come from, you destination, and your date of departure. For round-trip tickets, you will have to provide the date of your target return.
Also, provide the number of passengers you want to book a flight ticket(s) for. If you have a promo code, you may encode it in one of the boxes. Click "Find Flights" to proceed.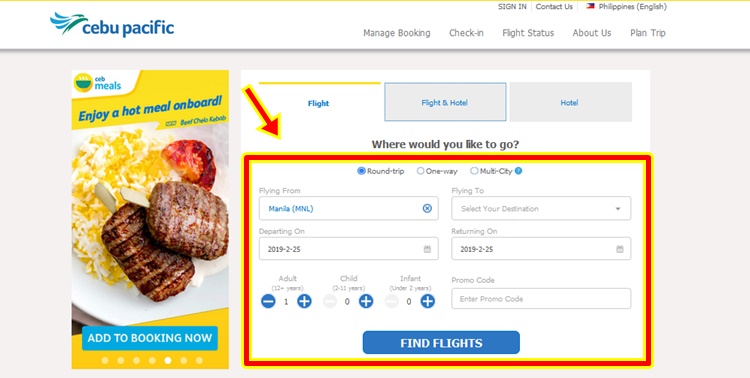 Step 3
Choose your flight and as well as the features – fly only, fly + baggage, or fly + baggage + meal. The ticket prices for each will be presented. Read the Fare Rules and click "Continue" to proceed.
Step 4
Read the message containing an important reminder regarding the travel documents and requirements. Enter your personal details such as email address and password if you have a GetGo account.
Meanwhile, if you don't have a GetGo account, click "Continue as Guest" and provide the required information.
Step 5
Choose your add-ons. The grand payment is shown on the right side of the site. It will be added everytime you make an add-on.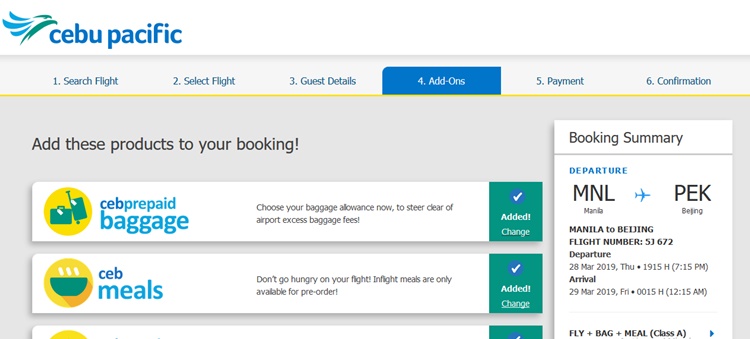 Step 6
Read the Terms and Conditions. You will be shown an option to pay for the Philippine Travel Tax. Click "Continue" to proceed.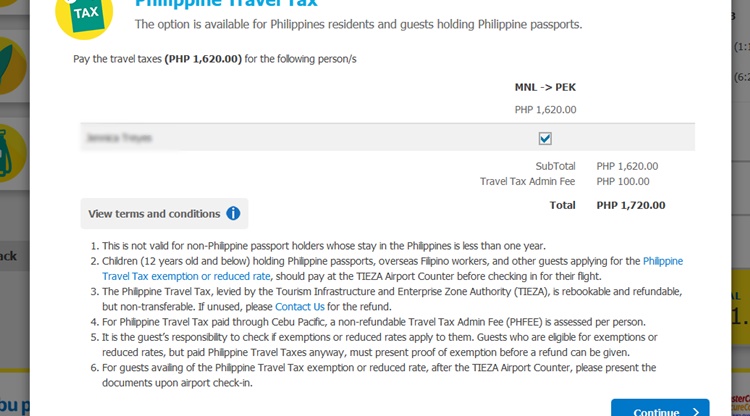 Step 7
Check the Booking Summary and click "Confirm and Continue" to proceed if everything is correct.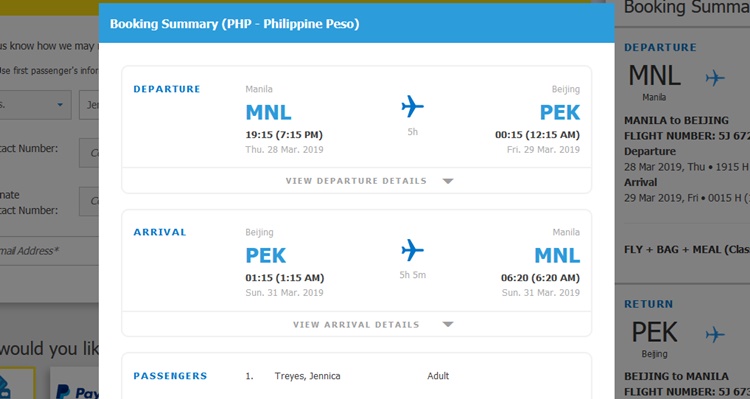 Step 8
Provide the payment details and you are off to the confirmation of your booking.
Thank you for visiting our website. To begin with the booking of your flight ticket through Cebu Pacific online booking, visit the official website of the Cebu Pacific Air – https://book.cebupacificair.com.
You may express your thoughts or reactions through the comment section below. We'd be glad to hear from you.
READ ALSO: Cebu Pacific Announces New Check-in Baggage Policy Effective January 15, 2019