Here is the List of Passers for Master Plumber Board Exam Result February 2019
Here is the full list of passers for Master Plumber Board Exam Result February 2019 released by the Professional Regulation Commission (PRC).
The list of passers, top 10 passers, top performing and performance of schools for the Master Plumber Board Exam Result will be available on this website after it was officially released.
The Master Plumber licensure examinations have been held at PRC testing centers in Manila, Baguio and Iloilo on February 12 (Tuesday) and 13 (Wednesday), 2019.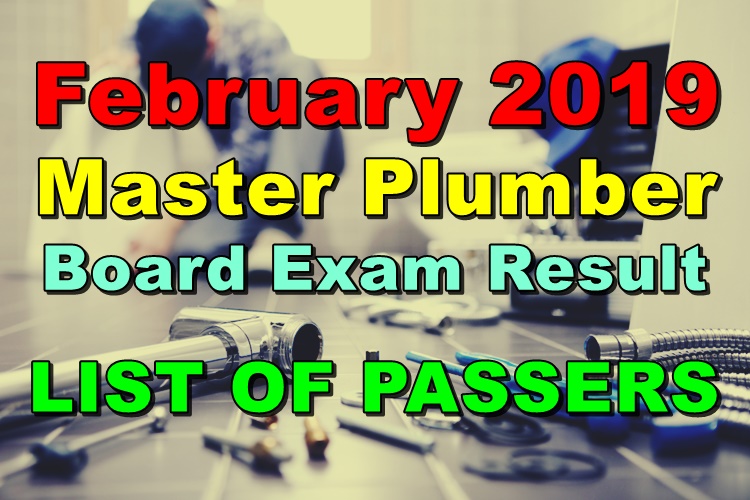 The Board for Master Plumbers headed by Engr. Valentino M. Mangila, Chairman; Engr. Pedrito D. Camilet, Jr. and Arch. Prospero A. Abellano, members administered the licensure examinations.
SUMMARY OF RESULTS:
Here is the List of Passers for February 2019 Master Plumbers Board Exam Result:
Roll of Successful Examinees in the
MASTER PLUMBER LICENSURE EXAMINATION
Held on FEBRUARY 12 & 13, 2019 Page: 2 of 7
Released on FEBRUARY 15, 2019
Seq. No. N a m e
1 ABAIGAR, ALEXIS AZORES
2 ABONITA, PAUL STEPHEN MALAQUE
3 ABRAHAM, PEE JAY OLILA
4 ADRIAS, SHAN MICHAEL AGPASA
5 AGUILERA, ABRAHAM MIKEL RAFALLO
6 AGUSTIN, RONALD CATAAG
7 ALAVA, BILLY JOHN GUARIN
8 ALBA, RAPHAELLO DE VERA
9 ALBURO, RAYMOND RENZ PIZARRO
10 ALFONSO, MARK NIKKO MANLUTAC
11 ALMARIO, NOAH GARCIA
12 ALMENDRA, IAN CHRISTOPHER IMPERIAL
13 ALONZO, EDWIN JUANITO TAEZA
14 ALONZO, JUARO BELDA
15 ALOVA, CHRISTIAN LOUIE NINON
16 ALVAREZ, JOHNSER ABU
17 AMBALES, EDISON CALBONE
18 ANGELES, ERIE JR CATACATACA
19 ANGELES, LUISITO CALAD
20 ANOOS, ANA LIZA PACA
21 ARAUCTO, JOSHUA JOSE
22 ARAZAS, LIZYL SORRERA
23 ARCEGA, VIC NICHOLLE HAPLOS
24 ARELLA, SARAH JANE ARELLANO
25 AROMIN, ALBERT SE
26 ARZAGA, APPLE MAE CABANILLA
27 AUSA, MISTY JASMIN HERNANDEZ
28 AUSTRIA, JAN PATRICK ROSARIO
29 AÑONUEVO, DANICA CARLA PANGAN
30 BALAALDIA, ZUEMI KAYE DOMINGUEZ
31 BALAAN, DON CHRISTOPHER AGBAYANI
32 BALAGTAS, ALJAY NICOLAI GARCIA
33 BALANE, EDUARDO MARCO CASPE
34 BALANON, MARIA LOURDES ONG
35 BANDOJO, CHRISTOPHER CHEQUITO
36 BARBON, CARL LEI MARTINEZ
37 BASILIO, MHAR EIDREF SERAFICA
38 BAULETE, FRANCES CELLINE JANE BRAGA
39 BEGINO, PATRICK BARCELON
40 BEGONIA, ROJIE DIZON
41 BELARMINO, SHERWIN PAUL NUDALO
42 BEQUIO, JOHN HARVEY VILLACRUZ
43 BERNABE, ACE CHESTER CARDENAS
44 BERTUMEN, RAYMARK BALONZO
45 BEUP, LYNDON-ERL CANDIDO
46 BIGAY, DENNIS ADAN
47 BOSE, JONATHAN ELEUTERIO
48 BROSAS, MA CZARINA GRACE CUDIAMAT
49 BUENO, KENT LOYOLA
50 BULAONG, ROBERTSON CABIGAO
Roll of Successful Examinees in the
MASTER PLUMBER LICENSURE EXAMINATION
Held on FEBRUARY 12 & 13, 2019 Page: 3 of 7
Released on FEBRUARY 15, 2019
S
Roll of Successful Examinees in the
MASTER PLUMBER LICENSURE EXAMINATION
Held on FEBRUARY 12 & 13, 2019 Page: 4 of 7
Released on FEBRUARY 15, 2019
Seq. No. N a m e
101 ESQUEJO, JOHN PATRICK ESCALANTE
102 EVANGELISTA, IANA MARIE CLIMACO
103 EVARISTO, JHON ADRIAN ALBERTO
104 FAJARDO, JUSTINE GRANADA
105 FARNACIO, DANIEL FERRER
106 FARRAL, VLADIMIR GARCIA
107 FELECIO, LIRIO REBOSURA
108 FENIZA, STEVEN JAMES SALEM
109 FLORENDO, PATRICK ERLE VALERA
110 FLORES, KIT SANTOS
111 FRANCISCO, ASLEY MIRANDA
112 FRANCO, IAN BOB BARTOLOME
113 GALLARDO, ALLEN NODALO
114 GENELASO, JESSA MAE PACUMBA
115 GERAWA, RODEL DOMINGO
116 GEYROZAGA, GLEA CZARINA IGLESIAS
117 GOLEZ, ROSTAN BELONIO
118 GONZAGA, JASMIN JEAN ICACA
119 GONZALES, KATHLEEN HAUTEA
120 GONZALES, MARY GRACE LOPEZ
121 GONZALEZ, ANNA LISSA BALDOS
122 GOPEZ, MARK ANTHONY MALLARI
123 GUEVARRA, ZYROSE JARDIOLIN
124 GUILAS, MARIEL TAMPIS
125 GUILLERMO, FERDINAND SISON
126 GUMAWID, EFREN JR PASCUA
127 GUZON, CARME MAGELYN NEOLAR
128 HERNANDEZ, JOHN ZOILO
129 HIERCO, MICHAEL DANIEL VILLANUEVA
130 HILA, JONNA LAGATA
131 HILOTIN, ERIC ALBORNOZ
132 HUFALAR, KRISTIAN JIM LAGMAY
133 ILAGAN, LORLYN DALANGIN
134 IMPERIAL, DIANE ENCARNACION
135 INCISO, MARIO LOWELL ECALDRE
136 JAMIR, CHRISTIAN JAY CRUDO
137 JARAPLASAN, RUGETTE MAE DAMIAO
138 JUCO, MA ALYSSA TAMARA LOPEZ
139 JUSON, SHIEMKA PAULI
140 LABADO, REGINE MAE RAGASA
141 LACDANG, JESUS MARULLO
142 LADERAS, JOANIE MALIT
143 LAMBAN, LAINE ANDRIE BUSTILLO
144 LANSANGAN, PEARL EDHLYN VALENCIA
145 LAYLAY, MICHAEL MOTOL
146 LIWANAG, ALEXANDER ARCILLA
147 LIWONGAN, SANYVER DULNUAN
148 LLANTO, RYAN MIRABUNA
149 LOBARBIO, LEO OBERA
150 LOGRONIO, GERALDO JR RAGAS
Roll of Successful Examinees in the
MASTER PLUMBER LICENSURE EXAMINATION
Held on FEBRUARY 12 & 13, 2019 Page: 5 of 7
Released on FEBRUARY 15, 2019
Seq. No. N a m e
151 LOPEZ, RIENZIE AFUNGGOL
152 LORENZO, JAY MARK PASCUAL
153 LORIO, ARIANNE DEVEZA
154 LU, REGINA MAE LAURITO
155 LUALHATI, MELVIN BELLO
156 LUEGO, KETCH FREEZER VISCARA
157 LUMAPAG, JOHN CHRISTOPHER ROBLES
158 LUSUNG, MARC PAULO LOUISE DAVID
159 LUSUNG, RONELLE MORALES
160 MACALINDOL, AUBREY VALENZUELA
161 MACASPAC, JEROM BANAL
162 MACEDA, CARMINA DIZON
163 MADALI, MICHAEL JAY BAYANG
164 MAGBANUA, ANGEL LOU PINEDA
165 MAGDAY, ELEAZAR MANAQUIL
166 MAGTAGÑOB, JOHN PRESCOTT TAJAN
167 MALLA-AO, MAY ALADCO
168 MALLARE, REGINALD AZARCON
169 MANALAYSAY, ARLEEN MAE ODI
170 MANALO, SHEMMA MARIE EGAY
171 MANAOAT, YVONY CLORES
172 MANGGASANG, HAYNE RAE GUARDAYA
173 MANLANGIT, NELSON CONEJOS
174 MAR, VINCENT ELY GUMBA
175 MARANAN, ALDWIN CHRISTIAN OPULENCIA
176 MARIANO, RODELO JR HERNANDEZ
177 MARTINEZ, AETWELVE TABLANG
178 MASBATE, DARREN ANCIR DE RAMOS
179 MEDEL, EDGERTON DOMAIN MERCADO
180 MENDOZA, CHARIZZE FAYE TOLENTINO
181 MENDOZA, ROLANDO GUTIERREZ
182 MENDOZA, WILFREDO JR MASANGKAY
183 MERCADO, KATREEN MARIE PICPIC
184 MERCADO, WINA VALENCIA
185 MIRANDA, IZZA JAVYLYN SEVILLA
186 MIRANDA, LOUIS BRIAN ANGELOU VINUYA
187 MONTAÑO, AL DAVID TIM MIRALLES
188 MUNDIZ, KELLY VANESSA ROSELLO
189 NABOR, JOHN PAOLO LOBOS
190 NAGA, MOHAIMIN SARENO
191 NAKAN, OMAR PAUL SIM
192 NAMOC, HELEN SABELLINA
193 NAVARRO, RICZON MUSNI
194 NELSON, JAZZY KYLE JIMENEZ
195 NGO, RALPH ADRIAN UY
196 NISPEROS, MARY ROSE ALAY-AY
197 OROGO, SHAIRA DINO
198 ORTEGA, CHRISTOPHER REAL
199 PAAÑO, MA BERNADETTE DOTONG
200 PABLO, CARL ANTHONY AUSTRIA
Roll of Successful Examinees in the
MASTER PLUMBER LICENSURE EXAMINATION
Held on FEBRUARY 12 & 13, 2019 Page: 6 of 7
Released on FEBRUARY 15, 2019
Seq. No. N a m e
201 PABUAYA, FELIXES SEAN CAASI
202 PACTURANAN, JOHN REY MORENO
203 PAREDES, FRANCES LEI FABRE
204 PEDAZA, MARK KEVIN PONCE
205 PEDERE, REGINALDO TAYAM
206 PEDRON, JOLINA MARIE OBLEPIAS
207 PENG, NELSON ROSALES
208 POLICARPIO, JOHN PAUL DELA CRUZ
209 PONAYO, JUN ARVY BALOLOY
210 PONTERAS, DEBBIE ACOPIO
211 POQUIZ, RAY MOON STARR MANZON
212 PORCA, JANN PAULO ANDRADA
213 POSAS, EMMIE DARLENE DAZ
214 PROCHINA, SHEENDE DIANNE SALINAS
215 PUGAL, SWEET AUBREY OLIVAS
216 QUIAMBAO, BERNA MALLARI
217 QUIAMBAO, CHARMAINE JANELLE SAMSON
218 QUIAMBAO, MIGUEL PAULO ANTONIO
219 QUIMIO, NIKKO SAN CAMINO
220 QUINTO, ARA JOE CARAMANCION
221 QUIOPA, ROLLY SANGALANG
222 RAMOS, RONALD BASILIO
223 RAQUEL, RUSSEL RAVALO
224 RECINTO, MARY JOSH DURAN
225 REGAÑA, RECY-ANN SORITA
226 RENDON, RAFAEL JAY RESURRECCION
227 REYES, GAVERELL SILVA
228 REYES, JOHN OLIVER LAGARTO
229 REYES, LEA LYSA NOLASCO
230 REYES, ROMARC DRIX DIMLA
231 RIVERA, ERIKA CHING
232 RIVERA, LOUIE RAPHAEL OLIMPO
233 RIVERA, MAE ANN MERABUENO
234 RIZALDO, IRENELLE BELGA
235 ROA, JONAS ANINAPON
236 ROBLES, JOSE NATHANIEL ARROYO
237 RODIL, MA VICTORIA NICOLE GOMEZ
238 RODRIGUEZ, KYLLA NIKOLE MARQUEZ
239 RONCALE, JOHN FITZ GERALD LAROSA
240 ROSAL, KENT VILLARIN
241 ROSALES, ANGELICA MAY RENTORIA
242 RUBIO, JOSEPH NEIL SERQUIÑA
243 RUFON, LARRY OMIPLE
244 SAGAO, ARJANE JOY BALINTONGOG
245 SALGADO, ARJAY RESURECCION
246 SALIBIO, RJ ADISAS
247 SAMBRANO, JAIME CRUZ
248 SAMSON, BERNARD ALLAN DE GUZMAN
249 SANCHEZ, NESSLIE SUDARIA
250 SANDOVAL, JOHN RONALD ZARASPE
Roll of Successful Examinees in the
MASTER PLUMBER LICENSURE EXAMINATION
Held on FEBRUARY 12 & 13, 2019 Page: 7 of 7
Released on FEBRUARY 15, 2019
Seq. No. N a m e
251 SANTIAGO, ROELLE JOSEPH QUILOÑA
252 SANTOS, GERARD GABRIEL DE GUZMAN
253 SENDICO, RIA JOY JABANO
254 SEVILLA, GAZEL JESSICA TAMAYO
255 SEVILLA, REY ATIZADO
256 SILVANO, FRANCIS SABAS
257 SINGSON, ANTONIO III TEOXON
258 SIOCHI, EARL STEVEN ESTEFANI
259 SOBREDO, JAIME III MATUTE
260 SOLANO, RAMIL DE GUIA
261 SOLETO, HERSON DABO
262 SORILLO, GERVIE JOHN KONG
263 SUMABAT, LARRY ESPINA
264 TABON, ROLANDO JR PILAR
265 TALANA, JEROME DELA CRUZ
266 TAMAYO, NEIL PATRICK COSME
267 TAN, DANIEL JOSEPH MALIG
268 TANGLIBEN, ANGELI MEI QUERUBIN
269 TAROY, JOHN RUSSEL CUSTODIO
270 TEKSO, DEXTER IAN KO
271 TEMBLIQUE, CHRISTIAN SALVADOR
272 TEMENIA, GEFFORD BRAYAN CIASICO
273 TIBANGEN, NEO LORENZ COLUMBRES
274 TOLENTINO, JOHANNA HAYLEE SEVILLA
275 TOMBADO, ERNIE DONCERAS
276 TONIO, LOWIE JAY TORRES
277 VALENCIA, JOSEPH MANAYAN
278 VARGAS, KEVIN AXEL SAN JUAN
279 VILLACORTA, FRANCIS VALE
280 VILLAMIN, LAURENCE CHRISTOPHER EMPUERTO
281 VILLANUEVA, ANGEL AGUSTIN CAPARAS
282 YU, LEXIEJOY DELAPA
NOTHING FOLLOWS———————-
Release Date:
The Master Plumber board exam result was expected to be released within two (2) working days after the last day of the examination or on February 15, 2019 (Friday).
Note:
However, the exam result might be released earlier or later without prior notice from PRC.
Exam Coverage:
Plumbing Arithmetic (10%)
Sanitation, Plumbing Design, and Installation (40%)
Plumbing Code (10%)
Practical Problems (40%)
comment(s) for this post "Master Plumber Board Exam Result February 2019 (List of Passers)". Tell us what you think abut this post by leaving your comments below.