Here is the List of Passers for Principals' Test Results December 2018 (R-Z)
Here is the list of passers for Principals' Test Results December 2018 (NQESH) released by the Department of Education (DepEd).
The complete list of passers and top 10 passers for the Principal's Test Results December 2018 or the National Qualifying Examination for School Heads (NQESH) will be available on this website after it was officially released.
The Department of Education with the Bureau of Human Resource and Organization Development (BHROD) and all Quality Assurance Division of each Regional Office Quality Assurance Division (RO-QAD) administered the examination in various testing centers nationwide on December 9, 2018.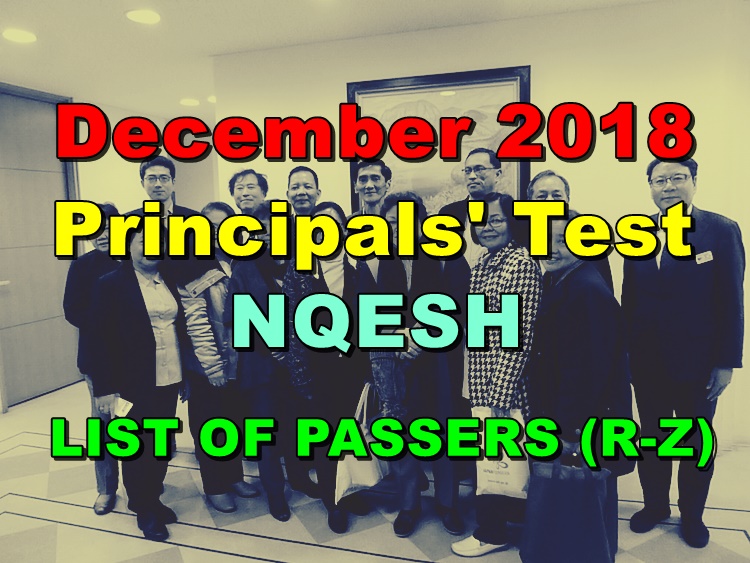 SUMMARY OF RESULTS:
Here is the List of Passers (R-Z):
The examinees must acquire of at least 70 percent of the three cluster domains given during the three hours of examination.
NQESH is the qualifying process of the Education Department in selecting school heads in the public education sector.
Exam Coverage:
Cluster Domain 1: School Leader

Personal and Professional Attributes and Interpersonal Effectiveness

Cluster Domain 2: Instructional Leader

Creating Student Centered Learning Climate

Cluster Domain 3: School Manager

Human Resource Management and Professional Development

Parent Involvement and Community Partnership

School Management and Operations
Release Date:
The Principals' Test Results December 2018 are expected to be released within three (3) to five (5) months (March-May 2019) after the last day of examinations.
Note:
However, the exam results might be released earlier or later without prior notice.