Here Is The List Of Passers For August 2018 Civil Service Exam Results – Region 2 Passers (Professional Level)
The Civil Service Commission (CSC) was about to release the official results of the August 2018 Civil Service Exam-Paper and Pencil Test (CSE-PPT).
The list of passers, top 10 passers, and other announcements for August 2018 Civil Service Exam Results CSE-PPT will be available on this website after it was released by CSC.
CSC administered the examinations at various testing centers in National Capital Region (NCR), Cordillera Administrative Region (CAR), CARAGA Administrative Region, Autonomous Region of Muslim Mindanao (ARMM), and all Regional testing centers nationwide on August 12, 2018.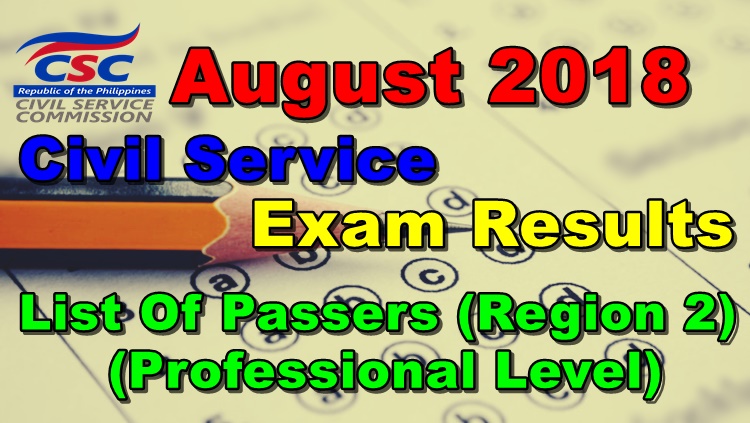 SUMMARY OF RESULTS:
Here is the List of Region 2 Passers – Cagayan Valley (Professional Level):
ABAD, KISSENGER PHILIP C
ABALOS, AXEL
ABALOS, DONNA JEAN L
ABALOS, JAMES CARLO A
ABEJO, KAYCEE P
ABELLA, YSAH S
ABILA, MA JENEIL C
ABRAHAM, VANESSA LYNNE N
ABRAN, MELANIE F
ACACIO, MARC ROYGINALDI B
ACIO, MINDY MAE F
ACOB, SHAINAH JANE L
ACORDA, ACY ANNE A
ACOSTA, JESSA MAE C
ACOSTA, KEITH ALJON F
ACOSTA, PIERSON M
ADAMME, SALLY S
ADAWE, NATHANIEL E
ADDADI, JEMAICA M
ADDATU, KRISTIEN B
ADDUN, JAYMON A
ADDUN, MAECY R
ADDURU, JOMARIE L
ADDURU, STEVEN LLOYD A
ADRIANO, KRIZELLE MAE U
ADUCA, RECHIE JOANNE L
AFRICA, BRYAN A
AGAS, RODEL B
AGCAOILI, AUBREY GLAIZA A
AGCAOILI, HEHERSON A
AGGARAO, JONA L
AGGARI, PRECIOUS JOY A
AGGASID, JUDY ANNE C
AGMATA, LYNE MARIEFE
AGNO, JOHN CALVIN B
AGOTO, ROWINSON N
AGPALO, MARIE MAR R
AGRIMOR, MARIA CRISTINA B
AGTANI, JAYSON U
AGUASA, ERIKA JOY M
AGUDONG, NYMPHA JANE S
AGUILAR, MAILYN G
AGUILAR, RENZ ABNER P
AGUINALDO, ANGELICA S
AGUSTIN, ARISTOTLE Q
AGUSTIN, JASPER R
AGUSTIN, JAY FORD G
AGUSTIN, NIMFA JANE S
ALAMIDA, KARL ANGELO M
ALARIAO, CRISTOFER L
ALCANTARA, ALEINE P
ALEJANDRE, ROSHEL M
ALEJANDRO, JOSEPH NINO M
ALEJO, ELLA MAE P
ALEJO, JEWEL JOYCE C
ALETA, KARISSA MARIE G
ALGERIA, HANNA JOY B
ALLAG, SHARLENE A
ALLAM, JERIMI G
ALLAUIGAN, LEA TESS M
ALLAUIGAN, SHYRIL C
ALTURA, CRIS JEFFERSON S
ALVAREZ, EUNICE A
ALVAREZ, HARLETH C
ALVAREZ, JORDAN LEE M
AMBATALI, SHYRLENE IVY B
AMURAO, KRYSTAL G
ANCHETA, JHENELYN G
ANCHETA, MARIZBERT P
ANDAM, MICA T
ANDAYA, ANGELIE MARINI P
ANDAYA, KRISCA C
ANDRES, CLAIRE JANE CRYSTAL A
ANDRES, MADEL R
ANDRES, MARY JANE M
ANGA-ANGAN, MIRIAM B
ANGELES, DENLY M
ANNANGA, ELMER JR. P
ANTALAN, DAVE C
ANTOLIN, JAY MARK B
ANTONIO, GERRY A
ANTONIO, GIO M
ANTONIO, GLADYS ANN B
ANTONIO, JERIC M
ANTONIO, JESSA MAGNE R
ANTONIO, JOLLY MAE A
ANTONIO, KATHLENE G
AQUINO, BRANDT IVANN PAUL U
AQUINO, JENNY ROSE Y
AQUINO, MICAH M
ARAGON, JOHN PAULO M
ARAGON, REIZA LEICA H
ARCONCEL, JHON MARK V
ARELLANO, AUGIE T
ARELLANO, CRISEL T
ARELLANO, KENETH B
ARELLANO, VANESSA C
AREOLA, ELPIDIO Y
ARGAL, KRIZEL ANGELIE B
ARGONZA, APRILLE JENNIKA JOICE J
ARGUELLES, ZYRAH A
ARIMAGAO, AURELIA JENELYN D
ARIZA, DEXTER P
ARKAINA, PRECIOUS PEARL P
ARQUERO, DALLY MAE P
ARUGAY, KATHERINE A
ARZAGA, HONEYLYN A
AURELIO, KATE B
AUSTRIACO, RICHARD KASPER S
AYAMAN, RUDYLYN S
AYAP, LOVELY E
AYUMAN, JONATHAN R
AYUMAYUM, JUNPED M
AZUR, ROSSETTE HANNA B
BABARAN, ANTONETTE A
BABIA, CLINTON M
BACANI, MARJORIE T
BACANI, MITCHELINE D
BACCAY, JANNA RICA P
BACCAY, KAYE ANGEL FELICE B
BACUYAG, RAMICHRIS U
BADAJOS, LEMUEL JASPER S
BADAJOS, MIA GRACE M
BADAJOS, VALERIE FAYE A
BAGO, GERLYN CAYE C
BAGUILAT, JASRAEL L
BAGULLO, ALI JAY R
BAINCO, LALA D
BAJADO, IRISH JOY A
BAJADO, MARIANNE A
BALABBO, MAY ANNE C
BALAGAN, ANGEL GRACE J
BALAIROS, ELREEN ANN S
BALANGBANG, CLARENCE C
BALANI, NICKSON R
BALBERAN, APRILEE M
BALBUENA, JEROME A
BALDIVINO, REYSHEL JOYCE F
BALDOVINO, PRINCE ALJON A
BALDOZ, JEROME T
BALGANION, MA KATE C
BALIGOD, CRISTY SHAIN T
BALIGOD, FAYE PAULEEN A
BALIGOD, MARY JOY D
BALIMBIN, QUEEN MARLEEN A
BALINGGAN, DANICEL L
BALINGIT, JAMICA R
BALITTI, CLAIRE B
BALLESTEROS, NERIZA R
BALLOGA, MA LOURDES A
BALLONGAY, JONELLE DAVE T
BALONSO, HERDELYN P
BALTAZAR, SHAIRA M
BALUIS, JUVY ANN C
BALWANG, NERRY O
BAMBALAN, SIONY F
BANAAG, MARY- CLAIRE T
BANATAO, SARAH JANE E
BANCE, KARINA C
BANERA, JEROME U
BANGAOIL, FATIMA J
BANGAYAN, XYRA KATE L
BANIAGA, JOSEL CLARISSE M
BANIAGO, BERNARDO JR. G
BAQUIRAN, FREDA CLAIRE C
BAQUIRAN, JEDIDIAH A
BAQUIRAN, JOHN PAUL S
BARBERO, MARK D
BARBOZA, RONA S
BARCELO, REUBEN JAMES B
BARICAUA, ANDREW P
BAROMA, PRECEOUS LEANNE D
BARRERA, CATHERINE D
BARRERA, SHAINA SYRA L
BARRIENTOS, JOHN LLOYD S
BARROGA, RANI MAE L
BARTOL, LEDDY LOU A
BARTOLOME, GAYLORD S
BARUZO, JOMAR C
BASAT, MONA LIZA O
BASIERTO, REINA KRISHA L
BASSIG, JENAH A
BASSIG, MARVIN M
BATALLA, LIEZEL D
BATALLONES, CLINT CEDRICK P
BATALLONES, DEAN ANGELO P
BATANG, CRISTINA B
BATARA, JANBERLEE U
BATERIZA, JUNELEA P
BATO, SANIATA AMOR Y
BATTAD, NERWIN JR. J
BATTUELO, JOAN M
BATUA-AN, KATHRINE JOY B
BAUI, VINCE NEL M
BAYANGOS, ELA MAE P
BAYER, JULIET W
BAYLON, LYN HOLLY A
BELANDRES, GAEA FARRAH LUCIELLE J
BELENO, RUPERSON B
BELTRAN, JENNIFER H
BELTRAN, YVY NORILYN GAILE C
BEMBO, JOEL P
BENGTAY, FRENELYN G
BENIGNO, MAERIANNE ROSE Q
BENZON, JERRICO A
BERALDE, WRESTY L
BERAN, MARICEL G
BERMOSA, TRIXIA L
BERNABE, JULIUS ARVIN U
BERNARDEZ, JULIE ANN C
BERNARDINO, MARJORIE G
BERNARDO, ALJOY B
BERNARDO, REJANE B
BERSAMIN, CEAZAR IANNE P
BESA, MARICAR M
BESYAKEN, MAUREEN
BIALBA, VON JAIRUS A
BICCAY, MARIELL KEITH D
BIETE, GINAFLOR ANGEL D
BIGORNIA, FRANCES ANNE MARIE M
BIMMACTAD, MARK RHIMO M
BINARAO, BENIGNO B
BINAYUG, RAYJAN DICE C
BINUEZA, DIVINE GRACE B
BINWAG, ELLEN GRACE B
BISCARRA, KRISTINE CLEAH A
BISCONDE, GLENDA S
BLAS, RIO MARIPEARL B
BOLIBOL, NERISSA T
BOLO, KATRINA ANN A
BONAGUA, HANNA ROSE G
BONHAON, DEBORAH W
BONZATO, JOVIELIZA H
BORROMEO, DANILYN V
BORROMEO, MA ELOIZA A
BOY, OREAN JB A
BRUTAS, CHARMAE B
BUATNA, XYRYXS JAY C
BUCAYU, KRISHA MAE C
BUDUAN, PRINCE HAROLD L
BUDUHAN, CAMILLE DEANE A
BUENO, JOLINA JOY F
BUGNAY, HELEN GRACE P
BUHWILON, JOSHUA J
BULAUAN, JAY-ANNE B
BULAUAN, KIZZA MAE P
BULUSAN, SARAH SELINA M
BUMAGAT, LEONARD H
BUMAGAT, WHENDY D
BUMANLAG, JONALYN G
BURAGA, NORMA T
BUSCAS, JASPER R
BUSTO, MYLENE D
BUTAY, RUTH V
CABABA, FLEURVENNA Y
CABANAYAN, JACKIE LOU L
CABANGAN, DIANA M
CABANTAC, ALLYSSA JOY S
CABAUATAN, MARIA RUBY ROSE O
CABE, KAREN JOY O
CABER, LYCON A
CABILDO, JENNIFER D
CABILDO, MARKAVIN I
CABISON, ALVIN B
CABLINAN, JONALIZA B
CABLINAN, KRYSTAL FAY D
CABRERA, KRISTOFFERSON S
CABULAY, CHRISTIAN A
CACHOLA, ALEJANDRO JR. M
CACHOLA, JOMAR M
CAFIRMA, MAREY CLAIRE L
CAGUNGUN, RHEA JANE P
CAINGAT, ROXANE M
CALAGUI, ANGELYN O
CALANO, HAZEL KIETH B
CALATA, POLEN CLAIRE B
CALAYAN, MARINOR B
CALDERON, MAICAH KHRAS P
CALIBUSO, JOY MARIE B
CALIGUIRAN, JOLINA L
CALIGUIRAN, ROVIE JANE B
CALIMAG, KRISTINE DIAN Q
CALIMLIM, LOVELYN G
CALIVOSO, LOVE-JOY B
CALLANGAN, ROCHELL P
CALPITO, KENT B
CALUB, REBEKAH P
CALUCAG, HERMILYN D
CAMANGEG, HAYDEE B
CAMAYANG, STEPHEN KYLE T
CAMBRI, DARWIN EARL T
CAMMAYO, ANGELYNE A
CAMOTIAO, SHEENA MAE A
CAMUS, MANRIQUE S
CANAPI, MADELYN H
CANAYAN, MYRA L
CANCEJO, JESSA P
CANCEJO, MARYBETH E
CANGUILAN, MYRZA DINA D
CANILAO, CHARLOTTE M
CANTO, SHEELA MAY B
CAPILI, NICKAEL L
CARAG, MARJOLYN ROZZ G
CARAG, ROVEN G
CARDONA, JAYSON B
CARDONA, NEIL ELIEZAR M
CARILLO, CARLO M
CARIÑO, CHERRYLYN D
CARLOS, VALEN S
CARPIO, JAN MICHAEL M
CARVAJAL, HAROLD T
CASCO, KARL BRYAN C
CASISON, ANN PAULYN T
CASTAÑETO, ALBERT F
CASTILLO, ANGELO XAVIER M
CASTILLO, IAN PAUL Z
CASTILLO, JHOANNA JANE D
CASTILLO, LINALYN M
CASTILLO, ODESSA T
CASTRO, CRISTINE JOY T
CASTRO, KRISTEL M
CASTRO, MIKE JEFFERSON F
CATABAY, JILLIANNE CEZ F
CATABAY, JOHN JERIC F
CATLI, MITCHIE KATE I
CATRAL, DIAMOND ABBY KAIT B
CAUAN, HANAH-MAY B
CAUILAN, EDISON P
CAUILAN, MARK ARIEL C
CAUILAN, MARY ADELINE D
CAUINIAN, MARIJO M
CAY-AN, ZAIRA JAINE A
CENTURIAS, JARETTE YRAH MAE Y
CEREDON, AIRA LORRAINE F
CEREZO, BLESSED CLAYMAC R
CERVANTES, MAILVIC G
CHOCYAGAN, ECY BLESS N
CHOY-AWON, CHARITY MAY P
CODINA, JAN KAY U
COLLADO, ANGELIKA A
COLTING, ESTEFENSON A
COMPARES, CZENDRA FAYE M
COMPAY, JODIE ANN D
CONSOLACION, CHRISTINE M
CONTILLO, ADRIAN ANTHONY B
CONTILLO, JESSE C
CORDERO, JUSTINE LORENZ V
CORDON, MARIA ELENA M
CORDOVA, BEE-JAY B
CORDOVA, FRANCIS D
COROTAN, EUGENE C
CORPUZ, ALDRIN P
CORPUZ, ANGELITA M
CORPUZ, IAN HENRY C
CORPUZ, JAY MART T
CORSINO, JUNE B
CORTEZ, JOHN MARK B
CORTEZ, LEWY KATRIN S
CORTEZ, WINNIE JOY P
COSMIANO, WINA MAE B
COSTALES, FARRA A
COSTES, FLORENCE JUNE A
CRISTOBAL, ROVELYN T
CRUZ, JERIMIAH MICAH B
CRUZ, RENELSIE T
CUA, FATIMA MAE G
CUBARRUBIAS, ELISA IV C
CULILI, ROSALINDA G
CUNTAPAY, RUSSELL MATT C
CURA, JESUSA D
CUTARAN, ROCHELLE P
DA JOSE, BLYVIR E
DACANAY, LADY BELLE V
DACLES, KAVREN JOI M
DAGDAG, JELIZE P
DAGGAO, JAN SILVER V
DAGUIO, MA AZENITH ROCEL M
DAGUIO, MARIA SOLEDAD A
DAGUIO, MARISOL C
DAILEG, MICKAELLA JEZZIEL Y
DANAO, ARVIN JOSHUA M
DANAO, DANDY C
DANAO, JORLY G
DANAO, MARIA PAULINE JOY G
DANAO, NICK G
DANAO, PAMELA MARGAUX C
DANCEL, MELBERT D
DANGA, VANESSA B
DANGATAN, HITSON A
DANGILAN, DIANA CARLYN R
DAPIG, SOPHIE ASHLEY B
DATUL, RHEA D
DAUAG, RUTHASIA SAMANTHA S
DAYAG, CRISTINE IVY C
DAYAG, JAMES OSCAR M
DAYAG, JANENE P
DAYAG, TRACY JOY P
DAÑA, THOM BENEDICT B
DE CASTRO, JASON V
DE GUZMAN, DIANNE A
DE GUZMAN, DONNALYN M
DE GUZMAN, JOBELLE WYNN R
DE GUZMAN, SUNSHINE P
DE JESUS, BENAJANE S
DE LA ROSA, ABIGAIL A
DE LEON, JENNY C
DE LEON, JESSA MAY D
DE LEON, LENIE E
DE VERA, RHEAN JOYCE S
DECORO, SHENNA MAE B
DEL MONTE, MELANIE D
DELA CRUZ, AIZA T
DELA CRUZ, ANNA FAYE V
DELA CRUZ, CARL JOHN C
DELA CRUZ, CECILE C
DELA CRUZ, GERTRUDE M
DELA CRUZ, JASON P
DELA CRUZ, MARY JAYNE P
DELA ROSA, CHARLES KIM A
DELMENDO, ZYRINE TONI JOYCE Z
DELO, RUSSEL A
DELOS SANTOS, NOVELYNE S
DENIEGA, LEON JR. N
DERAY, RUSELLE MAE C
DESAMITO, ALLADIN D
DESIAR, ISRAEL JHON C
DESPA, RACHELLE ANN F
DIMOG, SHARON M
DIODOCO, HAINA MAE P
DIZON, ANGELIE C
DOCTOR, JACKLYN A
DOMINGCIL, DIVIRLY D
DOMINGO, ANGELINE S
DOMINGO, CHRISTIAN DAVE L
DOMINGO, EDWIN R
DOMINGO, JENICAR S
DOMINGO, JERWIN L
DOMINGO, JESSALYN MAY T
DOMINGO, KRISTEL ANN B
DOMINGO, LORAINE ANN D
DOMINGO, MANN KRISTOFFER A
DOMINGO, RAYMOND ROMEO Q
DOROCA, EMERSON S
DOTON, HANNAH JERMAINE I
DUARTE, MYLKA-ANN R
DUEÑAS, MONIQUE D
DUGAY, ZENY E
DUGENIA, REYZEAL B
DUMALILI, CAREN W
DUMANGENG, FAITH D
DUMANTAY, HARVEY T
DUMAWAL, JESSA MAE G
DUMAYAG, JOHN PATRICK D
DUMLAO, JOVIE JANE P
DUMLAO, RAVEN JENESSA B
DUMO, LOIDANIE C
DUQUE, CESAR C
DURUIN, JOLLY MAE B
EBAN, FLORENCE W
ECHANES, JOHN REYNOLD B
ECLIPSE, JOSELLE M
ELEFANTE, REGIE SP
EMBIERNO, MIKE JAY O
ERRO, SHARINA B
ESCOBAR, CRIZEL D
ESLABRA, JONEL P
ESPEJO, MIGUEL ANTONIO D
ESPINOSA, REJEANNE WAYNE G
ESPIRITU, ABXYZ LLY D
ESPIRITU, JANINE G
ESPIRITU, JENAH P
ESTABILLO, BHERGIE C
ESTAVILLO, CHRISTIAN CIONRYE C
ESTEFANIO, CLARENCE KAYE C
ESTEPA, MAUREEN R
ESTERA, JANE MARGAREIT I
ESTONILO, GERGILEEN L
ESTRADA, JILL ANN MAE C
EUGENIO, DELFIN JR. C
EUGENIO, SHIELA MAE C
EVANGELISTA, ZYRA L
FABIAN, ROSALIA O
FABROA, JOSE NORIEL A
FAJARDO, KRISCEL B
FAMOSO, ALFREDO III G
FARIÑAS, APRIL JOY L
FELIPE, REIYELLE GYLE M
FERNANDEZ, ANNA MAE D
FERNANDEZ, KAREN JANE G
FERNANDEZ, ROSELYN A
FERNANDEZ, ROWENA A
FERNANDO, JEFFERSON D
FERRER, CAROLYN JOY S
FERRER, DENNISE L
FERRER, RANDY M
FIESTA, APRIL JOY B
FIGURACION, MELDRIDA V
FLORENDO, CLEIZEL MEI A
FLORENTINO, MOISES JR. T
FLORES, ANICA MAE B
FLORES, CAMILLE FAYE D
FLORES, MONETTE L
FLORES, NOEL ANGELO M
FONTANILLA, RYAN C
FOZ, JOSE MARIE G
FULIG, ERICA FAYE D
FURIGAY, JAM APRIL H
FURUC, MONALYN C
GABANES, DALE RUSSETH
GABAON, HAEJIN A
GABRIEL, ROMELA ANGELICA M
GACIAS, VENUS R
GACULA, JAYRUS B
GACUSAN, CHRISTINE JOY L
GACUSANA, ROSELDA S
GADIANO, CLARK GARRET B
GADIANO, LIAN SIGRID FAYE P
GADUENA, BEVERLY A
GAGNO, JOHN PAUL S
GALANGI, OLIVER JR. P
GALAPON, LAWRENCE A
GALARPEZ, DARLENE S
GALINGANA, JEAN CAMILLE B
GALLEBO, ANGELICA F
GALLETES, REYMALYN M
GALON, ROGENE CHRISTOPHER T
GAMALE, STEPHANIE SUZANE P
GAMAYON, JACKSON A
GAMBOL, ARMIE JANE P
GANADEN, ERIKA JANE M
GANAL, APRIL JOY U
GANDIA, MARJORETTE L
GANGAN, KRISTER JAY M
GANIO, ANICAR ELYN M
GANNABAN, JORDILISA C
GANNABAN, MARJORIE G
GAOAT, GIEZELLE ROSE R
GARCIA, FRITZIE ANN S
GARCIA, JAY LLOYDE A
GARCIA, JESNER V
GARCIA, KIM O
GARCIA, MA ANGELY R
GARCIA, MAE FRANCESCA ISABEL A
GARCIA, MAILA L
GARCIA, MARK PHILIP C
GARCILLAN, VICTOR B
GARINGARAO, DIOSDADO JR. M
GARINGO, APPLE GRACE C
GARMA, KNOLLAINE JOY D
GARMA, NORABEL M
GARO, ROSE ANN JOY B
GARRO, ALOYSIUS MARK V
GARRO, JEREMY W
GASTALDO, FRITZ E
GATAN, KATE- ANN C
GATMAITAN, JUDY ANNE E
GATO, CHRISTY P
GAUUAN, KIA NICHOLE JAMM G
GAZMEN, LESLIE C
GAZMEN, MARK GERALD A
GAÑALONGO, RONA LAE D
GINES, KEZIAH D
GINEZ, MARY JANE C
GIRON, EDEN LYKA E
GIRONELLA, JONHEL JAY L
GOMEZ, ALENA CLAIRE R
GOMEZ, EUNIE JOY C
GONSAY, LEMAR KING M
GONZALES, CAIZELYN M
GONZALES, CHARMAINE JOY U
GONZALES, DORIS O
GONZALES, JO-ELIZ M
GONZALES, KYLE VANESSA D
GONZALES, NICOLE JOHN A
GONZALVO, MARIA JOSEFINA B
GRAPIZA, JOLIE JUFEL M
GUILLERMO, LYKA C
GUINGAB, SONNY JERALD P
GUINTO, CHRISTIAN CONRAD M
GUIQUING, NESTOR JR. M
GUITERING, IAN T
GULAN, JOSELLE MAE L
GULIMAN, MARIO JR. T
GULLA, LADY JUNE M
GULLA, MARCOPOLO S
GULTIANO, FELLA JEMRUTH M
GUMABAY, ANNE KERBII M
GUMABAY, MICHAEL ALDWIN M
GUMANAO, CATHERINE C
GUMANGAN, RAFFY C
GUMARANG, CHARISMA L
GUMARU, DIANA JANE T
GUMME, DIANE D
GUNDAN, ELIZA P
GUYA, JOSELITO JR. C
GUZMAN, PRINCES U
HANGDAAN, ELLAINE A
HERALDE, BERNADETH E
HERBERT, CRISTINE JOYCE D
HERNANDEZ, JOHN PAUL M
HERNANDEZ, TESSA LEAH L
HERNANDEZ, VERLYN ROSE M
HIPOLITO, RACHAEL L
HONORIO, JEHIEL D
IBANA, KIM SARAH ANGELI L
ILACAD, SHEREL P
ILAGAN, ANJELA A
ILARDE, CHRISTIAN KING S
IMPERIO, FRANCIS KLAUS E
INAHOG, VEREEN D
INFANTE, MAE-ANN M
INFANTE, SHIMEI LEI D
INOCENCIO, SARAH ISABEL L
INOVEJAS, ERIC LINDBERGH C
IRINGAN, KARLA MAE
IRORITA, AICEL D
ISRAEL, MARK CHRISTIAN T
IÑIGO, ANGELI ANN T
JACINTO, ANGELICA M
JACINTO, JOYCE M
JACOBE, MARIANNE JOY J
JAGTO, JEANEVY M
JALAL, NORMAN VINCE M
JARQUIO, MIRASOL L
JASMIN, JENY WREN C
JAVIER, MARIMAR M
JAYME, CHRISTINE IRIS E
JIMENEZ, KATRINA LUISA T
JIMENEZ, ROSSEL BRYAN A
JOAQUIN, EDWIN A
JOVEN, JOSE JR. H
JUAN, CRISELLE S
JUAN, MICHELLE ANN R
JUAN, VENUS C
JUANAY, JOHANNA D
JULIAN, HAJI A
KENEPT, DESIREE B
KENGAY, VILMA B
KIMAYONG, JOYCE MARIE H
LA MADRID, MA LUISA S
LABASNE, MHAVIC C
LABBAO, VINCENT T
LABID, MARK BRYAN M
LABRADOR, JAYNARD M
LABSANG, ALYSSA MERYLL V
LACAMBRA, ANGELI
LADAY, GENEVIVE T
LADDARAN, JOHN DALE S
LADDARAN, RICHARD P
LAFRADES, ROCHELLE J
LAGASCA, KENNETH V
LAGDA, FLORIMAR G
LAGDA, OLIVER M
LAGGUI, MANILYN R
LAGUA, BEVERLY A
LAGUITAO, MARIBEL S
LAGUNDINO, DANIELLE DAWN A
LAMAN, MARK ANGELO T
LAMORENA, ROSELYN C
LAMPA, MENJIE KRIS A
LANNU, LANNY MAYE M
LANTION, MARIA JOHMELIA R
LAPASTURA, RALPH JOHN S
LAPITAN, DONNA BELLE D
LAPPAY, JOHN PAUL A
LARA, ANNALIZA A
LARDIZABAL, JESSA MAE C
LASAM, ANGELICA MAE L
LASAM, SILVINO JR. T
LAYAOEN, GIAN KARLO V
LAYAOEN, GLADYMIER V
LAYNO, AIZA L
LAYUGAN, SWEET SHIELA JOY T
LAZO, GENY ANN C
LEDESMA, ROGIE MAINE I
LEODIVICO, ARVY JIA G
LIBERATO, FABRIENNE KATE E
LIBUNAO, JOYCE A
LICAYCAY, MICHAEL C
LICUANAN, JOHN MARK S
LICUBEN, GERICA KAMILLE R
LIDDAWA, CHARLYNE Y
LIGAS, ERMELYN L
LIMBAUAN, JESADEL S
LIRASAN, BRENDA C
LISING, ROBELYN MAE
LLAMELO, BLESSIE JOI B
LLANEZA, JOHN REY L
LLANTO, ARNOLD T
LLANTO, RASELLE JANE D
LLAPITAN, MAYNARD P
LOBO, LYRA MAE C
LOBO, ROBERT JOHN S
LODIVICO, WENDY CLARK B
LORENZO, ROEL G
LORENZO, VIRSON JAY A
LUCAS, JIMMY BOY S
LUCAS, RUBEN MAE B
LUCERO, HERLU CAROL JEAN H
LUCIANA, RACHEL KAREN M
LUGA, ALLAN E
LUGA, ANGELITA J
LUGAY, MOODMARK B
LUMABAN, MA ANGELICA R
LUMABAO, HANNA GUIA A
LUMABAO, MAX HALLEYX A
LUMBO, CHARLENE JEAN M
LUMIDO, JESSICA P
LUMIUAN, RHEA B
LUNA, JAYWON C
LUNAG, SNOOKY K
LUNANG, NERISH SHAINA C
LUYUN, CECILLE E
MABBIN, MARY JOY B
MABBORANG, LYKA B
MABBORANG, MARJORIE T
MABBORANG, RIZZALYN R
MABELLOS, JEZA MAE G
MABILOG, CRIZTEL JEAN C
MABUNAG, JENIFER M
MACABABBAD, CLAIRE ANN T
MACABABBAD, MACPAUL P
MACABABBAD, MERCY JOY B
MACABALLUG, RICHSTER JOHN C
MACADAEG, MA LUISA O
MACALINGAY, ZAIRA B
MACAM, MANUEL JR. S
MACAM, MICHAEL JAN I
MACAPIA, MARIVIC M
MACARAIG, ERICKSON C
MACARUBBO, MARY ROSE B
MACUTAY, BERNADETTE A
MADDARA, RAEVEN GABRIEL C
MADDELA, JONA D
MADRIA, MA MERRY ANNE C
MADRIAGA, EMERSON C
MADRID, OLIVIA L
MADURO, EDELYN JANE P
MAGBUAL, JUDE MARK V
MAGNO, SHAIRA B
MAGUIGAD, JAMAICA A
MAGUIGAD, MARIEROSE P
MAGULUD, AIMEE D
MAGUNDAYAO, MA NIKKI FAYE R
MALABANAN, KENNETH E
MALABANAN, LEANN ANDREI L
MALADRIGO, DIANA DEE B
MALDEPEÑA, QUINIE J
MALLILLIN, ALODIE L
MALLILLIN, MARINETTE L
MALLILLIN, MARK ANGELO B
MALLILLIN, MICHAELA B
MALPAYA, NICOLE ANGELO G
MAMARADLO, RHENZ LUAR G
MAMARIL, RUVIE ANN V
MAMUCUD, MARVELOUS G
MAMUCUD, NEPTUNE G
MAMURI, CLAUDETTE T
MANALIGOD, BERNARD JOHN E
MANALO, ZYRENE G
MANANGAN, AGNES M
MANANGAN, AILEEN M
MANANGAN, GRACE E
MANANGO, FRAULEIN JUDITH C
MANEGDEG, CATHERINE C
MANGACCAT, RAYLUCK JOY A
MANGLAPUZ, ECIES G
MANGOBA, JAY-ANN M
MANGOMA, MA CASSANDRA LOU D
MANIBOG, JOCELYN A
MANIEGO, SHALYMAR D
MANINGAS, FEMA JANE C
MANODON, SEIGH FRED A
MANSIBANG, MARC JALLIAN B
MANUEL, FATIMA C
MANUEL, JOI RAJALYN V
MANUEL, MARIAN U
MANUEL, RIO TSHAINE B
MANZANO, JOVIE MAE JOYCE P
MAPALO, KATE KYLE L
MARAGGUN, MARK ANGELO C
MARALLAG, MARK ANTHONY G
MARCOS, CATHERINE JOY C
MARCOS, MARIE FAYE A
MARCOS, PAULENE MAE M
MARCOS, REMELY I
MARIANO, LYNETTE C
MARIBBAY, LEONIDEZ T
MARINAS, ARJAY A
MARQUEZ, JEFF REY P
MARTIN, CHRISTINE B
MARTIN, JOSAN SHANDEE T
MARTIN, MIKE ANTHONY A
MARTINEZ, JANA FAYE D
MARTINEZ, KATE ANGELIE T
MARTINEZ, LENEGEL B
MASIRAG, MICHAEL JOHN D
MATA, CARL JAMES S
MATEO, MENCHIE B
MATEO, PRECIOUS JOY C
MATEO, SAMANTHA FAYE A
MATIAS, NOVALENE R
MATUZ, JAY MARK I
MAUANAY, PRECIOUS ANGEL B
MAUR, ALIAH SHAIRA B
MAURICIO, KELISSA RAE R
MAXIMO, FREANNE KATE P
MAXIMO, HANNA LUZ C
MAXIMO, JASPER DALE M
MAYO, ALVIN PATRICK R
MEDINA, PAULA BIANCA S
MEDINA, RICOH NAVIN M
MELOCOTONES, GIANNE R
MENDOZA, ARRAH POLAH LEIGH C
MENDOZA, MARILOU B
MENDOZA, PHOEBE GIAN P
MENOR, ANNABELLE D
MENOR, IYA CARLA S
MERAN, MARY JOY O
MERCADO, MARK DENVER V
MERCADO, MITCH R
MIGUEL, DANIELLE KRISTIEN B
MIGUEL, JEROME S
MIGUEL, JOANNE O
MILLAN, MARLENE ISABELLE M
MINA, DEVERLY CLARK G
MINA, MAUREEN I
MINTAC, MARRY JOY M
MONSADA, MICHAELA M
MONSALUD, GEOFF D
MONTANER, DANIEL C
MONTE, MARK JOSE P
MONTENEGRO, DOMINIC C
MONTERO, LINA RIZA N
MONTILLA, JAMAICA ALYSSA B
MONTILLA, JEDDRICK JAY A
MORA, MYRA M
MORILLO, CYRILLE KENIX U
MUNGGIHO, DELIA O
NAANEP, OLIVA MAE S
NACINO, STANLEY MAR C
NAGNAP, WILMER P
NARAG, ARLENE B
NARAG, JOHN MICHAEL R
NATIVIDAD, FRED VINCENT C
NAVA, FITZ GERALD A
NAVARRO, MERLY C
NAZARINO, JOHN MICHAEL S
NICOLAS, ANGELICA B
NICOLAS, JEMILY BLANCA N
NICOLAS, MARK KENNETH D
NONATO, HAZZEL ANNE M
NUNGULAT, DIANNA A
OLAER, MA NICOLE R
OLOROZO, ELEAZAR G
OMPAD, JAYSA P
ONSAT, ERWIN JOHN L
ORAYA, MARIA CAYSEE C
ORBITA, KARLA C
ORDOÑO, IAN ANTHONY G
ORPILLA, MARLON S
ORTIZ, CLARISSE FAYE G
ORTIZ, RUBYLYN A
OÑATE, EULYNETTE C
PACIO, DAISYBHELL G
PACIO, JESSALEE G
PACIO, LENY JOY G
PACLEB, CRIS C
PADDAYUMAN, MARIJOY C
PADDAYUMAN, RONELYN C
PADILLA, ALEXIS AMOR
PADILLA, EDELYN R
PADUA, KENNEXAN PAUL C
PAGALILAUAN, MICHELLE G
PAGALILAUAN, RIZA D
PAGELA, AARON JAMES L
PAGGAO, ROMELSON L
PAGUIRIGAN, AARON JOSEPH M
PAJARILLO, JM RAINER V
PAJARILLO, MARIJUNE D
PALAGANAS, OPALYN J
PALATTAO, JEM V
PALATTAO, PATRICIA ANN A
PALLOY, CORINTH SHAWIN KAY C
PALOLAN, JOSHUA JEWEL L
PAMBID, KATELEEN JANE A
PAMITTAN, CARLO T
PAMITTAN, JADE KARL C
PANAGA, CRISTINE JOY R
PANAGA, JOHN FLORENZ A
PANAGA, RYAN JAMES A
PANGANIBAN, GERALD JAMES A
PANGILINAN, ERICSON R
PANIT, NOVELYN F
PARALLAG, FARAH ELIZA G
PAREDES, KEVIN CHARLES B
PASCUA, IMARI MAE A
PASCUA, KEVIN ROYCE O
PASCUA, MARY GRACE C
PASCUA, MYRA M
PASCUA, ROSEN L
PASCUA, VENUS F
PASCUAL, CHRISTIAN R
PASCUAL, EDRICA V
PASCUAL, FRANCIS CHESTER B
PASCUAL, GERARD ANDY C
PASCUAL, REYGIE MARK NATHANIEL R
PASION, EDMER A
PASTORAL, JEROMAE COLLEEN D
PASTORES, JACQUELINE JOY D
PATAUEG, KENNETH ROY A
PATINO, JELYN A
PATTAGUAN, MA HELIFER L
PATTAGUAN, MIRIAM SHARIE A
PAVON, ANGELIE J
PE BENITO, DENNIELLE CORDEI
PEKAS, RALPH G
PELOVELLO, AYAN JANISSEN C
PEPAÑO, PAMELA M
PERALTA, HENRY JR. C
PIALAGO, ROMARIE A
PILIT, KAREN GAYLE B
PILLOS, LANELLYN C
PILOTIN, HANNAH ELISHA G
PILYAN, EIZYL S
PIMENTEL, AILEEN JOY G
PINAROC, JOANA ROSE B
PINEDA, KATHLEEN ANNE A
PINKIHAN, RASHELL IRINE U
PINUGU, JOVENCIO JR. V
PIÑON, MARIVIC V
POLICARPIO, LADY ALLEN C
POLIGSO, JESSALIE G
PORTUGAL, GLADYS NICOLE N
PREJIDO, LAURA D
PUGAO, RACHELLE ANN S
PUGIAO, JAMAILA C
PULA, RUTH MAE B
PUMA, EMIL JAY M
PUMA, KATHLEEN MAE I P
PURISIMA, LEMUEL B
QUERIDO, IZEN O
QUERODA, ANGELICA F
QUEZON, KIMBERLY CLAYDEL S
QUIJALVO, JOHN EDWARD JOSE R
QUILALA, JEAN CLARE C
QUILANG, DEMYROSS G
QUILENTE, PRINCESS ELICA R
QUINAGORAN, IRENE JOY C
QUINIANO, JACK ARLOU S
RABANAL, REDEN C
RABANG, ELA MARIEL L
RACHO, CHARITY ABEGAIL B
RADI, FATIMA D
RAFAEL, ANAROSE C
RAFALES, MANUEL LUIS M
RAGASA, ART VINCENT T
RAGOJOS, ALFRED ANGELO B
RAGUINI, CZARINA GIENAH A
RALUTIN, JONALYN G
RAMIL, ANGELICA D
RAMIREZ, GRACE ANN M
RAMIREZ, JOHN CONRAD P
RAMIREZ, MIKE M
RAMIRO, LOVELY FAYE L
RAMONES, AUBREY A
RAMOS, GENELYN P
RAMOS, JOHN PATRICK A
RAMOS, KERNEL KEITH C
RAMOS, STEVE PAULO A
RAROS, CHARIZ N
REBOLDERA, ESTELA MARIE U
REGANIT, HEIDELBERG VON G
REGINALDE, FRANCIS BENJAMIN E
REGINALDO, WILHELM J
RELEVANTE, PEARLY ANN L
RELLIN, RANDELL B
REOTIRAS, ANGELIKA ROSE B
REPERUGA, JAYSON A
RESPICIO, GENERINA MAE B
RESPICIO, MENCHU G
RESPICIO, ROMNICK C
RESPONSO, DANICA A
REYES, ABIGAIL L
REYES, ERICKSON A
REYES, FELIXBERTO III G
REYES, LIA ATANASIA F
REYES, MELISSA JOY A
REYES, ROI LOUIE P
REYNON, JAREN T
RIAZONDA, RUSKIN VINCENT C
RICO, MARIA LAARNIE B
RIMALOS, FLORNIE G
RIMALOS, JOMARCRIS S
RIVAL, COLEEN JOY A
RIVERA, ELIEZER E
RIVERA, LESLIE JANINE J
RODA, JENILYN T
RODRIGUEZ, AZA LEA C
RODRIGUEZ, IRIS VALERIE B
ROGEL, GLADYS R
RONQUILLO, DANTE R
ROQUE, HAEZELLE MITZ S
ROQUE, JANICE B
ROQUE, PRINCESS BERNADETTE T
ROSETE, MICHELYN C
ROSINI, DARLENE JEM D
ROY, MARIE CONCEPCION M
RUBANG, JESSICA N
RUBIO, PRECIOUS V
RUECO, ARIANNE M
RUIZ, APRILYN Y
RUMA, MARK LOUIE L
RUMBAOA, JONNEL B
RUMBAOA, MARIA FAYE B
SABILLO, RAMON JR. E
SABINIANO, RAZEL A
SABINO, JOAN T
SABLAY, VICTOR JOSEPH B
SACNAHON, MARK LEMUEL C
SAGA-OC, EDNA M
SAGUN, JESTONI L
SALACUP, BIANCA MAE R
SALADINO, ANTONETTE T
SALAZAR, AIMA JOY B
SALAZAR, HANNAH KATE B
SALAZAR, KRIZZIALAINE F
SALES, MARY ANN N
SALONGA, JENIMA D
SALUDARES, DIANA GRACE V
SALVADOR, ERWIN B
SALVADOR, JUREN A
SALVADOR, PRECIOUS MAY T
SALVADOR, SHELLY ANN D
SALVANERA, SARAH MICALLE M
SAMONTE, DIANNE T
SAMUS, MONALYN T
SANTIAGO, DONNA MARIE D
SANTIAGO, NADINE MAE D
SANTIAGO, SARAH JOY D
SANTOS, ADRIEN G
SANTOS, JEDA LISETTE M
SAQUING, JERICO B
SARENAS, WARLITO II C
SARZATE, RHEEZA MAUREEN A
SATURNO, JONATHAN A
SAWIT, FRANK LLOYD A
SEATRIZ, KESSEY COLEEN R
SEBASTIAN, JOMEL D
SEBASTIAN, KRISHA MARA G
SEBASTIAN, KRISTIN S
SECULLES, CHARLENE J
SECULLES, LHEA V
SERIDON, JOHN GLENN D
SERRADA, GENEROSE P
SERRANO, GRACHELLE ANN B
SERRANO, JENNA MAE P
SERRANO, MARK A
SESUCA, MARIZ N
SEVILLEJA, GABRIEL III A
SIAZON, RONALD JR. A
SIBBALUCA, VINCENT B
SIBUMA, GRETTA JOY E
SIKOMIN, LOVELY JOY A
SILAO, CHARLIE II B
SILVANIA, CHRISTINE JOY D
SIMON, JANICE G
SIMON, JEHNELYN A
SINGANGAN, DAYBETH I
SINGSON, JERROD LUIS M
SINIGUIAN, JASMIN M
SINOCRUZ, MARY ABEGAIL L
SIUAGAN, KRIZZIA MAREE T
SOLIMAN, REINALYN A
SOLIMAN, SHANNEN DIANDRA C
SOLOMERO, SERGIO JR. D
SOLOMON, JOEL II B
SONICO, ALYZZA ANNE M
SORIA, ZANDREA CHRISTINE B
SORIANO, GLAIZANY FAYE B
SORIANO, JOHN MARK B
SORIANO, KRISTEL ANN T
SORIANO, MA ANGELICA B
SORIANO, MARIE GENEVIVE P
SORIANO, MARK LAWRENCE
SORIANO, RANDHEL D
SORIANO, ROXANNE P
SORIANO, VINCENT A
SOSA, REYMARK JAY T
SOTELO, REMIE JOY B
SUACO, EMILIO A
SUMAOANG, MARILOU C
SUYU, ANGELA G
TABELINA, ROCHELLE T
TABISAURA, JAY MARK P
TACAZON, CONCHITA C
TACCAD, CHARLENE M
TACCAD, KIM ADRIAN O
TACLA, ERNESTO JR. Q
TAGACA, MICHAEL P
TAGAL, MAE FLOR B
TAGAO, BARBARA B
TAGAO, MELJEAN-KATE L
TAGARIAN, NIKHOLE JANE R
TAGUBA, MAYRICH M
TAGUBA, NERISSA V
TAGUDAR, MA JASMIN R
TAGUIAM, DANIELLA MARIE B
TAGUIAM, GREG STEPHEN G
TAGUIAM, JONI MAE B
TAGUIAM, KARLO Y
TAGUIAM, LYKA T
TAGUINOD, CARMENCHITA C
TAGUINOD, MA JANEVA B
TAGUINOD, ROCELYN D
TALIMBATOG, FAYE C
TALLUD, JANINE D
TALOSIG, IVAN B
TALOSIG, PRINCESS HIPOLITO G
TAMACAY, JOEREEZE C
TAMAYO, CATLEYA G
TAMAYO, EULENE T
TAMBAUAN, CHARMAINE B
TAMBIAO, JOVA MAE M
TAN, NEIL ALBERT M
TANGUILAN, HAVANNAH PEARL C
TATTAO, RACHEL JOYCE R
TAYAN, PRINCES APRILYN P
TAYNAN, NOREEN B
TECSON, REY MARK G
TELAN, SARAH JANE C
TENEZA, MAYOLYN B
TICGUE, JERICOH B
TINDUGAN, MAURIEL D
TIU, JANINE A
TOBIAGON, EMILIE I
TODENIO, WENDELL N
TOLENADA, JOHN PAUL D
TOLENTINO, ALLAINE CHARISSE A
TOLENTINO, JUDY ANN B
TOLENTINO, LAILANIE D
TOLENTINO, MARC ARTHUR VINCENT P
TOLENTINO, NAP GERALD G
TOLERO, KERWIN CHARLES M
TOLERO, KIM BENEDICT
TOMANENG, KAREN O
TOMAS, EUNICE B
TOMAS, FRANCES PAULINE L
TOQUERO, HERMINJOY B
TORDA, SHARMAINE O
TORIDA, PRINCESS K
TORIO, JEANDIE PEARL A
TORRES, AYENSHE B
TORRES, KATHLEEN CLAIRE C
TRINIDAD, JESHARY JORETH S
TRINIDAD, SHANEL D
TUGGUIN, JUVY I
TULAGAN, DIANA JEAN B
TULLO, WINSTON B
TUMALIUAN, JOANAVI A
TUMALIUAN, LORAINE T
TUMANENG, AHLYN JOY N
TUNGPALAN, EMMA L
TUNGPALAN, IVY PEARL M
TUNGPALAN, KATEN CLAIRE F
TURINGAN, HILDA T
TURINGAN, IMEE G
TURO, JASMINE C
UBANDO, MARY JOYCE F
UBARRE, MARK D
UCLOS, KHRICHELLE B
UGADDAN, GIRLEE T
UMBAO, MARK LESTER P
UNDAY, JESA M
URMATAM, OTHELO A
USIGAN, ROLDAN D
UY, CRISTINA L
UY, KIMBERLY PRINCESS B
UY, VILMA HENRIETTA M
UYAMI, EDMAR S
VALDEZ, ALDRIN JOHN G
VALDEZ, JOY V
VALDEZ, MARIZ P
VALDEZ, ROSELLE ANGELYN P
VALDEZ, SUZETTE G
VALDREZ, JOHN WAYNE S
VALERA, MARILEN P
VALORIA, ELLEN VICTORIA R
VALZADO, GB D
VAQUILAR, ERROL PAUL G
VARGAS, KRISTELLE JOY P
VARGAS, NIKA C
VARGAS, TERRA GAIL S
VELASQUEZ, TRISHIA MARIE CONCETTE C
VENTURA, KRIZZA ALEXIS C
VERBO, FRANCIS T
VERE, MA LIZA M
VERGARA, GISELLE G
VEROSIL, ALYSSA MAE DIMPLE T
VEROSIL, ANJELICA B
VIERNES, LORELYN V
VIERNES, WENDEL B
VIESCA, JAY EDUARD J
VILLANOZA, MARIE FRANCE G
VILLATEMA, MARK ANTHONY S
VILLAZOR, BENILDA A
VILORIA, EMMANUEL G
VILORIA, MARK VINCENT C
VINASOY, CRISTEL JOY T
WAKAT, EDMOND W
WANGSENA, SHARMINE V
WHIGAN, RONALD CHESTER T
YADAO, EFRELY P
YAMBALLA, IVY MARICAR R
YONGA-AN, ROY B
YUBOS, BENJIE L
ZALUN, CHRISTINE JOY B
ZINAMPAN, BEA ALEXANDRA S
ZIPAGAN, CRISTEL JOY M
Exam Coverage:
Professional Level (Prof) – In English and Filipino
Numerical Ability (Basic Operations; Word Problems)
Analytical Ability (Word Association – identifying assumptions and conclusions; Logic; Data Interpretation)
Verbal Ability (Grammar and Correct Usage; Vocabulary; Paragraph Organization; Reading Comprehension)
General Information (Philippine Constitution, Code of Conduct and Ethical Standards for Public Officials and Employees RA No. 6713, Peace and Human Rights Issues and Concepts, Environment Management and Protection)
SubProfessional Level (SubProf) – In English and Filipino
Numerical Ability (Basic Operations; Word Problems)
Clerical Ability (Filing; Spelling)
Verbal Ability (Grammar and Correct Usage; Vocabulary; Paragraph Organization; Reading Comprehension)
General Information (Philippine Constitution, Code of Conduct and Ethical Standards for Public Officials and Employees RA No. 6713, Peace and Human Rights Issues and Concepts, Environment Management and Protection)
Release Date:
The official results of August 2018 CSE-PPT will be released within forty (40) to sixty (60) working days after the last day of the examinations or by mid of September 2018 to the second week of October 2018.
Note:
However, the full results might be released earlier or later without prior notice.
comment(s) for this post "August 2018 Civil Service Exam Results – Region 2 Passers (Professional Level)". Tell us what you think abut this post by leaving your comments below.