Jovit Baldivino reacted to the comparison made between him and new romance of Shara Chavez.
JOVIT BALDIVINO – The Pinoy singer Jovit Baldivino reacted when told that ex-girlfriend Shara Chavez's new romance is "more gwapo" than him.
According to a previous report, the controversial former girlfriend singer Jovit Badivino is now engaged with another man named Chris Castillo.
She had been in the headlines of news reports after revealing the womanizing habit of her ex-boyfriend to which their relationship came to its end.
Aside from womanizing habit, the singer is allegedly also into gambling.
Their relationship started in September 2015 and ended last June 2017 and blessed with a cute baby girl name Akeya.
Based on the report, the new man in Shara's life is a retired US soldier.
And to expressed happiness of soon tying the knot with him through a Facebook post is where she has stated, "Find a guy who will not make you a Lodi but a bride-to-be. Waaaah! I'm engaged!! We've only been dating for a short period of time, but you treat me like a true lady!! Having you as my Valentine is just a bonus! I can't wait to see what our future holds…"
https://www.instagram.com/p/BfTXVn7hrCa/?taken-by=sharachavez
https://www.instagram.com/p/BfalMFrhZua/?taken-by=sharachavez
https://www.instagram.com/p/BfxIl1oBX9C/?taken-by=sharachavez
However, the netizens could not help but compare the two men in Shara's life to which they have accordingly claimed that Chris is "more handsome" than Jovit.
To which the singer has responded after some time of silence about the new love of his former girlfriend.
He stated, "@ayamarie_ maam dahan dahan ka sa mga sinasabi mo, unang una hindi kita kilala kaano-ano ba kita? Pinakakain mo ba ako? Ano bang masama na ginawa ko sayo? Kung makapagsalita ka nang gago akala mo naman pakain mo ako?! Hindi ko naman sinasabi na gwapo ako inaano ka ba nang itsura ko?! Wag ka nang sumabay sa alon, gagaya ka pa sa kanila, tsssk pero Godbless pa din te."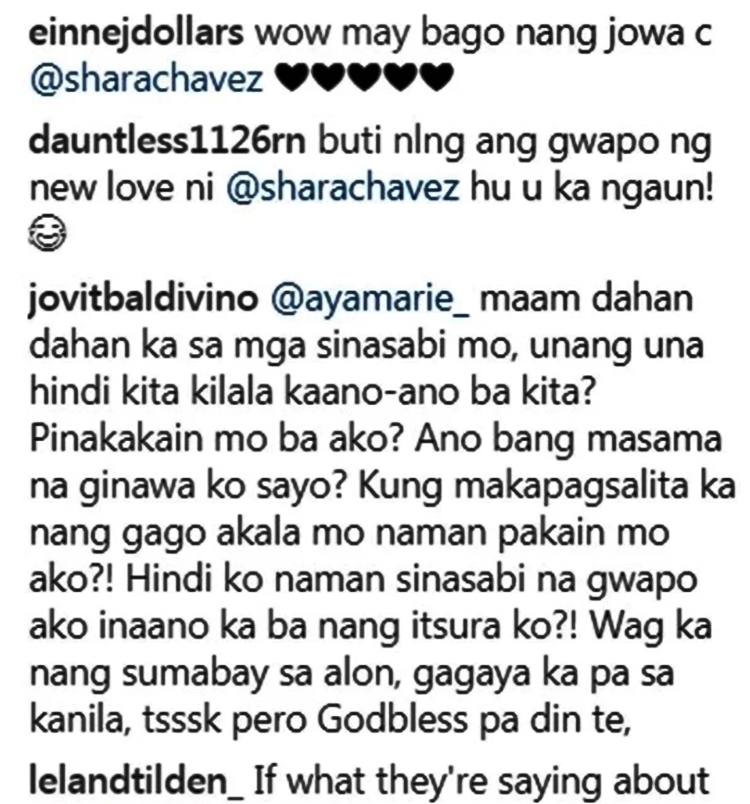 Read also the previous article: Aiko Melendez Reveals Having "Happiness" In Social Media Post, Netizens React
For more news and updates, follow us on Twitter: @philnews_ph and Facebook: @PhilNews