Group of Filipino Protest At New York Times Building To Support President Duterte
Group of Filipinos has rallied at the front of the New York Times Building to express their support to President Rodrigo Duterte.
On April 25, 2017, New York Times released an editorial piece entitled "Let the World condemn Duterte," which triggered Filipinos who were currently residing in New York to conduct a protest rally against the editorial piece.
The editorial piece stated that the days of President Duterte in office are already numbered after a Filipino lawyer formally filed petitioned the International Criminal Court to charge the president with mass murder and human rights violation.
The opinion also said that Mr. Duterte was not the first to be condemned for the bloody crackdown on illegal drugs. It also cited the Extrajudicial Killings (EJK) in the country, which was criticized by Human Rights Watch, foreign countries, United States, European Union, United Nations, and Filipino politicians.
The writers and the editors of New York Times were against Duterte's presidency based on the editorial piece as they ended the article with the statement "This is a man who must be stopped."
A Facebook page "I am Pinoy, Proud Ako' shows a video of Filipino who were currently residing in New York have marched and protest toward the New York Times building to express their support to the Philippine president.
https://www.facebook.com/iappa2015/videos/1031655890301330/
Even though the protesters were small in numbers, they didn't hesitate to express their support to Duterte by holding their placards with written like "New York Times Unethical Journalism" and "New York Times Hypocrite." A concerned netizen has video recorded the protest and shared it to the fan page.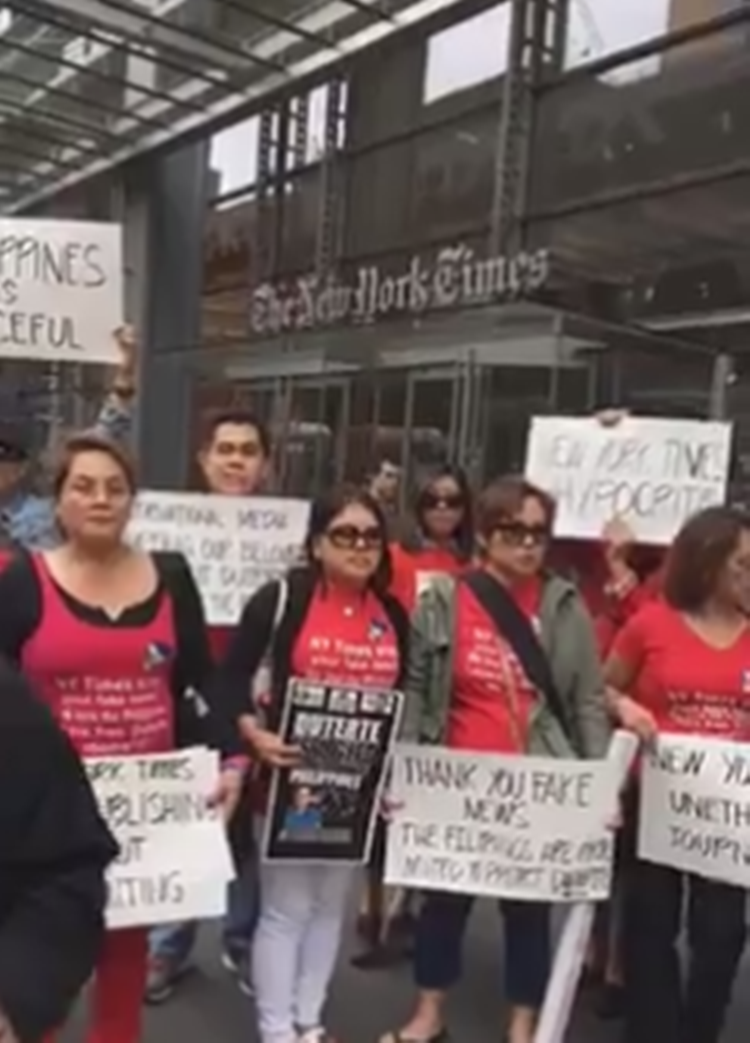 What can you say about those Filipino who rallied in front of New York Times building to support President Duterte? Just feel free to leave your comments and reactions for this article.