The country's largest fast-food chain, Jollibee Foods Corporation issued an official statement through their official Facebook account about the rumored endorsement Mayor Rodrigo Duterte for President by their Chief Executive Officer (CEO) and Founder Tony Tan Caktiong. The alleged viral story started when a veteran columnist reported that the Jollibee owner officially endorsed Mayor Duterte.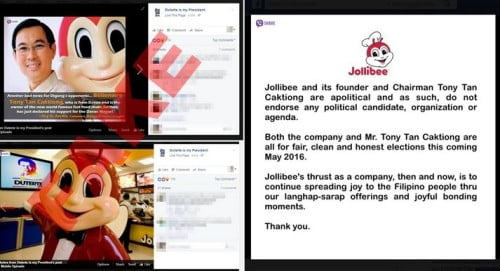 Here's the Official Statement of Jollibee:
Jollibee and its founder and Chairman Tony Tan Caktiong are apolitical and as such, do not endorse any political candidate, organization or agenda.
Both the company and Mr. Tony Tan Caktion are all for fair, clean and honest elections this coming May 2016.
Jollibee's thrust as a company, then and now, is to continue spreading joy to the Filipino people thru our langhap-sarap offerings and joyful bonding moments.
Thank you.
The viral post of Malaya Business Insight columnist Rey Arcilla became the subject and reference of the viral photos posted by some supporters of Mayor Rodrigo Duterte on various Filipino Facebook Page. Due to the popularity of the post stating that Jollibee supported Mayor Duterte, some netizens re-posted the images without thorough investigation.
The camp of Mayor Rodrigo Duterte did not released an official statement regarding the rumored support and endorsement of Jollibee, it is only on social media that the support of Tony Tan Caktiong became an instant hit among the followers of Mayor Duterte.