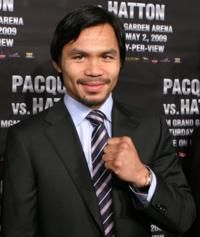 MANILA, Philippines – Manny Pacquiao was looking forward in retiring from boxing after few more fights.
After winning eight world title in boxing and being considered to be one of the best fighter in the history of the sports worldwide, Manny Pacquiao in an interview for KO Boxing.com said that it was on his plan right now to give focus on his duty as a public servant as he was elected last year as the Representative of Saranggani for the Philippine Congress.
Quoted from the interview, Boxing Superstar Pacquiao said that he would not be staying longer on boxing.
"I'm not gonna stay long in boxing. A couple of fights and I will stop boxing. I will focus to serve people,"Pacquaio said.
During the interview, he was asked about the next position, but he answered that so far, he was not eyeing for another position, what was in his mind was to serve his constituents in Saranggani.
In the same interview also, he was also asked if which among his big fights that he found to be the best moment in his boxing career. He answered that it would be during the time that he had fought against Oscar De la Hoya. Pacquiao said that during that match, he was really the underdog knowing that De la Hoya was one of the best fighter also in boxing.
Regarding to his upcoming fight versus the Mexican Juan Manuel Marquez, he said that he would be training hard for this fight and he expected that on the night of their match Marquez would be on his best. Their fight would took place this November 12.
According to the article published in abs-cbnnews.com, Pacquiao's last fight might be against unbeaten boxer Floyd Mayweather Jr.  And it is expected to happen sometime in 2012.
Pacquiao added that for now, he is contented with what he had.
To recall world boxing champ Manny Pacquaio had been holding eight world boxing tilts coming from different weight cl(–foul word(s) removed–) with an amazing record of 53 wins, 3 losses and 2 draws.